Boost Your Business With Fulfilment by bol.com or LvB
Running short of time? Get PDF of the blog in your mail.

Play Now
We do understand that managing an e-commerce business isn't a piece of cake. Maintaining quality in both product and service as a seller is essential to maintain a loyal customer base. Now focussing on shipments becomes a bit of extra load on the bol marketplace sellers. To relieve the sellers of this additional load, "Fulfillment by bol" (or FBB) comes to the rescue, making selling on bol.com easier. The "FBB", "bol LVB" or "logistiek via bol.com" is bol.com's order fulfilment service. We will move further assessing the advantages of "LVB" and how third-party integration service providers can help you in this.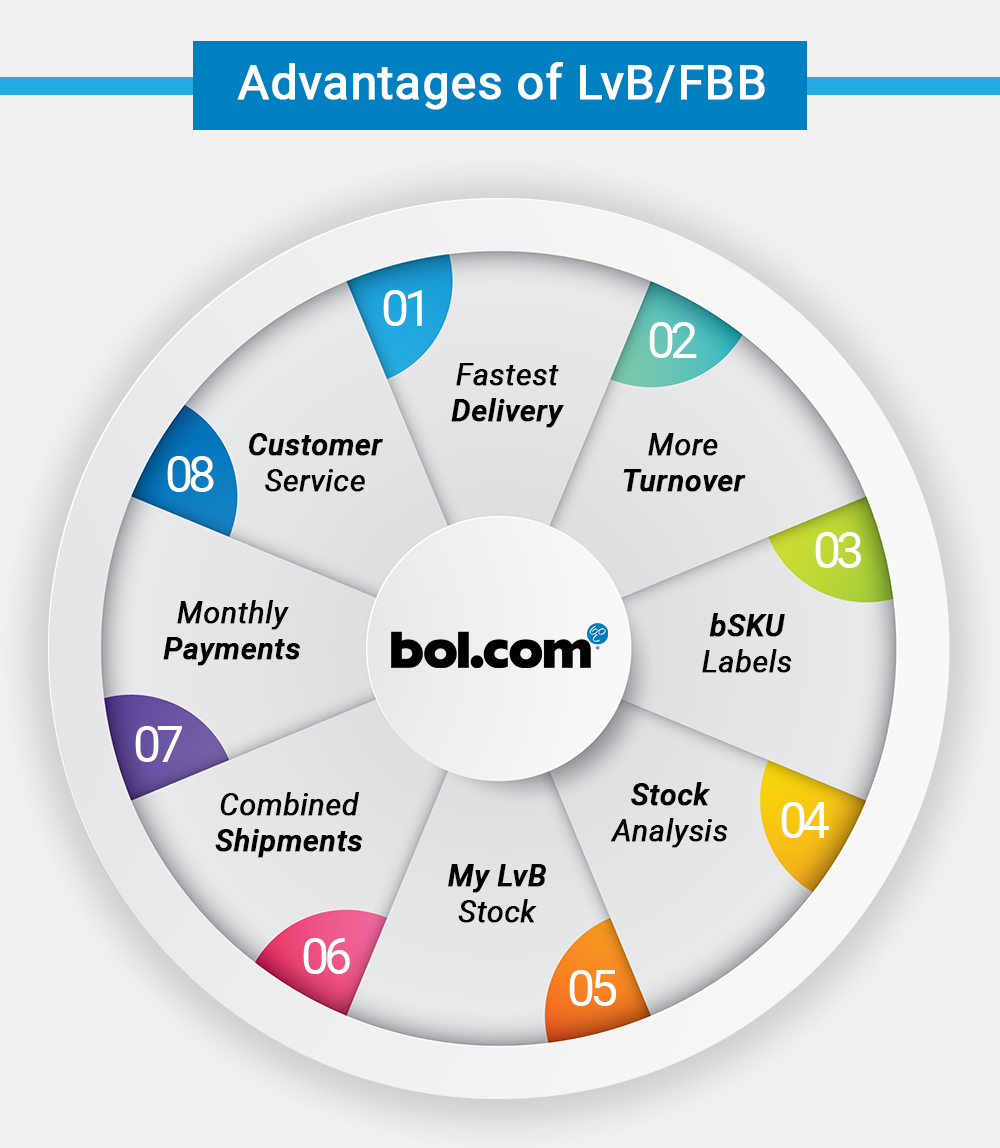 Avail the fastest delivery & achieve more turnover
Apart from delivering your orders to the customers, FBB is also increasing your conversions to about 30%*. The bol marketplace itself is ready to help you achieve comparatively more turnover. Logistics via bol.com claims to offer the fastest and most extensive delivery options. The bol marketplace offers its FBB service at competitive pricing.
It is available in four categories- XS(Upto 2kg), S(Upto 5kg), M(Upto 10kg), L(Upto 10kg with larger box size). Please note that you can send the XS packages only within the Netherlands. In case you want to send an XS product to Belgium, bol.com will charge you for the S size.
You might like- Complete guide to sell on bol.com
You get the "Logistics via bol.com" labels; Combined Shipments
At just € 0.18 per article, bol.com provides you with a Logistics via bol.com label. The bSKU label or the bol SKU label is important for product identification. These labels help in distinguishing your packages from other partners.
Sellers get the most cost-effective rates because Logistics via bol.com ensures that the buyers get multiple items on a single order. This feature results in a comparatively much lower cost of delivery.
Retrieve/Destroy your unsaleable stock
The bol marketplace allows you to retrieve your stocks that have been returned and are unsaleable now. If you don't want to retrieve it, you can simply get it destroyed at the FBB centre. Retrieval/Destroyal per item is chargeable with € 0.40 per article (excluding VAT).
Monthly Payments by bol.com
The bol marketplace transfers the sellers' payments monthly. The bol.com marketplace pays you the monthly revenue after deducting the costs and commissions meant for the Logistics via bol.com. The commissions on bol.com can range from 4.20% on electronics to 20.7% on accessories. On the first day of month, an invoice of all the orders and returns can be seen on your sales account. You will receive payment on the next day.
You might be interested in- Know all about the bol seller API V3 version
Insight into bol.com product status- My LvB Stock
Soon after the arrival of your shipment at the Waalwijk distribution centres, it is registered "Delivered". From now, you can have a full tap on the status of your products under the "My LvB Stock" section in your bol.com sales account. The steps involved in storage are as follows.-
Delivered- This happens as soon as the carrier delivers your shipment to the warehouse.
Received- After delivery, the packages are checked for numbers and damage possibilities. Limited shelf life items are checked for expiry date. After the completion of all these checks, your products are updated in the "My LvB shipments" of the sales account.
In Treatment- In this phase, your items are moved to the stock location. The articles are measured for size and perfect packaging.
In Stock- This is the last phase of product processing. You can now see your products in the "View my offer" section of your sales account.
Adjustable LvB Stock Ceiling
The stock ceiling is the maximum capacity of stock storage for one seller at the distribution centres of the bol marketplace. This feature helps to make optimum use of the space provided to each seller at the distribution centre of the bol marketplace.
The stock ceiling depends on the following-
Expected Sales(Growth and historical sale)
Current Stock
Kind of Assortment
Storage space at the distribution centres
Inventory Management on bol.com- My LvB Stock filters
The "My LvB Stock" section helps you to filter your stocks by sufficiency. The items nearing finish show in red colour in the "My LvB Stock". Green colour depicts sufficient items.
The inventory analysis dashboard is in the sales account. This dashboard gives you an insight into the saleability of your stocks "Stock Health". This is based on your sales history of the past 12 weeks.
LvB Stock Analysis
The feature helps you to analyze what products are performing well among buyers and what are not. This feature also gives a better idea of how to make optimum use of your Stock ceiling.
The LvB Stock Health falls into six categories-
0-4 weeks- This is a healthy stock. The products sold within four weeks of updating in-stock fall in this category. You should keep updating inventories of this range within time.
4-6 weeks- This is satisfactory or sufficient stock health. These items will sell within four to six weeks of updating in stock.
8-12 weeks- This is insufficient or unsatisfactory stock health. This means that you have got a lot of stock storage. You can lower the price in such a situation; this is likely to improve the sales graph.
More than 12 weeks- This represents poor stock health. You can either replace this range with a healthy product range or try lowering the price or introduce discounts.
No Expected sales- This part of the inventory is not expected to be sold. This range might not be online for buyers or maybe irrelevant for buyers. You need to take actions to either improve the sales of this range or consider removing this range.
New Items- These are the items added to the stock less than six weeks ago. These items are not included in the stock health calculation of the "My LvB Stock".
Customer Service of bol.com LvB for sellers
All the inquiries regarding the orders and returns are taken care of by the customer service of bol.com. Sellers, therefore, face very few queries from buyers. Though, the customers can still contact you via email and phone number. These queries directly land in your sales account.
Additional advantages of Fulfilment by bol.com LvB
Apart from the above-described perks, some added benefits that sellers can avail from the LvB service are as follows-
Unhealthy Stock
Under this tab, all the items that should be reduced from the stock are shown. Insights help you to take the right action on your articles. This section gives you the sales forecast for next 28days.
Stock without the buying block
Consider offering competitive prices. This factor majorly affects your possibility of getting the buy box. If other sellers are selling similar products and having the buy box, while you don't have it, it could result in the sales diversion to the other sellers.
Stock not online
This tab helps you to check if any of your items are in stock but are not available online to your buyers. You need to check your sales account for what you can do to get your items back online for buyers.
Replenishment Advise
This tab advises you to replenish the stock to meet the sales requirements of the next four weeks.
Conditions for bol.com FBB/LvB
The bol marketplace has attractive services for its partners in terms of Fulfillment by bol (FBB). But the service is available only to products meeting some standards set by the bol marketplace.
Only new/unused items are eligible.
Dimensions shouldn't be more than 75 x 55 x 45 cm.
Maximum of 10kg weight is permissible for FBB.
Products with a shelf life of at least 100 days can avail LvB
No hazardous materials like poisonous gases, radioactive or explosive materials can be sent via FBB.
How can we help you?
CedCommerce, a third-party integration services solution provider will help you with all the above-discussed services of the bol marketplace. Our 24*7 assistance is an added advantage. We are up with all the help and support for our clients via messengers(Skype and Whatsapp). You can sell on the bol marketplace through various platforms like Prestashop, WooCommerce, Magento and Magento 2.
We can help you to begin your business as an e-commerce retailer on bol.com and other markets. We are also providing our clients with multi-channel selling and many more exciting features right from onboarding to sale.
You might like- Complete guide to sell on bol.com