Learn How To Benefit With Google Shopping [INFOGRAPHIC]
Running short of time? Get PDF of the blog in your mail.

Play Now
Did you know? Between 16% and 20% of all annual Google searches are new. This translates to all new opportunities to showcase your products in front of this all-new set of audience. Not only that Google Shopping has over 90% of the search engine market share, which makes it the most preferred search engine as of date. And this gives you one more reason why you should use Google Shopping to your benefit. So let's cover all the what is Google Shopping, why use Google Shopping and how to benefit with Google Shopping.
Did you know about the new opportunity that lets you keep all your profits to yourself? With the exclusion of commission fees from the Google Shopping Actions programs, you can enjoy all the profits made through your sales. Grab the opportunity with us today!
This is how Google Shopping works
Before using Google Shopping to your benefit, you must understand how Google Shopping works.
The working Google Shopping boils down two very essential aspects, namely
Google Merchant Center-  Your product feed, also known as Google Shopping Actions feed lives in Google Merchant Center.
Google Shopping Actions-  The marketplace where all your products are listed for sale.
Google Shopping Actions US is open for Merchants in India and Canada: Start selling cross-border to customers in the US, from either India or Canada without any fuss, right away.
What are the benefits of Google Shopping?
In the year 2020, and in the coming year, being customer-centric and providing 100% customer satisfaction is the new smart. Google has realized it already and has compiled Google Shopping with all the benefits and features it could provide its customers. 
Now showcase products on Google Shopping for free with CedCommerce's extended plan to upload unlimited free Shopify products at zero cost.
Be it one-step checkout, where Google saves transaction details for future or the universal cart, where one can add two different items from two different stores on Google Shopping has it all.
One-step checkout- With saved transaction details, checkout with one click.
Grow your visibility- You get to sell among giants like Target, Costco, Bestbuy etc.
Universal cart-  Two different items from two different stores in a single cart.
Retailer first marketplace- You get to add brand logos, which helps you in brand awareness.
Free delivery- According to a study, 9 out of 10 customers said free delivery encourages them to make the purchase. 
No seller fees- Google Shopping is based on a commission basis, so you only pay when you make a sale..

Google Shopping Ads
Another reason why you should use Google Shopping is that once you start selling on Google Shopping, you also unlock Google Shopping Ads. Setting a Google Shopping Ads campaign is also fairly easy. If you are someone who is not already selling on Google Shopping, then you will require Google Shopping Ads feed, which means you would have to make a whole new product feed from scratch. 
But if you are someone already selling on and using Google Shopping then you don't need a new Google Shopping Ads feed, while setting up the Google Shopping Ads Campaign you can easily allow Google Ads to use your already existing product feed as your Google Shopping Ads feed. 
What are the benefits of Google Shopping Ads?
Using Google Shopping Ads can help your business skyrocket as it helps your business gain more awareness, you get better quality leads and you get a broader reach with surfaces across Google, which includes Google Lens, Google Images, Google search, Google Assistance and even Youtube now. How does Google Shopping do that?
Let's look at the benefits of Google Shopping Ads:
No keywords are required
Search intent is high
Your website will get better quality leads
With surfaces across Google, you get a broader reach
SKAGs (Single Keyword Ad Group)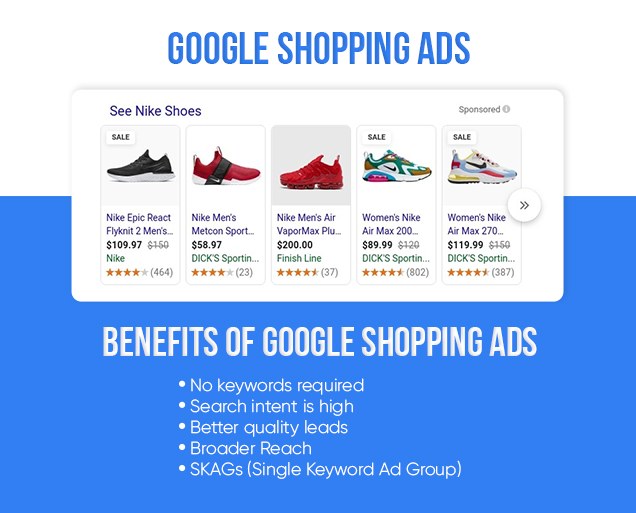 Did you hear about the fantastic news from Google? Google has now allowed sellers to showcase their products on Google Shopping through Google Merchant Center. Thus, a major part of the Google Shopping page is going to be occupied by these free listings. All they need to do is create an optimized Shopping Feed via the Merchant Center and make sure Surfaces Across Google is Active. Enjoy this unpaid experience and create your Google Shopping Feed now:
Conclusion
So there you have it, the answer to- how to benefit with Google Shopping- with its advertising platform to the marketplace, Google Shopping can curb your and your customer's all shopping hunger. So what's the wait for, start today.
Cedcommerce is a proud channel partner of Google Shopping Actions
Feel stuck? Still, have questions? Sceptical about Google Shopping's potential? Get in touch with us today then, we are available 24X7 at your service. Or feel free to comment below your queries! 
Happy selling~