Be a pro-seller on Walmart: Exclusive for Woo-Sellers.
Running short of time? Get PDF of the blog in your mail.

Play Now
The recent data shows that there are 151,821 sellers on Walmart Marketplace. This year, 22,068 new sellers have joined the marketplace, with 6,452 joining in the last month alone. With the post-pandemic ecommerce surge along with a series of upgrades in the buying & selling practices, Walmart continues to battle with its competition to be the no. 1 shopping destination – offline & online.

One such addition that Walmart brought in, benefiting both sellers & shoppers, is the Pro Seller Badge. Creating & establishing a mark of excellence among the shoppers to recognize & a successful attempt to increase conversions for sellers who use it, 350 out of 60,000 Walmart sellers have already claimed it.
Stamping sellers with the Pro badge, Walmart is practically saying, "Don't just sell but be a pro!" Let's understand why?
Why be a 'Pro Seller'? 
We all are aware of the fact that Walmart takes pride in providing excellent customer service. Because millions of sellers, large and small, sell successfully on Walmart, competition increases, making it difficult for buyers to distinguish more trustworthy and reliable brands from those that aren't.
Speaking about the badge, the Pro badge appears in search results, product pages, and the shopping cart; its design is similar to that of social networks such as Facebook and Twitter's verified user badge. While hovering over the badge, Walmart displays three Pro Seller advantages: quality service provider, consistent on-time delivery, and free online or in-store returns.
The badge can help sellers increase their exposure as the offer is designed to stand out in search results and increase visibility.

Be a Pro Seller on Walmart with Ced's INSIGHT feature. 
To help our sellers leverage the seller badge, Ced has introduced the new INSIGHT feature in Walmart Integration for the WooCommerce app. Once the plugin is installed on your Woo-store, you get deep insights into your 'Listing Quality & Rewards.' Let's dig deeper into it.
The overall INSIGHT of your listing on Walmart. 
Get an overall insight into your listing under the INSIGHT tab & view your progress of becoming a Pro Seller with the listing quality percentage & unpublished item status of the listing.

Trace your route to become a PRO Seller. 
In the 'Become a Pro Seller' tab, once you click on View Progress, a window will appear with your pro seller status. The window has all the essential criteria & your progress for each. You can easily pinpoint the fields you are missing and work upon those eligibility criteria set by Walmart.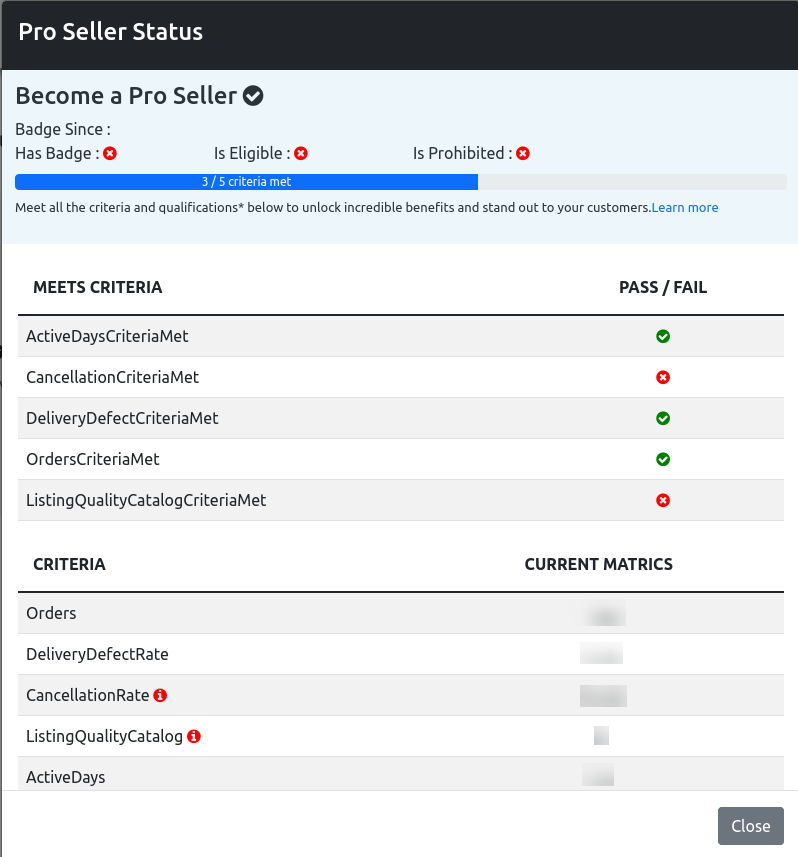 Sellers must meet high-performance standards of the eligibility criteria, which include the following:
An overall 90-day Delivery Defects rate of less than or equal to 10%.*
A seller-related 90-day Cancellation Defect rate of less than or equal to 2%.
At least 70% of the seller's trending items have a listing quality score of 60% or higher.
In a rolling 90-day period, sellers must receive at least 100 orders.
Sellers who have been successfully onboarded must be active for 90 days.
Complying with Walmart's Marketplace policies and other performance standards.
In certain circumstances, Walmart reserves the right to modify these requirements.
* The 90-day delivery and cancellation rates include a 30-day lag to account for delays in shipping, delivery, cancellations, and returns.
Let's understand the metrics of the criteria mentioned above.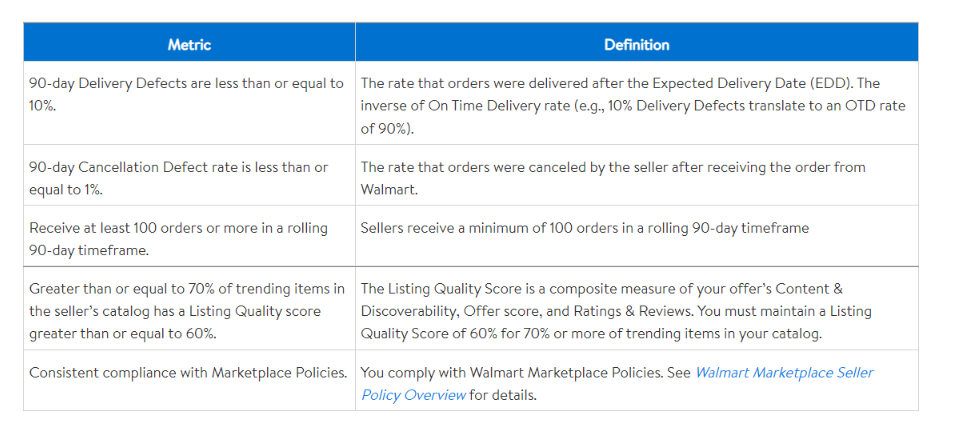 Know your Walmart listing quality with 'Listing Quality Breakdown.' 
To help you with 'what comes under the listing quality,' the breakdown will further differentiate several touchstones: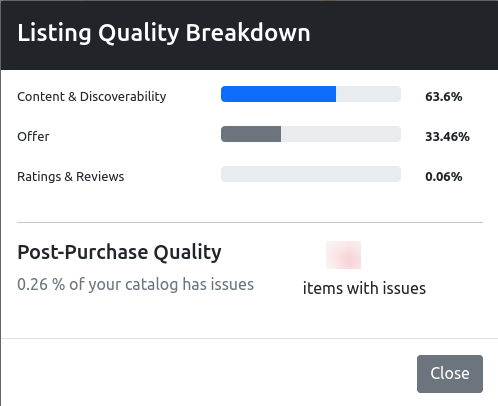 Content & Discoverability: The information on your item page. The amount of content you include on your item page directly impacts how easily it appears in search results.
Offer: Walmart wants to offer its customers the best possible prices and shipping options.
Rating & Reviews: The reviews do not concern the products themselves but rather the quality of service the retailer provides and their experience with shipping and delivery.
Post-Purchase quality: Post-Purchase Quality is a component of the Listing Quality Dashboard that focuses on various customer experience factors that influence your Listing Quality Score on Walmart.
Read– 'How to get reviews on Walmart? 6-sure shot ways to get more reviews.'
Unpublished item status: 
Marketplace sellers can use the Unpublished Item Count and Unpublished Items APIs to determine why items are unpublished and how many items are unpublished for each reason. There are numerous reasons why items are unpublished, either by Walmart or a seller. One reason is that the item's end date has passed, so it is no longer published. Alternatively, if the item image is missing, the item may be unpublished. These simple fixes will allow you to republish your items, allowing you to increase sales and grow your business.

Get insight into the INDIVIDUAL products. 
Our Listing Quality Dashboard was created to assist you in your success. You can use it to get specific, insightful recommendations that will help you drive sales and grow your Walmart Marketplace business. Take your optimization strategy to the next level with the powerful update in our tool. Along with tracing the overall performance of your listing, you get to see the status of your individual product under: 

Content & Discoverability.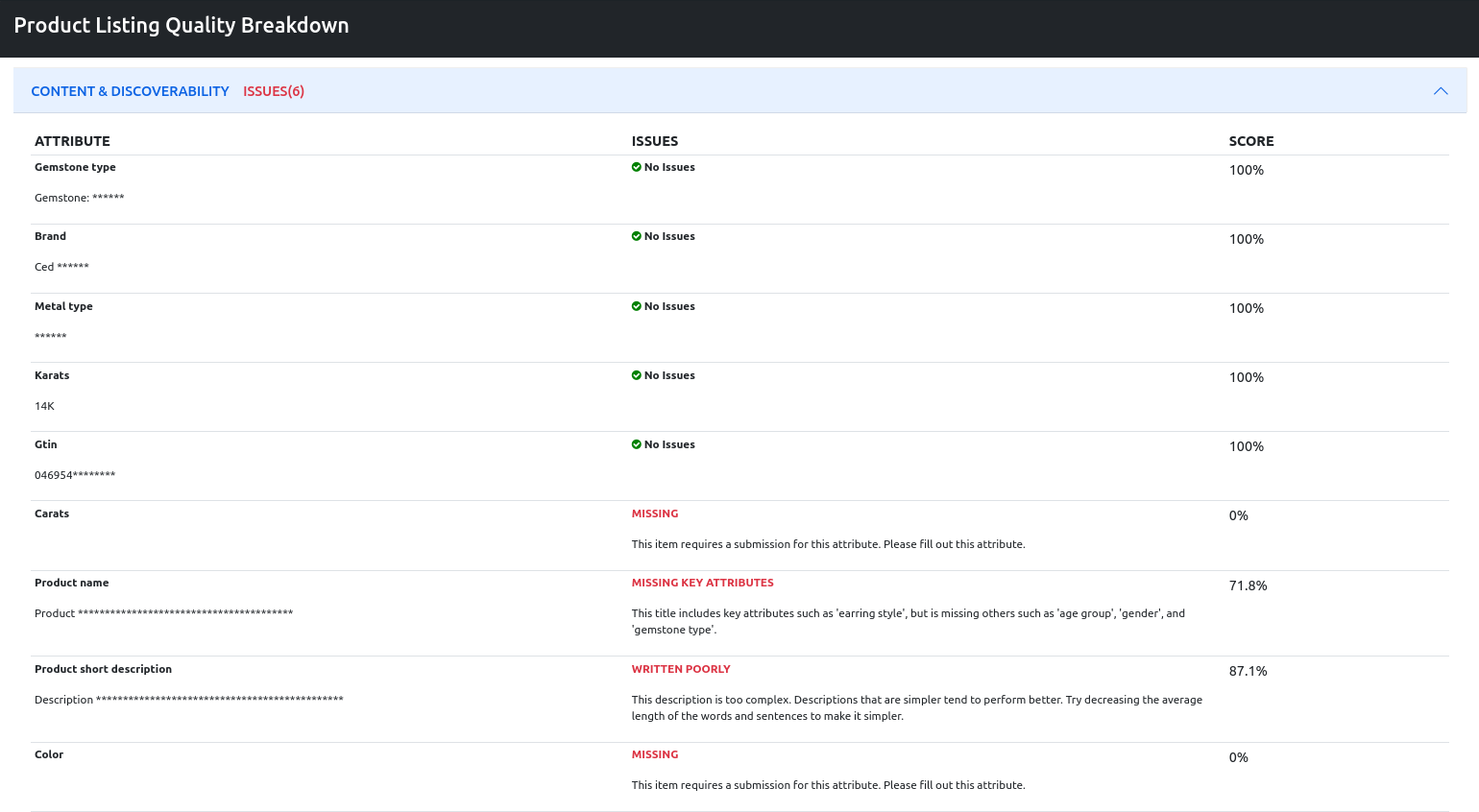 Final thoughts.
With Ced's Walmart integration for WooCommerce, you can make significant advancements. Use the dashboard's specific recommendations to improve the content and discoverability of your product listing. Find your way to be a Pro Seller with a better listing by providing more detailed descriptions, images, proper attribute usage, and other useful information.
To learn more about the Walmart WooCommerce integration, get in touch with us on: WhatsApp, Skype, email us, or comment your query in the comment section.
Read more on how to sell successfully on Walmart.