Amazon FBA vs AliExpress Dropshipping – What to Choose for Onlines Selling and Why?
Running short of time? Get PDF of the blog in your mail.

Play Now
Are you fed up with the tiresome job of logistics management? Do you think your products are awesome, trending, high in demand but poorly managed shipping is not letting it reach the customer on time. well, do you know what is Amazon FBA and AliExpress dropshipping. These are solutions to put an end to the shipping delays and restore customer faith in your products.
We have covered everything that matters for online sellers to maintain an unbiased comparison of Amazon FBA and AliExpress Dropshipping. Moreover, these two methods are among the super hot ways to sell products online.
What is Fulfillment by Amazon (Amazon FBA)
It is a storage and distribution service provided by Amazon for sellers. The product is stored in Amazon's fulfillment center (in the one that is closest to customer base). Amazon packs and ships your product (as soon it is purchased) as well as takes care of the customer service.
Amazon has invested a lot in warehouse automation technology. Hence it is well known for massive logistics capabilities. This has significantly reduced the amount of human error resulting in order delay. Eventually, Customer is Happy
Seller sends products to Amazon Fulfillment Center
Amazon store the products and seller can track it
Product gets sold online
Amazon packs and ships the order
Customer service and return is taken care by Amazon
Why Online Seller Need Amazon FBA
Amazon FBA will favour seamless order shipment in below conditions
Lightweight, small, and expensive products that are sold in large quantities. After all, you pay for the storage.
Shortage of manpower to fulfill order and ensure high standards of customer service
Why Amazon FBA is worth for Order Fulfillment
Under Amazon FBA, products are eligible for Amazon Prime FREE Two-Day Shipping. Therefore, customers will get free shipping for eligible orders. Free shipping is directly related to high sales and customer delight.
Customers won't bother you for minor issues. The Amazon customer support team will take care of it 24/7 (over phone and email). Hence it saves your time that could be better used in a productive manner on the core aspect of business.
The printing of packing slips, shipping labels, and manually packaging the product nicely in the box (most tiresome one) takes a lot of effort and time. Amazon FBA will save you from this hassle. Moreover, you get an edge over your competitor in terms of inventory storage. Hence high chances your package will reach customers faster.
Customers who want a return are redirected to the suitable Online Returns Center. Therefore, customer experience is not compromised. No reverse logistics headache for sellers.
Customers feel more confident upon seeing the 'Fulfilled by Amazon' displayed on the product. After all, the world's leading e-commerce marketplace will take care of order shipment and delivery.
Product will be eligible for 'Prime Shipping'. Prime members will get the order within a single business day. You will get some good ratings.
There is no minimum quantity criterion. The amazon seller can store as less as a single product in the fulfillment centre.
A Comparative Analysis
Amazon FBA fee is considerably reasonable in comparison to perks of customer service and timely order delivery. You pay merely $0.75 per cubic foot of storage for one month. Moreover, no hidden fee or extra subscription fee.
Despite business growth leading to a high number of orders there is no need to worry about storing huge inventory or spending on resources to pack and ship it.
FBA products are placed above in comparison to other products in Amazon's search results. Therefore, enjoy higher visibility and this is a key factor determining sales. After all, Amazon is the world's #1 ecommerce search engine with 54% share.
Sellers who opt for Amazon FBA are preferred for BuyBox and they get it eventually. 82% of sales on Amazon (desktop) is via BuyBox. The percentage is even higher for mobile devices.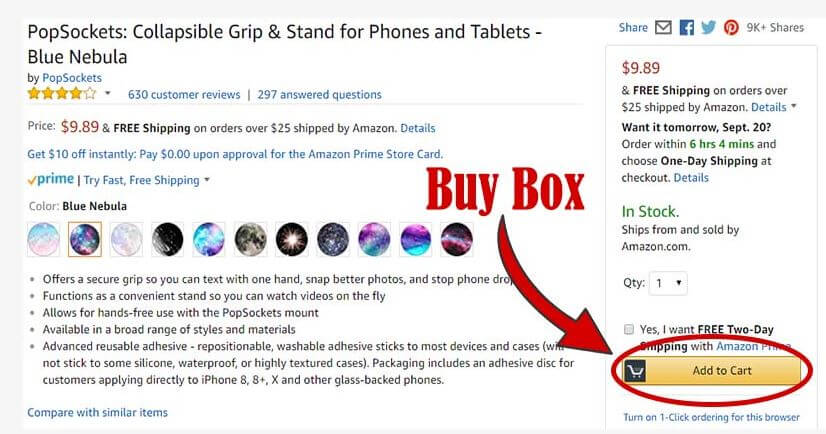 Img credit: Amazon
Role of Seller in Ensuring Amazon FBA Works in Favour of Business
No doubt, Amazon FBA sounds fantabulous shipping option but putting a little effort on your end can only help it to perform to the fullest. It is your responsibility to ensure the following.
Never run low on inventory. Amazon notifies about low stocks and you must ensure there is sufficient inventory to survive a demand surge during the upcoming festive season or for a few products on which you plan to offer a discount.
Advertise your products. After all, amazon is like a giant ocean of millions of awesome products. Pushing products to customers notice requires smartly promoting your product. A productive way is facebook marketing exactly to the target audience but project your product like a great problem solver.
Research and send top selling products to the Amazon fulfillment center. There is no point if you have to pay more for storage (when the product sits idle for a long time) than the profit margin.
Amazon's world class logistics and being the most customer centric company on earth means opting for Amazon FBA will never disappoint you.
| | | |
| --- | --- | --- |
| 93% Customers | 58% Customers | 9 in 10 Cutsomers |
| Feel encouraged to Buy More due to Free Shipping | Add More Products into Cart to Avail Free Shipping | Shop Online due to Free Shipping |
Amazon is aggressively building up its fleet of express aircraft to strengthen up it's air delivery network. The current count of 40 Boeing 767-300 is about to increase at a very fast pace.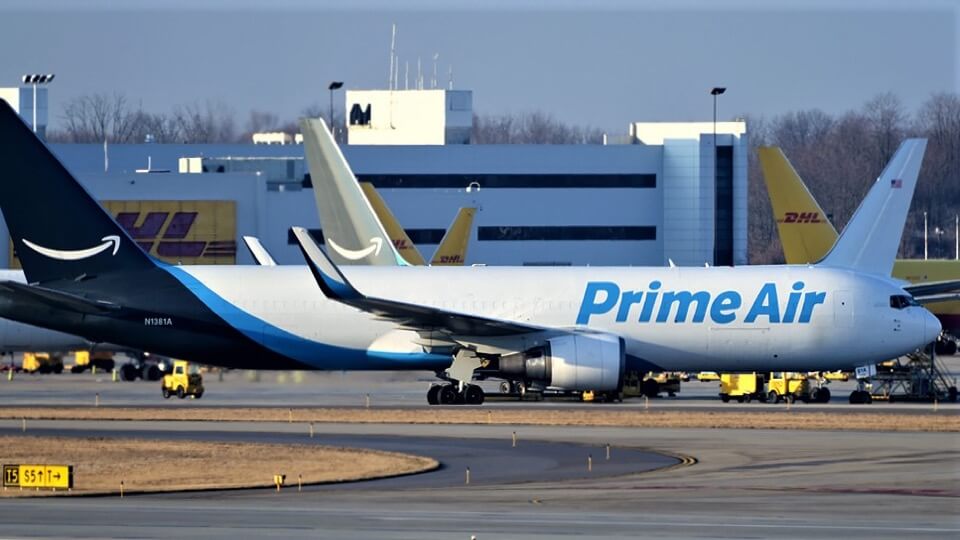 image credit: AbcSupplyChain
When to not go for Amazon FBA
Mostly sellers who are just starting out on Amazon. Moreover, at the initial phase it is quite hard to pay an extra fee. Also, it takes some time for business to take full advantage of Amazon FBA.
Amazon has recently lifted restrictions introduced under Amazon FBA quantity limits due to COVID-19 . Now sellers can store products beyond the limit imposed in april this year.
How Much will Amazon FBA Cost ?
The pricing system is determined by the size and weight of the products. When the weight of the product is under 20 lbs and dimension is 18" x 14"x 8" then it is Standard size. Products beyond this specification fall under Oversize category.
The fee for FBA Label Service (optional) is $0.30 per unit and for FBA small and light per unit fee is $0.10.
Monthly Storage Fee for Amazon FBA in 2020
| | | |
| --- | --- | --- |
| Month | Standard Size | Standard Size |
| January – September | $0.60 per cubic feet | $0.75 per cubic feet |
| October- December | $2.40 per cubic feet | $2.40 per cubic feet |
FBA Removal and Disposal Order Fee 2020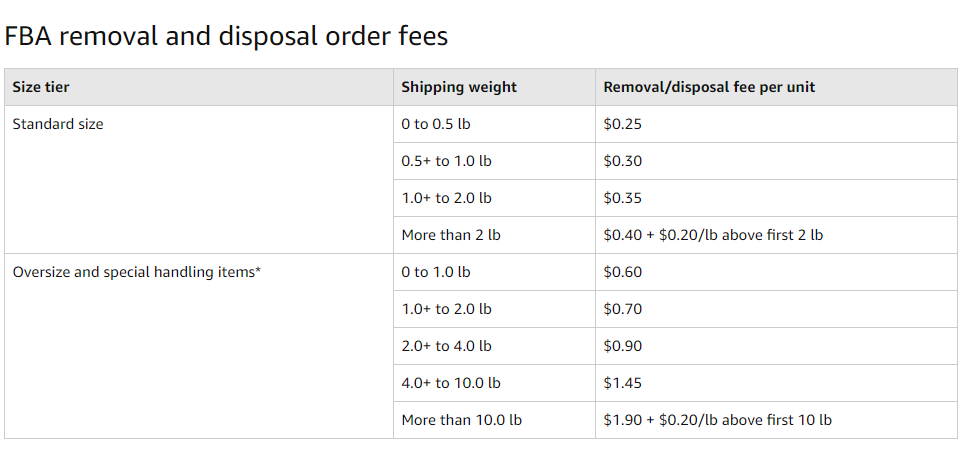 image credit: Amazon
Let's Understand with an Example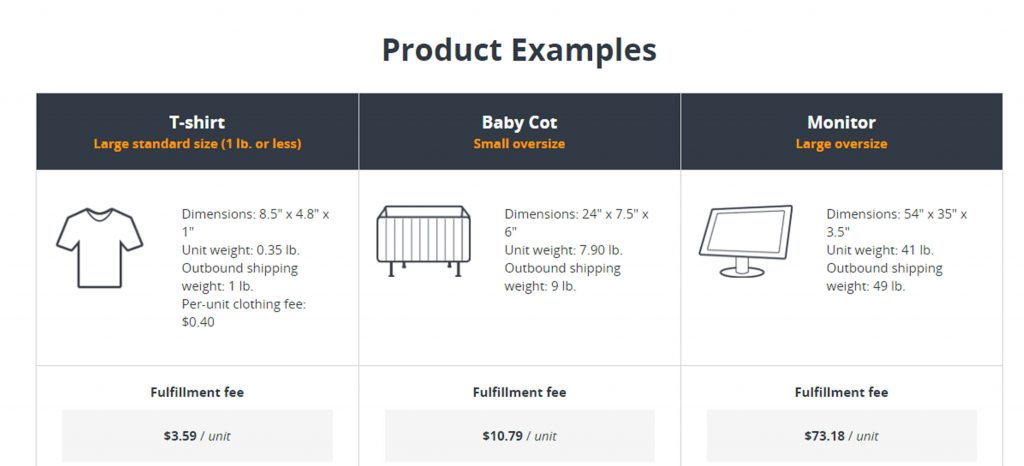 image credit: Crazylister
When AliExpress Dropshipping is Better than Amazon FBA
You have to sell the product within 6 month from the date it reaches Amazon fulfillment centre, Otherwise storage fee increases. Hence online sellers just starting out might have to pay storage fees even after 6 months.
If not all at least the majority of sales must come from Amazon. The FBA fee for non- Amazon orders is significantly higher in comparison to storing and shipping products on your own.
If you want to deliver your product only to the customers. The concept of commingling merchandise means you sold the product but if a similar product is available in a different fulfillment center nearer to the customer then Amazon will ship the product from that fulfillment center instead of shipping your product.
Although customer will get the product as expected but in commingling there are chances of compromise on product quality.
Unless you can pack product as per Amazon standards, it will charge you some extra fee for doing it.
The packaging boxes have Amazon logos on them and you can't promote your brand on it. Hence you are missing on an opportunity to promote your brand.
AliExpress Dropshipping – Pros and Cons
The Pros
A little investment will also help you set up a dropshipping store. After all, you need not invest in inventory.
Owing to low manufacturing costs in China, the price is very reasonable. Hence, it is easy to convince customers to buy the products.
If the product popularity decreases dramatically you don't face any monetary loss. All you have to do is remove it from the store.
The Cons
All suppliers not all the time are equipped with complete information. Therefore, you might have insufficient information to answer every query done by the customer. Eventually it leads to losing a sales opportunity. After all, a customer not getting a satisfactory answer won't buy your products.
Irrespective of which niche you choose. Thousands of sellers are already doing the same as you are planning. Therefore, competition is sky high and the dream of overnight success is very unfair.
Have an in-depth look into how aliexpress dropshipping in 2020 can help you boost sales and streamline online selling experience.
Finally, The Big Question – Amazon FBA vs AliExpress Dropshipping
Which is Cheaper?
AliExpress Drop Shipping means you need products, online store, and marketing budget. The products need to be purchased only after it has been sold. An online store (shopify) costs as less as $29 or a woocommerce store will cost even less. In order to test the water budget as low as $20 per week will help you understand the future scope of the product and find the winning products.
For Amazon FBA, let's assume you have to store some 180-200 units and promote them with paid traffic and coupon code will require a huge marketing budget . After all, the storage cost for amazon fulfillment center increases for products that sit idle for more than 6 months.
AliExpress Dropshipping is a cheaper option to get started for merchants with a small budget.
Fulfillment
In case of AliExpress dropshipping it will be your headache to order an item from AliExpress seller and get it shipped to the customer. Moreover, inbox will be flooded with customer queries. Monitoring, analysing, and updating ads will also be your job.
If you opt Fulfillment by Amazon model, then manufacture the product and ship to the fulfillment center. You have a lot more time to focus on the core aspect of business and customer service is amazon responsibility.
Amazon FBA is a better fulfillment option and saves you from the hassle of handling angry customers.
Sales: AliExpress dropshipping requires you to build a customer base. You pay to get visitors on the site. Now, convince the customers to buy the product. But things don't require that much effort to sell products with Amazon FBA.
The buy box option puts your products in front of 310 millions active customers on Amazon.Moreover products under FBA are placed high in the search results. Cherry on the top is 9 in 10 buyers prefer to search product prices on Amazon. Therefore, this massive number of customers actually interested in your product translates into endless sales.
Definitely, High Sales and Customer Loyalty is easy to gain with Amazon FBA under any scenario
Summing It Up – Both are Best But Under Different Scenario
Amazon being the owner of world's most advanced fulfillment networks is providing opportunity to ease the order shipment with its world class logistics services under Amazon FBA service. As a seller you must go for it to pump up your online selling game. After all, gaining a competitive edge will always help you serve customers better than your competitors.
But AliExpress will better suit your needs if you are just starting out with a limited budget. Fulfillment by Amazon will cut short the stress of handling customer and timely order delivery but provided you are interested in paying for the same.