7 Scintillating Marketing Tactics to Follow This Hanukkah
Running short of time? Get PDF of the blog in your mail.

Play Now
The holiday season is generally the most cherished time of the year for both buyers and sellers. People really look forward to making merry with their friends and close ones. Also, they tend to shop more often as part of the celebration. But this year, with the effect of Covid-19 still affecting many lives, the ambiance remains a little gloomy. As per the latest reports, the cases are still on a rise.
But as we enter the last leg of 2021, holidays and festivals are coming thick and fast and, hence, deserve some celebration following the safety measures. As a brand, acting on some marketing tactics that can be fun yet safe in current times is kind of a challenge. But as the saying goes,
"A little bit of light dispels a lot of darkness."
It's high time you invest globally and empathize with everyone to create a deeper and profound connection. This marketing approach will help your brand gain trust and generate better revenues this holiday season. With this audacity let's celebrate the Jewish festival of Hanukkah and be a part of the American Jewish clan through an engaging marketing strategy.
Hanukkah is 'the festival of light'
Hanukkah, also known by different local names like Chanukah or Hanukkah, is a festival of light celebrated by the Jewish community worldwide. This festival is observed for eight nights and days commemorating the recovery of Jerusalem and rededication of the Second Temple against the Seleucid Empire. This festival falls every year on the 25th day of Kislev, as per the Hebrew calendar, usually around late November to December. This year it's falling from 28th November to 6th December.
People usually light their menorah (a candelabrum with nine branches) and place them on the front window of their homes to mark the festive significance. They sing Chanukkah songs, say prayers, eat oily, fried food like potato latkes, sufganiyot(jam-filled donuts), gelt(chocolate money), and beef brisket in abundance. They share gifts, play dreidel, and tell stories about the magic the festival holds. Let's hear one,
Hence, Hanukkah is a cozy celebration of courage, faith, and commitment. Also, it is a wonderful time to celebrate with family and friends every year-end.
In America, the percentage of Jews holds 2% of the total American population and so this festival holds the status of a "minor celebration". However, being the most sought-after festival for the Jewish community, Hanukkah offers a great opportunity for brand building and to generate massive returns this holiday season.
Marketing tactics to pray and celebrate this festive season
People enjoy when brands stir them with emotionally engaging content and pleasing marketing tactics. They feel moved when they see the cultural vibe resonating in your ads or posts. With an empathetic approach in your branding, you can tap on the opportunity in the current gloomy times and leave a deeper impact.
With the popularity of Hanukkah rising every year, here are the following ways to enhance your brand building and utter 'Chag Sameach' through some amazing marketing tactics:
Warm the celebration with a unique ad campaign
You can design your campaign around the value of good times and special moments shared with loved ones. Also, you can empathize with those who have lost their dear ones this COVID. You can also devise special offers or discounts for the medical staff and COVID warriors as a gesture to show gratitude for their services. This approach will help your brand connect emotionally with the audience and help gain trust.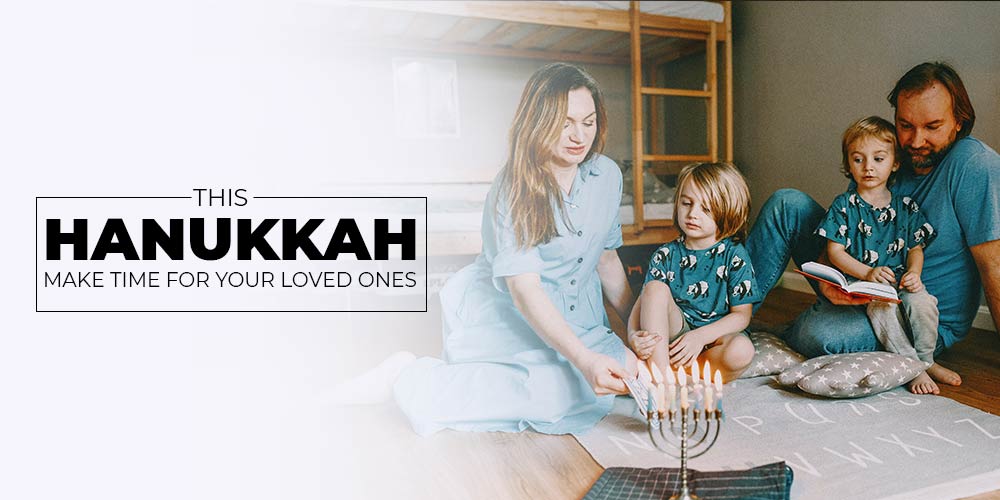 Make marketing attempts more engaging and public
You can display huge menorahs or dreidels to attract the attention of the people in public spaces and add some excitement to the whole festive vibe. People will value you for this grand gesture and connect with your brand in a more relatable manner. After all, everyone appreciates affection and acknowledgment.
Moreover, with the advent of social media; viral feeds, and classic posts from these customers will make you an overnight success. Also, the tactic will help you in a long way to generate better sales.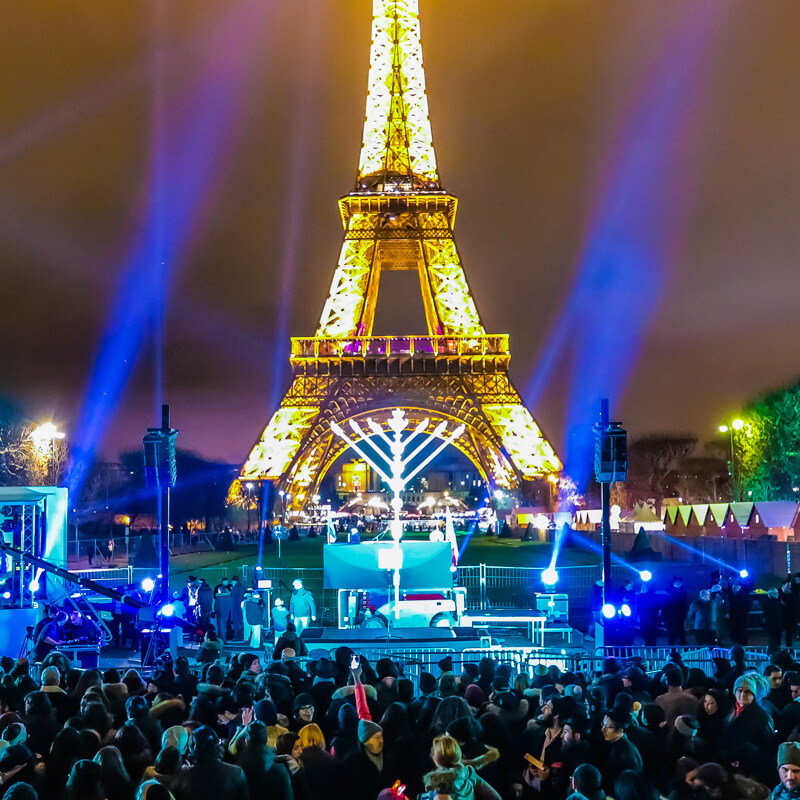 This year Paris Discovery Guide has arranged a huge menorah infront of the Eiffel Tower, to engage and invite people around the world to visit Paris on Hanukkah. This strategy is pretty grand and luring enough to make a memory for a lifetime. An attempt like this is sure to improve your visibility as a 'brand for all' and raise excitement among your audience.
Follow the theme "Blue and White" in campaigns
Hanukkah is a festival that rhymes around the 'blue and white' color theme. To celebrate the vibe and magic of the holy period, make sure that you jazz up your social feeds and posts with Blue and white colors. Incorporate some of the products used on Hanukkah in your display hoarding or ad designs, such as gelt or sufganiyot. You can also use props like candles, fancy bulbs, designer lights, etc to give your ad a festive vibe.
Use high-quality festive-inspired photographs
Hanukkah brings amazing opportunities for brand building as it falls in the hottest buying season of the year. It is best to make use of this festive fervor to showcase your products and generate sales. Use high-definition (HD) photography on your social feeds and billboards that are inspired by the 'festival of light'.
Show how people can get happiness and optimism by using your products and services. Also, try to present things in a natural manner! Don't try to stuff in the images as it may turn off your consumer. With this approach, your brand will connect with its customers right at the heart and enhance the feeling of inclusiveness.
Engage actively in celebrations on social platforms
Social media is an excellent way to connect with people of different faiths in a flick. Doing so will help your brand receive major visibility and acceptance. Use your Facebook profile, Instagram handles, Twitter threads, and whatever you can to send out prayers, warm wishes, and promote your sale around the Hanukkah theme. Even the wishes have found a White House to convey themselves, interesting!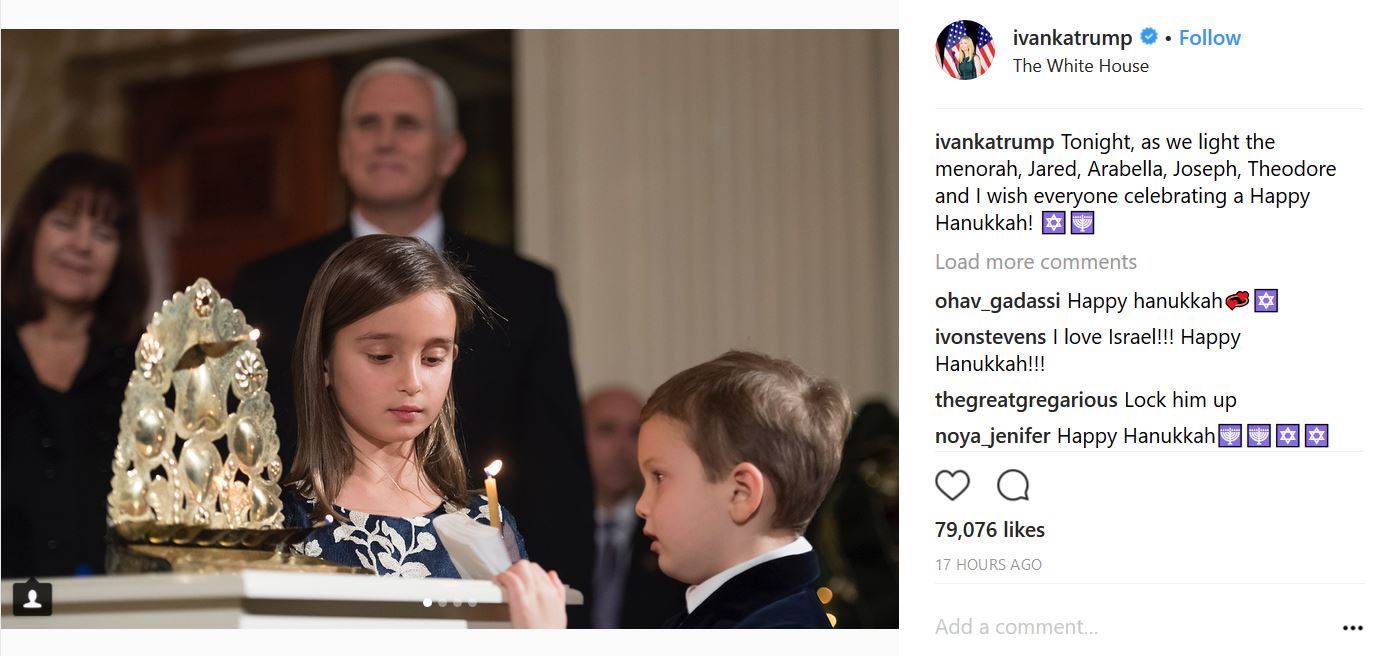 Source: timesofisrael
Create dedicated promotions focussed on Hanukkah
With a bigger festival like Christmas aligned next to Hanukkah, it looks futile to invest in creating a separate ad or sale strategy for this festival. However trust us, your customers are watching your way more closely than you think. Hence, making it crucial to leverage as many touchpoints and events as possible.
When you create a campaign focused on a dedicated section, you are assured to make a mark on the community.
"The better your sale targets your audience, the better you will make sales"
You can create contests around the eight-day festival and to have engagement you can daily keep some activities like 'Facebook like', 'commenting', or 'sharing the favorite Hanukkah ritual' themed contests on your brand social page. In return, you can reward a certain number of people as a festive gesture through freebies, discounts, coupons for future sales, etc. Also, don't forget to create a sense of FOMO while crafting your campaigns. This will keep the excitement high and result in massive engagement.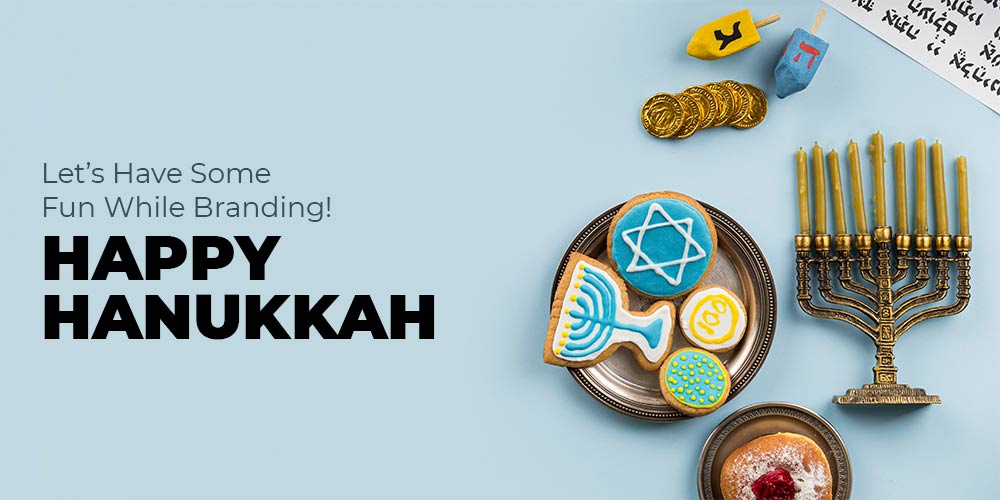 Play marketing tactics by offering something extra
Try innovating your marketing tactics around Hanukkah with elements like sales, posts, special offers, public appearance, yearly subscriptions, freebies, jingles, etc to anticipate what resonates with your customers.
"61% of Americans find diversity in advertising important, and 38% of consumers are more likely to trust brands that do well with showing diversity in their ads," according to an Adobe study shared by Forbes in February 2019. "
You can also go for influencer marketing tactics on social media where the influencers will do the talking for your brand. People know them well and follow what they promote. Just try to add that wow element and enhance the festive mood.
Warm wishes always!
Celebrating Hanukkah and other non-majority holidays like Kwanzaa and Single's day, etc. in a culturally sensitive and respectful manner as a brand, lets the consumer know that you wish to engage and are open to business… for everyone. This builds a deeper connection with your customers and defines the success of your future marketing tactics as well. Your customers will always remember you for the spark that the big menorah bought in their eyes during these gloomy times. The images will always make you an eminent part of their special times. Just ensure to stay safe and celebrate the festival with love for all. Chag Sameach!
Also Read: FLAT 25% off on CedCommerce marketplace solutions for this holiday season