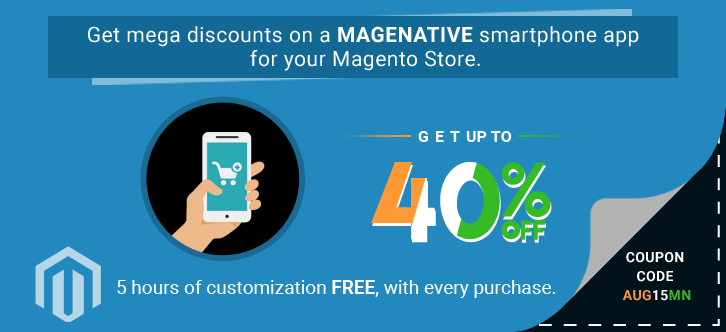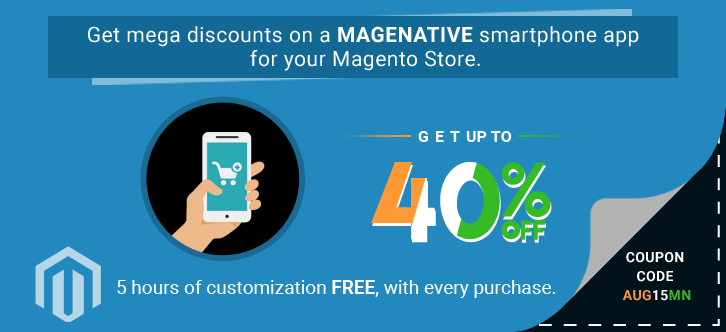 Magenative offers up to 40 percent discount to Magento Store owner's looking to get a smartphone app for their business.
Running short of time? Get PDF of the blog in your mail.

14th of August, 2017, Portland, Oregon: Let's celebrate the power of e-commerce this 70nd Independence Day and make your Magento Mobile App for e-commerce store by availing some of the greatest offers of this month.
Getting into the spirit of the Indian independence day, Magenative is offering up to 40 percent discount to folks looking to create an app for their Magento stores.
This discount comes over and above the already rock bottom prices. The company hopes that the discount will enable Magento store owners to establish a presence on smartphones as well — as task that until now was impossible for many, due to the prohibitive price of app development.
Under this offer, Magento Store owners can get a brand new, customized, and personalized application developed, at minimal costs.
Pricing and Availability:
While store owners could earlier get a MageNative Magento Mobile App for e-commerce store developed for $299 (after discount), the price has been further dropped down to $249!
Buyers will also receive:
Get the Mobile App at $299 $249 – (Your Savings $50).
4 months free support instead of 3 months support – (Your Savings $50).
5-hour Customization Absolutely Free – (You Save $75).
Additional Hours Customization at 15% Discount.
Among other things. The offer can be availed from the 14th, till the 16th of August.
See more about magento Mobile App
Features and Specifications of Magento Mobile App for e-commerce Store:
Some prominent features of the MageNative Mpobile App, that will be developed and customized by MageNative on behalf of its clients are as follows:
Attractive and user-friendly layout.
Multi-Lingual and RTL Support.
Push Notifications

to enable you to send news of exciting offers or any new happenings, straight to your customer.

Social Login feature

to enable users to sign in with a single tap, by using their Facebook or Google accounts.

Native Payment Gateway

to ensure a seamless checkout experience.

Voice Search feature

to enable users to search for any new products or services with their voice alone.
Mobile commerce is huge, and it's only getting bigger. Customers are now spending far more time on their smartphones than they are on their desktops.
Considering all this, MageNative's offer could offer a great window of opportunity to Magento Store, looking to expand the reach of their stores to millions of potential customers on smartphones.
About MageNative:
Established in 2015, MageNative has been heavily involved with customized m-Commerce developments. The company offers a slew of solutions and has a vast, global client base.
Magenative also deals with Magento mobile app, Magento 2 mobile app, Shopify mobile app, WooCommerce mobile app and Delivery App which allows the store owners to create and deploy native mobile applications for Android and iOS smartphones. The company is also working on mobile solutions for more eCommerce platforms namely Opencart, Prestashop, etc.