10+ Ideas to Design Your Shopify Store for a Class-Apart User Experience in 2022!
Running short of time? Get PDF of the blog in your mail.

Play Now
Whether you have just kickstarted your eCommerce store or you're already a pundit, some things never go out of style. How you set up your store is as vital as adding value to your Shopify store design. When you create your store, your objective is to establish a concrete base. But when you design your store, your objective changes to adding value to user experience, look, feel, and functionality. If you want to make your Shopify store look good, then here are 10+ evergreen store design ideas and inspirations that will help you through. 
Keeping these ideas in mind, you can embrace your store's homepage, collection page, product, and checkout page. And if you still feel that something is missing then you can hire Shopify store experts who will make your store look good, dynamic, and interactive. Without further ado, let's begin! 
Shopify Store Design is Much More than Just Choosing a Theme!
If you want to make your Shopify store look good then choose a suitable theme. Shopify's theme store is home to exquisite free and paid themes, and one commonality is that each of them is unique in its ways. To find a theme that resembles your business, you can filter the options to get concrete results. Now when you are ready with your store's theme it is time to design your Shopify store. 
Before you tweak, you should do some homework. Navigate other stores, remember your brand values, and have a rough idea of sprinkling aesthetic design elements in your store. Don't chase the trends if you want to create an impactful design. Instead, figure out subtle ways to assemble and sprinkle eCommerce design elements in your Shopify store. 
Trends may come and go. But aesthetics are for infinity!
These four eCommerce design elements will make your Shopify store look good, authentic, and tip-top. They are – 
Trust. 
Visual Appeal. 
Forum
Navigation.
3 Ideas to Create an Impactful Homepage –
A homepage is the heart of your online store, and as a merchant, you need to make sure that your homepage pumps your brand values, product offerings, collections in a balanced way. Visitors sometimes land on a homepage knowing what they want, and other times they don't know. If you want to create an impactful homepage then you must cater to both these visitors. Here are 3 ideas to do it rightfully –
Pro Tip: A homepage that works perfectly for one niche might not work for another! 
1. Clear Navigation – Navigation decides your store's simplicity. Starting with the header, if there are too many navigational options then your visitors might feel lost or confused (or lost). You can organize your principal navigations and add sub-navigation if you have too many products.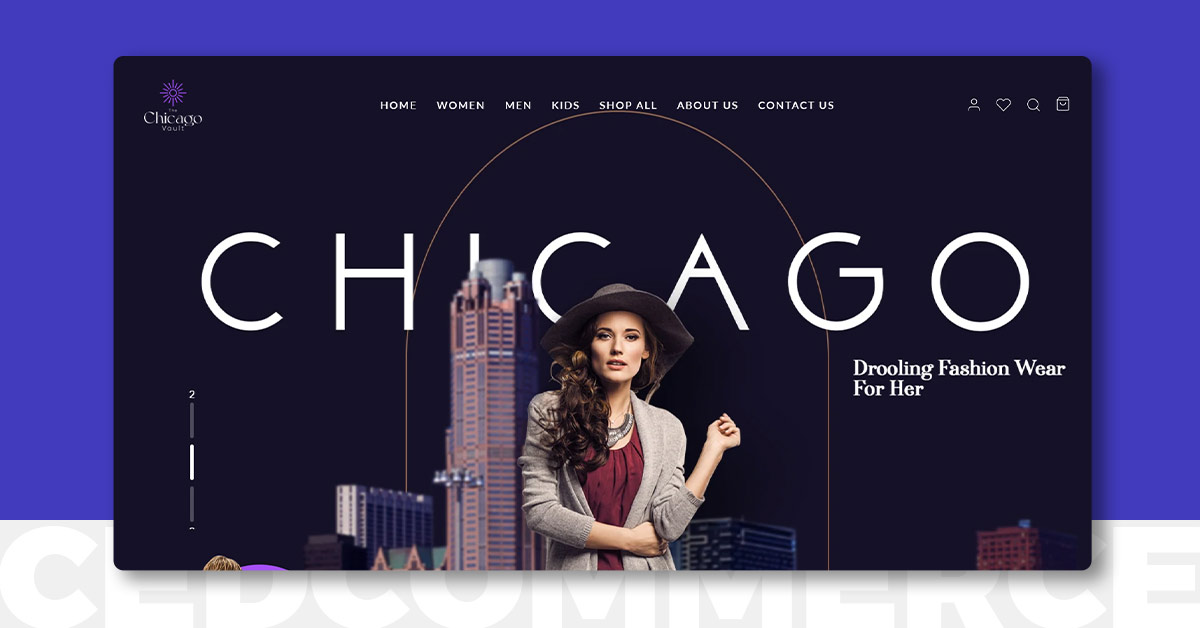 The design and layout of your store's homepage should have a structured drop-down menu. If you want to make your Shopify store look good, straightforward navigation is the key!
2. A Sticky Reminder – The catch here is to simplify your visitor's journey and magnify their experience with your store. Knowing that sometimes visitors don't know where to go next, you can add a sticky search bar that helps them to find what they are looking for. 
Let's say you run a full-range cosmetics store with products like lipstick shades, gloss, eyeliners, mascara, and so on. Having a sticky search bar help, visitors view products that are more specific to their search intent. 
Instead of visitors having to hover down your lipstick collection to find that sparkling red shade, they can directly search for red lipstick and bang on it! You can also hire Shopify store experts to build a search-friendly online store. 
Users who complete a search are more likely to convert. 
You can have a sticky add to cart button like the search bar. It is always visible to customers while they navigate your store. Customers don't have to open a new tab to view product details as they can see everything inside the sticky cart itself. 
3. Creatives that Evoke Feelings & Action – We all know the impact of a visually appealing eCommerce store. But what is that gives them this tag? To make your Shopify store design visually appealing, you can leverage eye-catching imagery, typography, and to-the-point content layout. 
Please focus on the actions you want visitors to take when they first land on your site. The image below is the design flow that sells pain-relief spray. Whoever lands at your store should proceed to the product page or scroll down below to know more about it. There is a subtle use of product images wrapped with graphics and to-the-point copy.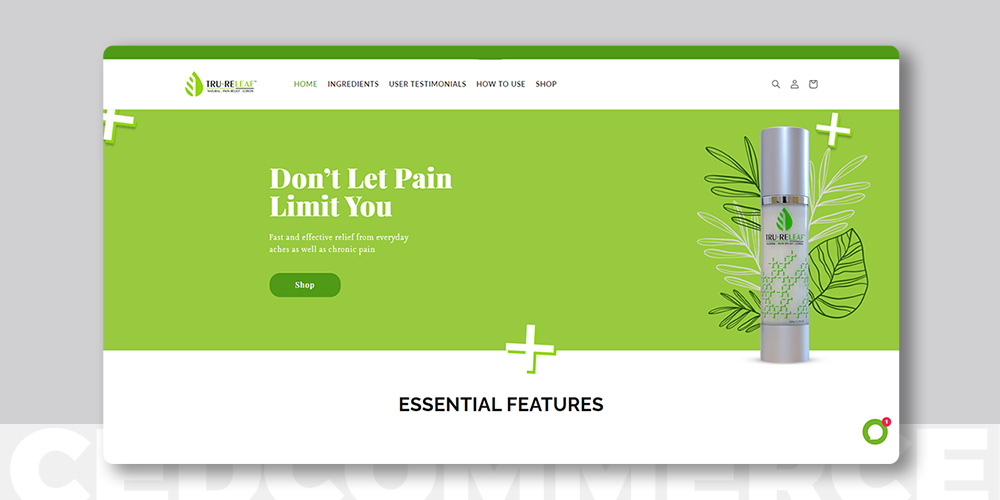 Impactful homepages include excellent imagery, attention-grabbing headline, graphics, and typography. Remember, trustworthy, visually appealing stores steal the heart and attention of shoppers. 
3 Tips to Design Your Collection Page – 
When you group similar products, you create a collection. Each collection can have multiple products. Collection pages assist visitors in searching for products that match their interests. When designing your Shopify store's collection pages, keep the following things in mind. 
1. Uniformity – The idea is to keep your collection pages neat and organized. It is all about visual appearance. Untidy or unorganized things shoo users away no matter how great your product is. 
Make sure that you use relevant images that resemble your collection. A self-explanatory collection name makes it easy for customers to get an idea about your collections. Which collection page do you think is uniform and organized?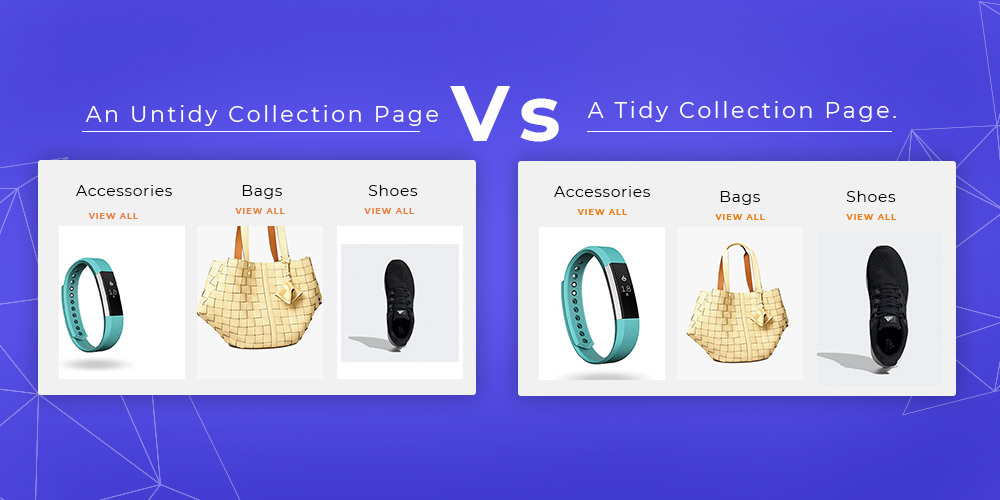 2. Create Collections to Evoke an Action – Don't create collections just like that. Please spend some time and design them to evoke visitors to check the featured collections. Establish a sense of connection between visitors and your collection pages. 
Here is an example – Let's say you have a fantastic line of lipstick shades. You have an option to group all the lipsticks and make a collection out of them, or you can create a collection. Especially for the party-weak lipstick shades romantic date kinds of lipsticks. 
If you're able to vibe with customers' feelings, then you have hit the hammer right on the nail. Every aspect of your store design should have a common goal – to evoke a sense of action and make customers feel that your store solves a problem and not just sell a random bunch of products. 
3. Not too Many. Not too Few – Your Shopify store design should not have more than 10 collections. If there are too many of them, there are fair chances that some will always go unnoticed. You can add unlimited products to each collection. Thus, keeping the number of collections under 10 increases the chances of customers hovering and checking all of them from time and again. 
If you want to make your Shopify store look good, you must not overdo things. Have a strategy that streamlines and smoothes your store's user experience. 
4 Tips to Design Your Product Page –
Do you know that only 3% of store visitors result in conversions? While more than 69% of shopping carts are abandoned! Product pages are the last touchpoints with which shoppers would interact before purchasing. As a result, product pages play a crucial role in your Shopify store design strategy. Selling online is about experiments and suitable solutions that add value to the customer's journey. You can include the following design elements and make your Shopify store look good from the inside out. 
1. Be Clear, Concise & Catchy – If you did your research, then you will come to know that most product pages are to-the-point and without any whimsical element dancing around. The reason is that all the focus is on the product, its imagery, and its content. 
Use only high-quality images with a catchy copy. Don't use more than one CTA button. The primary aim of product pages is to convey all the information to visitors to make an informed purchase decision. 
2. Social Proof – Don't be shy to tell people that you are present on social media. This gives a sense of security and instills confidence among your potential customers. After all, Shopify store design should balance trust and visual appeal, which ultimately will give rise to an informed shopping experience! 
3. Product Recommendations – In the era of data-driven decision making, if you are still throwing random product recommendations, then don't be surprised to know that they might go unnoticed. If you want to add recommendations, then make sure that you do it with logic. 
It would make no sense to add a pair of sneakers as a recommendation in the accessories section. How about adding a pair of sneakers to product pages of jeans or pants? Various free and paid apps will enhance your productivity and store design. You can also consult our Shopify experts, who suggest the best available app. 
4. Think Big. Solve a Problem – Everything depends on how you talk about your product. Let's take an example. Suppose you are selling different shades of lipstick, but wait a minute! How can such a generic product solve a problem? Well, here is the twist. You can pitch the product by highlighting how lousy dark and irregular lips look, and as a result, you can ask customers to highlight them with colorful shades before they hit the party.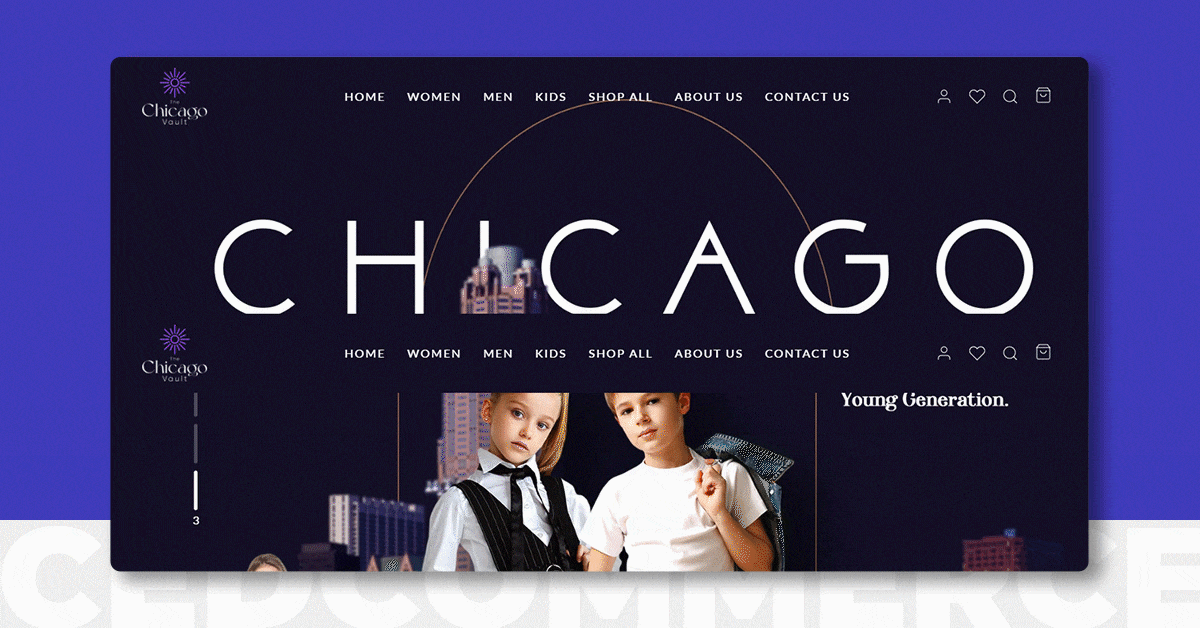 Remember that your Shopify store design isn't just about sprinkling CTA buttons, product recommendations, or adding apps. It is also about how you present your store, talk about your products, and how catchy your overall store is. 
You can Hire Shopify Experts Who can help you make your Shopify Store Look Good!
Everything looks grasping and intriguing from a knowledge point of view. But the real test of merchants begins when they instill the ideas in their Shopify store design. Time never stops for anyone, and opportunity never knocks twice. 
But help and assistance at Shopify are always given to those seeking it. CedCommerce is a dedicated Shopify store experts agency that can add value to your store design. Our energetic store experts are always looking for ways to change the look and feel of a Shopify store. Have a look at these storefronts –
It is not easy to design your Shopify store all by yourself. Given that with Shopify, you can tweak almost every touchpoint of your storefront. How about you talk to our team of experts who have proficiency in – 
Building a store from scratch or redesigning. 
Migrating your store to Shopify,
Homepage, product page & collections setup. 
Customizations. 
Store settings configurations. 
Essential apps installation. 
Developing custom apps and domains. 
Framing a subtle digital strategy for your Shopify store. 
Impactful SEO. 
Strategizing & business guidance.
Final Thoughts – 
The answer to making Shopify store look good is hidden behind how minimalistic and to-the-point your store design is. You might use heavy elements illuminating colors, but if you lack the aesthetics of eCommerce design, then these alone are not enough to attract shoppers. 
If you want to design your Shopify store that creates long-lasting ripples, you should balance trust, visual appeal, and navigation. The 3 aesthetics, when managed, give rise to an unprecedented user experience. So, when working on your store's design, don't just chase the trends. Chase the aesthetics of design elements, and everything else shall follow.