Why WordPress Is a Great Fit for E-Commerce?
Running short of time? Get PDF of the blog in your mail.

Play Now
A decade ago, the thought of selling to a global audience sounded wildly futuristic. Nevertheless, today with the advent of the internet and so many eCommerce stores out there. Not only can one expand their products to audiences on a global level but also they can add products to their online store from any part of the world.
With numerous solutions for eCommerce, your choice of the platform for online business must be peculiar. However, WordPress with eCommerce plugin such as WooCommerce is helping retailers uplift their online businesses by larger means.
The inherent flexibility offered by WordPress enables you to have complete control over your eCommerce store. Helping you automate your eCommerce website on WordPress to enabling you fully manage your inventories on your WordPress based eCommerce website, CedCommerce offers a wide number of plugins to uplift your eCommerce venture.
That being said, we also enable you to connect your WordPress based eCommerce website to the tech-giants such as eBay, Amazon, Walmart, Sears and more. Adding further, we are recognized as a top WordPress Development Company on DesignRush.
Retailers possessing websites on WordPress leverage the following set of benefits offered by our WooCommerce plugins:
Bulk Upload all your inventories in a single click: How about uploading a number of products in a single go and optimizing all your manual work? Leverage the easy upload of products in a go.
Centralized Order Management:
Everything from inventory updates, order cancellation, acknowledgment to refund management. You can manage all your inventory related processes seamlessly through your WordPress based eCommerce store.
Real-Time Stock Updates:
How about getting notified with every single update concerning your WordPress based eCommerce store? Acknowledge every little update concerning your WordPress based eCommerce store.
Auto-syncing of orders:
Say bye to all your manual work, instantly sync your orders in-a-go with your WordPress based eCommerce store.
Automated Profiling Feature:
Automate the upload procedure with the plugins offered by CedCommerce and get started to creating the profiles way effectively.  
24*7 FREE support service:
How about availing the free 24*7 support services all for FREE?
Get started with transforming your WordPress based site into an eCommerce store, and let CedCommerce help you in syncing your online store with TOP marketplaces around the globe.
Wait! Are you still holding doubts if WordPress can actually help you boost your eCommerce store? Let's dig deeper into some facts of choosing WordPress for starting your eCommerce site…
Why must you choose WordPress as your eCommerce platform?
Started initially as a blogging platform, the content management system i.e. WordPress holds the crown for building top blogging websites.
WordPress gives you complete control over your website. Providing numerous tools such as:
-Integrations,
-Themes with ready to use online services,
WordPress is compatible with almost everything online.
With passing days and the increase in demand of eCommerce WordPress later purchased this eCommerce plugin known as WooCommerce.
WordPress meets WooCommerce…
Sources today reveal, WooCommerce has a total of 31% presence in the eCommerce market. The addition of the WooCommerce plugin transformed the eCommerce scenario on a globally. Hence, giving competition to eCommerce platforms such as Shopify, Opencart, and more.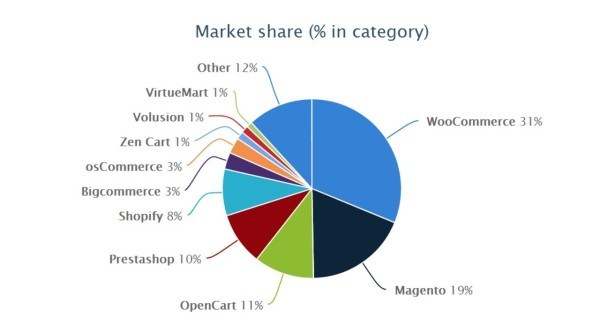 Image Source: ecommerce-platforms
WooCommerce being the most popular eCommerce plugin for WordPress is capable of handling all the functionalities required for setting up an eCommerce site and selling online. A few of the other eminent features being:
-Inventory management,
-Automatic transaction mails,
-shipping,
-offering payment gateways, and more.
Some other benefits of sticking with WordPress include:
-Easy to set-up and use,
-WordPress is SECURE,
-It brings you frequent updates,
-Wordpress brings you regular software verifications,
-Offers your rich SEO and helps you with marketing,
-There is no denying the fact that WordPress is highly customisable.
To Sum Up…
So, are you all set to kickstart your eCommerce venture with WordPress? You must not let your precious minutes slip off your hand by making up your mind on the same.. With WordPress offering such opportunities to customize your site as per your needs, there can be no best platform to start with other than WordPress.  
Let more and more shoppers experience an effortless shopping experience with your WordPress based eCommerce platform.