What is Mobile App Onboarding & why is it essential for user retention?
Running short of time? Get PDF of the blog in your mail.

Play Now
The app onboarding process is the first thing when the user comes in contact with the mobile application. It is an essential step for enhancing the user experience. Onboarding is amongst the essential phases in the mobile apps journey. It is the first point of contact for users, and there is much significance. To provide an enhanced user experience, making the onboarding process as seamless and precise as possible is imperative.
Research shows that 85% of users prefer native apps over mobile websites. Although for new users, it is quite tricky to navigate through an app and understand all its features. Here onboarding helps users familiarise themselves with the app and guide users through the app.
What is App Onboarding?
Mobile app onboarding is the user's first interaction with your application. Which guides them about your app through Videos, a sequence of screens or pop-ups that direct them via the app interface. The main aim of the app onboarding is to tell users about the actual value of the app capabilities and register them as new users. But this part is often overlooked or used inefficiently, leaving users with bad experiences, consequently making them leave the app.
Why Is App Onboarding Essential?
As people move towards mobile commerce, more apps are becoming popular every day. It has become much easier, faster, and more convenient for users to download the app from the app store.
However, the average time user possesses for paying attention is 8 seconds and 25% of users leave the app after a single use. Moreover, the average monthly time spent on apps increases by 40% every year. This shows that making the onboarding process excellent is vital to increase user retention.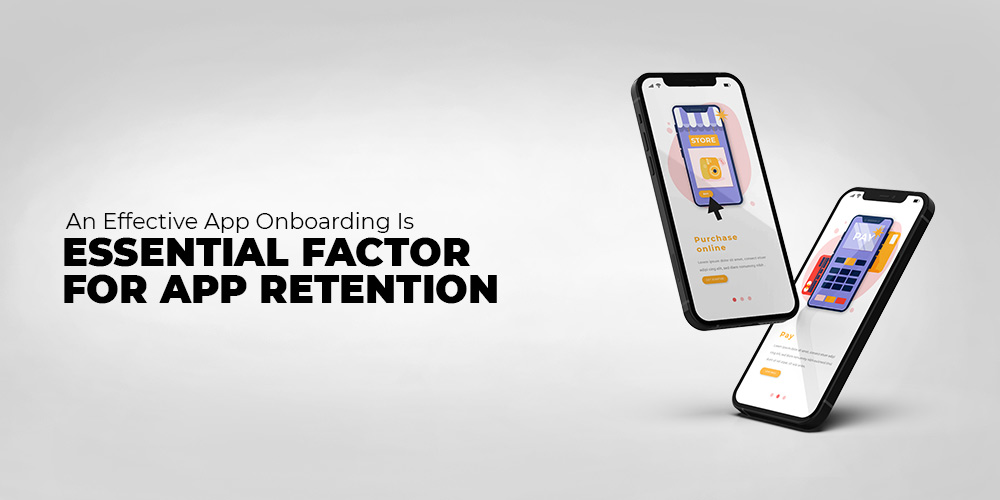 Turn Your Online Store Into a swift And Captivating Mobile App.
App Onboarding help users to
Set up the app through login details(if required) or through registration.
Educate users why they need an app and how the app will benefit them, navigation and other tips.
Personalize their experience based on the collected data from users.
So app onboarding is the first thing user notices when interacting with your app. And an efficient onboarding helps retain users to the app.
Types of App onboarding
There may be numerous types of app onboarding, but the most popular of them incorporate benefits, function, and progressive onboarding.
Benefit onboarding
Benefit onboarding is the onboarding process that highlights the features and benefits of The app. Also, it tells users how it can benefit them in accomplishing their tasks. It helps in improving the conversion rate by encouraging users to use the application. This onboarding focuses on depicting the app's features and encouraging users to use the app by telling them about its features and functionalities.
Function Onboarding
This onboarding shows the general features of the app. It helps users to understand the features of the app deeply. And how these features can help in accomplishing their tasks. This may also incorporate the demo video, which is the UI function of the app.
Progressive onboarding
This onboarding helps users understand more complex features of the application. It provides users step by step tutorial of the app.
Top Ways To Follow For An Effective App Onboarding
As we have already discussed in the article above, the importance of app onboarding for user retention. But how to implement app onboarding effectively to obtain fruitful results? Below are the best ways to consider.
1-Focus On depicting Value
Showing off your features will make your users aware of your offerings and specialty, which helps increase the conversion rate. This is amongst the most effective and top ways to promote yourself. Instead of directly telling the app's features, you need to tell them the Value of your app to the users. Making users realize the Value of your app for their business will convince them to use it. If you can successfully explain to your users how your app can help them to their goals, they are more likely to install your app. So realizing your Value is a great way to entice your buyers.
2-Ask only necessary information
Make the signup process seamless and as simple as possible. If any user is signing up for your app, ask only the necessary and relevant information to their business. For instance, if you have an online store, asking users about their qualifications may be irrelevant to them. So asking too many questions or relevant information can make the users abandon your app.
3-Onboarding screens should be compact
Make your onboarding screen more illustrative and straightforward to understand for users. Because a tedious and extensive onboarding process can make you lose many potential customers. Suppose your app features or functionality requires a detailed process. Try to use more innovative and engaging ways to explain your users. Like you can use screenshots, images, etc., rather than heavy text explanations to your users.
4-Use permission request to use any feature
Asking users for permission before accessing devices features like phone books, etc., is the essential app ethics. It is found that about 30% of apps are uninstalled because the security or privacy policy of an app is not accessible to users. So asking for permission before using any of the device feature builds a sense of trust among the users. Generally, most users hit agree when you ask for permission to use.
5-Promote the app's preview
Completing the signup process may seem boring or tedious to some of your users. So it could be a better idea to give users access to some of your app features before the signup process. For example, you can give your users to surf the product catalog before the signup process. Then, after generating interest in them, ask them for signup when they want to proceed further.
In A Nutshell
The onboarding process is the first thing when the user contacts your app. So to give the best first impression to your users, it is a must to create a good App Onboarding. Tell your users the value of your app, i.e., how your app can benefit them in accomplishing their goals effectively. So starting with an outstanding mobile app with an effective onboarding process can boost your online business. Try it for free with the MageNative app.