Why Bonanza is the Best Alternative To eBay
Running short of time? Get PDF of the blog in your mail.

Play Now
Bonanza is a marketplace that sells everything but ordinary. The simple listing process and quick booth setup are impressive features. It is popular among sellers for zero listing fee, no store maintenance charge, and no hidden fee.
Merchants consider it an alternative to eBay, and there is a solid reason behind it. Bonanza emerged as the most recommended marketplace in 2016, leaving behind e-commerce giants like Amazon, Etsy, and eBay. Also, It bagged the top spot for the Sellers Choice Awards 2021 in categories that play a vital role in e-commerce business growth
Why Bonanza is An Excellent eBay Alternative
Bonanza received a good composite score and A+ BBB rating
It receives massive traffic of 4.1 million visitors monthly.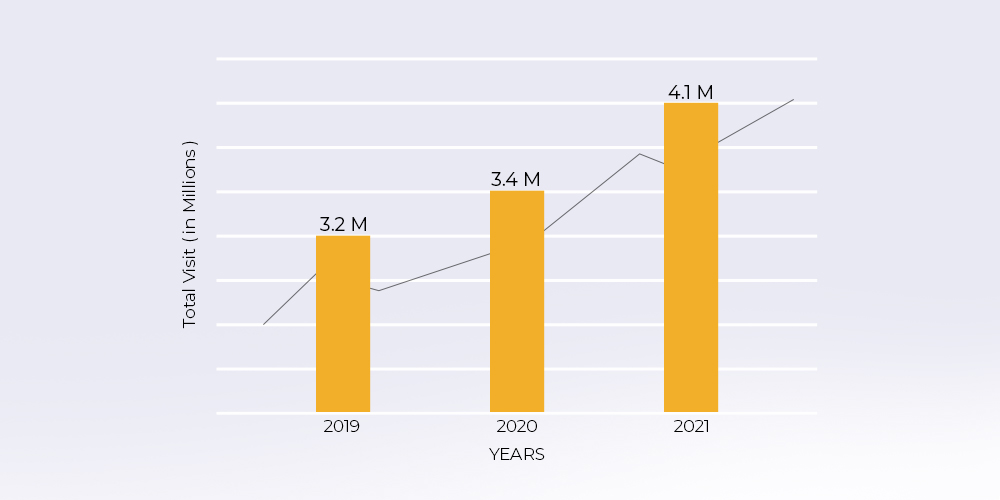 Lesser competition with 25000 sellers. Hence, you reach the target audience in less time, making it easier to convince them.
It excelled as a top-notch marketplace for delivering impeccable customer service. Sellers choice awards 2021 ranked Bonanza as #1 for customer service.
Sellers enjoy zero listing fee and significantly lesser commission fee (just 3.5% for POV under $ 1000 and 5% for POV more than $1000)
Bonanza account creation is not an uphill task. It is fast, and tech knowledge is not a necessity.
Live chat feature by Bonanza is an opportunity to nurture relationships with customers as soon as they approach sellers.
Bonanza has got your back covered for the initial promotion before you start selling.
Why eBay Alternative is the Need Of The Hour
The commission charged by eBay is a bit tricky. They charge an upfront insertion or listing fee to list the items as well as a final value fee.
Secondly, the commission fee varies a lot. It is 14.55% for books, music, and movies. Whereas selling musical instruments costs around 5.85%. It gives rise to a sense of partiality.
Also, some different rules apply for products worth more than $7500. As a result, sellers are deeply disappointed with eBay's fee policy.
Therefore, it can be concluded the selling fee of eBay is not something appreciated by sellers. Moreover, merchants with lower profit margins can find it difficult to survive in the competitive landscape.
Hence merchants are on the lookout for eBay alternative.
Few more reasons to try another marketplace, but eBay are
Certain popular categories have unexpectedly high levels of competition. Hence, too much time to be invested to survive it.
The phishing scam of eBay surged by an unbelievable 54%. Phishing emails went up from 16.3 million (March 2020) to 42.3 million (April 2020). An astonishing high figure for a globally reputed marketplace.
eBay sellers have to pay an extra fee after a certain number of sale adverts. Sellers find it difficult to bear.
Excessive order delay can fetch negative reviews. A nightmare for merchants
Hence, there is a need for an eBay alternative, and one good option is the Bonanza marketplace.
eBay Size (Active Buyers) is Shrinking
A consistent decline in the number of active buyers from 163 million (Q1 2021) to 142 million (Q1 2022). This effect was evident with a 6% decline in sales figures. A depressing moment for eBay sellers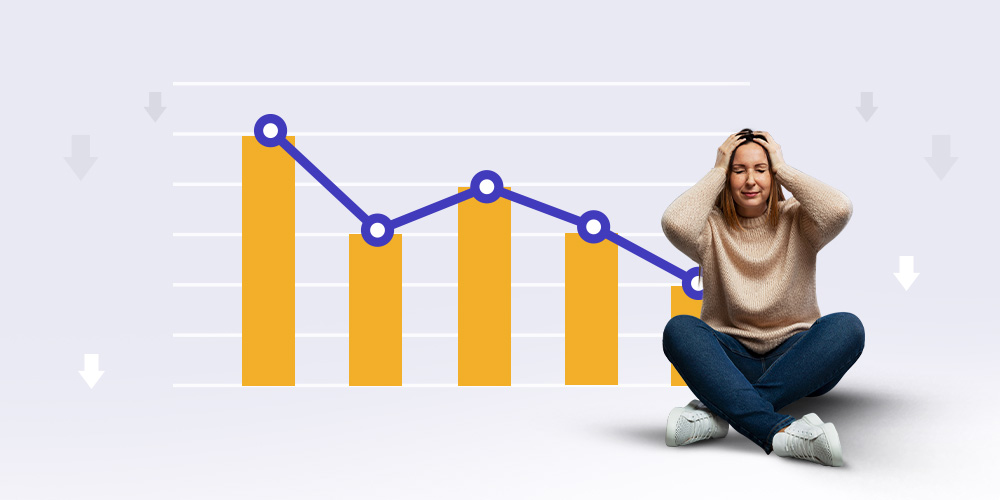 Also, eBay witnessed a 20% drop in GMV during the first quarter of 2022 compared to last year's same period. Shockingly, it is the fourth quarter in a row with lower than expected revenue.
eBay's tough time or bad luck has been going on for the last year, and there is no solid strategy to counter it. No wonder feeling helpless, eBay sellers might switch to a better marketplace like Bonanza.
eBay Scams is a Gloomy Moment For eBay Sellers
Customers complained about eBay phishing emails requesting to complete the purchase of used vehicles (RVs and Cars) using an eBay gift card.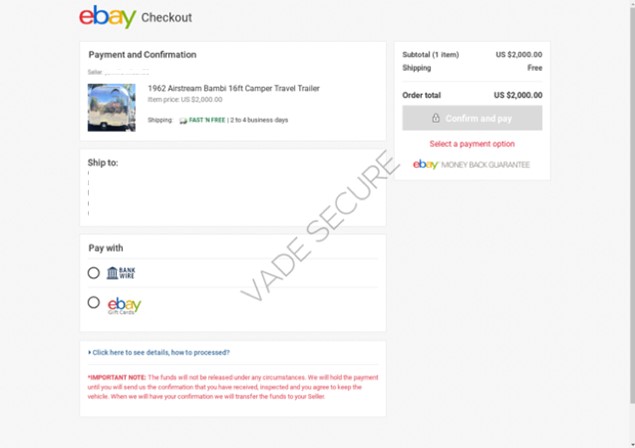 Image credit: vadesecure.com
Thousands of such fraudulent listings appeared within a week and received lakhs of views. Duping customers is such a depressing thing. The reputation of eBay was jolted to the core. Loyal customers questioned their trust in eBay.
How Bonanza Scores Better Over eBay
Let's look closely at crucial parameters that make Bonanza an appropriate eBay alternative.
Selling Fee
Bonanza charges a mere 3.5% commission for products with a final offer value (FOV) of less than $ 1000. Also, for items worth more than $1000, it is 5%. Moreover, there is no hidden fee.
eBay selling fee impacts ads listed by sellers every month. For 40 ads or less, eBay sellers pay a hefty 10.9% for every sale. Even if it's more than 40, there is still a 4% to 10% commission.
Import From Other Marketplaces
Bonanza offers an import products solution with its import listing from other marketplaces. As a result, product import happens in just a few clicks and saves sellers precious time.
But, this feature is missing from eBay. However, a marketplace integration solution will help sellers to import listings in a hassle-free manner.
Customer Service (Seller's Perspective)
The sellers choice survey by ecommercebytes.com revealed sellers had chosen Bonanza as the winner for providing impeccable customer service in 2020 and 2021, racing ahead of top ecommerce marketplaces like Amazon, eBay, and Etsy.
This award was bestowed to a bonanza for the second consecutive year. It indicates Bonanza's unwavering commitment and capacity to deliver great customer service consistently.
Customer service is critical attribute to become perfect eBay Alternative
As a result, Bonanza sellers will benefit from below
Quick response for every query. Hence, their business won't be impacted by on-going issues.
Bonanza customer support displays empathy towards sellers and puts its best efforts into providing moral support.
The support team patiently listens to every little detail of the problem.
No wonder the above pointer will encourage sellers to prefer to sell on Bonanza over anything else. After all, the Bonanza customer support team has got their back covered.
Communication
Sellers have also chosen none but Bonanza as winner for 2020 and 2021 in the communication category for Sellers Choice Award. Transparent communication between merchant and marketplace is the key to propelling the business in the right direction.
Bonanza is a seller-friendly marketplace with the feature of displaying seller's booth information alongside listings. It boosts the seller's visibility among the target audience.

Image credit: Bonanza
As a result, it influences shoppers to explore more products. No wonder shoppers find it pleasing that they can avoid unnecessary navigation to access specific product pages. Making it easier to find the right item uplifts the customer experience, a key element to strengthening repeat purchases.
Moreover, the flawless communication channel established by Bonanza helps in initiating personal level communication between sellers and customers.
Few More Aspects Where Bonanza Has Edge over eBay
Comparatively less commission fee and that too if a sale is made
A seller-centered marketplace. Here, the quick chat with customers enables sellers to educate customers and influence purchases. Therefore, boosting the conversion rate.
Bonanza allows updating products in a group simultaneously. It is a seamless process.
The Bonanza background burner tool ensures sellers can make the products stand out from the rest.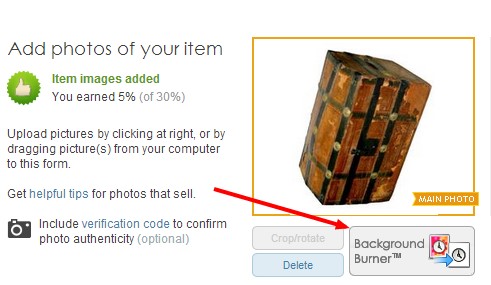 Image credit: bonanza
Allows sellers to import upto 1000 recent feedback from eBay to Bonanza. It will be a competitive edge for eBay sellers that will help build trust among audiences who barely know your brand.
The drop-down menu is a user-friendly feature that saves customers time and allows them to find the product quickly instead of browsing the entire site.
Sales data analysis (customer history, purchase category, and more)helps derive vital customer insights. Sellers can leverage it to craft personalized offers and effective marketing campaigns.
The Customer Marketing Tool offered by Bonanza is of great use for sellers. It provides customer-centric data like purchase history, messaging history, and more.
It also lets sellers know about those who checked the subscribe box. Hence, he can better strategize for potential customers in the future.
Conclusion: Bonanza Has All That Takes To Be An Excellent Alternative to eBay
Many reasons raise sellers' eyebrows when planning to sell on eBay. Instead of only hoping for things to improve on eBay, it will be wise to invest time and money in equally good and promising platforms like Bonanza.
The multiple benefits of selling on Bonanza can be leveraged to the next level by automating your selling process with the right solution.