What is the mobile app ROI? How to Calculate and ways to improve it
Running short of time? Get PDF of the blog in your mail.

Play Now
It is obvious that an effective, well-crafted mobile application can be a perfect way for the growth of your online business. An excellent mobile app offers give your users a fast, user-friendly, and interactive platform that helps take your business to the next level. However, several costs are incurred during the development and maintenance of your mobile app. So it is crucial to regularly measure the Mobile app ROI to ensure that you are getting profit on your investment in the app.
What is ROI?
ROI(Return on investment) is the return received from the investment you have made in your business. No matter what type of business you are running, monitoring and ROI for your business is imperative for the proper growth of your business. Estimating return on investment on mobile apps is also significant in terms of marketing investments. It justifies the investment made in marketing activities.
Turn Your Online Store Into Captivating And Scalable Mobile App
Each expense done in the business process is an investment, from purchasing raw materials for your business to expenses incurred on the app development team comes, all under business investment. And for the successful growth of any business, it is imperative to spend money wisely. You should be informed properly that where and how much your money is being spent and what returns are you making out of it.
How to Calculate the Mobile App ROI?
Read Also: What are the top Ways to Improve App Engagement & User Retention?
Building a mobile for your online business is an excellent idea for the success of your business. But the ultimate goal of every business is to generate revenue, return on investment. And same as in the case of a mobile app, i.e., how much return you are getting from it. So calculating mobile app ROI is the mandatory process to monitor the progress and profitability of your inputs in building an app. Here is the simple formula to calculate return on investment.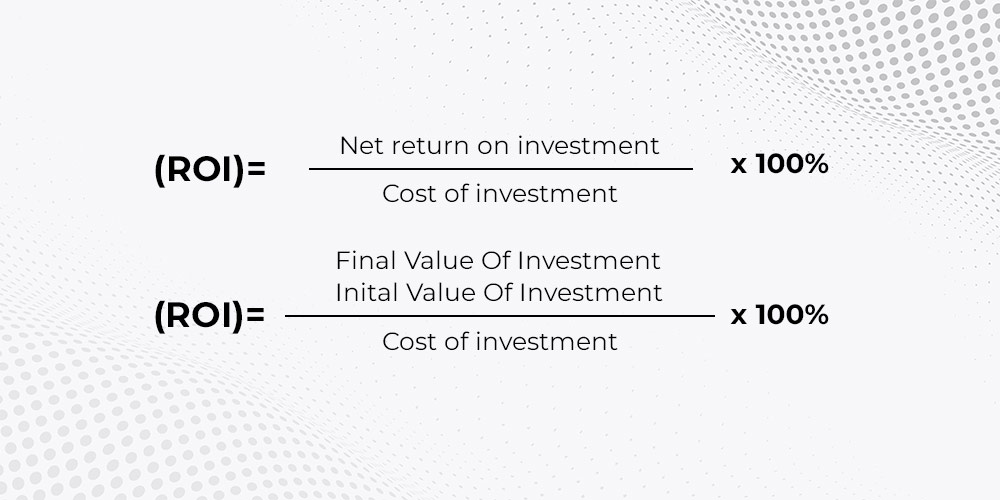 For Example
Suppose you are running an online store and have invested $1500 in developing an app. And if you can generate revenue of $3000, your return on investment would be 200%. This is an easy formula to calculate your progress. This will help you decide where you should invest in generating more profit. Let dig deeper into it.
Let's discuss the detailed steps for calculating mobile app ROI
Steps 1- Define your objectives
The most important step is to identify your business goals from a mobile app. It is important to define your goals both for the short term and long term before starting your app development process. Once you are set with your strategy and goal you should convert it to actionable steps and interact with your app development team. The app developers must be very clear and informed about the KPIs and business goals at all development stages. It is crucial for the proper investment of funds.
Step 2- Calculate the gross cost incurred in the app development process
You should be very careful about investing your money in the development process. The cost incurred in the app development process may incorporate the following.
App development cost
UI/UX development cost
Integration and support
Testing cost
Final deployment cost
Long term cost
After the final launch of an app, there will be maintenance costs which can be considered as the long-term cost.
What Are the top ways to improve mobile app ROI?
Suppose you have an online business and plan to build an app for it. Then it is imperative to monitor the ROI of your app closely. Creating a mobile app for your online business is a good idea for its growth. But simply giving a mobile app to your business won't benefit you unless you monitor its ROI and then work accordingly to improve your mobile app ROI.
Here are some proven ways to enhance the ROI of an app
1- Ensure your mobile app's performance
The performance of an app is the crucial metric to maintain healthy relations with your users. In research, it was found that users reject an app if it has a slow loading speed. So to ensure your app's performance, its loading speed should be fast, and it is free from all errors and bugs. Mobile app loading speed should be less than 2 seconds, more than this will be considered the slow loading speed. Slow loading speed not only degrades the user experience but also, it will push down its ranking in search results.
2- Make an Easy Onboarding process for users
Usually, the registration process on any app is lengthy and tricky for the users registering first time in the app. A long and complicated registration process makes the users leave the app. So to retain the users on your app, it is imperative to offer them a seamless onboarding process. Don't ask for unnecessary details from the users. Offer them log in through social media(like Facebook, Gmail, etc.).
3- Better Communication with users
The best thing about the mobile app is that it facilitates two-way communication. Through apps, you can entice visitors by sending personalized notifications. Research shows that a push notification increases conversion rate up to 88%. Another study found that 65% of users returned to an app 30 days after enabled push notifications. A push notifications are very effective when used wisely, i.e., the right message delivered at the perfect timing can do wonder. So it is vital to plan an effective strategy to shoot push notifications to your users. Sending too many notifications can irritate your users. Send them periodically whenever you feel it is essential to showcase your offerings.
4- Loyalty Reward To Retain Users
Offering rewards or loyalty rewards will help you attract new users and help you retain the existing ones. It is seen that more than half of the users download apps to receive special orders and discounts. Mobile app rewards please both new and existing customers. It also increases the downloads, thereby increasing user retention and brand loyalty. Loyalty rewards are also helpful in bringing back dormant users.
Read Also: Top reasons why app ratings and reviews are important For E-commerce
5- Enable social sharing to keep users engaged
Having a social sharing option integrated with the mobile app, enabling users to share specific events on social media. When users promote any activity on social media, their connections will get notified about it, resulting in an app's promotion. Enabling app users to share the app content on the social platform helps gain users' attention.
Are you looking for a reliable and cost-efficient firm for app development?
If you are looking for an app development company that helps you get a robust mobile app with outstanding features, you can try MageNative. MageNative is an app development firm that offers a seamless user experience. It helps convert your online store into a feature-rich mobile app builder, enabling users to build and customize apps on their own, even without coding skills. Also, it will ultimately help in improving the ROI of your app. You can start with a free app trial.