What are Item Specifics on eBay? Why are they important?
Running short of time? Get PDF of the blog in your mail.

Play Now
Every single time you start a new product listing on eBay, you not only wish to get the most number of impressions; you want the much-needed clicks and conversions too. Optimizing your eBay SEO using item specifics for listings is one way of moving forward towards this goal. Item specifics on eBay are an essential part of your listing, ensuring your buyer sees all the critical identifiers to recognize the product they are searching for.
Updated Item Specifics (May 2021)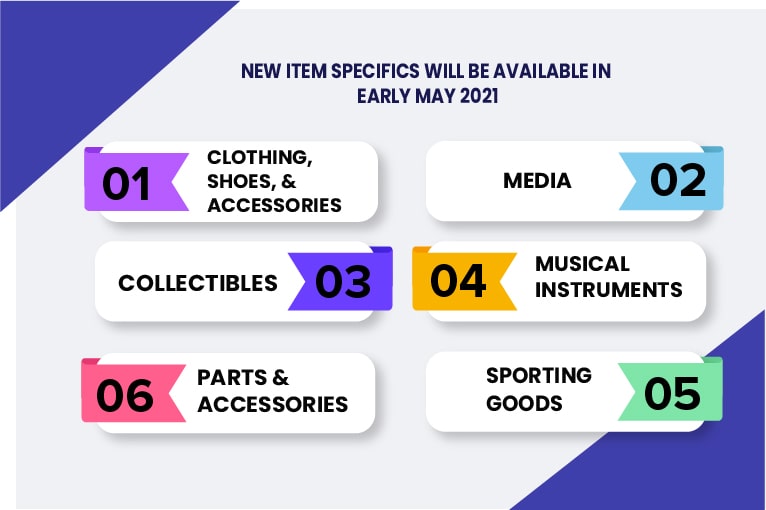 What are Item Specifics
Item specifics cover details about the item you're selling. It includes some important attributes like:
Brand
Size
Type
Color
Style
These details help describe your product listing, making it easy for shoppers to get acquainted with your item's reality. It presents the key characteristics of your product for them to compare and evaluate. In the process, helping them identify the right product for their needs.

For instance, item specifics in the clothing section are of utmost importance.
If your product does not have some of the simple details, be prepared to see your product getting excluded from the search results.
If your product does not have the required item specifics, then they'll get secluded in the search results.
There are thousands of listings on eBay that do not use item specifics. For instance, eBay encourages the purchase of jeans by waist size. If you're someone who didn't provide the waist size item specific for a pair of jeans, a buyer's chances to find your product go down to almost zero.
Here's a visual of how a correctly filled item specifics for a product looks like,

Improve eBay SEO with Item Specifics
Item specifics play a significant role in setting up the SEO for your eBay store. Getting it right can increase your visibility on eBay, google search results and google shopping. Above all, it lets your customers find what they seek by going through the details provided. Most of the shoppers' filter their search results based on these item specifics. Therefore, it becomes vital to speed up the entire shopping process.
Now here's the thing, your product gets listed in the filtered result only if you include the item specifics while listing them. Else, it won't appear.
Also, item specifics are not only crucial for users accessing the site through desktops or laptops. Mobile search results also get impacted by the item specifics and eBay SEO. These details sit on top of the item descriptions in a standard format. It gives the viewers a clear idea of what they're looking at.
How to add item specifics on eBay
When Adding item specifics to your listings means adding essential details related to the item you're selling. It is to be used for eBay SEO to provide the relevant information of the product being listed. Also, The unit should only include the specific information related to the item. For example, you should never enter any irrelevant details like the model or size for a section covering the manufacturer details.
Use the drop-down to find the relevant brand for your item.
In case of a pre-filled detail for the product, verify the details and correct them if needed.
If you wish to include further details related to the item-specific information, click on the "+" sign. You'll find it next to Add your item-specific.
You can also remove any detail for a specific item by clicking on the Remove link next to the item Specific.
Also, you can create a listing for a single product or multiple products. Let's see how you can do the same for each.
Single Listing
If you wish to add or edit details related to eBay item specifics individually for your products:
Log in to your eBay account.
Once logged in, go to All selling.
Find the listings you wish to edit, followed by a click on the Edit button.
Now, select Edit listings individually from the actions menu to make the desired changes to your listings. You can then start adding/editing the item specifics for the products that have been listed.
Once done, click on the Save and Next button. It'll redirect you to edit the next listing.
Multiple Listing
If you wish to add or edit details related to eBay item specifics in bulk for your products:
Log in to your eBay account.
Once logged in, go to All selling.
Find the listings you wish to edit, followed by a click on the Edit button.
Select Item Specifics from the drop-down menu available on top of the page, followed by Edit listings in bulk on the next screen.
Edit and make the changes that seem fit for the products you have listed from the grid, and click save once you get satisfied with the changes and updates.
For Google product search
Google being a vital source of traffic to any listing makes it an essential part of your SEO strategy. Well-defined search optimization for google product search means including specific product identifiers. Moreover, these product identifiers make sure your item has a fighting chance to come in the search results. Several unique product identifiers needed for Google can find their way through eBay's item specifics.
How does it work? Whenever and wherever you can list your products using eBay's item specifics, use it. It ensures that your products' details are structured to optimize google and other relevant search engines automatically. However, in cases where you won't have the catalogs available, you'll have to enter the unique identifiers for your products manually.
The table below has the identifiers required to enlist your product in Google Product Search results.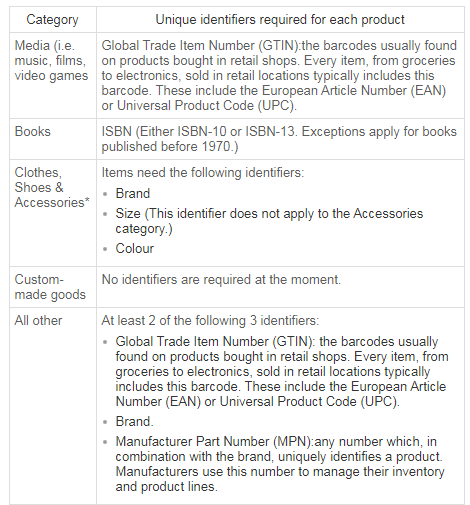 Updated eBay Item Specifics useful from 22nd Feb 2021
As per the latest eBay announcement, a new and updated list of item specifics categories will get introduced w.e.f. 22nd Feb 2021. For instance, here's a list of all the product categories that have been revised and updated as per new types.
Start managing eBay Multichannel selling on Shopify, BigCommerce, WooCommerce, or Magento store. CedCommerce gives you an integrated solution to get started with easy to operate multi-channel sales from a centralized location.

Conclusion
Item specifics have always been an essential part of your eBay listings. Today, even more, they play a vital role in gaining the much-needed visibility for your product, whether on eBay search results or Google Product search.
In contrast, some categories like clothing become way too important. For instance, not including eBay item specifics for products listed under those categories in your product listing will make the visibility suffer. It means your sales get harmed in the long run when not using item specifics for the listings you create. Therefore, to improve the product visibility and continue getting the enhanced results in sales, you need to optimize the eBay listings. And update the categories as per the latest information released by eBay.
Have more queries? Feel free to drop them in the comments or Contact Us through chat.