Southeast Asia Ecommerce: What is Trending Now (Q1, 2022) 
Running short of time? Get PDF of the blog in your mail.

Play Now
Southeast Asia is a rising e-commerce powerhouse with hundreds of millions of shoppers. Knowing high demand products in a vast and diverse customer base opens up enormous opportunities.
Basket Size is Getting Bigger
The covid threat is still looming and keeps pushing customers back to their home confinement, with new variants surfacing every few months. Hence, customers are willing to buy in bulk, fearing inevitable shipping delays during the worst scenario.
Growth is in Unstoppable Mode
The good news for online retailers is that the community of online shoppers in Southeast Asia is increasing at an astonishing rate of 13%. Today their strength stands at 350 million online shoppers.
Also, the per-person shopping budget increased from $238 to $381 in 2021 and is projected to accelerate further. Another statistic to put a smile on a seller's face is that shoppers' disposable income in Southeast Asia has reached the benchmark of USD 300 billion.
Well, it sounds like a tremendous opportunity for online sellers in 2022. Overlooking it will only fetch regrets.
Let's Explore Fresh Trends to Determine Where Shoppers Will Spend Millions of Dollars?
Did you know, on average, a buyer in Southeast Asia browses eight websites before actually making a purchase? And usually buy items from upto eight categories. Both figures have increased from the last year.
7 in 10 customers are well aware that a significant portion of the entire day will be spent inside the home. Therefore, they are eager to buy home decor,self‑care, personal grooming stuff, and make a living in home convenient.
Online groceries are among the most sought after categories. Since the pandemic
Buyers from South Malaysia, Vietnam Urban, and Indonesia are more likely to panic buying.
Customers who have not fully recovered from the pandemic are keen on buying kitchen and personal hygiene products.
Online shopping will gain traction as those who buy offline will also throng your store. Therefore be a pro merchant and get yourself a mobile app for the store to extend your brand reach beyond your competitors.
What are High Demand Products in Indonesia
Indonesia has a solid customer base of 44 million online buyers, and the e-commerce market size doubles itself every year. Therefore, the nation of 17000 islands makes up a perfect land for e-commerce opportunities.
Health is Crucial
Health products demand is rising as citizens faced the worst health crisis in Southeast Asia during the pandemic.
Multivitamin
Fish oil
Omega -3
Probiotics
Ginseng
Dietary supplements
The aforementioned health products gained popularity during the peak of the pandemic. It will continue to see a surge in 2022 as health becomes a top priority.
Gadget Lovers
Indonesian love for electronic gadgets is evident because 31 percent are early adopters of technology. As a result, smartphones and other electronic gadgets will lure a large pool of audience in 2022.
Around 70 percent of tech lovers are millennials and Gen Z. Therefore, bite-sized videos on popular social media channels will be the best strategy to grab their attention.
Mom and Baby Products
It is the region's most populous nation and will be like it for many years ahead. The high birth rate makes it a potential market for mom and baby items.
Sixty-Six percent of buyers in Indonesia prefer to buy mom and baby products online. Moreover, 57 percent need to do the shopping every month.
Malaysia's High Demand Products in 2022
The Malaysian ecommerce market is poised to grow as big as US$13 billion by 2025. Four major categories that will keep shoppers busy are
Travel Accessories
Malaysians have a knack for traveling, but it remained suppressed during the pandemic. The relief from the pandemic this year will inspire them to travel. Hence, they will be eagerly searching for travel related accessories.
Electronic Gadgets
Another segment that has been popular owing to high dependency in daily life. Smartphones are taking the lead in this niche, followed by home appliances.
Fashion & Beauty
Malaysians' most sought-after products belong to this category. Skincare products are top-rated but mask becoming an integral element post-pandemic means a dip in sales of lipsticks and lip-glosses.
Personal Care
A promising 10.2% CAGR indicates strong potential for personal care items in 2022. 4 in 5 Malaysians prefer to buy these items from international brands. Baby products are a high-demand product in this category.
What is Trending Now ( in 2022) in the Philippines
Dumbbells
Dumbbells are among the most popular home workout gear among Filipinos. Google trends suggest a high buying intent behind the product.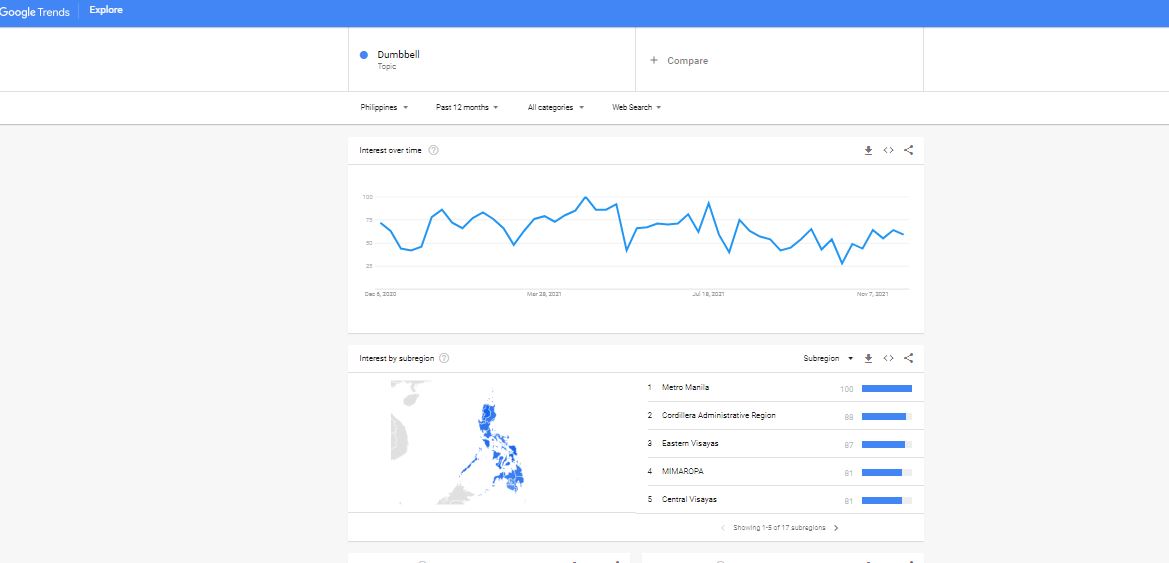 Image credit: google trends
Another advantage of listing dumbbells is the opportunity to sell related accessories like weight plates, mats, and dumbbell rack stands. After all, it will be easy to convince the shopper about it.
Skincare
Another highly beneficial product category for online retailers in the island nation is Skincare. As far as age groups are concerned, generation X is particularly interested in pampering skin with products that ward off aging.
Moreover, Filipino men today are more concerned about personal grooming than in the past few years. Hence, a huge customer base is ready for skin care products.
Fashion and Beauty
Filippino's love for fashion and beauty knows no boundaries. Zalora's Southeast Asia Trend Report suggests up to 87% of fashion lovers are concentrated in the central and outskirts of the Philippines. Hence, targeting ads in these geographical areas will fetch a high ROI.
A Pro Tip: Southern Philippines is fascinated by Korean-inspired clothes and footwear more than anything else.
Singapore's Top Selling Products in 2022
Loungewear
The work-from-home culture is here to stay for really long. Shoppers are on the lookout to make work from home a pleasing experience. It has resulted in high demand for nightwear, loungewear, and robes.
Baby Wraps
A new entrant in the mom and baby category. It makes moms look fantastic as well as keeps worries away. This product allows parents to have their little ones safe and their hands-free.
Bluetooth Speakers
Staying indoors for several months is now a part of my lifestyle. Many find it comfortable and safe. Because, god damn virus keeps appearing in newer versions to threaten.
Now, Bluetooth speakers can make indoor lifestyles exciting and keep people entertained.
Bubble Tea
One of the most loved beverages among Singaporeans is Bubble Tea. After all, the demand is consistently high throughout the year.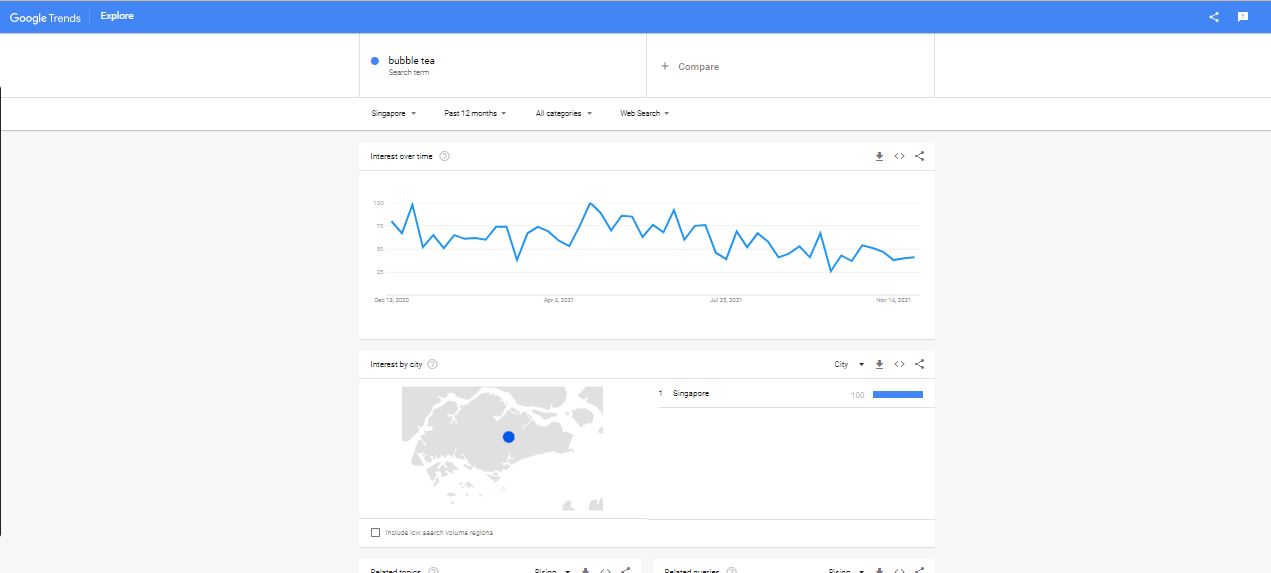 Image credit: google trends
Offering different flavors of bubble tea and customizable sugar levels will impress buyers to purchase it from your store.
Some Solid Tricks to Convince Customers for Buying What Products Are Trending Right Now (2022)
You might find it hard to rank at the top of Google SERPs for specific high competition keywords (products). But, adhering to the intelligent ways mentioned below will help tune your efforts in the right direction and extend your outreach to the farthest.
Make your store profile is very promising on online review portals. Request loyal customers to share video reviews. Positive reviews have the most decisive influence on purchase decisions. Share them over social media and in email newsletters.
Running giveaways campaigns on social media that offer newer products ( before launch if possible) will make your store stand out and ahead as well.
Leveraging Instagram and Pinterest (product Q&A sessions) enables you to reach out to audiences to share your product uniqueness and brand value.
Limited time discount, hassle free return, and free shipping will never fail to delight any customer. Ensure these three perks are visible as soon as the buyer arrives on the website.
What will Be Driving Forces Behind Purchase Decision in 2022 in SEA
Knowing what's on the consumer's mind in SEA keeps you ahead of competitors. Let's take a closer look into it.
Upto 57% of shoppers in Southeast Asia consider value for money as crucial decision-making consideration. Particularly buyers from Thailand and Singapore give it maximum weightage.
Image credit: facebook
It's a crucial parameter that merchants shouldn't overlook while adding items to their what is trending now list.
Southeast Asia consumers are eager about the new brands in the market. Four in ten buyers in the region are likely to buy from a new entrant in the market even upon discovering it just a few days before purchase.
Southeast Asia consumers have increasingly become health conscious. Particularly passion for probiotics has turned Malaysia into a leading consumer in the region. Hence, whatever ensures good health will not skip from the wishlist.
The middle class in the region is on the rise. Use the Facebook audience insights tool to learn about their lifestyle and habits. It will help you decode the buying pattern and prune your ads campaign for better ROI.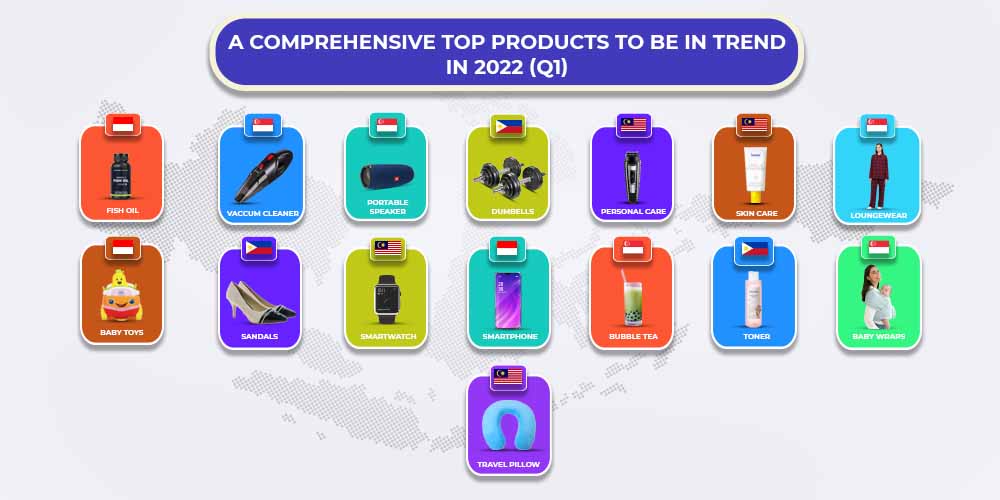 The Solid Trick To Discover The Evergreen Niche in 2022 and Beyond
Trends are cool, but definitely, sellers should not rely only on them. No doubt trends that can even be helpful in the long term but are never permanent.
Let's Understand a reliable way that eases up finding what is trending now
Google Trends help in identifying the potential of a product under critical parameters that include
Region where popularity of the product is maximum.
Time period when popularity is at peak.
Which age group is most likely to buy it
The above parameters will justify whether or not a product is worth selling. Now, without a shred of doubt proceed with the following.
Search your item on the leading marketplace of the region. It can be Shopee or Lazada for Southeast Asia.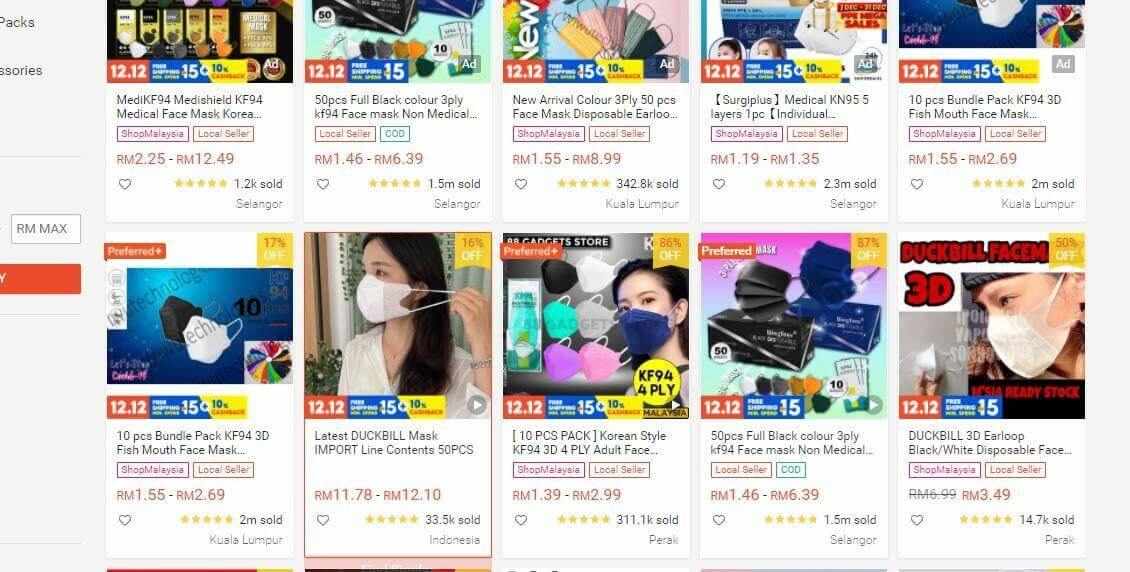 Image credit: shopee.com. my
Here you can see the number of times a product was ordered from various vendors. Surprisingly high numbers suggest it is an excellent product to list on your store.
Conclusion – Best Products Bring High Return On Investment
The competition on the e-commerce front will be fierce in 2022. As a merchant, keeping pace with changing dynamics of trending products is vital to stay ahead of the competition.
A comprehensive breakdown of what products are trending right now in Southeast Asia reveals the best products to list on your store in 2022 and saves your time.