Voguish Handbook of How to Start Clothing Business with Shopify!
Running short of time? Get PDF of the blog in your mail.

Play Now
What are the three things you carry while you step out of your house? They have got to be your smartphone, wallet, and your choice of clothes. Clothes are the staple requisites, and people take great pleasure in carrying fashionable apparel-line, linen, and styles. If you want to test the limits of the entrepreneur inside you, then you can sell clothes online and charm shoppers worldwide by curating fashionable trends. 
Fact Check – Garments have a life span of 1-3 years. If you wear your dearest tee often then don't expect it to last for more than a year (sometimes 6 months).
People shop for clothing and accessories to stay fashionable and stuff their closets with quality merchandise. And this is why selling clothes online is an attractive business opportunity in 2022. This is a definitive guide to start a clothing business online, and building your apparel store with Shopify experts will make things easy-breezy, engaging, and enjoyable. But first things first – 

The fashion and apparel industry is poised to grow upwards. Customers are not opting for cross-border commerce and online marketplaces. Do you know what this means? It means that if you sell clothes online with Shopify, which comprises the artful personalized touch and dynamism of eCommerce, then you can scale your apparel stores 2x in 2022. 
5 Business Models to Sell Clothes Online –
The enigma to a successful business incorporates correct fundamentals backed up with proper research.
You first need to choose a suitable business model depending on resources and your investment appetite. Here are some standard business models with which you can start a clothing business online –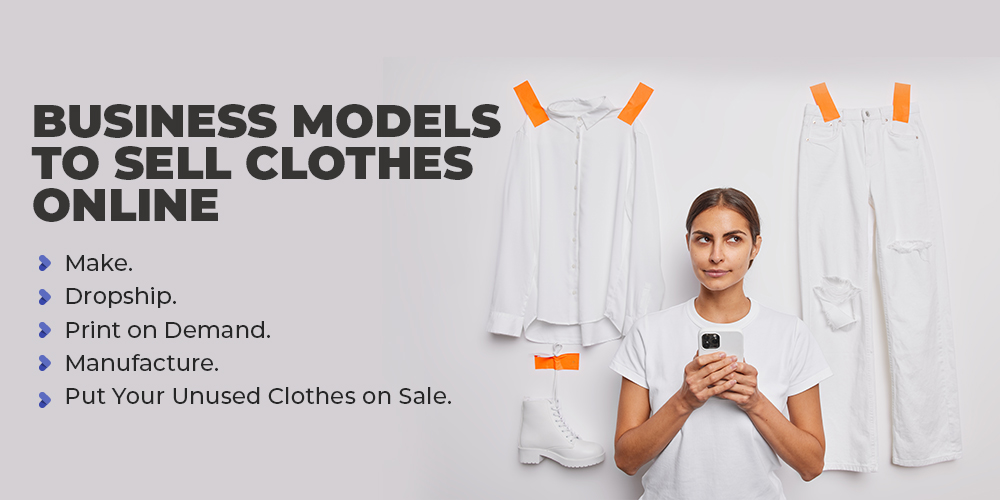 Make –
If anyone in your circle knows the nuts and bolts of manufacturing clothes from scratch and has a fair knowledge of linens and materials, then it is time for a team. When you make clothes in-house, your product has a fair chance to stand out from the competitors in your niche. But this business model comes at a cost. You have to take care of everything like – 
Linen and clothing materials. 
Artists and labor. 
Machinery. 
Printing and packaging materials. 
Labeling and designing. 
Marketing and promotions. 
Dropshipping –
If you don't have the resources to make your clothes, then you can start your clothing business online by choosing dropshipping as your business model. You will market your apparel store while a third-party drop shipper manages the stock and handles order fulfillment on your behalf. Selling apparel online through dropshipping is a viable option because you don't have to worry about inventory and manufacturing. Just put on your marketing mind to work and build your dropship apparel store with Shopify experts.
Print on Demand –
It is one of the hottest eCommerce trends for now and forever. Selling printed clothes is a great way to offer a custom clothing line. With a print-on-demand model, you can create a printable design, and your preferred print-on-demand company will put that design onto your products and ship it out to your customers. This business model has nominal profits, but at the same time, you don't have to worry about inventory and order management. As a result, you can sell clothes online with minimal risk.
Manufacture –
You can also partner with medium-to-small clothing manufacturers if you have the designs ready. With a manufacturing business model, you can have complete control over your product and bring your designs to life. The manufacturing business model is a win-win situation. 
Put Your Unused Clothes on Sale – 
You can also sell clothes online that you don't like to wear anymore at discounts. This business model is growing because it promotes sustainable and responsible shopping habits. You can ask others to give away their clothes that they don't wear anymore. This way, you can start your clothing business online and build your apparel store with Shopify experts. 
But once again, profit margins will be pretty nominal, and not all shoppers are open to purchasing second-hand outfits. Selling used clothes online is a niche market, and it is still at its mushrooming stage. 
The choice is yours. Pick any one business model and kick-start your journey of selling clothes online. But choosing a business model is not easy. You'll have to look into numerous factors before finalizing. 
Brace yourselves for the existing part! 
How to Build Your Apparel Store on Shopify? 
How will you feel if you visit a grocery store only to find out that racks over there have dumbells and supplements? You sure will have serious trust issues about the place being a grocery store. In the same way, to start your clothing business online, you need to make sure that your store emits the vibe of an apparel store. Here's how you can build your apparel on Shopify – 
1. Choose a Name that Resembles Your Business –
Choosing a name is of utmost importance. It should be such that they should instantly resemble it with a clothing and apparel brand as soon as someone reads it. 
So, before you do anything else, you need to brainstorm a lot about your store's name, tagline, and the story associated with it. If you run out of ideas, then you can try Shopify's business name generator tool. It is quite helpful during your brainstorming sessions. 
2. Create a Logo –
Logos for apparel brands should be soft and minimal. If you are selling women's or children's clothing lines, then you've got to stick to the basics. Use soft colors; keep it simple yet catchy.  But if you are selling activewear, gym wear, or menswear collection, you should go with a vibrant and bold logo for your apparel store. Choosing a logo for your apparel brand might be a bit of a daunting task. You can sit with our team of Shopify store experts and create your logo! 
3. Choose a Theme –
Remember about your tumbling trust issues with the grocery store selling fitness goodies? To make sure that your apparel store looks and feels like one, you need to choose an appropriate theme. Here are some free Shopify themes that are suitable for your clothing store – 
Dawn. 
Narrative. 
Debut. 
Boundless. 
Simple. 
Brooklyn. 
Supply. 
Minimal. 
Shopify gives you the freedom to tweak your theme in unimaginable ways. You can download a free theme and build your apparel store with Shopify experts who can sprinkle personalized touch throughout your store. 
4. Rejuvenate Your Store with Metafields –
Metafields enable you to create additional data constraints and edit values in context. For example, you can feature a size chart on your product pages. This way, customers can judge your products better. You can also create a sense of urgency, mention delivery time, and availability of other options. 
These are a few possibilities out of the many. So, before you start a clothing business online, don't forget to consult our team of Shopify experts who will help you with meta fields and their subtle use. 
5. Create Main Pages of Your Store –
With your store's web pages, you communicate vital information to your customers. Pages like About Us, Terms and Conditions, Shipping & Returns Policy can tell a lot about your apparel store. 
To sell clothes online effectively, you need to convince shoppers that your collection is by far the best they will come across. You can do this by telling stories about your brand to instill captivating videos in your collection and homepage.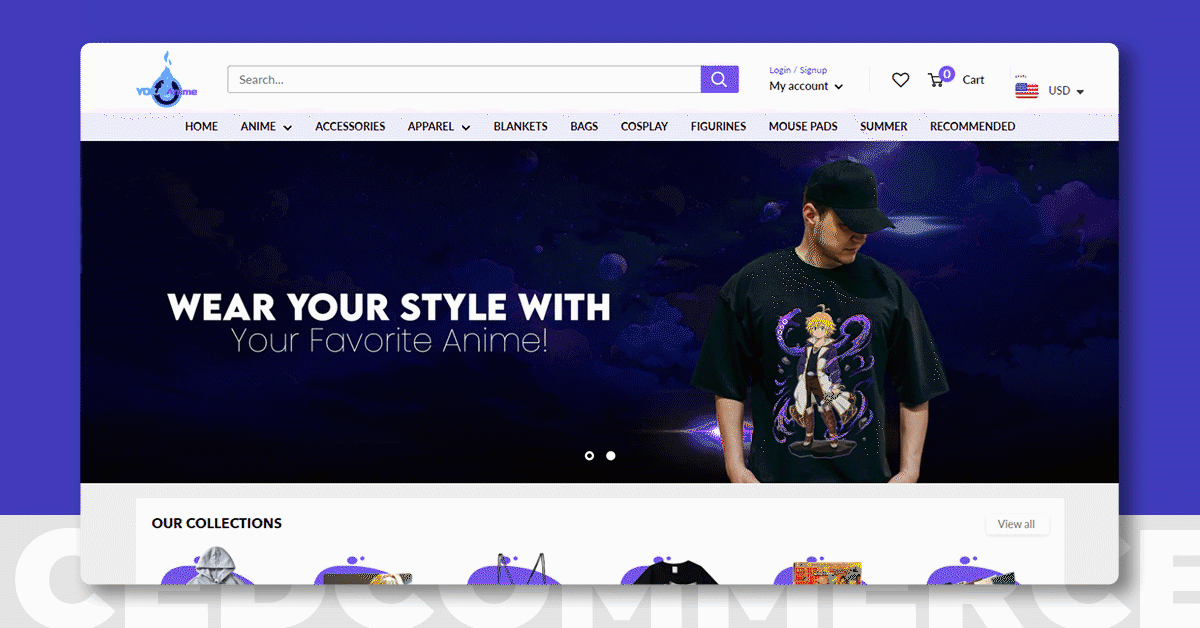 If you do a bit of competitor research, then you will come to know that prominent pages of a clothing store include the following things –
Vibrant colors. 
Subtle typography. 
Realistic models showcasing your clothing line. 
Storytelling through videos and copies. 
Minimalistic product pages with premise focus on clothing-line. 
These are a few mantras with which you can build a hooking apparel store with Shopify's all-new theme editor. It allows you to sprinkle content in any way you like across your web pages. 
Isn't this amazing? Before you start your online clothing business with Shopify, don't forget to consult our team of store developers who can truly unleash the potential of your Shopify store. 
6. Setup a Blog Section –
Blogging is a great way to talk about your business and build authority on search engines simultaneously. Let's say you're coming up with a stupefying summer collection that you want people to know before summers arrive. You can roll out a series of blog posts revolving around your upcoming summer clothing collection. 
Selling online is all about connecting with your customers and their search intent. And with blogging, you can grab a respectable position on search engines organically. Here are some evergreen blog topic ideas for your clothing store – 
Seasonal look-books. 
Guides on staying trend during different times of the year. 
How-to series. 
New product launches. 
7. Sales Channels –
It is excellent that you have built your apparel store with Shopify. But is it enough to reach a global audience? No. 
Why don't you consider selling clothes online on marketplaces as well? Where shoppers are actively searching for fashionable trends and apparel of all kinds. You will be surprised to know that shoppers prefer marketplaces more than search engines to discover and purchase a brand. 
As a result, to start a clothing business online, first, build a hooking apparel store with Shopify, then signup to online marketplaces depending on the regions where you wish to sell your line of clothing. 
8. Social Media –
Social commerce is no more a fiction. Many big-and-small businesses are practicing the art of selling through social media. Here's how social media can boost your online clothing business – 
Get in touch with influencers and promote your upcoming collections. 
Talk about your existing and upcoming products through social media posts. 
Utilize hashtags, stories, and short-video features to establish a strong connection with your target audience. 
Instagram & Pinterest are two great platforms to flaunt your apparel store. And users on these platforms are your target audience. So, whenever you think of starting a clothing business online, don't forget to connect and engage with social media users. 
How to Sell Clothes Online? In a Nutshell –
The internet is an all-in-one tool if you wish to start your own business. In a nutshell, if you want to sell clothes online, then here's what your roadmap should look like – 
The above 6 steps will help you build a reputed clothing brand on the internet. At CedCommerce, our team of Shopify experts not only helps in developing Shopify stores, but you can also discuss with them the scope of your business idea, challenges, and opportunities. Our team of experts is right at your service, from store development to consultation.