Get Inspired By The Unique ECommerce Business Websites
Running short of time? Get PDF of the blog in your mail.

Play Now
Aristotle Onassis once said ' The secret of business is to know that nobody else knows.' Some entrepreneurs might have taken inspiration from the saying and developed such unique ecommerce business ideas to use the multivendor marketplace platforms, and that too by investing nothing in the stock or inventory like the traditional multivendor e-commerce business does.
These are the 5 examples of such multivendor e-commerce marketplace ideas that have brought the entrepreneurs of these businesses to a new paramount.
It has taken the cliche experience of house renting and being a paying guest to a whole new level. The USP of this wonderful website is that it allows you to see and choose from different kind of experiences that you can get if you plan to visit any city. You can simply choose a room or a whole house for the stay or you can even choose your host who can make your stay memorable with some unique experiences.
ABOUT THE WEBSITE
The homepage makes it clear, what the site is selling. It is clean and easily navigable.
As you enter the site of Airbnb, you can see that it has a very on the point display leading you straight to the main purpose of the page. As you scroll down further, you experience a pallet of visually appealing pictures of well categorised staying options to choose from along with the price if you plan to visit a city and want to experience a different kind of stay. The pictures in the experience section are not vague and clearly depict what kind of experiences you will have if you choose to live with a certain host along with. You can click on those pictures and get an expanded colloquial panorama by the host.  
WHAT'S QUIRKY?
Airbnb is so far the only site that is so popular in its category, in fact, it is a category in its own. The idea is simple, totally inspiring and with a quirk. It is totally different from the regular online hotel booking business although the idea runs on similar principles.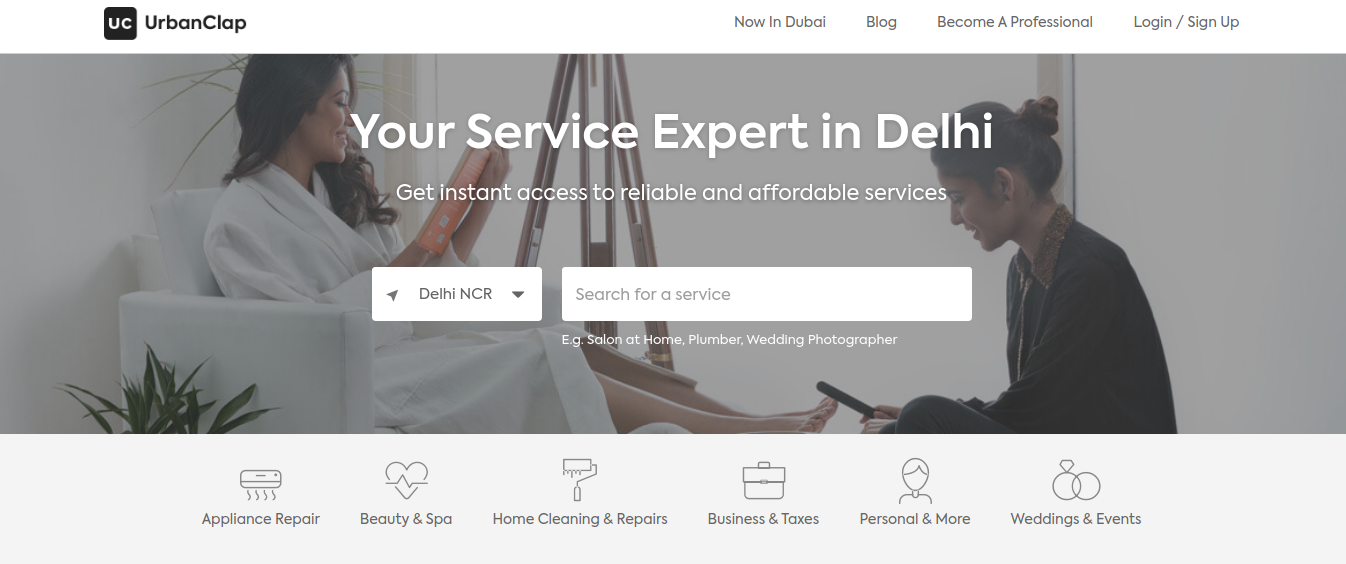 While we are talking about living experience in someone else's home in different city or country, there is a dedicated website which helps us to get a better living experience at our own home, by bringing all kind of maintenance related facilities at our fingertips. This website brings almost all kind of services at your doorsteps that you can probably think of, they are not just some regular house service providing-website, they are much more than that. Anything you can think of you don't have to stress much, just use the services from Urbanclap. It even has all the facilities that can help you hold any kind of celebrations e.g wedding, birthday etc. or you can get any kind of beauty treatment without stepping out of the house. Urbanclap has made the convenience of the customers it's USP. The only con is that they don't cover all the cities in India.
ABOUT THE WEBSITE
A simple design of the website that brings out the functionality and purpose clearly. The homepage flashes the whole idea of Urbanclap and what all it offers. The page is very precise yet catchy and crisp.  
WHAT'S QUIRKY?
A clear and precise website that is easily navigable is must, the homepage should not include too many elements yet it should clearly define the purpose of the website. Urbanclap passes all these parameters smoothly. This is a website that always keeps the user experience at the core. What's more appealing is the wide range of services the site provides. This quality of Urbanclap has made it unbeatable to all its competitors.
GET A WEBSITE LIKE URBANCLAP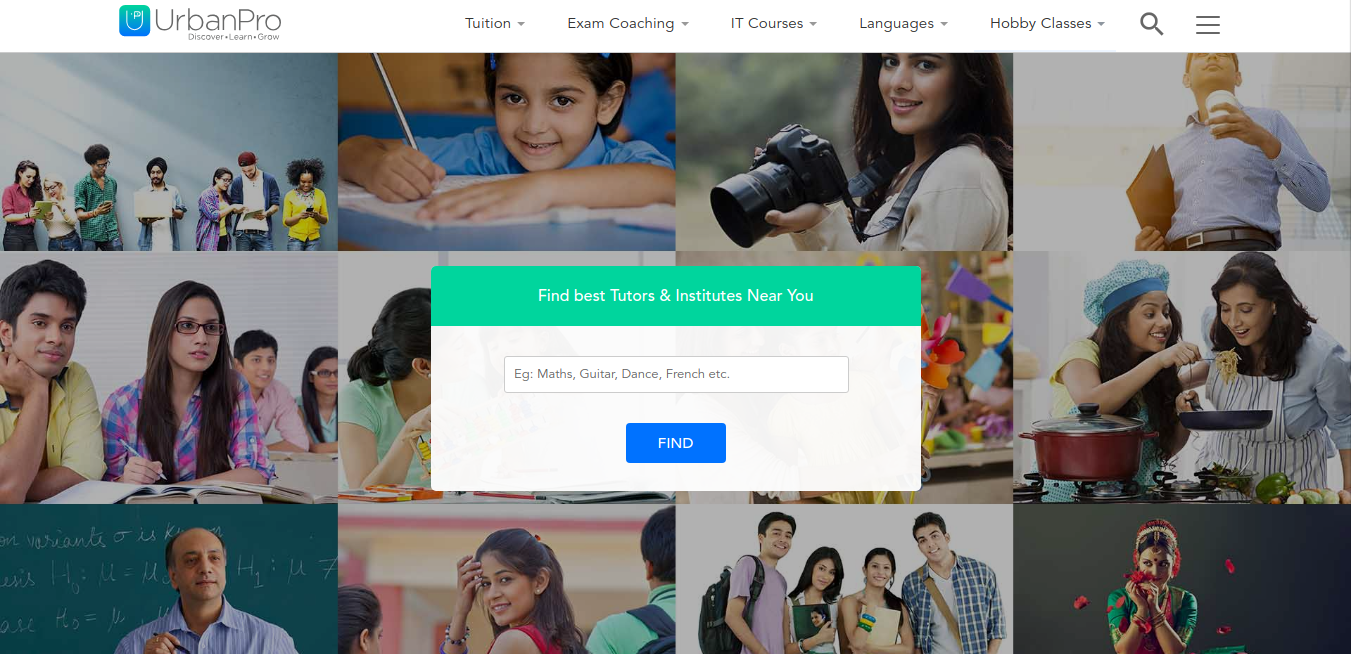 Working on a niche, and making it stand out is the best innovative idea and here we have an e-commerce business who has done the very same thing.
If you are a student or just interested in learning something new, then Urbanpro is the best place to find the best teacher or institution suitable for your needs.
ABOUT THE WEBSITE
A clean and crisp website with relative pictures that depicts immediately what the website is all about. The USP of this site is that it is one of a kind, providing a service that nobody focused on until now, hence it has a wide scope of growth as an e-commerce business
WHAT'S QUIRKY?  
Many students and people need help with learning something professionally but they don't know where to search for a relative institution or teacher who can provide them with proper classes to learn something they want. Similarly, many people who have a specific talent, don't know how to use it and earn money through it, Urbanpro helps both the parties by bringing them face to face and giving them an opportunity to learn or teach.
Looking for efficient hosting services for your online business- Check out Nexttocloud solutions.

Until the recent years in India, when people got hungry and didn't want to cook and go out to get food, they mostly have the option of ordering from popular pizza joints because they didn't know which restaurants provide home delivery services or they didn't have the numbers of such food joints. But this one idea has given us a vast option  A simple website that helps you to order from any restaurant in your city even if don't have the contact number of any food joint. Swiggy is a kind of directory of such food joints that provide the home delivery service as well. You can check out the food joints near you by entering your address and food of your choice will be delivered to your doorsteps. No more just ordering from pizza joints.
ABOUT THE WEBSITE
The image used is very clean and appealing. The homepage has a 'Login or signup' panel, which saves the time of the user and they can straight login and order. They don't have to scroll the whole page to find the signup form.
WHAT'S QUIRKY?
It was a trend in foreign countries but until a few years back India did not have this option since it was one of a kind at the time it launched hence it flourished quite quickly and widely. It became popular within 4 years. The owner of Swiggy kept in mind about the lack of options that people have while ordering food and hence this innovation happened. He just picked up a regular thing and made it popular because he kept in mind that in search of something new, people often neglect what they can do with a regular thing.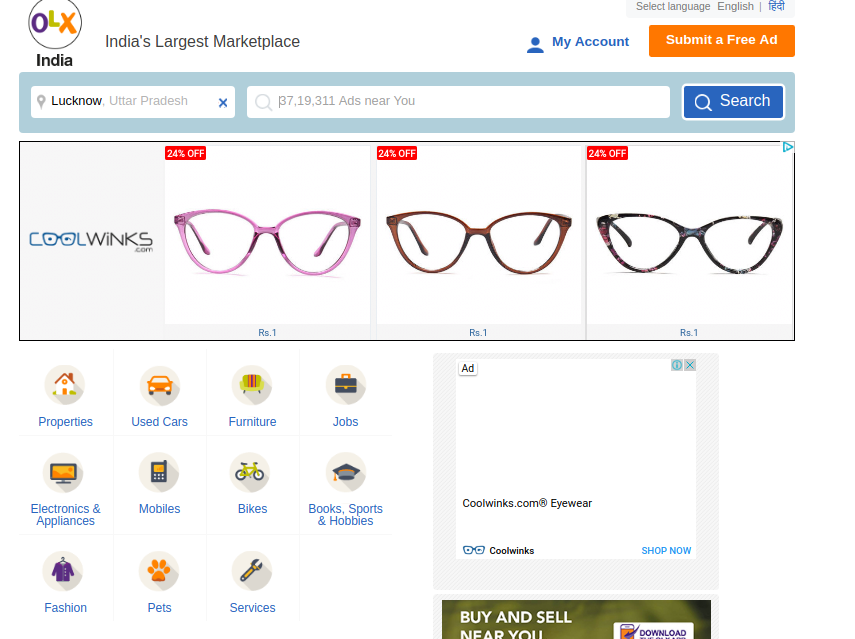 Another brilliant idea that came out of the common is OLX.com. Someone's junk can be someone else's treasure and that's what this website implies. OLX lets you sell the things that you may not need anymore but someone else does. It brings the seller and the buyer face to face.
ABOUT THE WEBSITE
The homepage of the website is quite simple and fulfilling. It has just one drawback, it flashes big ads of the last thing the consumer had browsed which is so flashy that it might draw all attention of the user to itself. Otherwise, the homepage is precise and passes the parameters of its purpose.
WHAT'S QUIRKY?
The idea of bringing sellers and buyers face to face was a regular e-commerce marketplace idea until OLX added a twist to it and made every single person a seller. As said earlier, everyone has something that they want to sell but finding a buyer took time before this website came onto the scene. Now you have more scope of finding a buyer than you had by just spreading words of mouth.  
GET A WEBSITE LIKE OLX
All these websites came out of a regular scenario but someone added a twist to them and these e-business websites became a hit. That's what business is all about. if you have such a mind to give a quirk to a regular thing then a multivendor marketplace is the place for you, and WE CAN HELP you to build a classy website.