Top 10 popular multi-vendor marketplace platforms
Running short of time? Get PDF of the blog in your mail.

Play Now
Online marketplaces have completely transformed the way eCommerce operates. They could be worth as much as $7 trillion in sales by 2024. It explains how the need for multi-vendor eCommerce marketplaces has grown over the past several years, and the trend will surely continue to grow, luring more businesses to speed up their sales funnels.
So, if you want to step up your eCommerce game, now is the time to invest in the advanced technological stack and create a multi-vendor marketplace website.
What is a multi-vendor marketplace?
A multi-vendor marketplace platform is a one-place-find-all solution to creating an online marketplace. Here, customers can find an extensive range of products from varying niches. Consequently, grocery and healthcare marketplaces have emerged quite popular during the pandemic.
Read our blog to learn more about the future of online marketplaces.
The big four—Taobao, Tmall, Amazon, and JD.com—alone accounted for an astounding 77% of the entire GMV (Gross Merchandise Value) generated by the Top 100 online marketplaces worldwide.
Multi-vendor marketplaces enable sellers to sell a variety of products. Vendors can sell at competitive prices compared to single-vendor, retailer-specific online stores. More importantly, a multi-vendor marketplace platform allows businesses to reach a larger audience. As compared to their counterparts, physical stores don't deliver similar benefits.
According to Statista, 47% of digital purchases globally have happened via online marketplaces.
Enterprise marketplaces are growing in popularity. If you, too, are planning on launching an enterprise marketplace, we bring you the enterprise marketplace guide. Click on the link below to get the guide for free and explore the strategic direction toward a successful launch, best practices, key recommendations, and more.
Table of contents
Today, we bring you some of the most popular online marketplace examples. So, what are we waiting for? Let's discover the best for your eCommerce business.
Eggs-traordinary Easter Sale 2023 – Flat 20% OFF on all our Magento Marketplace solutions till 23rd April 2023. Click below to view our offer:
What are multi-vendor marketplace platforms?
Online marketplaces present merchants with an excellent opportunity to onboard the platform. Vendors can list their products and start selling and they don't have to worry about warehousing, shipping, or marketing costs.
Also read: Building trust for your online marketplace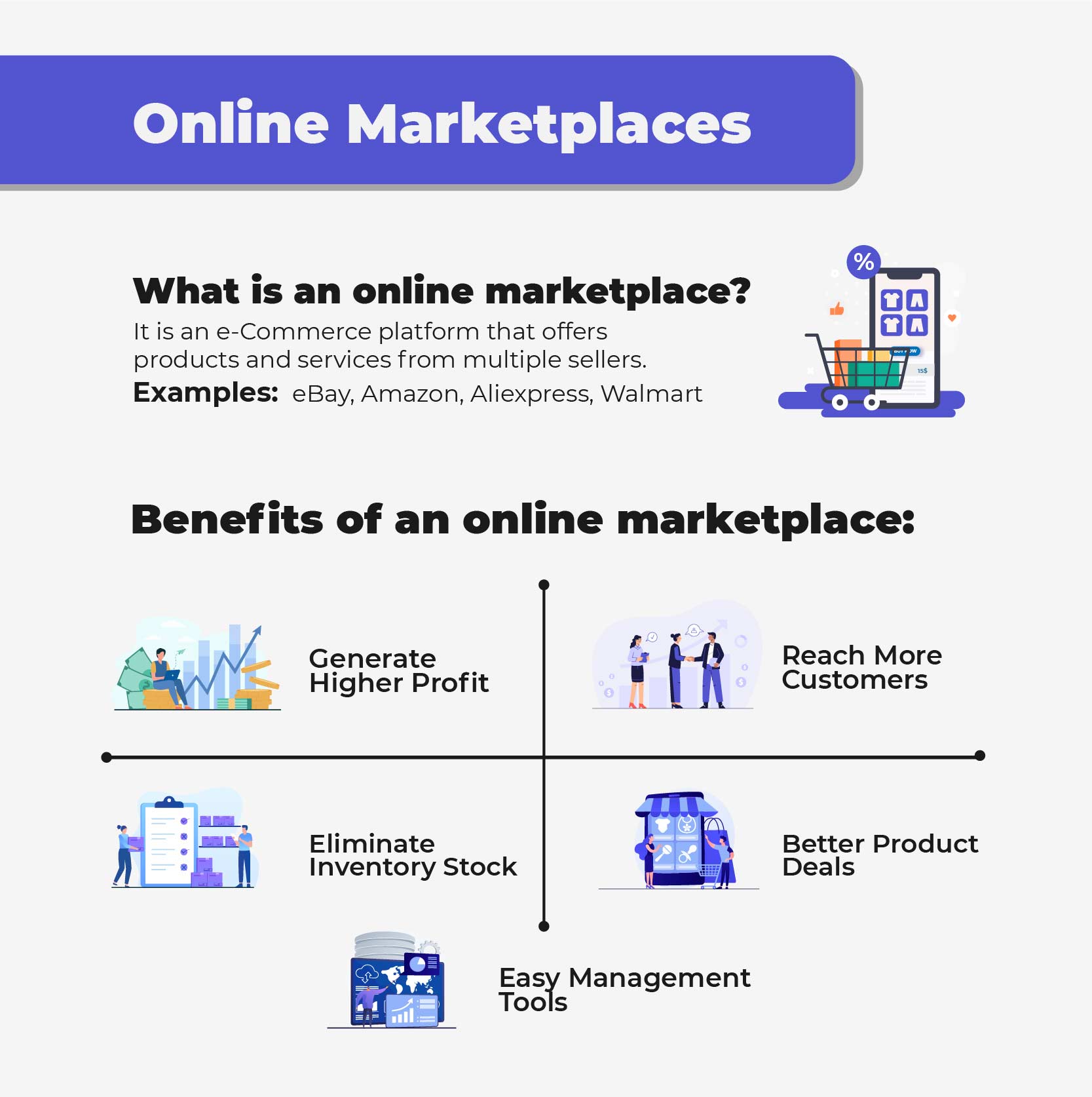 Multi-vendor marketplace platforms present ready-to-use solutions for building online marketplaces from scratch. They connect merchants and buyers to exchange a transaction on a common platform and act as digital spaces for sellers to sell their products. Furthermore, these platforms are packed with basic eCommerce functionalities and you get access to integrations, essential to streamline marketplace operations.
Also read: Top online marketplace ideas for entrepreneurs in 2022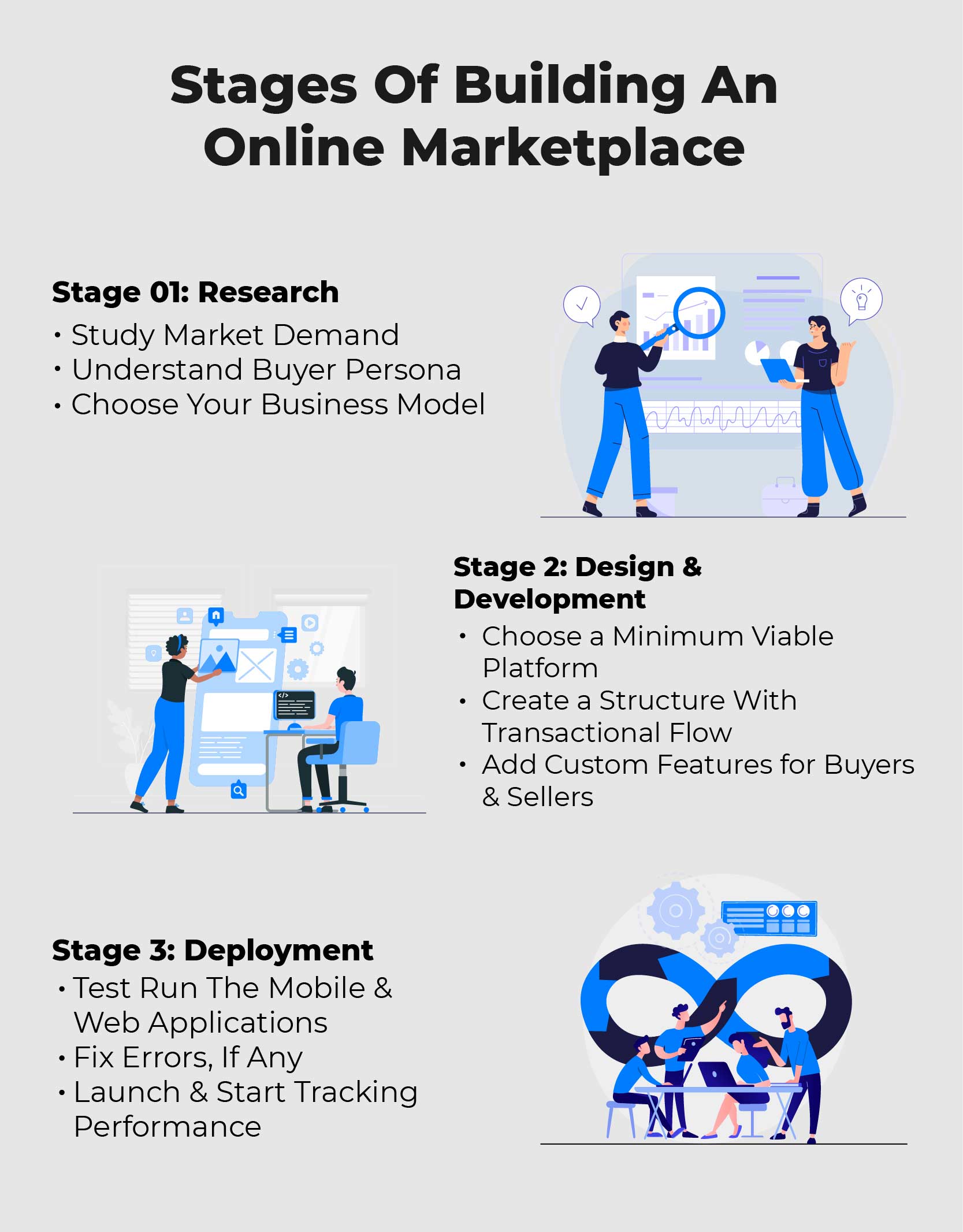 Types of eCommerce multi-vendor marketplaces
B2B marketplaces
B2C marketplaces
Hyperlocal marketplaces
D2C marketplaces
C2C or P2P marketplaces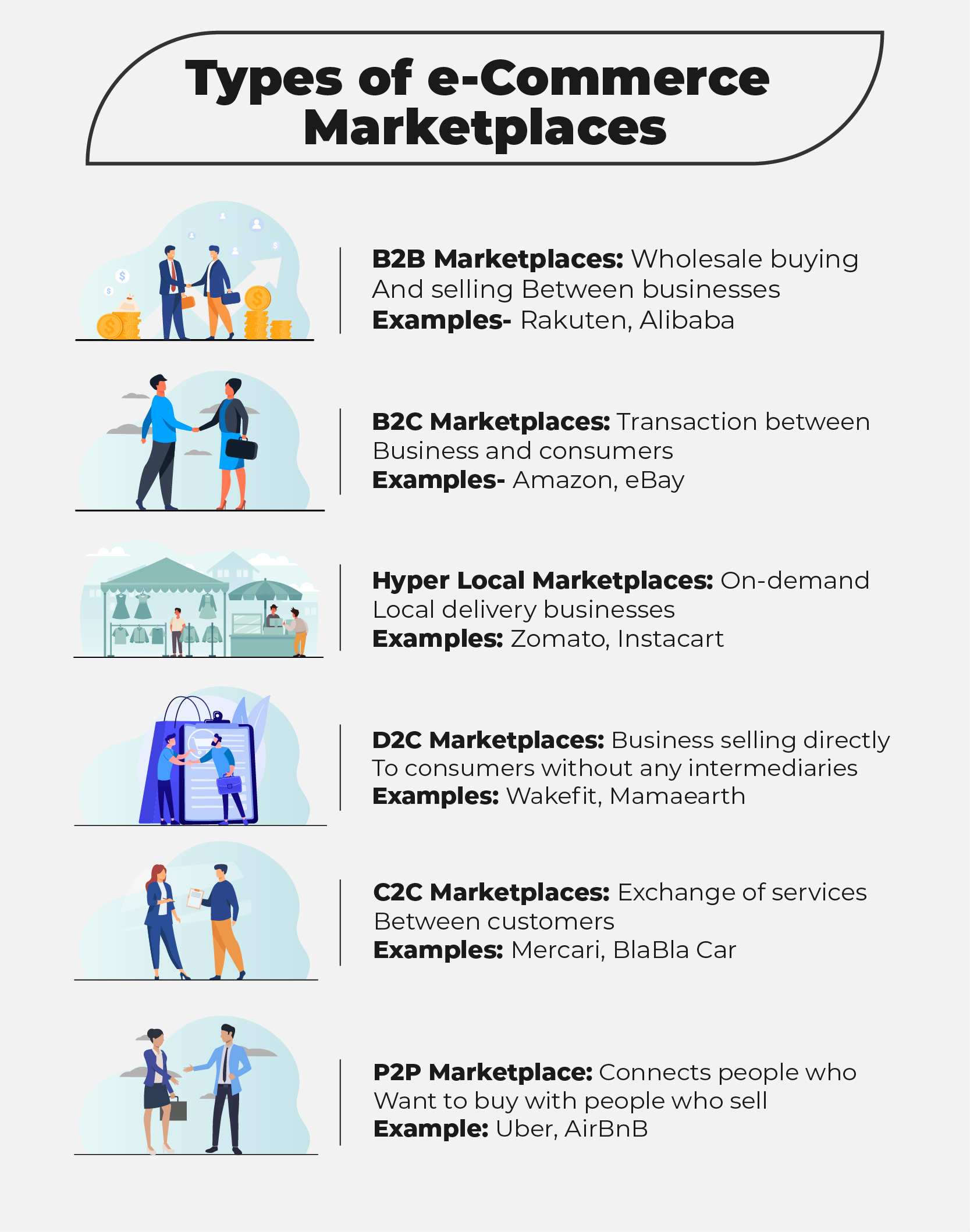 Key features of multi-vendor eCommerce marketplaces
Responsive themes
Product management
Inventory management
Order management
Shipping and fulfillment
Advanced search filters
Ratings and reviews
SEO & marketing tools
Payment gateway integrations
Reports and analytics
And more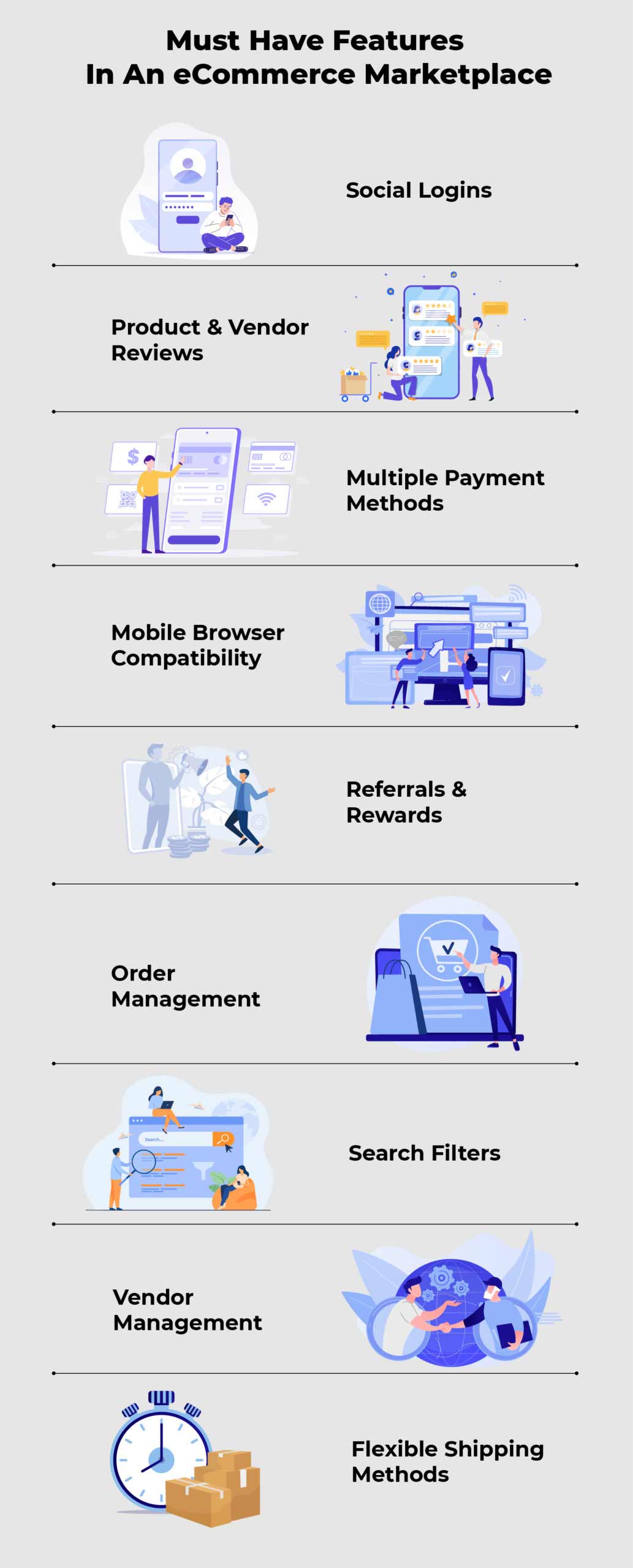 Also read: How to choose the ideal enterprise eCommerce platform?
Popular online marketplace examples
Amazon
eBay
Etsy
Zomato
Instacart
Walmart
AliExpress
Flipkart
And more
We have listed the top 10 most popular multi-vendor marketplace software. In addition, we've also compiled their basic and advanced functionalities, their benefits, and drawbacks.
Top 10 most popular multi-vendor marketplace platforms
Online marketplaces create a win-win situation for marketplace owners, vendors, and customers. Marketplace owners can build a diversified monetization model with an online marketplace while vendors get more opportunities to scale their business compared to eCommerce stores. On the other hand, customers also get access to multiple products on a single platform.
The best multi-vendor marketplace platform enables carrying out eCommerce activities smoothly and helps you adjust to market fluctuations and changes in consumer behavior.
1. Magento (Adobe Commerce)
Magento is one of the most powerful eCommerce marketplace platforms built on open-source technology. It makes the source code accessible, which you can modify as per your requirements. The platform is available in Community Edition and Enterprise Edition and is considered one of the best online marketplace examples since it accommodates both front-end and back-end development.
Also read: Top multivendor marketplace extensions for Magento 2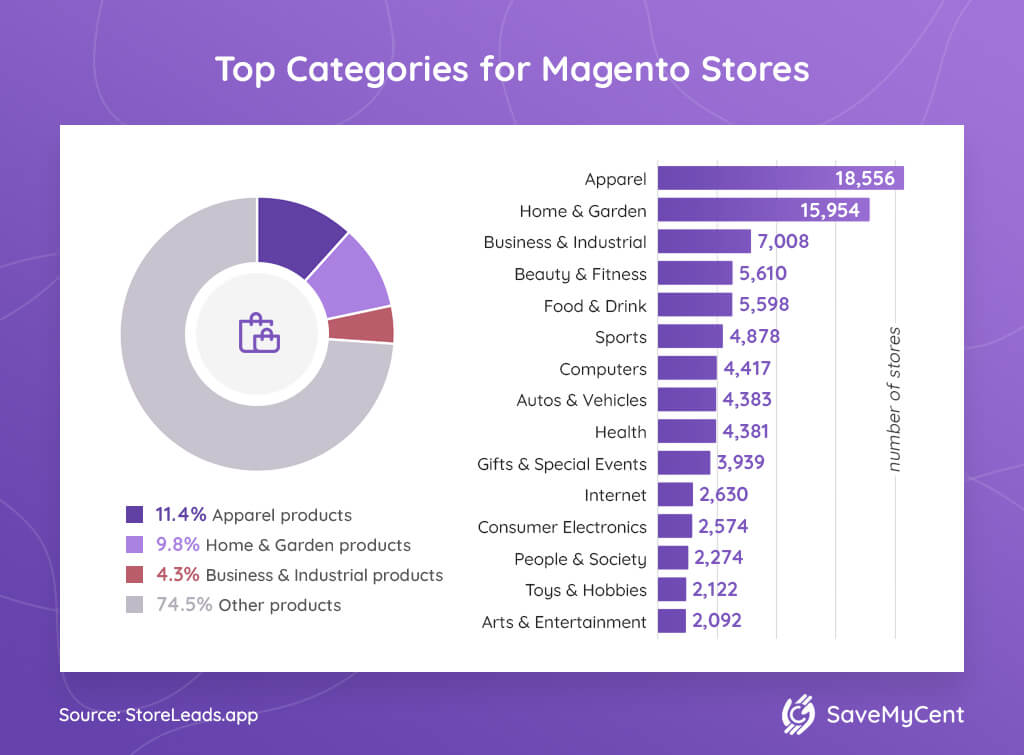 Our Magento marketplace extension can transform your eCommerce store into a feature-rich marketplace. Moreover, you get a free, open-source platform to start a multi-vendor store with Magento, along with various paid plugins. More importantly, it is easy to get started if you have extensive knowledge of developing using Magento.
Features of Magento (Adobe Commerce)
Analytics and Reporting
Catalog management
Product Browsing
Customer accounts
Payment, shipping, and checkout
Order management
Multi-currency support
Multi-language support
Search engine optimization
Site management
Marketing and promotional tools
Mobile commerce
Integrated B2B functionality
Headless commerce
Product recommendations
Live search
PWA Studio
ERP integration
Learn more about the exclusive features of Adobe Commerce
Read the blog
What makes Magento a popular multi-vendor marketplace?
Robust security
Regular updates
Multi-brand solution
A large community of developers
Powerful user experience
Optimized performance
Multiple customizable options
PCI compliance
Commerce Finance
An array of extensions for enterprise-level eCommerce businesses
The freedom to select any hosting platform
Find out how Adobe Commerce can help you nurture brand relationships
Read the blog
Cons of Magento
Magento is indeed the ultimate eCommerce platform, however, there are some limitations:
Magento marketplace software, bears high development costs.
You will need proficient developers with prior experience handling the platform as inexperienced developers will need significant time to learn and understand the platform.
The multi-vendor marketplace solution is prone to security issues and frequent software upgrades force migration to other platforms.
Lastly, customization is expensive. It also requires ample time compared to other marketplace eCommerce platforms.
Multi-vendor marketplace solution by CedCommerce
Are you planning on starting your online marketplace? Or do you wish to bring your offline business online? You can easily convert your website into a full-fledged marketplace with the flexible, adaptive, and future-ready Multi-Vendor Marketplace Extension from CedCommerce.
Moreover, our Magento marketplace extension is built for your convenience which you can avail at the most affordable prices. Pay only once and get the solution for a lifetime.
Prominent features of our multi-vendor marketplace solution
Multi-currency support
RTL and multi-language support
Deals and discount
Auto SKU generation
Mass import-export products
Seller mobile app
Social login
Customer-vendor interaction
Advance order and shipping
SEO and marketing suite
Commission management
Click on the link below to learn more about our solution's features
Why choose CedCommerce?
Up-to-date knowledge bank
Agile and flexible eCommerce solutions
Detailed project analysis
Pre-testing and suggestions
Implementation using advanced tools
Custom-made extensions
Impressive applications
Free Demo
3 months of free customer support
Work with Adobe-certified Experts
Our association with Adobe speaks for our efforts. We are:
A Bronze Solution Partner
3 times Adobe Innovation Lab Winner
Adobe-certified Professional Experts
Check out our solutions
B2C Marketplace Platform
B2B Marketplace Solution
Online Marketplace Solution
Marketplace Platinum Package
Adobe Commerce Development Services
PWA Development
Hire Magento Developers
Hyva Theme Development
2. Shopify
Shopify is one of the leading multi-vendor marketplace platforms. It offers a quick and easy solution to transform your single-seller store into a multi-vendor marketplace. Moreover, Shopify comes with a POS system. It also enables easy and quick integrations for shipping and marketing. You get access to various apps for different marketplace use cases. It's budget-friendly and comes with an easy-to-use interface. Therefore, with all the features and functionalities, Shopify has grown to become a popular multi-vendor marketplace platform.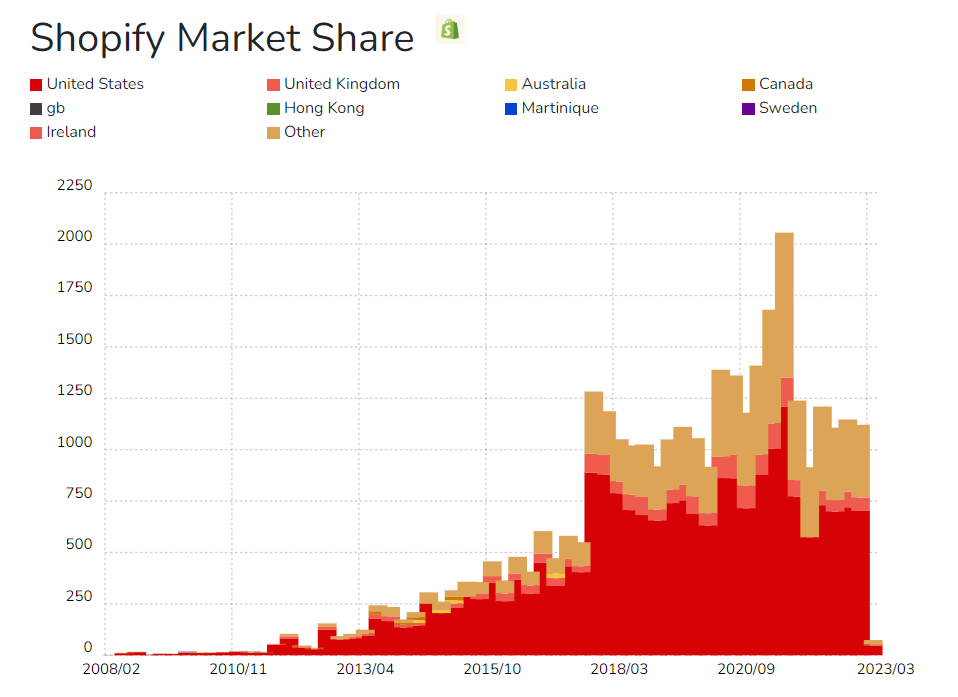 Source: BuiltWith
Key features of Shopify
Shopify POS
SEO and marketing tools
Analytics and Reporting
Shopify dropshipping
Abandoned cart reminders
All popular payment gateway methods supported
Third-party shipping apps for automating your fulfillment process
24/7 top-notch customer support
Facebook integration
Multiple languages
Why is Shopify a popular multi-vendor marketplace platform?
Here are some of the most prominent reasons you should go for Shopify:
No coding skills are required, with minimum investment requirements for small merchants
Web-based website builder with an all-around blogging platform
Shopify is a cloud-based eCommerce platform. In other words, it's hosted on the web, and all you need is an internet connection to get started.
No software upgrades and maintenance are required
Fully customize the look and feel of your online marketplace
You can modify your online store by editing the theme code
Mobile-friendly, intuitive, and responsive user interface
Access to Shopify App Store
Drawbacks of Shopify
Merchants highlight the lack of scaling opportunities with the eCommerce platform
If you wish to customize the in-built themes, you must be familiar with Liquid, the multi-vendor marketplace software's PHP language on which the themes are built
Lastly, Shopify does not include email hosting in its plans. You'll have to find another provider if you want to set up an email address for your marketplace.
3. WooCommerce
WooCommerce is a popular WordPress plugin used by small and large online businesses. It's a flexible and open-source WordPress plugin and offers all the basic and advanced functionalities of WordPress. You get tons of themes to customize your online marketplace.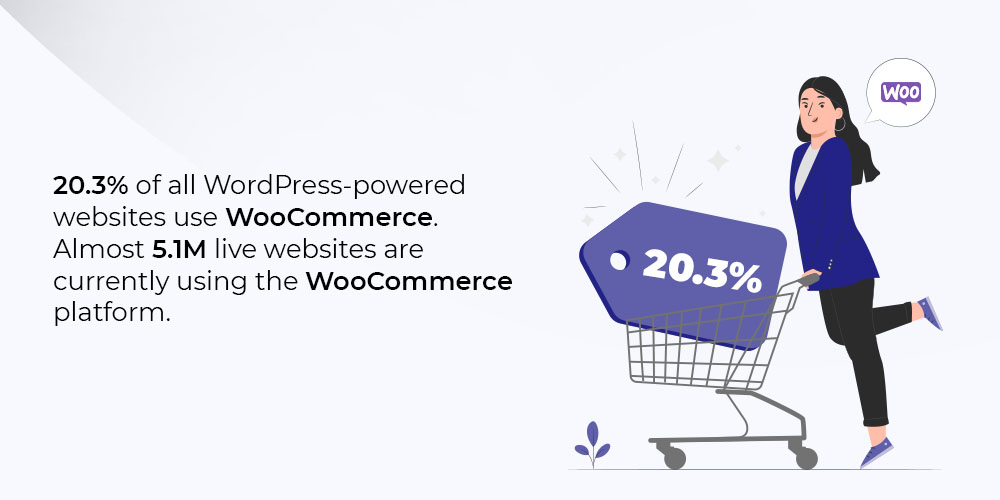 The eCommerce platform also gives you the flexibility to sell multiple product types. These include virtual, downloadable, and physical products on the marketplace. As an easy-to-use plugin for those with prior experience working on WordPress, it suits businesses that wish to add marketplace functionalities to their WordPress websites.
Features of WooCommerce
Unlimited customization with a built-in blogging platform
Embed products, checkout, and other functionalities on any page
Make your products easier to find with tags, categories, and attributes
Customize your multi-vendor eCommerce marketplace for location
Product filtering and sorting
Product reviews and ratings
Add unlimited products
Pickup, local delivery, and shipping
Built-in payment processing options
Geo-location support
Pros of WooCommerce
Benefits that establish WooCommerce as one of the best multi-vendor marketplace platforms:
Cost-effective and highly scalable as compared to other popular multi-vendor marketplace examples
Quick and easy to set up with WooCommerce Wizard
Access to a full-fledged content management system (CMS)
Interaction possibilities with a massive international WooCommerce community
Add security plugins for regularly scanning your eCommerce website. As a result, it prevents potential threats and malware.
Drawbacks of WooCommerce
Here are some of the primary drawbacks of WooCommerce:
Firstly, it's not optimized for the European market. However, you can get free and premium plugins for the same.
Secondly, no legal texts accompany the multi-vendor marketplace software by default. For example, general terms & conditions, data protection declaration, shipping regulations, etc.
Since WooCommerce is a WordPress plugin, you can't use it for websites not hosted on WordPress. Moreover, its WordPress-specific nature limits established enterprise businesses from seeking it out.
If you wish your online marketplace operates at optimal capacity, you'll have to get some additional extensions. Furthermore, you'll also have to foot the bill for it. Eventually, it leaves the impression of hidden costs for business owners.
Installing too many plugins and extensions can slow down your website. Consequently, it impacts its overall performance.
4. Sharetribe
Sharetribe is a cloud-based eCommerce platform. It enables merchants to build a customizable multi-vendor marketplace. As a SaaS-based, hosted marketplace solution featuring a subscription-based business model, Sharetribe comprises two products, including Sharetribe Go and Sharetribe Flex.
Sharetribe Go is a scalable eCommerce marketplace platform. It does not require coding skills to build a marketplace. At the same time, Sharetribe Flex enables merchants to use APIs to create a multi-vendor marketplace. Sharetribe is an ideal solution for small and medium-level businesses. Additionally, it employs front-end development to deliver easy-to-customize functionality and offers excellent customer support.
What key features does the eCommerce multi-vendor marketplace offer?
In-built product catalog management system
Advanced payment system, supporting over 25 currencies in 200+ countries
Powerful admin tools and individual profiles for buyers and sellers
Social sign-up for users
SEO tools to enable merchants to optimize their multi-vendor marketplace
Benefits of using the multi-vendor marketplace platform
Fully responsive to all screen sizes and devices
Infinite customization functionality
No coding skills required
Get all essential multi-vendor marketplace features
Secure online payments
Regular updates and new features
Legal and regulatory compliance
Expert customer support 7 days a week
Limitations of Sharetribe
Sharetribe also has its share of drawbacks:
The primary drawbacks include limited marketing tools and features
It lacks ready-to-use APIs
It comes with only two payment gateway options (PayPal and Stripe).
It does not currently offer Android and iOS mobile app development.
5. Kreezalid
Let's explore another SaaS-based multi-vendor marketplace platform. Kreezalid comes integrated with powerful and latest eCommerce functionalities. It enables you to build a fully customizable and scalable multi-vendor marketplace platform. Kreezalid is a responsive and mobile-friendly platform. Thus, you can easily integrate new features and streamline your marketplace operations.
Suitable for startups and enterprise-level businesses, Kreezalid is feature-rich and offers a responsive user interface. It has an excellent admin panel and enables you to sell digital products.
What features does Kreezalid offer?
It is an official partner of Stripe and Mangopay. Therefore, it comes with in-built secure payment gateway integrations.
Shipping module management and tax management
Access to an app store for adding new features, plugins, and services to your marketplace.
In-built SEO and marketing tools to make your multi-vendor marketplace more easily discoverable
Multiple order types include physical products, services, rental, digital products, etc.
Dashboard and analytics for managing your business from one place
Customizable email templates for automating transactional emails
Access to Google Analytics for extensive reporting and analytics
It supports multiple languages, including English, French, Danish, and Spanish. Thus, it is one of the most popular multi-vendor marketplace platforms.
Social media integration
Pros of Kreezalid
Third-party marketing solutions
A complete platform for blogging
Kreealid ensures the security of your eCommerce website with web hosting
Reduced time and cost of development
Easily and quickly set up a multi-vendor marketplace platform
Elegant, intuitive, and responsive interface and design
Cons of using the multi vendor marketplace software
Despite all its benefits, Kreezalid limits personalization. Furthermore, it lacks essential UI/UX features and offers only two built-in payment gateway methods. Additionally, it does not even offer a very prompt customer support system.
6. Yo!Kart multi-vendor solution
Yo!Kart is a leading self-hosted multi-vendor marketplace platform. It supports multiple business models like B2C, B2B2C, & P2P; and all eCommerce marketplace revenue streams such as commissions, subscription packages, paid advertisements, PPC, and more. Yo!Kart has essential in-built marketplace features for the admin to manage and market the business effectively, vendors to sell, and buyers to experience eCommerce intuitively.
The scalable software comes with multiple business APIs and payment gateways pre-integrated. These include TaxJar/Avalara, ShipStation, Stripe Connect, and more.
Moreover, along with Yo!Kart, there is another purpose-built solution that can power a marketplace exclusively for the B2B eCommerce space – Yo!Kart B2B*. It comes with additional B2B-specific functionalities such as an in-built RFQ module, support for services and products – offered bundled or exclusively, and features like minimum order quantity, bulk price discounts, direct messaging, and more.
Key features of Yo!Kart multi-vendor marketplace solution
Personalized vendor storefronts
Intuitive product catalogs
Advanced analytics
SEO suite, multiple cross-selling and up-selling features
Abandoned cart management
Intuitive UI/UX with an elastic search bar
Single-page checkout, and multicart
Multilingual and multi-currency support
Supports physical and digital products
GDPR and PCI-DSS compliance ensure a secure ecosystem
PWA compliant
Tested scalability and performance
Zero transaction fee
Support of in-house team for end-to-end customizations
Try-it-yourself demos on the product website
Lifetime source code and license ownership
Up to 1 year of free technical support and no hidden charges
Primary drawbacks of Yo!Kart
Firstly, the only significant drawback of YoKart is the availability of limited themes.
It may need some time to get used to the multi-vendor marketplace platform.
Pricing plan
GoQuick: $999 (lifetime ownership)
GoQuick Boost: $2499 (lifetime ownership)
GoCustom: $7,499 (lifetime ownership)
GoCustom Prime: RFQ (lifetime ownership)
* Yo!Kart B2B pricing starts at $1499 onwards
7. Mirakl
Mirakl posits itself as an easily scalable, fully customizable, multifaceted eCommerce platform as it suits all business models. It's one of the most expensive yet popular multi-vendor marketplace platforms. As a SaaS-based platform, Mirakl also automates your marketplace operations. These include seller onboarding, third-party catalog integration, order management, and seller invoicing.
Additionally, the multi-vendor eCommerce platform excels in performance, quality, and security. It is a cloud-based solution with a modular REST API architecture and proprietary pre-built connectors. It's a scalable solution for enhancing marketplace experiences. Currently, Mirakl powers over 300 marketplaces with more than 35,000 sellers. Furthermore, Mirakl also offers dropshipping solutions.
Mirakl: Why should you choose the multi-vendor marketplace platform?
The following features make it one of the best multi-vendor marketplace platforms:
Firstly, you get great control and flexibility to manage the rapid growth of your eCommerce business.
You can easily and quickly onboard sellers with complete configuration abilities.
Get world-class support from a team of experts with deep industry knowledge.
The pre-built connectors and flexible APIs ensure quick integrations across the online marketplace.
Further, the platform strictly adheres to the most rigorous security protocols.
8. ZielCommerce
ZielCommerce is one of the most trusted multi-vendor marketplace platforms. It can meet requirements for budding and seasoned eCommerce businesses alike. Its affordable plans give you value for money in the early stages of setting up your online business.
Why should you choose ZielCommerce?
You can fully customize your multi-vendor marketplace which is compatible with all devices. It comes with in-built marketing functionalities for leveraging customer engagement. Moreover, you also get a 15-day free trial, a dedicated mobile app, and a blogging suite.
It also supports multiple languages and currencies, enabling a refined localized shopping experience. Above all, you can leverage social media and automated email marketing in a lifetime license at a one-time cost.
9. CS-Cart multi-vendor software
CS-Cart is one of the most popular multi-vendor marketplace platforms. It has powered over 35000 global stores and 1300+ marketplaces since 2005. Moreover, the eCommerce platform is self-hosted and features essential eCommerce tools and functionalities. These features include an advanced order management system, vendor payout system, multiple storefronts, etc. Furthermore, the app store features add-ons for integrating a live currency converter. You can also integrate Facebook conversion API and advanced MailChimp, among others.
Prominent features of CS-Cart multi-vendor marketplace software
Integrations with FedEx and USPS ensure the timely shipping of orders.
Secondly, you can also get shipping rate estimates in real time.
GDPR compliance ensures the security of the self-hosted multi-vendor marketplace platform.
The solution features customizable vendor storefronts and multi-store management.
The platform also incorporates 26 built-in languages and multiple currencies.
Vendors get access to configurable monthly subscription plans and a multi-vendor guide to assist them in the initial setup of the eCommerce website.
An advanced search feature with 45 search parameters and numerous templates for product pages are also available.
Pricing plan
Basic Multi-vendor: $1,450 (45 days of free support service)
Multi-vendor Plus: $3,500 (90 days of free support service)
Multi-vendor Ultimate: $7,500 (365 days of marketplace VIP support service)
Primary drawbacks of CS-Cart
CS-Cart has received regular complaints regarding limitations in paid tech support. Furthermore, addons' inferior quality and poor user experience rank among other primary drawbacks.
10. BigCommerce
Unlike other popular multi-vendor marketplace platforms, BigCommerce features a marketplace app. It enables merchants to build a marketplace by extending their regular eCommerce store. Just add the required features of a marketplace platform, and you are good to go!
You can add vendors, track their products and orders, and access various tools and features to manage vendors and marketplace operations. These features include one-page checkout, customer groups, and segmentation.
The shipping process is simplified along with the availability of a built-in blogging platform. You can integrate your marketplace with social media, advertise with Google shopping, and also optimize pages with Google AMP and Akamai.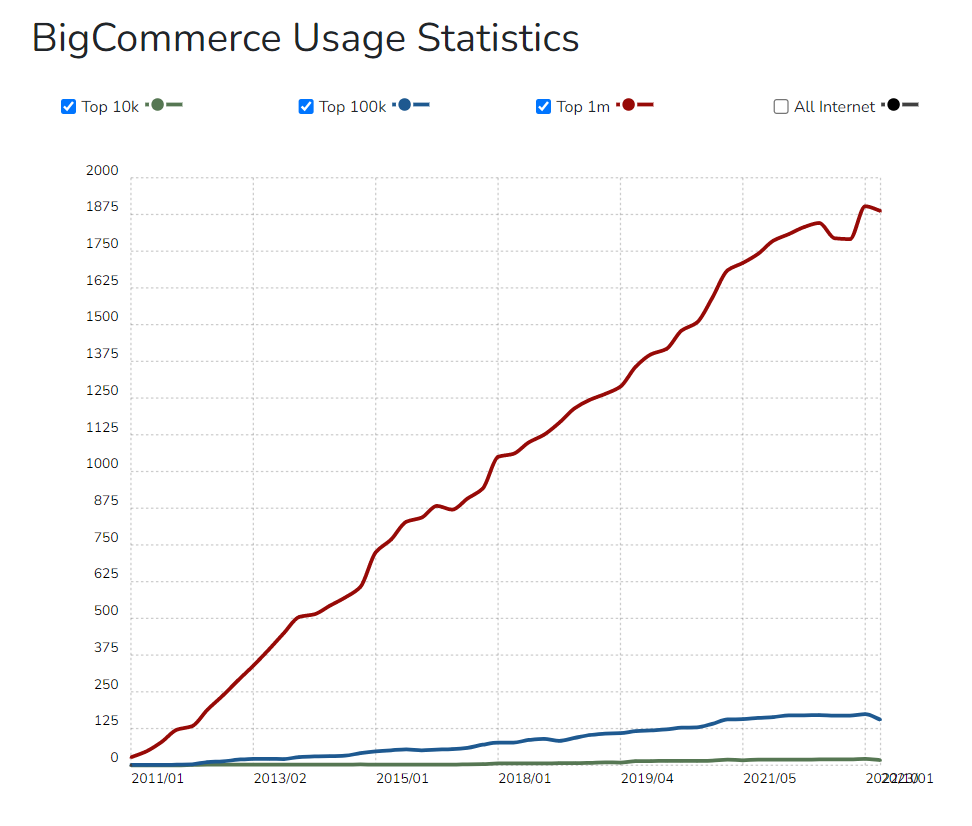 Source: BuiltWith
It allows you to define a clear monetization model by setting up different commission tiers. Other than this, the free integration enables admins to manage their taxes. A streamlined payment management system enables you to manage vendor payouts easily. Round-the-clock customer support, expert advice, and assistance also make BigCommerce a preferred option.
You can try BigCommerce free for 15 days and then choose one of the plans that range from $29 to $299. In addition, there's a custom pricing option for enterprise plans and marketplace plugin costs.
Features of BigCommerce
Unlimited file storage, products, and bandwidth
Incentivize bulk purchases that are extremely beneficial for B2B businesses
Single-click activation for customer reviews and ratings
Product listings enable multiple product variants for size, color, pattern options, etc.
Automated emails to customers who have abandoned their carts
B2B Edition for enterprise B2B businesses
Integrations with over 55 payment gateway options
Over 100 currencies supported
Rank higher with best-in-class SEO and marketing tools
Tracking organic traffic generates actionable data insights. It includes sales, most popular products, abandonment rates, and other data.
Pros of BigCommerce
Unlike other popular multi-vendor marketplace platforms, there are no additional transaction fees.
It supports mobile-optimized commerce.
You can localize your online store for global markets.
Get the flexibility to manage your multi-vendor marketplace your way.
Deliver a personalized shopping experience.
Cons of BigCommerce
Firstly, the customizable themes are quite expensive.
Secondly, it requires a lot of trial and error to finalize a responsive and sophisticated webpage.
Further, you might experience a limit on the amount of annual online sales you make.
Moreover, multi-vendor marketplace extensions bear high costs.
Finally, there's an unavailability of varying themes.
FAQs
What are the benefits of a multi-vendor eCommerce platform?
Multi-vendor stores not only give customers a better experience but also give businesses multiple opportunities and extended capabilities. Here are some of the reasons that make multi-vendor websites a profitable option:
There is no need to invest in and manage inventories. While merchants maintain their own items, a marketplace operator makes money via transaction commissions.
Supply expansion is simpler and quicker. You can simply welcome new vendors and begin offering new items and product categories.
More customers will visit your eCommerce website as a result of the wide selection of products and the enhanced experience, and more vendors will follow.
Promotion becomes easy as your vendors will eventually turn into your website promoters. They'll provide updates on their listings that will draw new customers to your online store.
What's the best way to build a multi-vendor marketplace?
If you are wondering how to start an online marketplace, here is how you can do it:
Firstly, you must select a business model.
Secondly, you need to identify your niche market and target audience.
More importantly, decide the type of multi-vendor marketplace you want to launch.
Further moving on to the next step, you should prioritize the marketplace platform features you wish to incorporate.
Lastly, choose a monetization model and select a multi-vendor marketplace solution based on your budget and other requirements.
You can even ask your solution provider for free trials and demos. If you want your eCommerce marketplace website to rank high on SERPs, ensure the availability of SEO and marketing suite. Furthermore, don't forget to verify whether the solution supports headless commerce, third-party apps, integrations, and multi-vendor marketplace extensions.
What is multi vendor marketplace software?
An eCommerce multi vendor marketplace platform is an all-in-one solution. That is to day you can build an eCommerce website where multiple vendors can sell their products. Moreover, vendors can both sell on their micro vendor websites or through a common storefront.
How to start an online marketplace from scratch?
Yes, you can also build a multi vendor marketplace website from scratch. However, building a fully functional online marketplace requires a significant amount of time and money.
Want to create a Magento marketplace? Connect with the experts at CedCommerce.
Conclusion
CedCommerce is a leading eCommerce solutions provider. We offer seamless marketplace integrations as well as other eCommerce solutions for Magento. Carrying a vision to build secure, optimized, and scalable integration tools, our solutions feature the latest technologies for eCommerce businesses to offer multi-channel capabilities. We are on a mission to help online multi-vendor marketplaces create an optimized ecosystem.
Need help building your online marketplace?