Tips on creating Return Policy for ecommerce store
Running short of time? Get PDF of the blog in your mail.

A great Return policy reflects how proactive you are at customer service. Return policy is part of customer experience especially when waters are troubled. If you get to please a customer with your return policy, chances are he will come back again for more, or least you will win their trust and can a have a good word of mouth. If you are potentially new in business, or your store is just off the hooks, before every purchase the aware customer will likely take a look at your return policy. In a comscore and UPS survey, it was observed 63% of american customers check the returns policy before making a purchase, and 48% will shop more if they find hassle free returns. In Germany 72% of people give more business to stores with hassle free returns. Hence you can't argue with its significance.
Customers are extra conscious when they are buying online. It comes naturally.
Some handy tips while creating your Return Policy
Sales is not the end of it – You can't be a successful store owner, if you don't have a prompt customer service. Including returns in your strategy is a big yes, that shows you stand by your products and not in between of it and your customers.
Avoid letting it come – The main reason behind return is disappointment. If you can convey the information about product well enough to give them a clear picture, chances are less they won't be disappointed. This will count as a good score.
Use clear communication strategy – Many store owners use jargons and difficult legal terms to hide their discrepancies and loopholes. Be upfront and say what you mean. Put it down the way it is comprehensible in right means.
First adopt open heart policy – Many store owners create return policy just for the sake of it, and hide it somewhere in the store impossible to find. They don't want people to see and avail it. Avoid this, and first openly acknowledge your policies.
No hidden conditions – Don't do anything that turns off your customer. You might want to get paid for return shipping, if so make it clear instead of adding an asterisk with conditions applied. Don't hide anything, if it uncovers at some stage of customer experience.
Make them time bound – You won't accept a return after an year of purchase, though you can give guarantee or warranty. Every return comes with a time limitation. Plan out your time frame as per the product, and mention it clearly.
Choose the stakes – State boldly in your policy what customer would expect for the return. Exchange through another item, store credit, or cash returns. Each merchant can have a choice of making this decision till they state it first hand.
Articulation amongst staff – Returns are primarily part of the customer service. Make sure your back end customer service team is well versed with return policy and they don't make assumptions while promising or circulate wrong information.
Don't copy paste – Returns policy might appear to you a pieces of text that are more or less similar. But there is more to it. Make a policy customized to your business needs and target audience. You might also add the returns experience testimonials for fun.
Give it a shout out – If you are proud about your great policy, give it a shout out. Put it somewhere on the home, easy to be found. You can share your return policy page on social media and on any avenue where people find it.
Be more specific about return details – Specify if you accept the returns in the original packaging. Mention how tolerable you are with the wear and tear of the item. Be clear about where the refunds be deposited, PayPal or other gateways.
Make the costs Minimal, if so – You have the rights to charge customers when they file for return for shipping costs, till you mention it beforehand. But try to keep it minimal, so as not to bid them a goodbye with a bad experience.
Honor your policy – Once you make a promise via your return policy, make sure you keep up to it no matter what the circumstances are. If policy changes, honor the customer's request against the policy active at their time of purchase.
A study has revealed, customers that received free shipping on returns increased their purchases by 58% to 357% over next two years.
A great refund policy ensures that a customer purchases without the fear of consequences.
Few examples for Return Policy
A No Question asked policy for a high end experience

Cover your damaged items

Celebrating the fact that customers bought from them at first place

Your Policy page should not be just pieces of text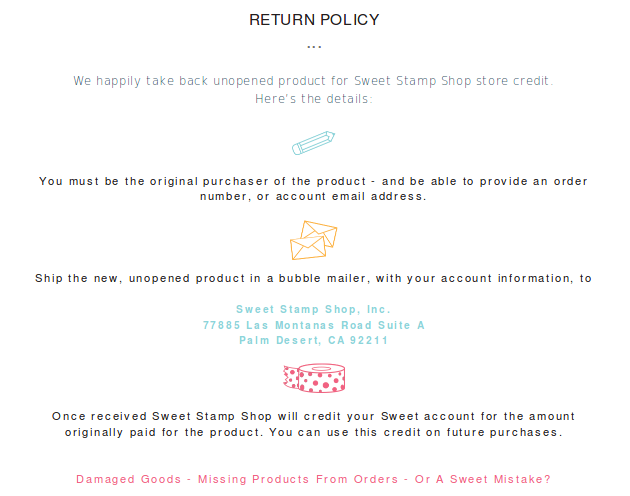 Adding a touch of creativity to your Return Policy. Afterall it doesn't have to be dull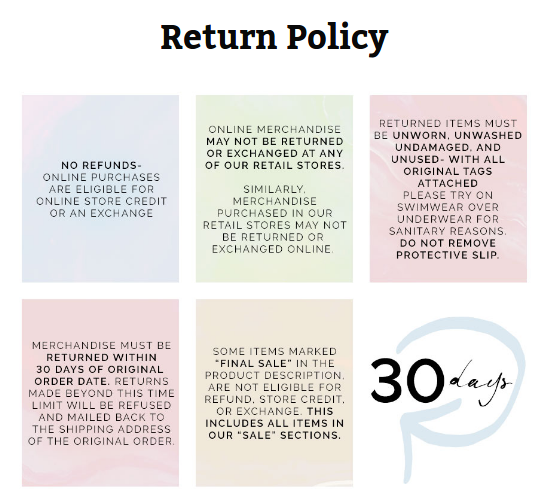 Return Policy based on Customer experience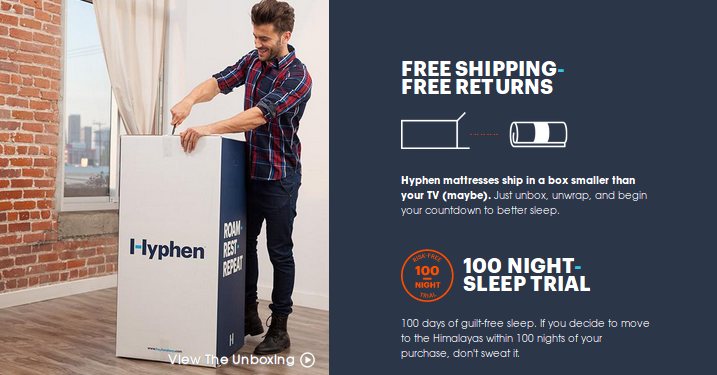 Conclusion
We tried giving you every aspect of what a perfect return policy should be, and we leave it up to you to mend it according to nature of your business. The examples of return policy are given you to give a picture how pre existing businesses go about ensuring a positive customer experience and how they address the pain points arising out of return requests. A return policy takes time to get the perfect shape, as you get to know your customers. With an ending note we hope you to write the next best return policy, and start a great journey ahead.