The best marketing automation workflow for HubSpot eCommerce conversion
Running short of time? Get PDF of the blog in your mail.

Play Now
Ever wondered how big businesses manage their complex workflows and save loads of money at the same time? Setting up marketing automation is like a golden investment for the company. In addition, it also makes complex situations easier to handle and tackle. Furthermore, Marketing Automation solutions can automate sales, marketing, and production chains to ease the overall business processes.
97% of the people are in a state of confusion with repetitive tasks.
Repetitive tasks aren't just slow, they dissipate a lot of time too. And to run an eCommerce business successfully, you should manage your time in the best way possible. Here workflow automation comes in very handy. It automates your repetitive jobs, simplifies them, and does much much more.
So let's plunge right into the topic and learn what exactly workflow automation does. You can use this table of contents section to cruise to your preferred point.
In marketing automation workflow, sellers can set different and desired conditions, and based on these conditions, different business actions take place. For example, suppose you want to automate email marketing for those visitors who have recently registered themselves on the website to offer a joining bonus. In that case, you can easily target that section of your audience by creating a marketing automation workflow.
Why does your Business need a Marketing Automation workflow?
The customers' data power all marketing efforts and with proper marketing automation strategies, targets become achievable. Well-organized and properly devised marketing strategies can nurture leads. Moreover, it also increases the conversion rate. Sellers can organize multiple complex tasks or automate simple tasks such as managing the audience, upgrading properties, and set workflows based on customer activities. The automation process will help the sales and marketing team to communicate more efficiently, make proper decisions and manage the tasks. Automation also saves time and manages repetitive tasks.
Why Should You Use Workflow Automation?
Saves time– Workflow automation cuts down the extra efforts and costs by reducing the steps involved in repetitive tasks.
Reduces the errors– The chances of human errors reduce to a great extent after using workflow automation through Integration solutions.
Eliminates the risks– Workflow Automation can also monitor operations more effectively to reduce risk and report issues caused by human error rather than software bugs, attacks, or rogue applications.
Boosts your productivity– It increases the clarity in various processes and helps in allotting a proper budget to all different departments as well as operations.
Saves money– Workflow Automation brings down the manual paperwork that means less expense on papers. Similarly, data entry tasks will transform when it comes under the automation process.
Eases data monitoring– Brings the useful business data under routine check for quality control.
Simplifies task management– Manage your task throughout the lead lifecycle through proper planning, tracking, and testing.
Improves team collaboration– More emphasis on teamwork, innovative thinking, and better communication between different teams.
Basis of Workflows in HubSpot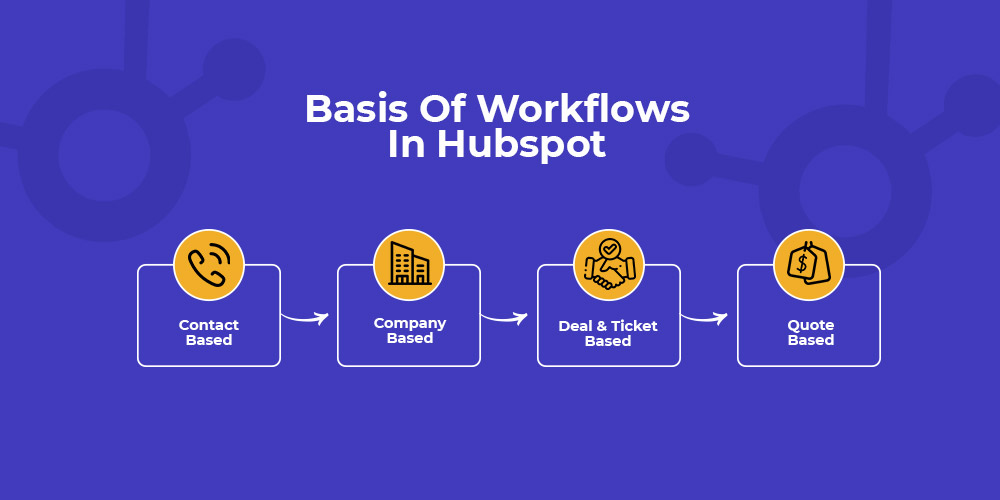 HubSpot gives you the privilege to create a workflow based on the scale and requirements of the business. Some of the different types of workflows on a broader spectrum are based on:
Contact-based– Workflow will start when the user record triggers some predefined conditions and then it will add to the workflow manually. However, the contacts remain in the workflow until the first action is completely closed for the fixed date on the calendar.
Company-based– Workflows that companies enroll as per their marketing strategies. With this new type of workflow, sellers can set properties, create tasks, and send emails based on the company.
Deal and Ticket-based– Workflows for registering agreements and tickets that allow you to set properties, create tasks and send emails based on these agreements and tickets.
Quote-based– In a quote-based workflow, sellers can record offers as they are created, use actions to send emails to contacts, and include delays between submissions. Also, the offer can be automatically unsubscribed once the offer has been signed so that emails are no longer sent.
Types of Marketing Workflows
A marketing workflow is a reliable flow of the process that will come into play when a new project starts. It also defines who will do the next task and what will be the pursuing process. In addition, marketing automation workflow is dependent on business requirements and the current situation of the projects.
Lead-related workflow
This workflow attracts more leads and converts them into paying customers. Leads are basically of two types – Hot and Cold leads. The hot one is the most recent leads that have shown interest and knowledge about the products, sellers must address them on a priority basis. On the other hand, cold leads may be the first time visitors to the seller's store. They usually don't register themselves and are likely not to purchase the products. Sellers can set some conditions that when "triggered" promotional emails, offers, and other types of catchy content can be sent to interested leads. This workflow will engage more leads to make a purchase and overall sales will increase.
Create Handoff Workflow
Workflow, when meets sellers' requirements and gets triggered the process is transferred from one hand to another this is termed as "Handoff Workflow". The triggers can be no. of visits, adding products in the cart, filling the inquiry form. After setting the action the stage of the visitors can be changed from (interested to active). Sellers can create another action to trigger a workflow to send "email" to interested leads.
For example- Sellers get 50 leads from a landing page and once the trigger(predefined condition) is activated, automatic emails will be sent to the leads, and when the users respond to the emails, users lifecycle stage changes from Normal leads to Marketing Qualified leads followed by sales leads. Now the concerned team will get in touch with them. This shows that the users/visitors are interested in sellers' products or services.
Customer Onboarding workflow
Customer onboarding is the primary stage of the customer journey and defines relationships with products and services. No matter how good the product is, if the leads are not converting into paying customers, there is something lacking. The first thing sellers can do is automate welcome emails that will tell what the subscriber will get next. This technique will help to convert subscribers to paying customers. The next step can contain valuable information or articles related to products or services. If the leads show interest in the product then it's time to pitch services and products.
Abandoned Cart Recovery Workflow
To recover abandoned carts predefined process under workflow will definitely play a major role in increasing overall sales.HubSpot Integration does that for the merchants. It will send reminder emails that will boost re-engagement and sales figures. Sellers can customize their workflow based on their business requirements by setting actions and email contents. These are some steps that sellers can include in their workflow. In addition to this, sellers can analyze why carts are getting abandoned. There may be different reasons like lengthy checkout process, unsatisfactory return policy, website errors, product quality, or reviews. Three to four email workflows will give sellers more opportunities to win back their customers.
Note: HubSpot does not provide sellers with predesigned properties that store the value of abandoned carts. Sellers can resolve this problem through HubSpot integration solutions.
UpSelling Workflow
Upselling is a marketing technique that encourages customers to purchase upgraded products or services. The following can be an ideal workflow.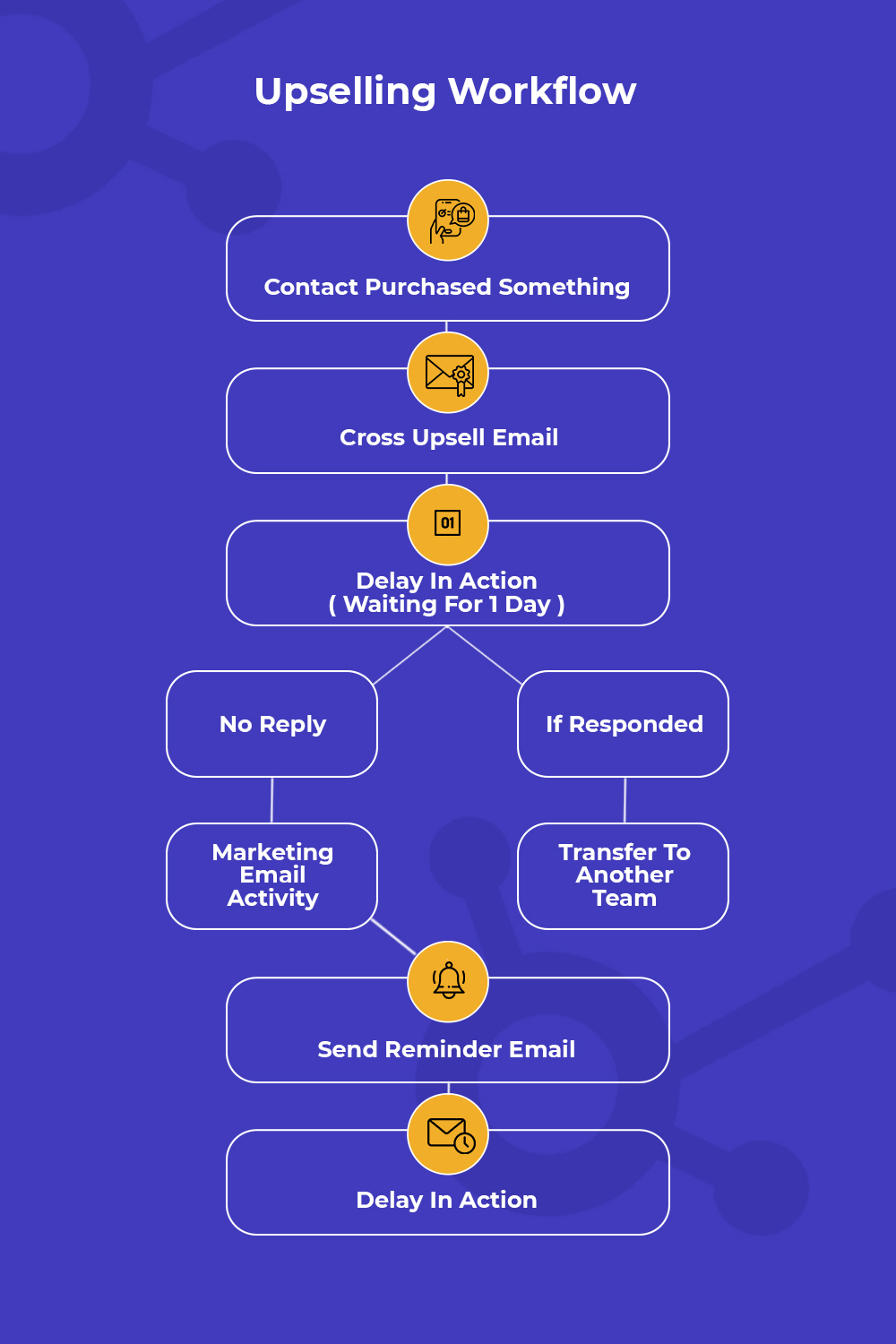 It is easier to convert an existing customer than to attract new ones. Sellers should not stop communicating with customers even after they have made some purchases. Moreover, they should make product/service recommendations, create product bundles, and intelligently view related products, and track KPIs.
After-sales and feedback workflow
After-sales when sellers contact their customers, they feel privileged and connected with the company. This HubSpot Marketing Automation workflow improves the overall customer experience. Because dissatisfied customers tell sellers about the downsides to their business process, and satisfied customers give positive reviews, testimonials, and case studies. And whatever data sellers get, they can act accordingly to improve their business processes and decision-making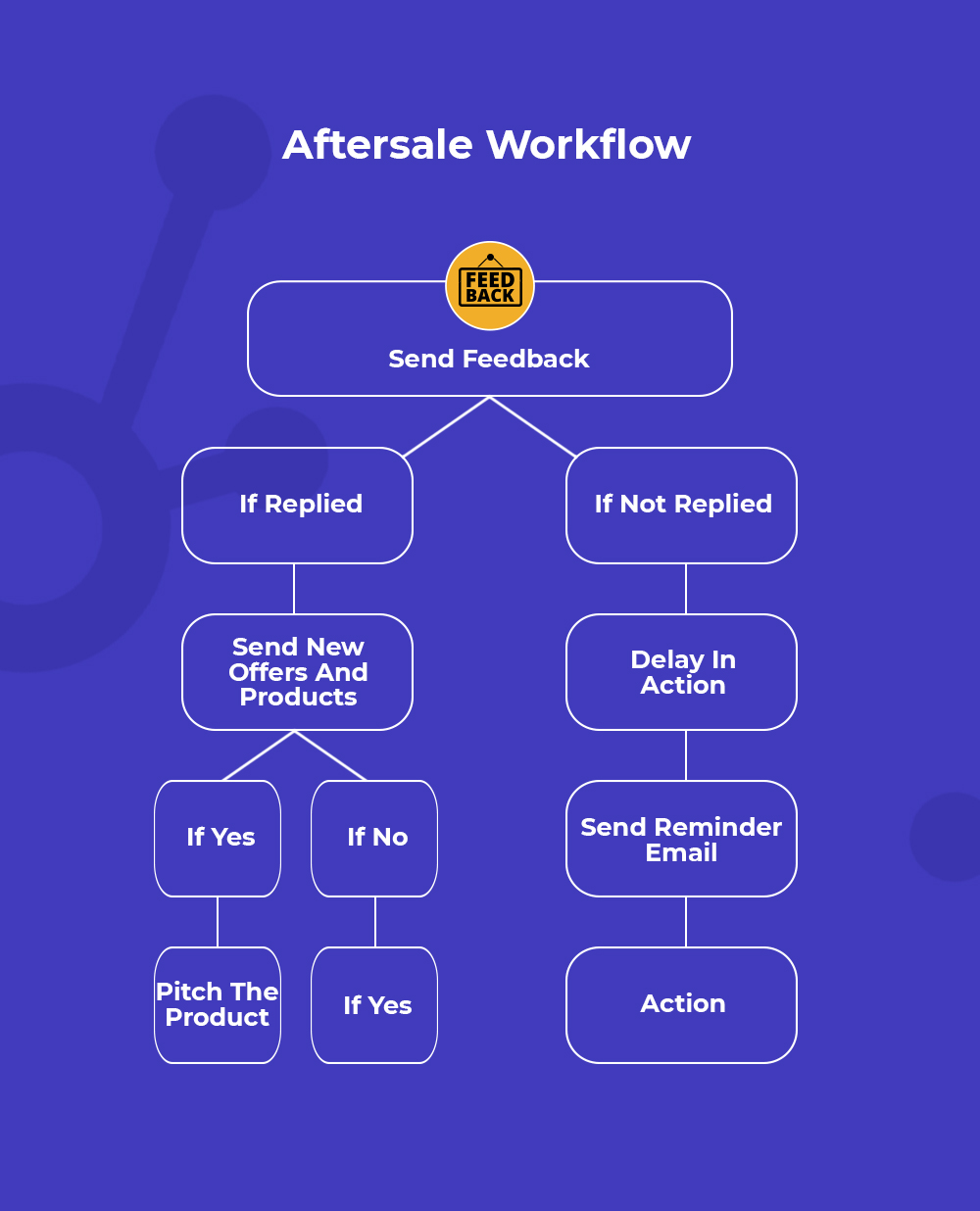 What are the Benefits of Marketing Automation workflows?
When the term "Marketing Automation" comes into our mind, it brings positive transformation in the business. The process of implementing various workflows needs expertise and general sellers with less technical background will face difficulties in doing so. Moreover, taking the help of a certified third-party integration solution provider will give fruitful results and will reduce manual efforts to a great extent by providing proper support and help.
CedCommerce a prominent eCommerce solution provider company and HubSpot partner helps businesses to enhance their reach through various modes. Some of the advantages of Marketing automation offered by CedCommerce are as follows.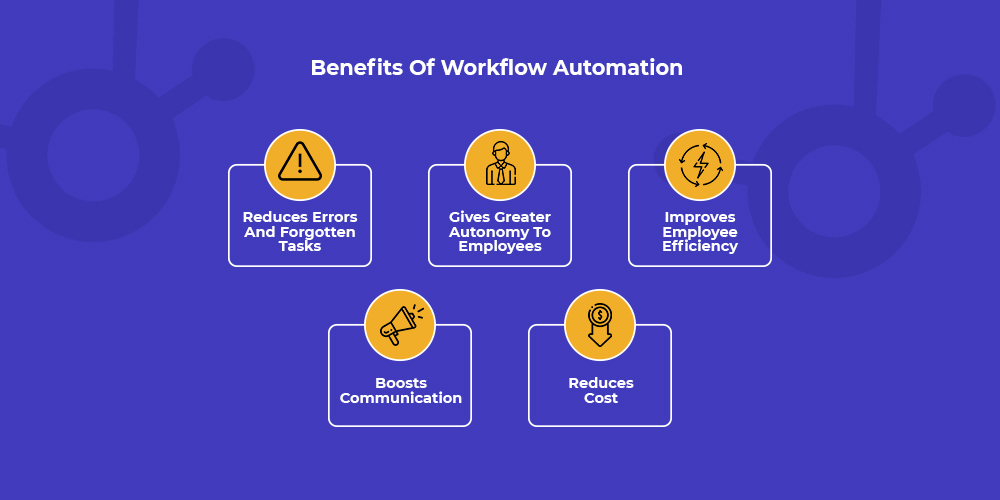 Increased efficiency at every stage of sales and marketing- Proper task allotment with better team management increases the overall efficiency of the business and its products
Alignment of sales and marketing domain- Proper communication of information between different domains helps the processes to speed up with better productivity
Increase conversion rate- Marketing automation with different workflows reengage customers and recover abandoned carts, this results in increased sales.
Valuable insights and accurate reporting- WIth the help of proper reports and insights that are obtained from the marketing automation platform, sellers can devise improved strategies to attract customers.
Segmenting leads- categorizing leads and contacts based on their interest and purchase history gives a better view of sellers' reach and what can be done to improve it.
Data syncing and management- Collection of useful data and managing them to obtain the desired result is achievable through marketing automation strategies.
Lead nurturing- Marketing automation techniques will help in reinforcing the relationship between customers and sellers throughout the sales process.
Conclusion
For a successful business model, well-structured tasks with the least repetition are the key. Workflow automation does this hectic task for businesses. In addition, it also manages data of different types and based on sellers' needs produces valuable insights and reports that will help in increasing sales and revenue figures. Workflows offered through integration solutions will streamline marketing and sales processes. So what are you waiting for?
Get your business the power of integration with the HubSpot Integration solution and grow your business.
If you want to create such workflows for your sales team do not hesitate to contact us. We are HubSpot Partners. and are by your side in any case.