Success Story: Selling food on eBay was never so easy
Running short of time? Get PDF of the blog in your mail.

Play Now
Do you often find yourself asking- "Can I sell food on eBay?" Selling food on eBay can be pretty profitable. And the team of Millican pecans has proved it with time. This success story takes you through the epic journey of the MillicanPecans and how they dealt with selling edibles (nuts ) on eBay while also managing their Shopify store alongside.
How did Millican Pecans come across CedCommerce?
Millican Pecans started selling online in the year 2001. But recently, they noticed their products were not linking to the app. The problem created a situation where the products simply wouldn't get linked to the eBay store when Millican Pecans tried to list their items.
Meanwhile, lack of technical assistance was a problem that they felt like addressing. That's when they started looking for an alternative to the service they were subscribed to. Soon they came across eBay Marketplace Integration developed by CedCommerce to integrate eBay with Shopify on the App Store.
Upon going through the features of the app and the reviews from clients, Millican realized that eBay Marketplace Integration was the solution they sought. Now that they are selling on eBay through the integration application; They plan to keep using it.
About Millican Pecans
Millican Pecans' story began in the late 19th century when E.E Risien and his wife immigrated from England in the 1800s. He conducted many experiments that changed the course of the Pecan Industry and established San Saba as the "Pecan Capital of the World."
Selling farm-grown pecans since 1888, the brand Millican Pecans is a family business of the Millican's for five generations now. They source hand-picked pecans from their farm-grown pecan trees. Some trees in their orchards date back to the 1800s. Over the years, Millican's have embraced the latest technologies while preserving their ancestor's traditional ways of doing things. The sophisticated machinery helps them extract the best quality pecans.
In 2001, with the advent of the internet, they expanded their business to the online sphere. Since then, Millican Pecans is known for its best-in-class Pecans across the US. Millican's grow and fulfill the pecan orders all by themselves.
Challenges of Millican Pecans
Millican Pecans wanted a solution that would help them synchronize their Shopify store with eBay. They wanted to manage things on one centralized panel to save some time. The saved time was to be used in managing their business on several other platforms. The integration service they used could not fulfill their business needs in providing them with a smooth selling experience.
"We had issues trying to link our current eBay items with our Shopify store. We realized that the new products were not linking in the app."
Millican pecans sell their hand-picked nuts under the fixed-price format on eBay. But they faced issues when linking products from their Shopify store to eBay. Uploading their listings on the marketplace made things challenging and laborious. This is where the Shopify eBay solution came to their rescue.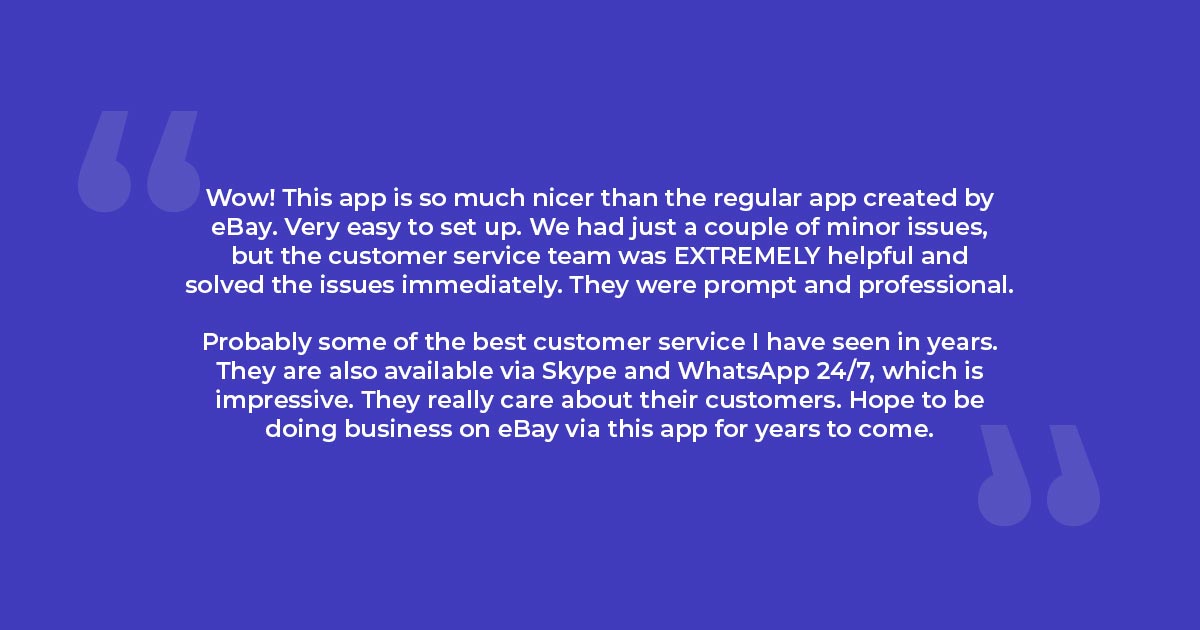 CedCommerce's solution for Millican Pecans
Millican Pecans were in dire need of an app that could simplify the entire process, was easy to handle and did precisely what it said. eBay Marketplace integration covered everything ranging from listing to synchronization and order management.
Let's give you a glance at the features that turned out to be the most beneficial for Millican Pecans.
#1. Automatic Synchronization
The app helps in real-time synchronization of orders, inventory, prices, and other details between eBay and your Shopify store.
Threshold Inventory: The stock on both eBay and Shopify remains the same. It prevents you from overselling. The app also marks the product out of stock when it reaches the threshold value you set for eBay.
#2. Easy Bulk Listing on eBay
The profile-based bulk upload and editing options help to save time by letting you perform an action on bulk products. It saves you from manual labor every time you have to list your products.
#3. Flexible templates
The app lets you add, change, and remove the product details with the help of existing templates. You can also create new templates if you feel that the existing templates don't suit your requirements.
#4. Order Management
When you receive an order on eBay, it gets created into your Shopify Store. You can fulfill the order from Shopify. Once fulfilled, the updated status gets synchronized on eBay through the app. It makes everything well managed and effortless.
To know more about the app's features and find out what could be helpful for you, visit the Shopify App Store.
Results
Using eBay Marketplace Integration improved the selling experience of Millican Pecans. Apart from this, they loved how CedCommerce was available round the clock. The supervision they got from the experts on Skype and WhatsApp assisted them with their doubts while employing the app.
"Excellent, knowledgeable customer service representatives. Your app is an easy platform to pass eBay sales to Shopify."
Conclusion
Are you an existing eBay seller or plan to sell food and other items on eBay as Millican Pecans did?
Find eBay marketplace Integration right away on the Shopify app store. Don't forget to check out the salient features the app possess. It may come in handy and help you with your solution to multi-channel selling.
Do you have more queries? Feel free to reach out to us via chat or email. CedCommerce's team of marketplace experts will be glad to be of help.