Shopify Vs WooCommerce: Which E-commerce Platform Reigns Supreme (Speed Optimisation)
Running short of time? Get PDF of the blog in your mail.

Play Now
Shopify vs Woocommerce is the burning question not only in your mind but among thousands of online merchants aspiring to kickstart their online store. This dilemma to choose the right e-commerce platform revolves mainly around the website (online store) maintenance difficulty level and security. But, not limited to it. It also expands to multiple other factors
Technical expertise
Online Security
Payment Processing
Scalability
Website Customisation
Seller Like You Have To Say
It will be a series of several blogs each with deep dive into the nitty gritty of important parameters (that can't be overlooked) compared between Shopify and WooCommerce
In this post, we will discuss which platform enables better speed optimization and reach a concrete conclusion. As a result, you will be confident when choosing the best of the two most popular e-commerce platforms in terms of speed.
Website (online store) speed plays a key role in influencing the success of your online store.Undoubtedly, slow website speed (3 seconds or more) is the primary cause of high bounce rates and poor conversion rates, resulting in losing revenue and angry shoppers.
The experience of stuck transactions during checkout due to slow page speed will enrage the customers. They expect a seamless experience. But waiting longer than expected will make them feel cheated and kill the joy of shopping and you will never want that to happen.

Shopify vs Woocommerce in terms of Speed Optimization
Hosting and Server Configurations Shopify vs Woocommerce
Shopify is a fully hosted platform capable of looking after hosting, maintenance, and security. Therefore, technical knowledge is not mandatory to kickstart selling on Shopify.
Sellers are free from the burden of hosting management.
Shopify servers are pre-configured for superb performance and security.
Lots of time is saved that would have been used in tweaking the settings of the server.
WooCommerce being self-hosted requires sellers to look after the critical aspects of online stores like hosting, maintenance, and security. Although the seller gets more control over the website and its configuration, it demands a high level of technical knowledge.
Opting for WooCommerce will be a time-intensive and complex procedure.
Allows more control over the server, making it effortless to configure it to your specific requirements.
Who's The Winner:
Shopify (for novice sellers) and WooCommerce (for tech-savvy sellers)
Content Delivery Network (CDN) – Shopify vs Woocommerce
The CDN is a network of servers spread across the globe and its job is to automatically redirect the user to the server closest to his location. As a result, data has to travel less distance, and page load speed is significantly increased.
It also saves the website (online store) from crashing during high traffic (thousands of users trying to simultaneously access the website) by evenly spreading out the load on multiple servers.
Shopify
Shopify CDN also known as Shopify Edge is integrated by Shopify on all online stores built on Shopify
Shopify CDN is capable of quick content delivery across different geolocations as it more than 100 points of presence (PoPs)
It implements edge caching and dynamic acceleration to enhance the user experience and boost the conversion rates.
Shopify merchants enjoy fast website page load time despite the high traffic and still no need for manual intervention to set up CDN.
WooCommerce
WooCommerce is compatible with renowned CDN providers like Cloudflare, MaxCDN, and Amazon CloudFront.
Sellers have to manually set up CDN to ensure website page load time remains fast and avoid losing customers and poor conversion rates.
Who's The Winner:
Shopify
Image Optimization – Who Will Win Shopify vs WooCommerce
Overly large images can drastically slow down website page load time. It will negatively impact the shopping experience (even more when the shopper is in a hurry), resulting in customers switching the online store to another website.
Therefore there is a dire need to compress image size (without compromising on image quality) to speed up the page load time for a lower bounce rate and better customer engagement. Let see how Shopify vs Woocommerce stand face to face in terms of image optimization
Shopify
Images are auto-optimized in the required format while uploaded to the Shopify store.
Shopify ensures your online store images are compressed in multiple sizes so customers will see the correct image considering their device and screen size.
Shopify documentation mentions unnoticeable loss in image quality despite reducing the image file sizes by up to 50%.
WooCommerce
The seller won't get the convenience of auto-optimization.
Plugins are available to compress images and generate multiple formats to be fit for WebP format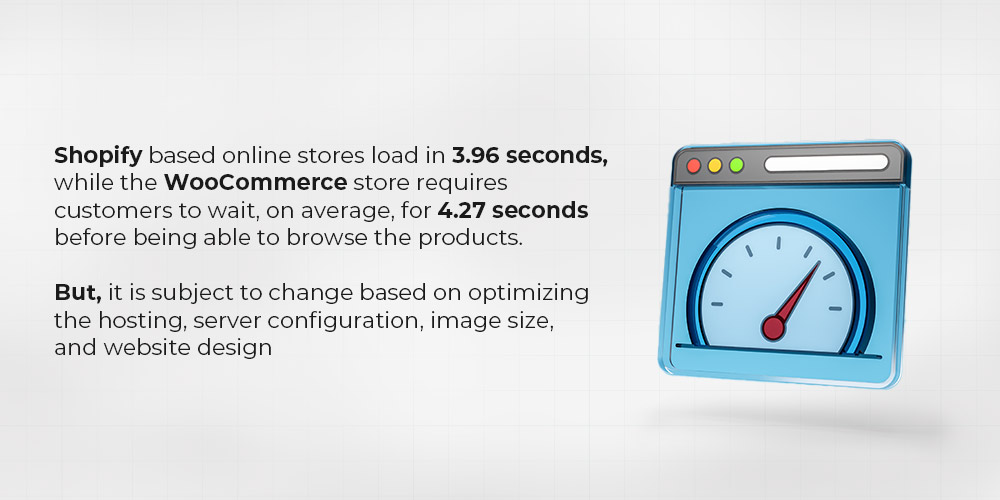 Google considers fast-loading websites as a decisive factor for ranking on SERPs.Moreover, slow-performing websites are sent down to the bottom of search results by Google and get comparatively fewer customers.
Who's The Winner:
Shopify (for promising 50% size comparison without compromising on quality)
The Pro Tip – Compress The Images – Decrease image sizes using lossless compression. It will ensure no adverse impact on image quality.
Code Optimization: Who Will Win Shopify vs WooCommerce
Well-optimized code will have a positive impact on website speed. A poorly written code takes longer to load, putting extra strain on the server.
Shopify
The code is well-optimized (in advance) for better speed and optimal performance with the help of different techniques like lazy loading, minification, built-in caching, accurate database queries, and optimal resource loading.
The Shopify development team relies on industry best practices to develop optimized code.
WooCommerce
The onus is on WooCommerce store owners to optimize website code and tweak server configuration for optimal website speed.
It requires in-depth tech expertise for WooCommerce code optimization.
Faster page load time, enhanced server efficiency by efficiently processing requests, and improved search engine ranking are the big benefits of code optimization.
Who's The Winner:
Shopify (for saving loads of time )
Cache Management: Who Will Win Shopify vs WooCommerce
Cache management is another critical parameter without which Shopify vs WooCommerce debate is incomplete. Both platforms offer cache management. Cache temporarily stores copies of frequently access data that is easy to retrieve avoiding the need for generating same content. Therefore, capable of significantly influencing the website speed and eventually the user experience.
Shopify Cache Management
Caching is automatic and requires no manual configuration.
In-built cache with frequently accessed data in memory which speeds up subsequent requests
WooCommerce Cache Management
No in-built caching is available but use of caching plugins (as a third-party tool) can enhance the speed of the online store.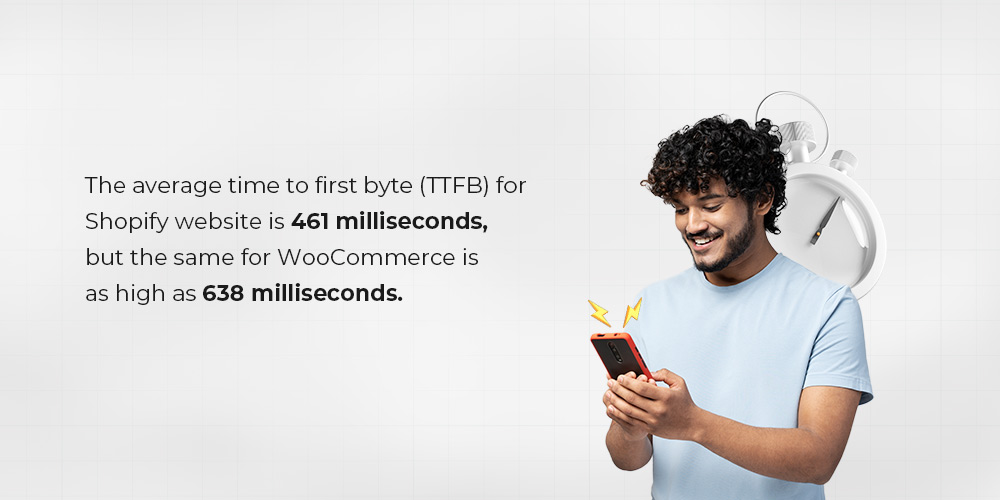 Who's The Winner:
Shopify (due to its robust and automatic cache of frequently accessed data which requires no configuration)
Mobile Optimization: Who Will Win Shopify vs WooCommerce
There is no denying that the battle between Shopify vs WooCommerce is incomplete until the mobile optimization front comes into play. After all, mobile apps score high on convenience and enable on the go monitoring of online stores is a big reason online sellers will never ignore them.
Few Facts To Consider Mobile Optimization On Serious Note
Mobile devices are responsible for 79% of customers on the Shopify store.
The convenience of shopping on the go and the joy of social commerce is only possible on smartphones.
Mobile phones ensure non-intrusive push notifications to inform Shoppers about personalized offers and they love it.
Many shoppers are on the lookout for mobile app exclusive deals. They will opt for smartphones to complete the purchase.
These are quite a few strong reasons to ensure your Shopify storefront looks great and work fine on all devices with varying screen size.
Both platforms have taken care of mobile optimization but are a bit different. Let's decode it and make it easy to understand.
Shopify
Mobile-Ready Themes – It has a plethora of professionally designed, aesthetically appealing, and mobile-responsive themes. These are well optimize to enable a seamless shopping experience on devices with different screen sizes.
Built-In Mobile Optimization – Shopify sellers need not worry about caching and content delivery. All server-side optimizations are responsibility of Shopify. As a result, it speeds up page load time and ensures optimal performance on mobile devices.
WooCommerce
Extensive Customization Options – WooCommerce allows sellers to customize numerous elements of their theme. Therefore, giving better control over
Color schemes
Typography
The layout of product pages
Category pages
Checkout process
Also, making it easy to rearrange product listings, add featured products or promotions, and incorporate customer reviews. It paves the path toward a smooth mobile shopping experience. As a result, shoppers can navigate in no time to products on their wish list.
Functionality Customisation – Choosing from a range of available add-ons and plugins it gets easy to extend the functionality of the store. Like implementing mobile-specific payment gateways to streamline the checkout process or boosting user experience on mobile devices with add AMP (Accelerated Mobile Pages) functionality.
Opting for well-coded themes and ensuring plugins stay updated will help WooCommerce sellers to deliver a faster mobile shopping experience.
Who's The Winner:
It's a tie, as both e-commerce platforms provide equal opportunities to leverage mobile optimizations and enhance the shopping experience on mobile devices irrespective of screen size.
The Pro Tip – Just One Hero Image – Instead of uploading 4-5 high-quality images it is best to use one appealing image that delivers just the right messaging about your business objectives. As a result, there is a significant decrease in website speed.
Third-Party Integrations: Which Platform is Best Shopify Vs WooCommerce
There are multiple ways of leveraging third-party integrations to boost your store functionality and make it perform to its best.
Shopify
Partners Major Service Providers – The partnership with Facebook, Instagram, Google, and Pinterest makes seamless integration with third party tools easy and effortless.
Developer Tools – There is no dearth of dev tools and API. Hence, it is easy to develop and integrate custom integrations that are in line with business requirements. It improves functionality. These can be ERP (Enterprise Resource Planning) software, CRM (Customer Relationship Management), marketplace integration, and more.
WooCommerce
Extensive Plugin – WooCommerce plugin directory boasts off thousands of free and premium plugins. These will be hugely beneficial in the form of payment gateways, shipping options, marketing tools, SEO optimization, and more.
Huge and Active Community – The community of WooCommerce developers designers, and enthusiasts are active participants in knowledge sharing and providing assistance for improving the platform's functionality.
As a result, various integration solutions are available and more will develop with the intention to enhance WooCommerce store productivity.
Who's The Winner
Both Shopify and WooCommerce because choice between the two platforms depends on your specific integration needs and preferences.
How To Attract and Retain Online Shoppers Using Power of Speed Optimization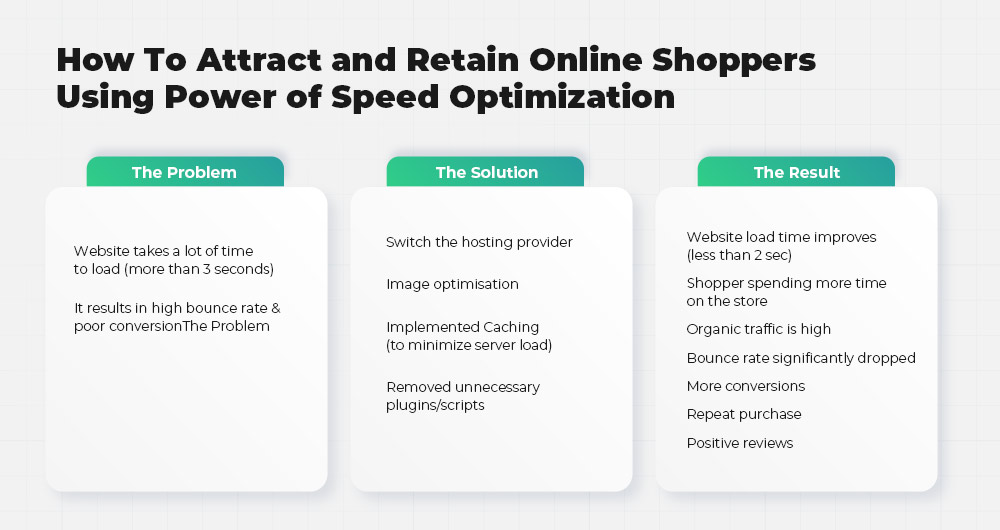 Shopify Vs WooCommerce – Turn Sluggish Online Store Into Thriving Business
Your online store speed can make or break your customer mood. There is a direct correlation between page load time and conversion rate. Shopify is more suitable for sellers without in-depth know-how of coding.
WooCommerce on the other hand, has room for more flexibility but demands a certain level of tech expertise. You can choose the platform as per your business orientation and technical expertise.
Shopify scores high on for its simplicity and WooCommerce attracts the sellers for being versatile. There is no dearth of options to optimize speed on both platforms. After all, irrespective of product cost effectiveness and premium quality, slow loading checkout pages will annoy your customer.