Delivery of your gift with your message and time
Running short of time? Get PDF of the blog in your mail.

Play Now
This article is to inform you about new WooCommerce extension of CedCommerce, named Shipping & Delivery Date management with gift message.
This is a WooCommerce extension created by CedCommerce allows customers to buy a gift and send to friends, family members, relatives with a message to a specific date.If you're and admin of a online shopping site of WooCommerce then this article is recommended you. If you're looking for a feature for your customers to give surprises to their relatives with some gift and messages, this is the solution you're looking for.
Shipping & Delivery Date management with gift message facilitates you with the feature of you're thinking about. Through this extension you're customers can purchase a gift and send that to someone they wish, at his/her address with a message. This feature extends your shop's quality and you can provide some extra facilities to your customers.All these features are available on product page.
Main features of plugin:
Prevent delivery on selected days.
Add extra cost based on days.
Gift message for every product can be set by customer.
Shipping address for every product on product page can be set by customer.
Order email send with product additional information.
Works for both Guests and Members.
Show-hide delivery address at cart/checkout/order pages to win space.
You can also customize this extension like: you can customize delivery date like week off, nearest order delivery date, disable past days feature of this extension.
How To Use Shipping & Delivery Date management with gift message?
When this extension is activated you can see under the WooCommerce section there is a Shipping and Delivery Configuration new menu is added. You can set your configurations as you wish and hit the save changes button to save the settings.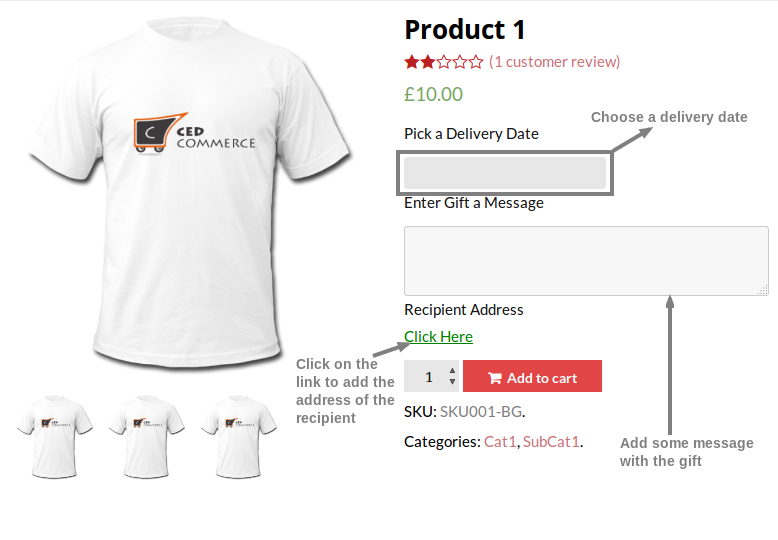 As you can see the image, customers will see the features of the extension on each product pages and according to your setting. This extension is just that easy to use for your customers and you as well.
Conclusion
So if you are looking for an extension having features (like: purchasing a gift, selection of a delivery date, adding a message with the gift etc) in WooCommerce, this extension may be proven as a best solution to you. You can see a demo of this extension here.
Thanks for reading the article, if you found this article helpful and you liked it so please give your feedback in the comment box and if you didn't like the article then also please tell us the flaws, that how can we make this more helpful.Also you can share your ideas to make this extension better, we'll be eagerly looking for your feedback.  Click Here to have your own Shipping & Delivery Date management with gift message. Also have a look at other WooCommerce extensions.