ShaksBoutique shattered sales records while selling on eBay with Shopify!
Running short of time? Get PDF of the blog in your mail.

Play Now
As an aspiring store with its eyes on the prize of expansion, growth, and increased outreach. Shaksboutique decided to up their selling game by exploring new options when they finalized eBay as their second selling base. Since then, they've been selling on eBay with Shopify, featuring a vast array of products ranging from jewelry, women's clothes, shoes, sunglasses, and purses, among various other products.
In 2019, a mother and daughter decided to start selling affordable fashion clothing that could be readily available to women globally. So the mother and daughter took the final call. As a result, the Shaksboutique came into existence, supplying clothes and accessories that enhance outer beauty and boost women's confidence through fashion.
About Shaksboutique
ShaksBoutique came into existence due to great camaraderie between the mother-daughter, Alexandra and Shakira. Shakira gained experience from the modeling industry up close. In addition, she had developed a keen eye for fashion. Whereas the dream to start an online store was nurtured and encouraged by Alexandra. Thus, a plan came into fruition under the name of ShaksBoutique.
They aim to empower great, unique, and powerful women that meet all the aspects of their lifestyles at affordable prices. Shakira believes that women's fashion has to be worked upon. So she makes sure that all the latest fashion trends reach her online store at the earliest. The store has everything for women's fashion ranging from beachwear and dresses to comfortable gym wear and coordinated dresses.
What challenge was Shaksboutique facing?
As eBay was uncharted territory for Alexandra and her daughter, uploading products, creating a listing, and setting up the much-needed business policies became difficult. Apart from these issues, they had to manage their inventories, offers, and pricing manually. Doing all this and keeping up with the latest fashion trends in apparel was gradually becoming difficult. This is where the Shopify eBay integration came to the rescue of team Shaksboutique.
How did Shaksboutique come across CedCommerce?
ShaksBoutique started selling online in 2019. Since then, they escalated their sales and reached great heights while eyeing expansive growth to their sales through various marketplaces. Once they zeroed in on eBay, they initiated the process of selling on the market. However, the quest to increase their sales hit a roadblock when they found it difficult to upload their products in bulk. The manual upload was taking away time and resulted in painstakingly long and hectic working hours. Not knowing how to get through it, they found CedCommerce through a recommendation.
Shaksboutique has been happily selling on eBay with Shopify and plans to continue with the same eBay marketplace integration in the years to come.
"The problem was selling my brand on a big marketplace such as eBay with no clue how to do this." – Alexandra
The solution: Selling on eBay with Shopify integration
To automate the selling process, on her friend's recommendation, Shakira found out about the eBay Shopify integration by CedCommerce. She then went through the reviews of existing clients and realized that this was the ultimate solution for the problems she faced with her online business. Some of the features that were of great help for Shaksboutique are as follows.
#1. Inventory Management
Shakira and Alexandra experienced difficulty in managing the inventory. The Shopify eBay app helped them by automatically syncing the inventory status of Shopify to eBay.
Threshold Stock
After setting the minimum inventory value on eBay, Shaksboutique was automatically notified whenever they reached the threshold stock value.
#2. Price Management
Shaksboutique could easily choose if they wanted to sell an item at a fixed price or auction. With the app's help, they could also edit the pricing on products based on their categories. The price is changeable in two ways, either by a fixed percentage or by a fixed value.
#3. Profile Based Product Upload
The Shopify eBay app allowed Alexandra to group her products based on their properties and attributes. Then, later on, upload, edit, or delete the products by selecting their category.
Profiling in the app helps in selecting different set policies for each product. It helped Shaksboutique in setting up other product policies on each of its items.
4. Order Management
While dealing with eBay orders, the Shopify eBay integration app was of great help to Shaksboutique. They could manage their eBay orders right from the panel provided on the app.
The app also automatically synchronizes the order fulfillment updates at regular intervals from the Shopify store to eBay.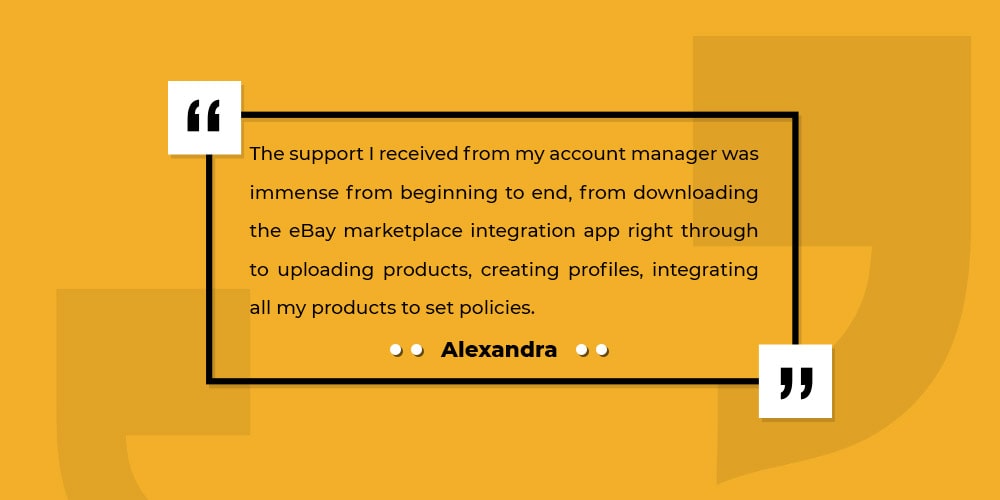 Selling on eBay with eBay Marketplace Integration
Alexandra saw an increase of 25% in her online business is since they began using the eBay marketplace integration. Rating the app and her account managers with five stars, she wants to continue using CedCommerce's eBay Shopify integration.
She recommends the Shopify app to all those who want to ease up selling on eBay. Alexandra loved how the customer support team was always available to guide her round the clock.
On behalf of Shaksboutique, Alexandra believes that it was easy to reach out to the account managers at CedCommerce that helped her smoothly run her online business.
"Yes, I intend to use the service again to gain expert knowledge around increasing my marketplace sales. I would recommend them. " – Alexandra
Conclusion
Selling on eBay is not as tricky as sellers generally think of it. The fundamental method behind excelling is picking a good integration solution as Shaksboutique did when selling on eBay with Shopify.
The integration gives a great solution to innumerable problems. Moreover, as the app brings together both worlds' best, it makes selling easy and simple for everyone.
Suppose you're looking for a solution to your problems with selling on eBay. Or if you are not sure how to expand and manage your eBay account? We are here to help you in every way possible. Feel free to connect with experts from the eBay integration team on Skype, WhatsApp, or mail.