Re-Order Your WooCommerce Orders By One Click
Running short of time? Get PDF of the blog in your mail.

This article is to make you aware about the new release of CedCommerce in WooCommerce extension, named One Click Order Re-Order.
One Click Order Re-Order extension, is a WooCommerce extension created by CedCommerce facilitates you to place the WooCommerce's previous orders again by one click. It means now you can place your previous WooCommerce's orders again by one click.
Now you'll be thinking that:
WooCommerce also provides this feature so why we use this extension ?

so the answer is: WooCommerce provides this features only for Completed orders, but if you're using this extension you can place your all the orders again either those are having Completed, On Hold, Processing, Pending Payment, Cancelled or any other order status.
This extension provides you easiness and saves your time from searching the items of an order in shop and then adding those products to cart. If an order contains more than one product then you'll search all the products and then add them to cart one by one. So through this extension you can add those all the products to cart at once without searching them in the shop.
How To Use One Click Order Re-Order Extension?
Download the extension, install it into your WordPress plugins and activate it. When the One Click Order Re-Order extension is installed and activated, then a button having name Re-Order will be added to My Account page next to each orders beside of View button.

A Re-Order button will also be added to order's detail page as shown in the image below.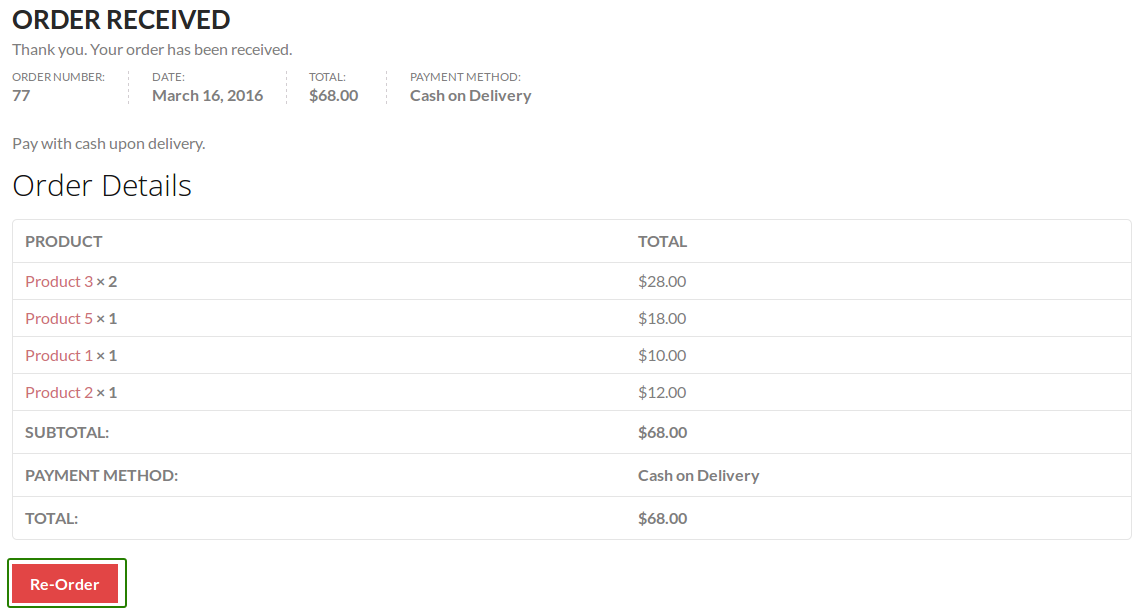 Click on the Re-Order button of an order you wish to add to cart again. When the items of an order are about to added to cart, the previous cart will be empty first and then these items will be added to cart. After adding the items into cart you'll be redirected to cart page with a message and you'll be able to see those items into cart, if those items are added successfully.

There may be some other message like Products are not available or Products are out of stock due to unavailability or due to out of stock.
Conclusion
If you're someone who frequently places same order again and again then this is the extension you're looking for. This extension is going to make your work much easier by placing the same order again automatically for you. Now if an order contains multiple items and you don't want to order all the items then just re-order this order and remove unwanted items from the cart or reduce the quantity of your items as per requirement.
Thanks for reading the article, if you found this article helpful please give your feedback in the comment box and if you didn't like the article then also please tell me that how can I make this more efficient and helpful.
You can have your own One Click Order Re-Order from WordPress plugins.
Have a look at other WooCommerce extensions.