Podcast Marketing : How To Sell Your Conversations Like a Pro
Running short of time? Get PDF of the blog in your mail.

Play Now
What do you understand about Podcasts? And most importatly, what is podcast marketing? To put it simply, a podcast is an audio programme, similar to a radio talk show but unlike any radio show. Podcasts are a series of episodes or vocalized words presented to users to download or listen to. Unlike Radio, the idea behind podcasts is to produce and share content based on specific themes that can be easily downloaded so people can listen to it on the go. 
How is Podcast Different From Radio?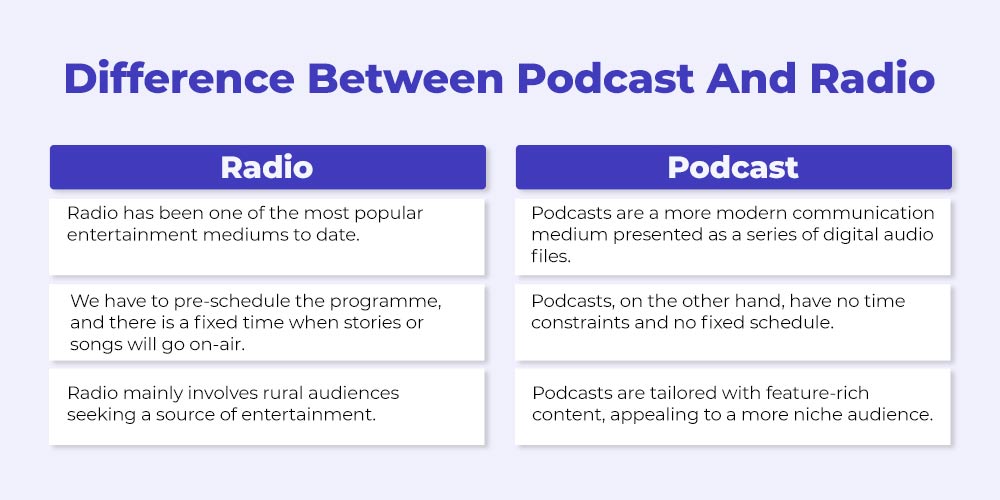 Radio has been one of the most popular entertainment mediums to date, touching almost every corner of the world through local stations. Podcasts are regenerated Radio programmes focused on a particular topic or theme and presented as a series of digital audio files. 
With radios, we have to pre-schedule the programme, and there is a fixed time when stories will be played when it's going to be news or songs to go on air. Podcasts, on the other hand, have no time constraints and no fixed schedule. Podcasts can have a change in the script depending upon the conversations and situation. 
While Radio mainly involves rural audiences seeking a source of entertainment, Podcasts are tailored with feature-rich content, appealing to a more niche audience.  
Another significant difference between Radio and Podcasts is the content delivery of the two mediums. While podcasts are mostly pre-recorded so that anyone with a portable media device can download them anytime they want, Radio shows are mostly live broadcasts that cannot be reformatted or edited once it's on-air.
Why Do Podcasts Matter For Marketers?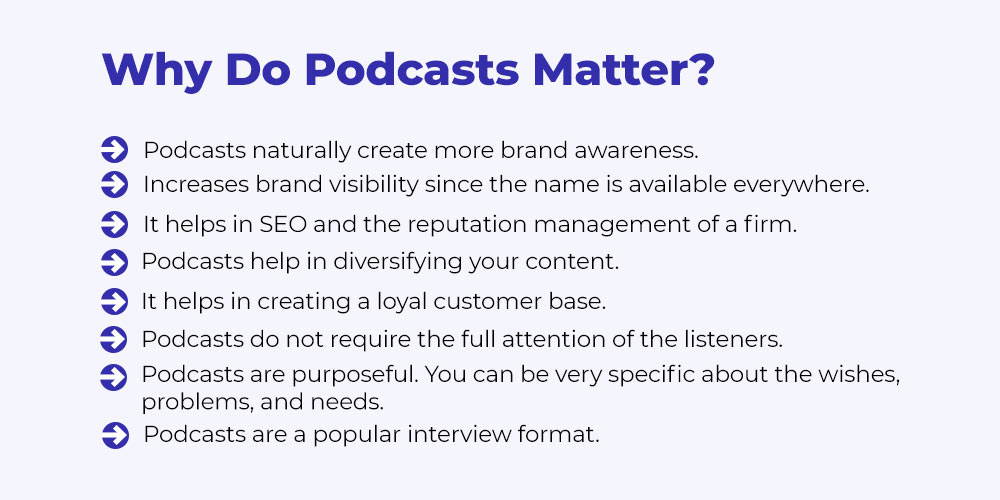 Here are a few reasons why marketers should consider including podcasts in their marketing strategy:
Podcasts naturally create more brand awareness. You can add links to your site and drive more traffic to your website.
Increases brand visibility since the name is available everywhere, including your conversations.
It helps in SEO and the reputation management of a firm and improves your digital marketing strategies.
When seen from an online media perspective, podcasts help in diversifying your content.
When you put timely episodic content, it helps in creating a loyal customer base.
Podcasts do not require the full attention of the listeners. They can carry on with the rest of their activities while listening to the episodes. This creates positive feedback for the business.
Podcasts are a sustainable source of information. Once you have created a podcast with ten or a hundred episodes, you have created high-quality content for your marketing that you can use numerous times over months.
Podcasts are purposeful. You can be very specific about the wishes, problems, and needs of your target group. This will help you in engaging the existing audience and winning the new ones.
The best thing about podcasts is that they are different. They differentiate themselves from your competitors and attract attention.
Podcasts are a popular interview format. It allows your audience to learn from your guests' expertise, and at the same time, adds more expert connections to your network.
How Are Podcasts Changing Marketing?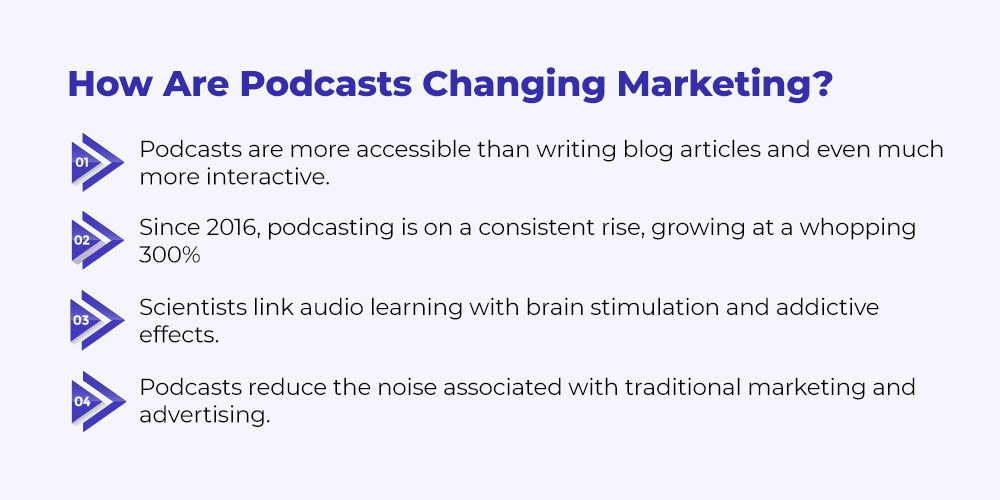 At this point, whoever is in the marketing industry must have heard the phrase "content is king" so often that it has become a cliche now. However, the saying still holds the truth in its truest sense. To produce more quality content, businesses have put up blogs where they publish written content daily. Podcasts are changing this scenario!
Podcasts are more accessible than writing blog articles and even much more interactive. While blogs provoke thoughts, podcasts inspire conversations about the brand.
According to 2018 Edison Research, since 2016, podcasting is on a consistent rise, growing at a whopping 300%. At this point, approximately 73 million Americans listen to podcasts every month.
Another reason why podcasts are proliferating and loved by the audience is because scientists link audio learning with brain stimulation and addictive effects.
Whether you are interested in politics, sports, fitness, cooking, or comedy, podcasts serve each niche greatly. In a way, podcasts reduce the noise associated with traditional marketing and advertising and allow brands to instil connections with the customers more authentically.
Podcast Marketing Strategy
Hubspot evaluated 20 high-performing business podcasts, and here are some insights:
Male Voices: 87% of the hosts were male.
News: 18 out of 20 podcasts were based on industry news.
Communications: Very few shows used audience engagement tactics.
Tone: The tone of the presentations was lacklustre primarily and full of jargon.
Here's how to create a perfect podcast for your brand:
Deciding on Show Format
Before starting a podcast for your business, you need to know what you are dealing in or want to deal in. Here are a few standard podcast formats that help grow your audience:
Interview: In this format, we bring an expert guest for a Q & A session.
Chat: It is a co-hosted format where hosts provide commentary on various topics.
Debate: This is also a co-hosted format where hosts take on one side of the argument and present facts and figures on a topic.
Narrative: It is a journalistic-style podcast presented with proper research, script and a strong storyline.
You can choose any of the given formats depending upon the nature of your business.
Length of the Podcast
When it comes to podcasts, the audience likes predictability. If you are going forward with just one format of all the episodes, try to keep them the same length. Whether you make your podcast below 20 minutes or above an hour, try to keep them all the same length.
Predictability is vital. You should decide on the length of your podcast before its launch. If you plan to change the length after a few episodes, let your audience know in advance.
Define a Structure
Podcasts are more conversational, and you have to go with the flow while keeping the audience engaged. But if you do not have a proper structure of your podcast, you will divert from the intent of the podcast.
Keep the following structure in mind:
Introduction: You should try to provide a 5-minute introduction to the central theme, characters, and conversation background. You can also narrate an inciting incident that will give a push to the interest of the listeners. You can also talk about the failed attempts in dealing with the incident.
Body: This will include the main action where the character makes more attempts to deal with his problem. These attempts are comparatively wiser and are followed by preparation and other events. The body of the podcast gives a view of the development of a character and how he appears to chase his resolution.
Conclusion: This is where the climax takes place, and all the plots are resolved.
Make References
Your goal as a marketer is to reach a wider audience. Do not forget to mention your other works during the podcast episodes.
It is precisely like content marketing. We give references to our other works in blogs through internal linking; in the same way, it is essential to promote your other content on podcasts. Just like blogs, you have to plan where the CTA would fit best in the entire structure. Random CTAs perform poorly.
Reference your last episode: This is the easiest thing to mention. You do not have to give too much information on how to find it.
Mention specific episodes: If you have multiple episodes and some are more popular than the rest, it doesn't hurt to mention them in your episodes.
Send traffic to your website: If you have a website, ask your audience to visit it. However, you have to give them a reason to go to the specified link.
Promote on Other Platforms
You have put in a lot of effort in trying to build and manage your podcast. Now, it is time that you promote it on all the social media platforms.
Whatever your followers are on social media, you should utilize them to make your podcast more known and famous. Think of social platforms as an additional space where your podcast can be heard or seen.
Make sure to upload your podcast episodes on Twitter, Facebook, Instagram, and LinkedIn.
Promoting your podcast on social media will help you get your work noticed and get you to create a consistent online presence that keeps your audience engaged.
Conclusion
There you have it.
Creating and marketing podcasts is a never-ending process, but now you know how to go about it.
Unlike campaigns, this is something that you should be doing consistently.
When planning a podcast, always think about:
What are your target listeners most interested in?
How to deliver the most value in the scheduled time frame?
When to introduce new elements to keep the pace of the show engaging?
Is my story leading to a logical conclusion, and is it satisfying for the listener?
To put it simply, stay on track with what we've covered, and you'd be just fine.