How OneStopMovieShop made its space on Walmart and Google Shopping
Running short of time? Get PDF of the blog in your mail.

Play Now
When Sonyia Cruz started out with her business in 2018, within a year she realized that selling on other marketplaces can help her in generating more revenue and potential customers. On the list of to-dos, selling on Google Shopping and selling on Walmart successfully were at the prominent position. To sell on Walmart and Google Shopping is not an easy feat in itself. That is until you have the secret weapons: Walmart Marketplace Solutions and Google Shopping Solutions.
Did you know about the new opportunity that lets you keep all your profits to yourself? With the exclusion of commission fees from the Google Shopping Actions programs, you can enjoy all the profits made through your sales. Grab the opportunity with us today!
OneStopMovieShop is a Canada-based business run by Sonyia. It deals with the selling of DVDs/CDs of movies, PSP, PC games, etc.
Sonyia tells us that most of the manufacturing work is done by the 3rd party manufacturers. But, she manages to maintain the product fulfillment requirements by herself.
Before this, she had almost no idea about where she can take her products to sell for getting more potential customers. Her only online store was her website based on the Shopify framework.
The Obstacles: Sell on Walmart and Google Shopping
However, Sonyia gave her hard work and effort as much as she can. Nonetheless, the main problem that she was facing on her website, was less traffic.
The less traffic resulted in fewer customers and ultimately, fewer sales.
The graph of OneStopMovieShop was going low. Thus, Sonyia had to do something to overcome these obstacles.
The vast number of products and categories became a hindrance in her path as manually listing each item takes a lot of time and effort. With almost no idea about what can be the next fruitful step that should be taken, she started her hunt for a solution can that can provide her more exposure and reach.
Sonyia started looking for a product that can be helpful to her in the automation of product listings, inventory management, and order management. She wanted these tedious and time-consuming efforts to be used in some other productive activities of her business.
It was not too late when she found us on the internet and contacted us.
Sonyia, tells us that her website, apart from selling DVDs/CDs and games, also has categories for clothing and memorabilia.
We heard all her queries and presented her with our Walmart integration. Immediately she signed up for it, but according to Walmart's policies, it takes around 3-4 months to get a store live to sell products. The clock was ticking and Sonyia wanted no time to go in spare.
The Solution: Walmart Marketplace Solutions+ Google Shopping Solutions
It was high time for Sonyia to expand her business and that too at an urgent. So we, immediately recommended her to take her store on Google Shopping too. We suggested to her, that doing this will save her time which is getting wasted, and we also made sure that we wanted the categories of products that she owns to reach the apt audience with all the relatable interests.
I get help in listing my products on two good marketplaces-Walmart and Google Express. Seamless product, inventory, price and order management.

-Sonyia, OneStopMovieShop 
Assuring her eligibility for signing up on Google Shopping, we applied to the Buy On Google (previously known as Shopping Actions) program. Very soon, her store went live on Google Shopping and she started listing her products there.
Working with her we came to realize that Sonyia owns a real passion for her business. She used to spend hours managing her listings and her products. She kept on making the required changes and made sure everything was going fine.
Our representative, worked shoulder-to-shoulder with her to take her business on the right path of success, and very soon, she started seeing growth.
Started with 4-5 orders a day, the sequence started to happen consistently. Soniya was getting more orders now.
Meanwhile, her application for the Walmart store got approved after 1.5 months of applying, and now she has two stores to manage along with her website.
More space for her products, more eyes looking at them, more visitors, more buyers, more sales.!
She tells us, that one of our representatives, Nidhi explained the process. A consistent and one-on-one conversation helped Sonyia a lot in understanding the exact process of getting her products to sell on Walmart and Google Shopping.
Choosing us was Sonyia's choice. When asked she explained her reasons for choosing us.
Her reasons:
Affordability
Customer Service
Indispensable Features of Products
Industry Knowledge
Technical Expertise
Adding to this, she says

So we provided Sonyia with all the niche features that she was looking for.
We also made sure that she experiences a seamless shopping experience and gets to use and understand each and every service and benefit that she is being provided with.
We offered her:
Inventory management
Order Management
Synchronization of the stores
Auto Acknowledgement of Orders
Easy process of listing products on Marketplace
All of these features came with Walmart Marketplace Solutions and Google Shopping Solutions.
She says that by choosing us for the assistance, she sees both long and short-term benefits that will prove very useful and fruitful for her business.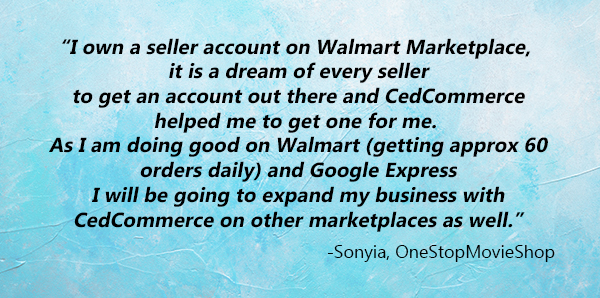 The Bottom line: Selling on Google Shopping  and Walmart Successfully
We at Cedcommerce always look forward to helping and assisting our clients in the best way possible and we adhere to the services we provide. Our Customer Service and Technical Assistance is praised worldwide by our clients.
Sonyia worked too hard and gave her all to reach here. Today, she sells a good amount of products each day and receives multiple orders too. Both, Google Shopping and Walmart stores are performing in an outstanding manner. And now, Sonyia is also looking forward to expanding her business to other platforms as well.
Moreover, like Sonyia, there are many aspiring people who want to establish and expand their stores on various marketplaces and sell their products. To all the queries and questions bubbling up in your minds, CedCommerce has all the answers you are seeking!