CedCommerce Launches The Bay Magento Integration to Enhance Sellers' Online Experience
Running short of time? Get PDF of the blog in your mail.

Play Now
Portland, Oregon [October 12, 2022]: CedCommerce is a leading eCommerce solution provider that has been developing different marketplace modules to enhance sellers' online experience. And The Bay Magento Integration is a new addition to this.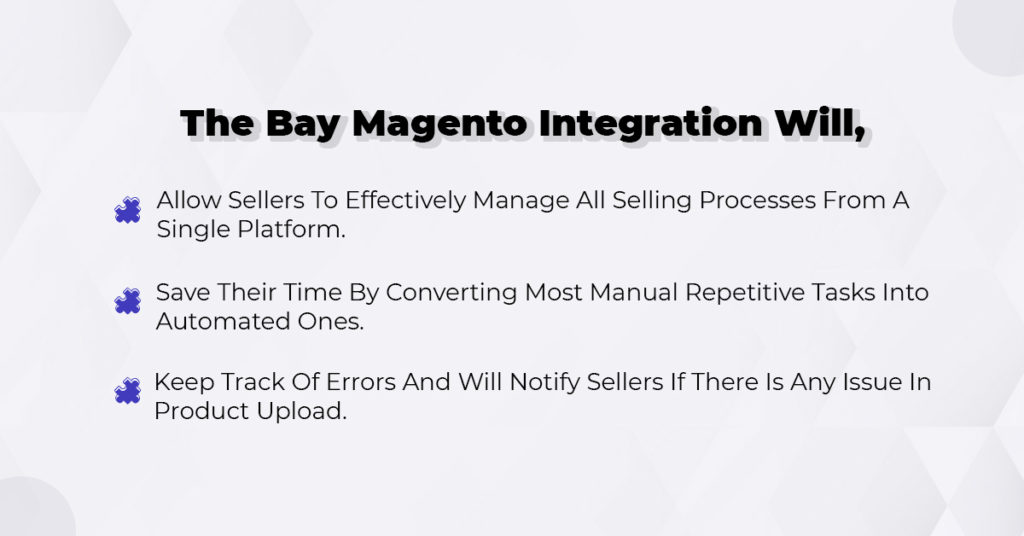 "Hudson Bay, a renowned eCommerce retailer, launched its marketplace in 2021, called The Bay, to separate its retail business from its online one. This launch has given sellers a dedicated platform to showcase their products to approx. 4.2 million visitors who visit the platform every week." said Mr. Deepak Gupta, Magento Development Lead at CedCommerce. "As The Bay marketplace is gaining fame, more & more sellers have started selling on this platform. However, some are facing issues in managing the selling processes between The Bay and Magento stores. So, we came up with a solution, The Bay Magento Integration, to help them manage everything more efficiently," Mr. Gupta concluded.
The Bay is considered the fifth largest eCommerce platform in Canada by revenue. Given its fame, the marketplace gets about 220 million visits every year. So, the sellers have the opportunity to generate higher revenue by selling on this platform. However, Magento sellers can face challenges in handling products and orders manually as it is the most inefficient, time-taking, and tiresome process.
To help sellers overcome these issues, CedCommerce has launched The Bay Magento Integration. This simple solution streamlines selling processes, reduces workload, and helps Magento sellers manage their time more efficiently. This further improves their overall online selling experience.
"CedCommerce was launched over a decade ago with a vision of making eCommerce simple and more affordable for everyone. Keeping this in mind, our development team has come up with another solution called The Bay Integration to help sellers solve the daily challenges of their store.", commented Mr. Abhishek Jaiswal, CEO of CedCommerce.
Learn More About The Bay Magento Integration
The Bay Magento Connector is an automated eCommerce solution for sellers looking to sell on this marketplace along with their Magento store. This extension eases the selling process by connecting the two stores so sellers can manage and monitor everything from a centralized platform. It further comes packed with innovative in-built features like one-click product upload that reduce their workload and save time.
You can get the newly released The Bay Magento Extension now! Available at CedCommerce store & Magento marketplace!
Features of The Bay Extension for Magento
Profile-Based Product Upload
The extension allows sellers to create and map the categories & attributes to their Magento store. So, they can easily upload products on the marketplace.
Synchronized Inventory
The Bay M2 extension automatically updates inventories on the connected platforms. Thus, eliminating any need of doing the same manually one by one.
Bulk Upload System
Sellers can now use this Magento Integration to upload any number of Magento products on The Bay marketplace with just a single click & save time.
Rejected Products Update
If any error occurs during the process of uploading products on the marketplace, it will update the details in the activity log along with mentioning the error.
Streamline Order Processing
It automates end-to-end sales & purchase, order import, and shipment processes. Moreover, it has high volumes of orders from all connected channels.
Explore more Magento-based Integration extensions in our store – visit here
Additional Features by CedCommerce
24 X 7 Customer Support
Step-by-Step User Guide for Installation and Configuration
Dedicated Developer for seller's account
About CedCommerce
Established in 2010, CedCommerce has now become a renowned name for providing eCommerce solutions. The new The Bay Magento 2 Integration is one of them. Moreover, it has touched many milestones under the guidance of wise leaders who have been working towards providing a better place for sellers worldwide. Recently, it has also established itself as the best ChannelAdvisor alternative. Along with Magento, it provides solutions for other frameworks like Shopify, WooCommerce, BigCommerce, Opencart, Prestashop, and more. The services provided by the organization other than Integration are – website development, PWA solutions, customized extensions, migration services, and many more.