Video Marketing:- The Necessity Of Content Marketing Strategy!
Running short of time? Get PDF of the blog in your mail.

Play Now
Knock Knock, It's the era of video marketing. Videos are the new king in content marketing strategy all over the world. They are all over the web, ruling everywhere, & why not?
Video marketing is indispensable. They are growing powerfully because they work! And they will keep working!
Videos have helped businesses in building an effective content marketing strategy as they are more engaging, influencing, targeted, and are having strong potential. Which in turn has helped in attaining the set business goals.  In support of this statement, claiming the vigorous status of Video marketing as the necessity of content marketing strategy, here are the video marketing statistics and the growth in the previous year's.
First of all, here is an overview of the topics covered in this blog.
So, the foundation of a great content marketing strategy is through video marketing. Some of the video marketing statistics of previous years will showcase that.
Video Marketing Statistics for content marketing strategy
86% of businesses use video as a marketing tool. This was 85% in 2020, 87% in 2019, 81% in 2018, 63% in 2017, and 61% in 2016.
92% of marketers say that video marketing is an important part of the content marketing strategy.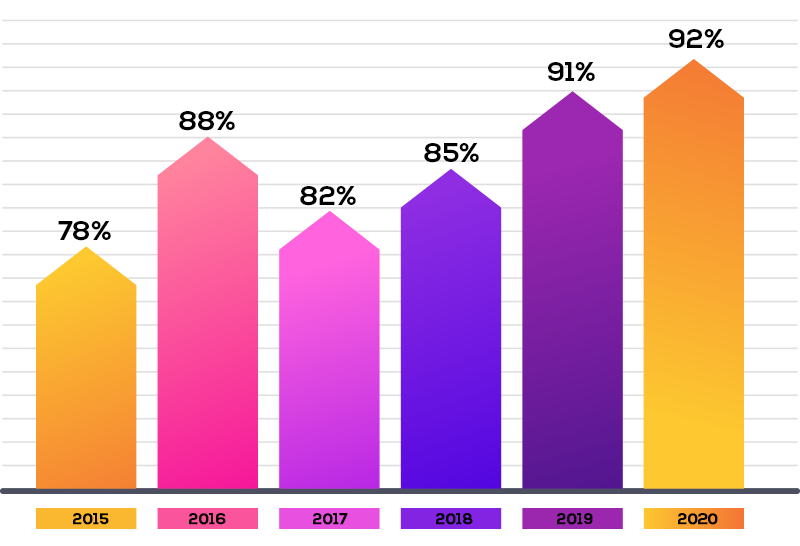 Source:- Smart insights
In the year 2019, 91% of the marketers were favoring video marketing. As we welcomed the new year, the stats increased by 1% on an ever record of 92%.
68% of consumers say the pandemic has impacted the amount of video content they've watched online, with the overwhelming majority (96%) saying this has increased.
91% of marketers feel video is more important for brands in light of the coronavirus pandemic.
According to 88% of the marketer, video marketing provides a positive ROI!
In the year 2019, the average daily minutes spent watching online videos globally was 84 minutes, which is predicted to reach 100 minutes a day by 2021.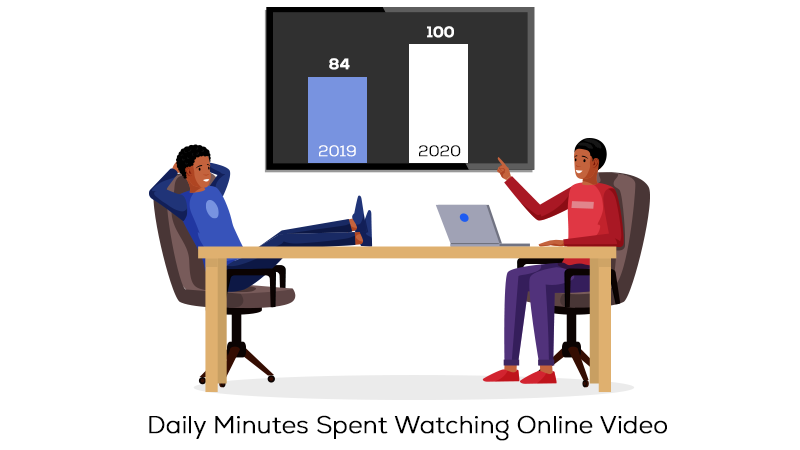 So, on average, you've got 100 min of each 4.5 billion internet users across the globe! And if we calculate the total, then 4.5 billion * 100 minutes (each day)
Wait!
What!
That makes around 450 billion minutes every day!
Can you feel the authenticity of video marketing in the upcoming time?
All you need to do is provide the audience with that great content that clicks in their mind and creates an impact on your brand.
You might be skipping advertisements that are interrupting you in listening to your favorite tracks on YouTube or other social platforms. But, I am pretty sure, that there would be some of the advertisements which you want to look at and don't skip them.
Have a look at the eye-catchy ad from Apple iPhone 13.
Obviously, they come with such great content & also involve our interest.
Ad spending on online videos is increased whereas ad spending on TV is getting low.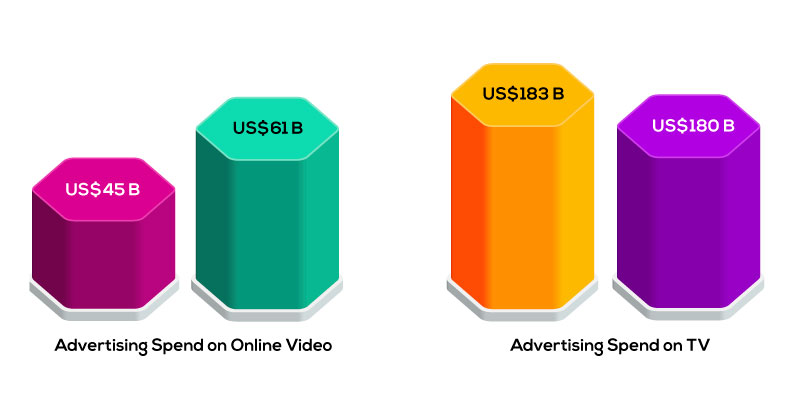 Now, that's very obvious!
Ad spending on Tv in 2019 was US$ 183 billion which is predicted to downfall by 2021 and reach US$ 180 billion.
Whereas, Ad-spending on online videos was US$ 45 billion in 2019 and predicted to be US$ 61 billion by the year 2021.
Though the total amount of money spent on online videos is still very low as compared to that of TV, the matter of fact is the Ad-spending on Tv are dropped while that on online videos, we visualize a massive jump of more than 35%.
And this is going to increase more & more in the coming time span.
99% of the current video marketers will continue using video in 2020.
95% plan to increase or maintain their spending.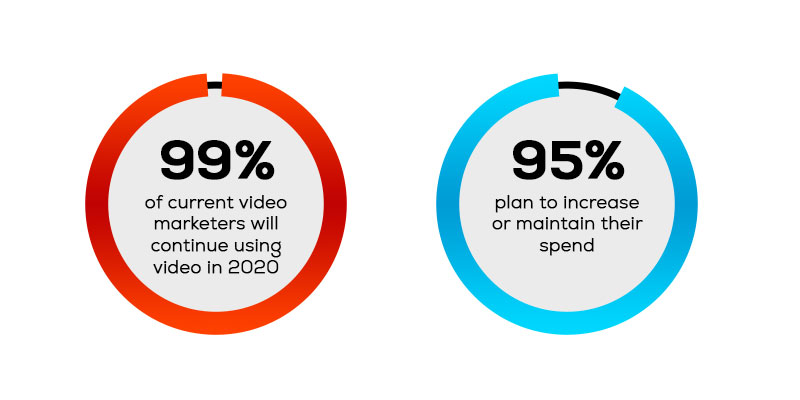 48% of consumers want videos to reflect what they are interested in.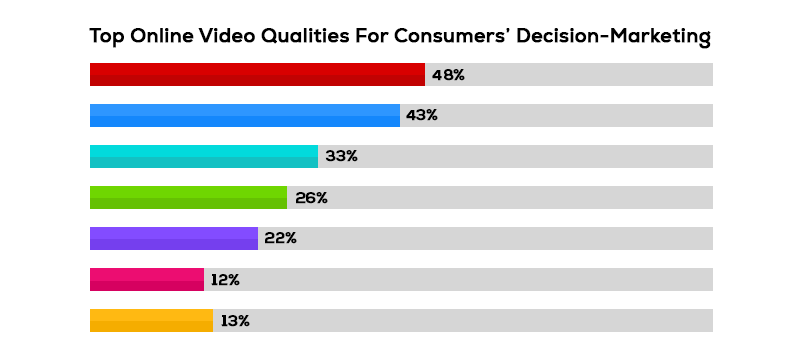 Source:- Marketingcharts.com
Video Marketing – The Pillar
These video marketing statistics acknowledge the caliber of video as a pillar in content marketing strategies. Videos in marketing have raised the business to a great extent that has an already-built audience but on the other hand, videos are helping the new businesses and start-up in increasing sales, targeting the right customers, generating leads, and in a lot more ways.
If you are new to marketing or even if you are an expert in that, videos are a must for marketing campaigns. Let's dig deeper and move to the types of videos for marketing. There are several types of videos one can use to market.
Types of videos for Marketing:
Vlogs (Video Blogs)-

These are basically blog posts that are represented via video medium. These are very interactive. The host of the Vlog is called Vlogger. In a Vlog, a vlogger can be a particular or a group. It comprises of any upcoming event or activity. Vlog stands for a video blog or video log and refers to a type of blog where most or all of the content is in a video format. These posts consist of creating a video of yourself where you talk on a particular subject such as reporting or reviewing a product or an event.
Video Interviews-

In this type of video format, there is a guest or an industry leader to whom the host interviews in order to get expert advice on topics that can be used for the betterment of the masses.

Tutorial videos-

These are the videos that help the visitors to surpass any kind of problem which they face while using your website or m-app by guiding them through the proper way.
Video presentation-

Presentation which is in the video formats are referred to as video presentation. They are more engaging and creates an impact on the viewers.

Product demos and reviews-

These videos are made for the customers to help them in making their buying decision. They showcase the quality and features of the products and also the reviews of the customers who used it before on what was their experience.
Video Testimonials-

The testimonials are given in videos in order to generate brand awareness and enhance the customer base.
Live Streams-

Videos are telecasted live from several social media platforms or other channels. It offers the next levels of interactions and engagements with your audiences as it is real-time and gathers people's trust.

Video Advertisements-

These are brand advertisement videos published to grow brand awareness and reach out to the maximum audiences out there. When you combine video and mobile advertising the result surpasses anything either can achieve alone. Gains made in accessibility and ease of use have leveled the playing field so that businesses of any size and budget can make the most of video advertising. Add to that, the expansion of video on channels other than YouTube, such as Facebook and Instagram, allowing for greater competition and more options for marketers looking to break into video advertising. It is no small wonder that interest in video has exploded and money is shifting quickly from TV to online advertising
ROI of Video marketing
According to the marketers, they have gained a great ROI by running their video campaigns. In fact, in some cases resulting in a phenomenal 96% higher click-through rate.
If videos are used properly in the strategy process, then they can benefit you tremendously!
They can even make video marketing statistics higher than the kite in the sky!
According to a recent survey by Wyzowl, the picture is very clear and seems to be as stated, 89% of marketers say videos give them a good ROI!
83% of marketers say videos help them in lead generation.
87% of marketers say videos have increased traffic on their website!
80% of marketers say videos have directly helped increase sales!
95% of video marketers plan to increase and maintain video spend in 2020!
So, videos are a 'Must In Platform,' and should be a high priority while designing your content marketing strategy.
Mobile video marketing
Mobiles have become constant companions for us!
Almost everyone nowadays has switched to the use of smartphones as compared to computer systems.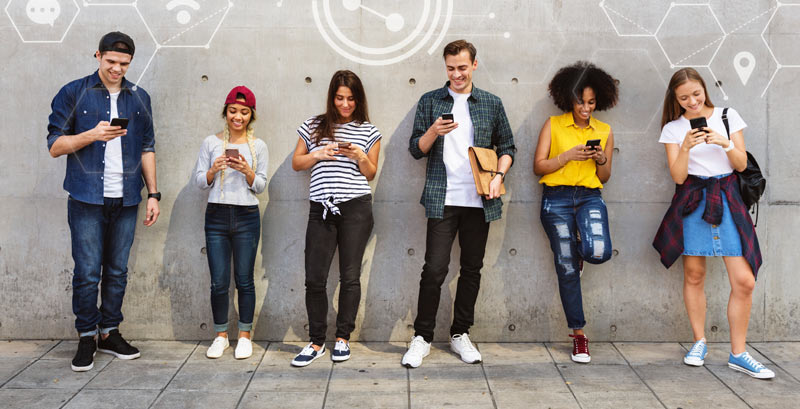 As we can function everything on our handsets and it is easy to handle too. We access our social media handles, e-mails, contacts, and networking all through the phones, so, it is very important that we create a strategy of content marketing that is reliable and in the formats that are accessible on the handsets. 
According to YouTube, more than 70% of all YouTube Video consumption is through mobile devices.
BroadBandSearch says more than 40 min a user spends in a day watching YouTube. 93% of Twitter video views happen on mobile!
YouTube users upload more than 500 HRS of videos in a minute!
A billion hrs of YouTube videos watched daily! YouTube is the second largest search engine after google.
I listed the stats of YouTube because it's a platform for videos. And again, we can see that only on YouTube, the audience spends billion of hours daily watching videos, videos, and videos.
On a very serious note, if you haven't started video marketing for your business, you never gonna make it that easy! So, if you are going to start with videos to make a strong content marketing strategy, you need to have a look at video marketing trends in 2021 and the best practices for video marketing.
Video marketing trends for 2021!
Starting with video marketing, you must be aware of video marketing trends for 2021.
As many as 85% of businesses have used video marketing in one way or another in 2020. That's up 24% from just 4 years ago.
99% of businesses that used video last year say they plan on continuing… so obviously they're seeing the benefit!
92% of businesses regard it as an important part of their overall marketing strategy.
You should be exact on the target, hitting the bull's eye to enhance your strategy for content marketing.
82% of all consumer web traffic will be video. It is predicted that all videos will be optimized for each social platform to enhance the viewer's experience.
As videos have already proved the increased engagement compared to other pieces of content. Now videos marketing strategy will be more targeting towards the segmented audience!
More & more marketers will turn to Google Ads Video Campaigns!
As 64% of consumers are more likely to buy a product after watching a video on that. Therefore, we will see more & more video ad-linking to the products. So create the buyer persona keeping videos in mind. 
Best Practices for Video Marketing
Some of the best practices you should focus on while making your video marketing strategy are:
Focus on one topic. Don't confuse your customers by trying to cover multiple topics. If you are making a product-oriented video, don't mix other products in the same video & keep it stick to the particular format, and don't merge them with other types of videos.
Recommended Video length:
Videos must be made short and be engaging. Each platform has various customer behaviors. The content flowing on those channels should follow the interest of the audience. Video length for social.
Twitter= >30 sec
Instagram= 25-30 sec
Fb= not more than a min
YT= about 2 min.
This is so because you need to keep your audience attracted to your content.
Add a call to action at the end of your video. Once, the audience has watched the video you published, it is necessary to give them the path so that they can convert from the audience to leads, and leads to customers. Remember the goal you wanted to achieve.
Include subtitles to your videos. The audience watch videos without the sound, it's muted. Adding subtitles would help you connect to your customers even without the sound.
That's a Wrap
I hope you can now easily make the decision on video content production as they are the acting pillars of content marketing strategy.
Hence, video marketing statistics at the top easily show the impact of videos in previous years. Followed by the types of video for marketing, Video marketing trends for 2021, and the best practices for video marketing!
This is the golden time. Show your prowess and protrude by attaining the right path with right content marketing efforts!
Best of Luck!