What are Mobile Apps? Understanding Web and Native Applications.
Running short of time? Get PDF of the blog in your mail.

Play Now
App industry is a very fast developing industry that attracts businesses from almost every sector. No wonder – Incomes from Mobile apps are expected to reach nearly $693 billion in the year 2021. The detonating prominence of cell phones and tablets has made mobile application growth an undeniably mainstream trend among entrepreneurs from every corner of the world.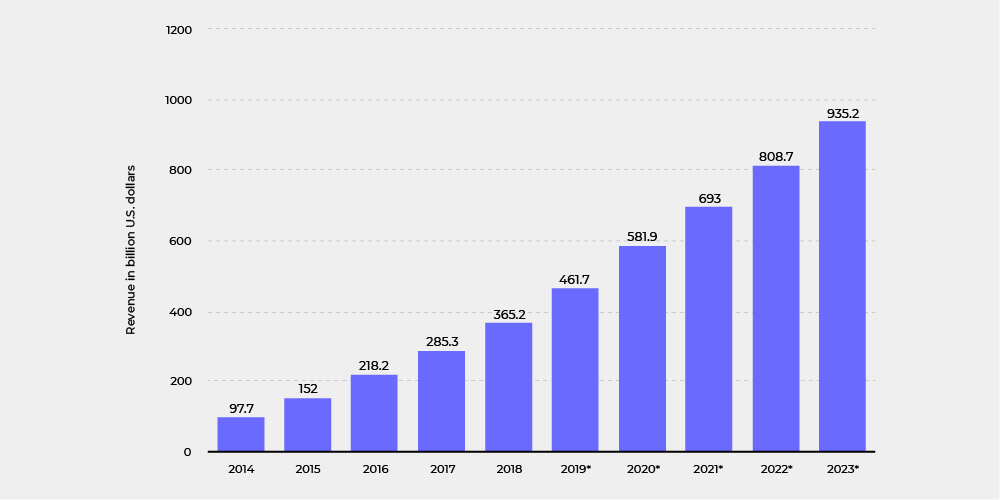 Image Credit- https://www.statista.com/
However, what exactly is a Mobile App? And What are the benefits it brings to the businesses?
An app is a sort of application intended to run on a smart device, which can be a tablet or smartphone. Regardless of whether applications are typically small software units with limited functionality, they are still capable of providing users with quality services and experiences.
Grow your online business with Professional App development
App development
Application development is the process of developing applications for smart devices, like smartphones, wearables or tablets. Mobile applications can be downloaded from the app stores. Numerous things should be mulled over, while developing applications, for example app databases , APIs, app backend, app servers etc.
What are Web applications?
Web applications are mobile websites built using standard web technologies including HTML/CSS/Javascript.
They are built like normal web app or website
They run inside standard web browsers like internet explorer, chrome firefox etc.
They are developed to look good and function well on mobile devices.
So this usually means that they are responsive and they are designed with a mobile first approach. Means that they start with focusing on the mobile view , but also make it work for desktops as well.
Advantages of using Web Applications
Easy to develop
Easy to maintain
Support different coding platforms including python , Laravel and NodeJs
Web apps are much cheaper as compared to other applications
Single app for all platforms
There some drawbacks of web applications as well, So let's go through them as well
Biggest disadvantage of web applications is that it always needs a browser to run. User every time needs to enter the URL in the tab, when he wants to open the site which may be a poor user experience.
Web apps are usually slower than native apps.
Web apps are less intuitive and less interactive.
Web apps cannot be submitted to app stores.
Most web apps cannot interact with device utilities(GPS, camera , contacts etc.).
What are Native Applications and why are they so popular?
Building an effective and powerful app has become a top priority for most businesses nowadays. If you want to attract and increase more customers and utilize all their smartphone capabilities, Native mobile app development is the best approach. Building a native application implies building up an application, particularly for a specific platform, regardless of whether iOS, Android or some other platform.

The best advantages of Native apps is that a common coding can be utilized for creating applications for both iOS and android. Native apps offer several advantages that make them worth the effort and cost.
Most organizations put resources into it due to the numerous advantages offered as compared to other applications.
Native app development makes use of the official development environment for devices to develop a mobile app. This implies that it makes use of Android studio for android devices and use Xcode for iOS devices. Native apps are built for specific platforms, for example like an android app is coded in java and uses SDK for that platform.
Native apps are very fast , just because they are built for a specific platform
If we talk about Native apps, the application is developed and optimized for a particular platform. The application exhibits an incredibly improved and top notch performance.
Native apps are fast and responsive as they are developed for that particular platform and are developed utilizing core programming languages and APIs.
This core programming language and APIs make them more productive with low errors across the platform. As the clients explore through a Native application, the videos and content get stored in their device, which means load time turns out to be fast, ensuring quality performance.
Native apps are very interactive and intuitive
Native applications are smoother as compared to any other applications. One of the best advantages of Native applications is a perfect user experience.
So the flow of the application turns out to be more unbiased due to UI norms for every platform. This helps the user to understand the app easily and quickly, thus offering them a smooth performance.
Native app even works offline
Unlike other applications Native apps have an ability to work even when there is low or no internet connectivity. So you do not have to always depend on the internet connectivity when you are operating a native app.
What are some cons of Native app development?
It is built for a single platform, so multi-platform tailoring is difficult.
Maintenance and development is complex.
But despite some disadvantages native app development is more popular among its users, due to its several features , like its loading speed etc.
What are the different types of Apps?
Nowadays, Mobile applications have now become an important part of our daily lives. The market place is now overcrowded with these applications. Today, even organizations who never would've required applications in the past are getting into the game.
While most are putting forth a valiant effort to remain in front of the tech curve, many are basically fulfilling client needs for an application that makes their lives simpler.
So, there is a wide assortment of applications that fit into an undeniably huge range of classifications. Here are some common type of mobile app categories that are discussed below:
Lifestyle Apps:
lifestyle apps accelerates or supports the individual facets that define your lifestyle. By this it means those kind of mobile apps related to:
Travel
Music
Food
Dating
Fitness
Social Media Apps:
Social media applications are the most widely used mobile apps. It now becomes an integral part of people's life, most of us are using it on a daily basis. Facebook alone reports more than 1 billion active users per day.
Nowadays people share more about their everyday lives than any other time. Thus, even applications that don't really fall under the social media category may want to include social sharing features.
There are apps that track your activity and also lets you compare your stats with other users in your network.
Also Numerous other applications enable you to share some product, cricket score, or news with your online network. They make it simple for their users to share something they feel enthusiastic about without leaving the application.
Consider adding social media features on your application in the event that you will offer a product that your user can share in their network. So this feature will keep your users coming back to share again and again while comparing with their networks
Some commonly used social media apps are:
Snapchat
Facebook
Instagram
Pinterest
Utility Apps
Utility apps are the applications that are generally used for shorter periods of time . Some commonly used utility apps are:
Whether
Flashlight
Calculator
Reminder
Gaming Apps
The gaming and Entertainment category is very broad, and competitive as well. Games are one of the more obvious applications that need little explanation. Some commonly played games are:
Subway Surfer
Clash of clans
Angry birds
Productivity Mobile Apps
Also these type of applications assist their users with completing their assignment quickly and effectively. Some commonly used productivity apps include:
Wallet pay
Doc
Sheet
Evernote
Conclusion:
So the Mobile applications have now become a significant tool for increasing business revenue and helps in easing day to day business and individual activities. People are using mobile apps for online shopping, they are also using common utilities like calculators , maps etc, also children are making use of it by playing games. so they have now become an important part of our lives from shopping to games, apps are utilised everywhere. Get started with 30 days free app trial