Make your customers happy with customer credit limit extension| With New Upgrades
Running short of time? Get PDF of the blog in your mail.

Customer credit limit extension is a way to increase sales of a product. Offering credits as a payment option can take your business to new heights and increase your profits in the long term. The more your customers use credit, the more they are likely to spend and the higher amount that can be made.
B2B ecommerce is a way of selling products or services between business, such as manufacturers buying raw material from another raw material manufacturer, or a distributor is buying online from another manufacturer. B2B ecommerce is completely different from B2C e commerce, B2B transactions prices are highly variable because B2B eCommerce business is volumetric, and price varies based on the quantity of the order and is often negotiable. It has been proved that the B2B buyers day by day  are getting more interested in shopping online.
Magento 2 Customer Credit Limit Extension overview-
Magento 2 Customer credit limit extension allows setting the individual credit limits for customers by integrating limits from online e-commerce store.
With our Magento 2 Credit limit Extension customers can keep a track of their available credit, complete a purchase using "pay by credit" payment method. Customers can place an order using credit provided that the
ir open orders are below-defined credit limit. In case they exceed their credit limit, they cannot place an order using "pay on account". If a customer exceeds the credit limit, the customer can no longer order with the "pay on account" payment method.
Customer's credit limit is just like advance money which can be used for purchasing products or services from the ecommerce store.The store owner can set a credit limit amount to an individual customer . The customers are able to check the used and remaining credit limit.
For example, You set $500 credit of your customer , if customer places two orders with your store, and the total amount of those two orders exceeds $500. Then he won't be able to place order using pay by credit amount payment method.
Features of Magento 2 Customer Credit Limit Extension–
Admin can set credit limit amount for individual customers.
Admin can view customer credit limits, used and remaining limits
Adds a "pay by credit amount" payment method in ecommerce store.
Option to select which order status is taken into account for new orders.
Customer can see their credit limit, used and remaining limits.
Credit limit cannot be changed to a value less than the total amount of open orders.
How Customer Credit Limit magento 2 extension works?
At admin end-
After the successful installation of Customer Credit Limit admin can enable the Customer Credit Limit module and it will be available at front end users.


Enable
Title
New order status
Admin can set credit limit to every customer individually with 'Manage Balance'. Admin can view already Added credit limits , new credit limits can be added, modified or already available credit limits can also be deleted .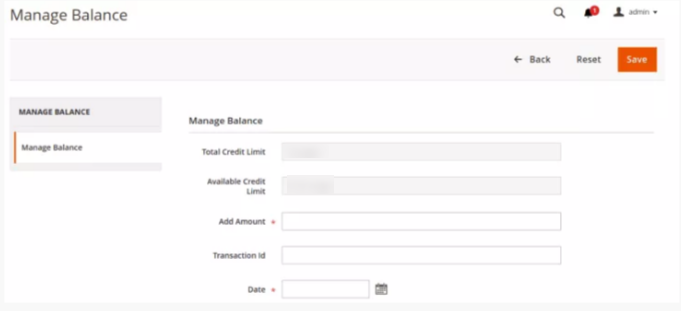 At front end-
Customer Credit Limit info is visible on the My Account, Credit Limit link.

On Checkout Page
If the customers have enough credit limit they will be able to pay using the payment method "Pay by Credit Amount".If the Credit Limit amount is exceeded, then the Pay by credit amount option will be not be available on the checkout page.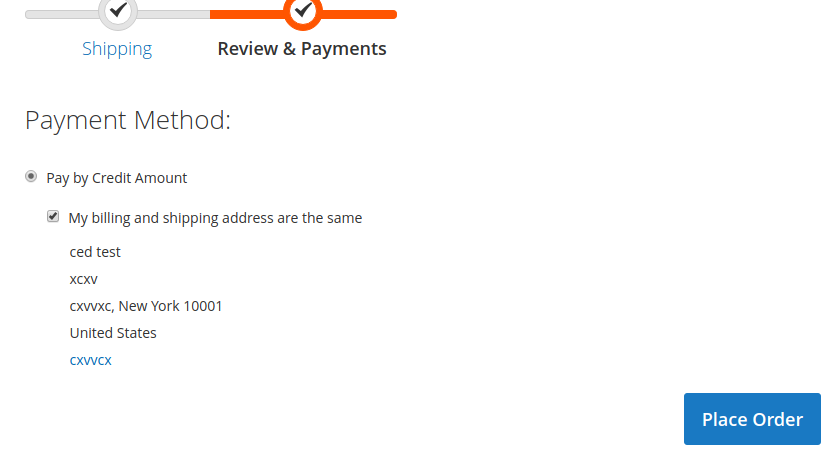 Benefits of Customer Credit Limit Extension Magento 2-
More Customers- With additional payment option of Pay By Credit Amount, more customers will be able to buy from your store.
Meet customer expectation- When your competitors are making sales on credit to your customers, you will need to do the same just to stay in competition.
Build a good relationship between merchant and customer- With Credit limit extension a customer contributes a good amount of sale each year, so the relationship between the merchant and the customer is much closer and stable.
Gain customer loyalty:As you are offering credits to your customer and enable them to pay their bills with this credit limit,It shows your trust in the customer and they will in turn continue to buy from you.
Magento 2 Credit Limit extension pricing-
You can refer to the following link in order to know more about the description, and Pricing etc.
CedCommerce's Magento 2 Customer Credit Limit extension allows customers to complete the checkout with Pay By Credit Amount. Generally, credit limits are connected to merchant credibility and limited based on the purchase and payments history.