Read how this grocery retailer increased product reach with MageNative Magento App!
Running short of time? Get PDF of the blog in your mail.

Play Now
About the Company:
Indbazaar is an emerging online store of food and grocery.
With the head office in Puducherry, Indbazaar has more than 4,500 products and over 200 brands in its catalog. It caters to the daily needs of 3000+ customers located in Villupuram, Tindivanam and more. 
They also provide home delivery anywhere in Puducherry and Villupuram.
Client's Expectations?
Rajarajan had an aim to expand his grocery store throughout India. To fulfill this mission, the one thing that was missing was a mobile app, so he decided to get one!
Yet, building a mobile app from scratch takes technical skills and resources. 
After considering other apps from the app stores, Mr. Rajarajan chose MageNative! Our motive was to give him the best app at a great price. MageNative also gives the free trial app for 30 days so the buyer may try out the app before making a decision.
As he says "When we selected MageNative. I pretty much considered all the apps in the market and I assessed them on various criteria. MageNative is one of the best solutions available in the market during that time. When you guys gave me a free trial App, it made the process, even easier to choose. I believe you should continue giving the free trial of a month for all the new entrants. It will increase the conversion rate".
From Magento Store to Native Mobile App
Mr. Rajarajan, CEO of IndBazaar, now extends his product reach by a digitally driven native mobile app specially designed for Indbazaar.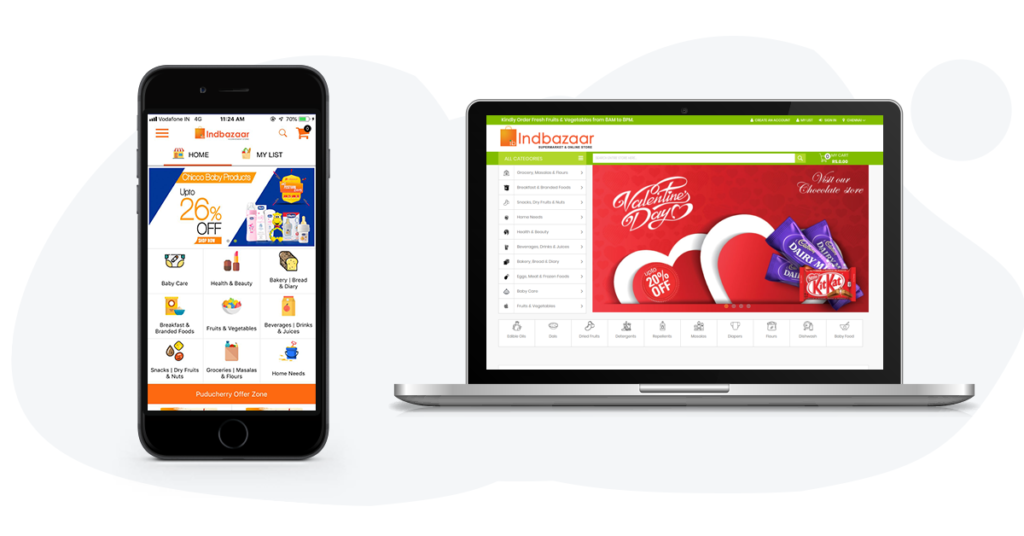 Mr. Rajarajan states, "Online e-commerce is currently booming in the Indian market and it is in a growing phase. So we thought it is a good time to step into the competition".
Currently, his website operates on the Magento platform.
MageNative provided him with a Magento (2) app that syncs with his online Magento website.
Indbazaar's Magento app is configurable with its Magento website.
The mobile app developed using native platforms turns e-Commerce business into highly functional mobile apps.
MageNative Mobile app builder provides a custom branded mobile app. This app supports customized logo.
More features include but are not limited to
displaying products listing,

users account creation,

adding into carts,

checkout and much more.
All the mobile app data like products, categories, banners, users etc sync with the website.
MageNative assisted in building their app. The shopping app is easy to use and navigate.
Business Amplification Through Mobile Commerce
Indbazaar runs an operational website Indbazaar.in. Their physical store is for storage and operational purposes. Post their native app launch their business is continuously modifying since then.
Indbazaar's complete advancement through mobile app has brought much difference to the way it has increased its reach to the customers.
Customers can now order from the comfort of their home since placing an order is only a matter of few taps on the screen of their phone.
Indbazaar's iPhone App
Signup Window for Returning/Existing Customers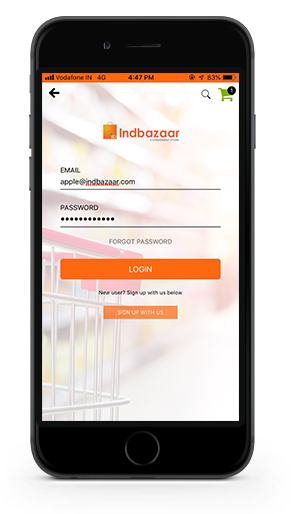 A customized homepage that showcases
Major product categories

Banner with the latest offers

Wishlist

Search button

Access to other pages of the app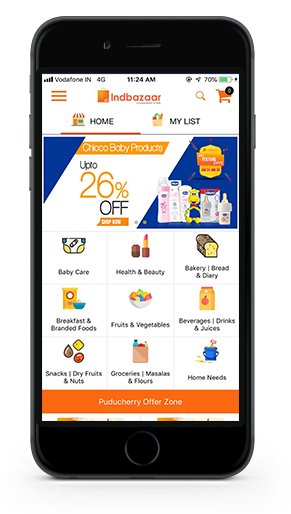 Product Page
Close up of product details

Detailed description

Option for customers to share the product or modify its quantity

Add to cart, add to wishlist and buy now options for customers

Variant images of products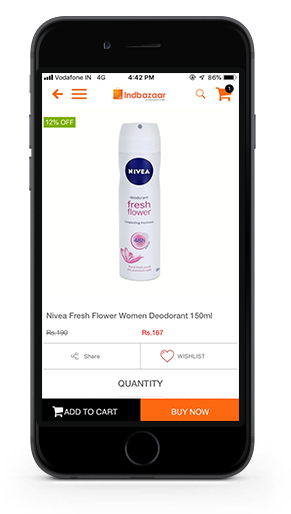 Simplified Checkout Page
Options to add quantities of product

Coupon code bar

Product deletion from the cart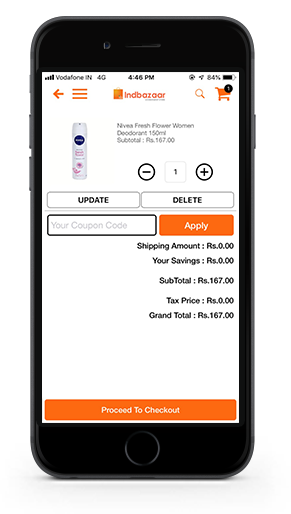 Why MageNative?
The smooth installation and configuration of our demo app that offers an amazing 30-day trial app influenced Mr. Rajarajan decision to start his first mobile commerce app with MageNative.
MageNative customized a Magento app as per his requirements with all features that further influenced his decision. A brief shared here:
App setup &customization

App development

Theme installation Free

Menus and submenus

Header

Site logo

Homepage

Slider/banner

Featured collection/products

Category page

Tags filter

custom homepage

Store wise checkout

Native checkout with paytm, citrus

shipping charge

delivery date selection

checkout design

multistore

multi-inventory

payubiz payment gateway

change store design to zip code selection
Result:
MageNative delivered a highly customized well functioning app. That is currently up & running on iOS and Android (10000+ installs).  Our account manager assisted him 24×7 through all communication channels – Phone, Email & Skype.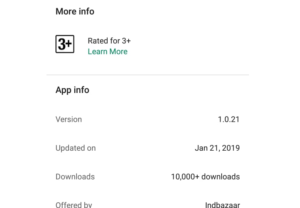 After approaching MageNative Indbazaar business had access to customers who wanted to buy from his store but had no access due to unavailability of a mobile app on major platforms.
Here's a video message from Mr. Rajarajan, CEO of Indbazaar, conveying how MageNative has helped him overcome challenges and support he received from our team. We thank Mr Rajarajan for his encouraging words!
Our agenda:
We wish to make MageNative a one-stop solution for all our users. We strive to make the onboarding experience for the customer as smooth as possible. Post onboarding we support our customers 24×7 till the time their app is launched and even after that.
We Thank Mr. Rajarajan for choosing MageNative and wish him all the best for future endeavors.
Click Here to Request Your Free Trial App
About MageNative:
Getting your Mobile App is much easier now with MageNative mobile app builder. Since 2016, MageNative Mobile App builder is providing mobile solutions for E-commerce merchandisers and helping them to get a fully Customisable Native App. We work on several frameworks such as Magento, Magento 2, WooCommerce, Shopify, Opencart and Delivery App for Magento 2. We have provided 500+ apps in the last 2 years, and successfully earned 5-star reviews on the App Store. MageNative has its Happy customers Globally over 20+ countries.