Looking to expand your business? These French Marketplaces are your best bet!
Running short of time? Get PDF of the blog in your mail.

Play Now
Business expansion via cross-border sales is a great way to create an international presence for your brand and increase revenue. Why not start your international adventure in French marketplaces? Find out why you should launch your business in France.
France is considered the third largest eCommerce market in the EU and sixth in the world. The French eCommerce industry is projected to reach a whopping $203.5 billion by 2025. The French market's largest segment is Fashion, with a market volume of US $ 19,582m in 2021. Certainly, with a local presence and sizeable opportunities in France, you can quickly become a part of the growing French eCommerce market. France is in the heart of Europe and is a natural crossroads for European and global trade. It is a part of Western Europe, and it is ideally located, as it is adjacent to major countries like Germany, Spain, Italy, and United Kingdom. Such vast market opportunities are sure shot stairs to success.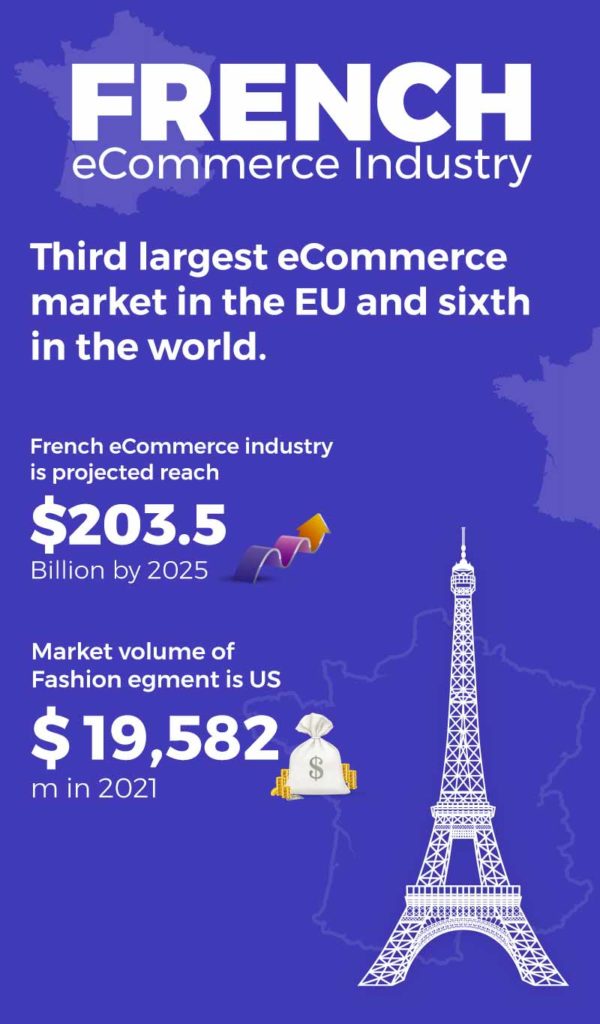 France: The gateway to eCommerce in Europe
The French marketplace is characterized by high internet penetration, a modern delivery structure, and growing mobile eCommerce. The European marketplaces thus, provide a diverse customer base, increased purchasing power, reliable payment gateways, and widespread French language use. Moreover, online sales are at their peak in France, which helps merchants develop multi-channel strategies.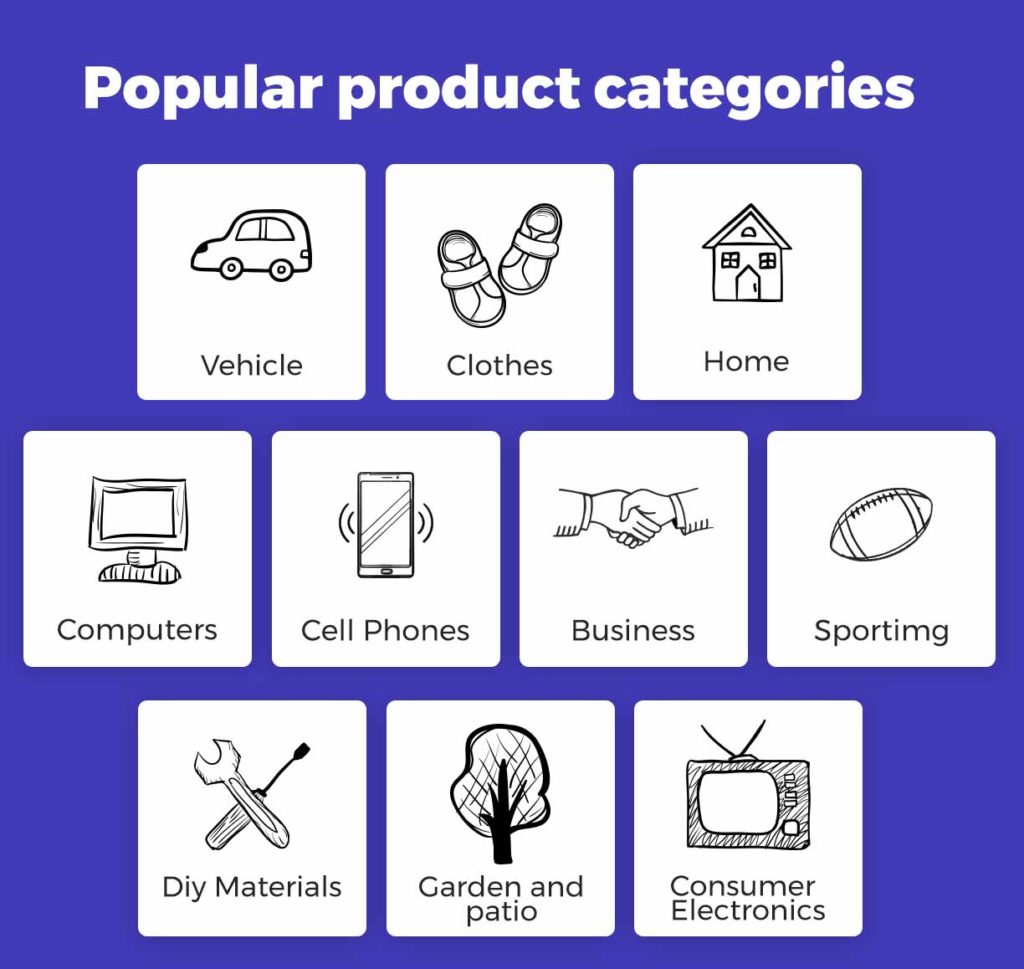 Credit/debit cards are the most famous payment method for online purchases, followed by PayPal and bank transfers. The French language is spoken worldwide, therefore giving access to reach online buyers beyond France and continents beyond Europe. France has a solid retail position with a turnover of over 65 billion euros.
However, the growing popularity of eCommerce is opening the country to more competition and giving international retailers enough wiggle room to expand their business.
In addition, the well-developed transport and technology infrastructure makes online selling a smooth process. France has one of the best-designed and most efficient transport networks globally, which facilitates domestic and international trade.
Let's now look at the top eCommerce marketplaces in Europe that can help you expand your online presence.
Top European Marketplaces to focus on!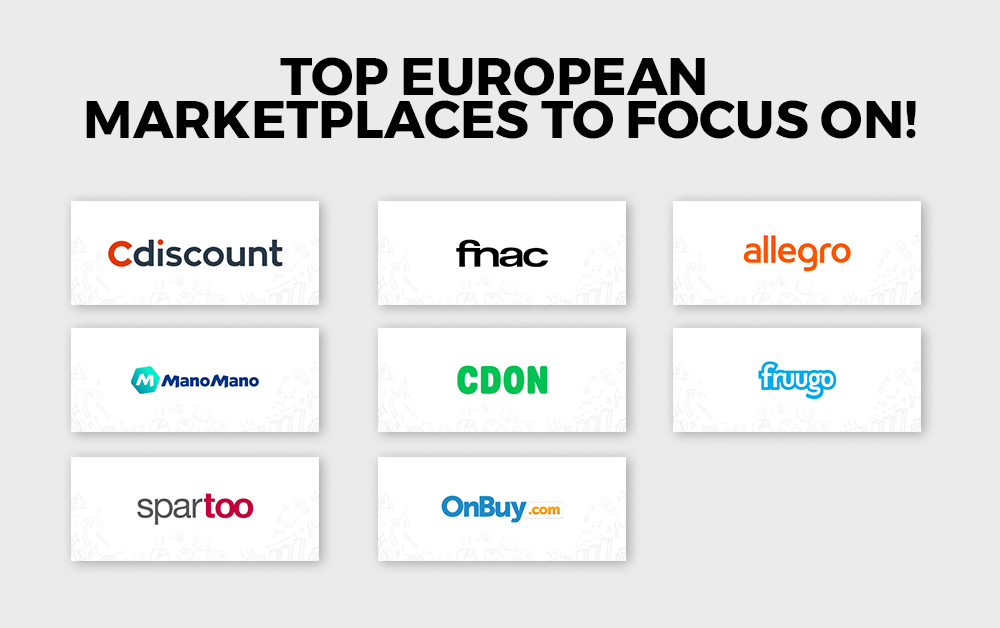 Cdiscount
Firstly, France's most popular homegrown eCommerce website is Cdiscount. It offers goods in a comprehensive range of categories, including consumer electronics, jewelry, homeware, Fashion, toys&games and much more!
The marketplace is currently available in French, but the sellers have access to multilingual account managers. The global net sales of Cdiscount were USD 2,235.1M in the year 2020.
Spartoo
Secondly, Spartoo is a marketplace that specializes in shoes and clothing. It operates in 30 European countries and provides customer service in 12 languages. It offers a great one-stop solution to access Europe's huge online fashion market.
Fruugo
It is one of the most famous European platforms that sell millions of different products in 46 countries, 28 languages, and 22 currencies. The marketplace however operates on a no-sale, no-fee basis. Further Fruugo handles translation, customer service, marketing, and foreign exchange, while the retailer only needs to fulfill the orders.
OnBuy
OnBuy.com is an international sales channel for companies of all sizes. It operates in 51 countries and is one of the fastest growing online marketplaces with low selling fees. It also allows sellers to connect with buyers worldwide and provides them with an opportunity to stay competitive.
ManoMano
This marketplace specializes in gardening supplies, DIY, and home improvement. It is also one of Europe's fastest-growing eCommerce platforms and has over 7 million active customers.
Fnac
It is another competitor to Amazon in France, specifically in the media and consumer electronics categories. In addition, Fnac has expanded its marketplace to Belgium, Portugal, Spain, Switzerland, and a host of countries in Africa and the Middle East.
Cdon
It is one of the largest online department stores in the Nordics. Sellers need to have the same prices on the Cdon marketplaces as in their online store. Another advantage of selling on Cdon is that the market does not charge for unsold products.
Allegro
It is one of the most popular online platforms in Poland. It excels in product categories, including electronics, fashion, home and garden, kids and baby, and many more! In addition, to sell successfully on Allegro, you need to provide customer service in Polish.
Thus these are the biggest eCommerce markets in Europe, where you can present your products and attract huge audience attention in no time. With high internet penetration, the French region provides vast opportunities for business expansion. You can embark on this sales journey by employing a WooCommerce integration solution that will reduce not only your manual workload but also ease the selling process.
Why CedCommerce's WooCommerce Plugin?
Therefore, CedCommerce's WooCommerce offers a vast collection of themes and facilitates easy customization of your storefront. You can avail the benefits of the plugin and enjoy hassle-free sales. The fantastic features of the plugin include-
Bulk Upload of Products
Easy product upload with Category mapping
Enhance product visibility by profile-based product upload
Stay up to date with regular inventory synchronization
Manage orders centrally
In short, get hold of the plugin and manage your sales with little effort. Commence your online sales journey by setting your foot on these top French marketplaces and grow your chances of winning eCommerce in the European Union.