Where Jet.com Stands Out ?
Running short of time? Get PDF of the blog in your mail.

Play Now
"Only 8% of U.S. retail is online right now, but e-commerce is set to triple to over a trillion dollars in the next decade." Marc Lore, CEO and President, Walmart.com & CEO and Founder, Jet.com.
Jet.com is not functional anymore. If you want to continue selling your Jet.com inventories, we can assist you in shifting them to Walmart till July 16, 2020. This is not an automatic process, sellers will have to place a request through the Walmart Seller Center or Contact us. If you are a new seller wishing to sell on Jet.com, don't be disheartened, we can help you sell on Walmart.com instead.
It can be clearly deduced that retail will consist the major part of the approximated growth. New sellers will join the bandwagon and more and more consumers will start shopping from e-commerce websites. And this gives space to many companies to grow, and one company which is poised to gain maximum from this traction is Jet.com. As said by Marc Lore "It won't be a winner-takes-all situation by any stretch — there will be more than enough room for multiple players." on answering a question on the popular Q/A website Quora.
Now, also the CEO and President of Walmart.com apart from handling the responsibilities of Jet Marketplace in the capacity of CEO and Founder, Marc Lore is a seasoned campaigner and his prowess in e-commerce vertical is long verified and tested.
He brought down his keen insights and understanding from his stint at Diapers.com acquired by Amazon in 2010 and addressed a niche – people looking for higher savings. And with his command over the market knowledge he became able to minimize and, in some cases, eliminate the embedded costs completely. And this helped him to render services to this niche.
JET.COM THEN, NOW and WHAT FUTURE HOLDS
Backed strongly by the investors putting their faith in Marc Lore, Jet.com started with a bang. Within one month of its inception, it became the 4th largest e-commerce place of the U.S. However in the starting the Jet.com revenue came majorly from the first time visitors, however, with the time, the sales from the repetitive consumers also improved.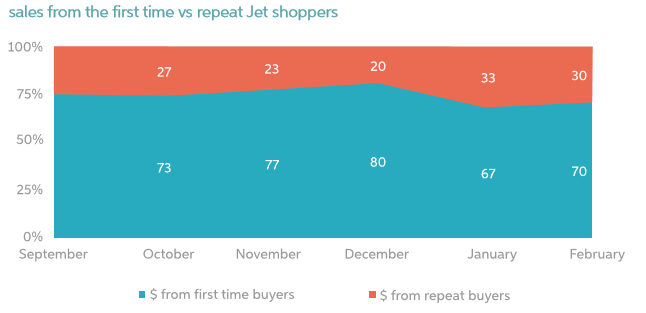 Source: Slice Intelligence
The Jet.com scrapped its $ 50 membership plan and opened its door to all. This encouraged the customers to visit Jet.com and purchase. Currently 400,000+ members are joining the platform every month and over 12 million products are listed on it. The phenomenal growth of the Jet.com can be best understood from the fact that it grew 280 times than Amazon within the first year of its operation.
The main customers of Jet.com have been the PRIMARY household. As depicted by the picture below. It is a comparison between Amazon and Jet.com. Grocery, Home and Kitchen and Health and Wellness are the category where Jet.com outperforms Amazon. And merchants trading in these product categories can immensely benefit from Jet.com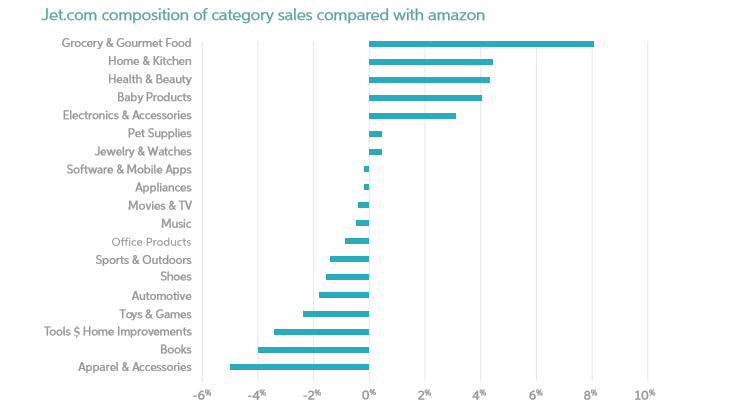 Source: Slice Intelligence
Currently, Jet.com has been acquired by the Walmart Inc in the cash-strapped deal of $3.3 billion. The quantum of the amount paid was the highest for any acquisition in the U.S. e-commerce history. And with it, Walmart not only obtained the services of Marc Lore but toppled TARGET, as the combined market share of Jet.com and Walmart exceeded TARGET's market share.
THE FUTURE:
The future looks bright for the Jet.com and Jet.com has set the target of $20 billion in the GMV till 2020. Answering the question of Quora about "What do you think Jet Will be known for in 10 years?", Marc Lore writes "First of all, I think Jet Marketplace will be known not just as a great everyday shopping destination but as an ally to people as they seek the best possible lives for themselves and their families. We believe that technology can power better outcomes, and by staying relentlessly focused on finding innovative new ways to save our customers money, we will build a truly beloved consumer brand"
He focuses on SAVING MORE money for customers through leveraging new technologies. Those looking for SAVINGS will stay with Jet.com. One thing that stands out most from the rest is Jet.com's CPG value per order is maximum. This can be attributed to its strategy of PRICES DROP AS YOU SHOP and meager $35 order for free shipping. This encourages the customers to shop more.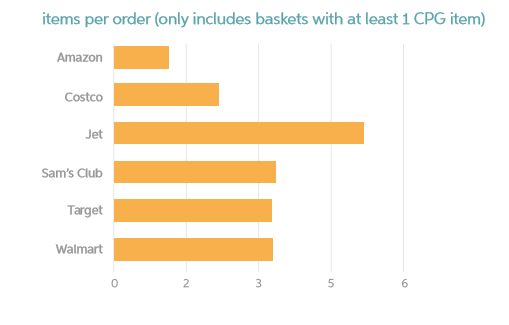 Source: Slice Intelligence
The Jet.com conspicuously renders services to the market gap where people are looking for HIGHER savings rather than to those looking for premium services. This has ensured Jet.com a place in the ever burgeoning e-commerce space dominated by the giants like Amazon and Walmart.
The acquisition of Jet.com has provided it all the more important support that Jet.com required. With the capital and infrastructural support from Walmart, Jet.com will most definitely pull out more surprises.
It's dynamic search engine has helped consumers to save more money and enabled sellers to cater to the clients nearest to them. Also, Jet.com's in-house pick up and other measures are compelling sellers to connect their online stores with Jet.com.
Also Jet Marketplace measures to permit only those sellers who have their online store in place already – and they can connect their store with Jet.com the help of 3rd part API Integrations – speaks volume about their choice of quality over quantity. This will ensure a sustainable growth over a long period of time.
Therefore Jet.com's ability to serve to customers who want higher discounts, making sellers more authoritative and connecting to them with frequent customer nearest to them has enabled it to carve out a niche for it. And for these very reasons Jet Marketplace is here for long time to come.
Interested in selling on Jet.com?
Read : How to sell on Jet.com
Regards
Team CedCommerce