Importance of Customer Reviews in E-Commerce World! How to get those?
Running short of time? Get PDF of the blog in your mail.

Play Now
Thousand of ace sellers, millions of certified products! Which online marketplace to buy from? This is not what we ask, this is what buyers – the people marketplaces are there for – ask. And the answer to almost every question is – Customer Reviews! The importance of customer reviews in the e-commerce world can't be denied today. It's not what we say! It is something that customer reviews' data and statistics across the globe presents.
It is believed that with the increasing marketplaces today, the majority of users read the customer reviews online for the product they are planning to buy. Only after going through the customer reviews, the consumer land on to a conclusion to buy a product.
Let us take you through the Customer Reviews' data gathered from the corners of the world!
According to a survey, about 40% of online customers expressed that they wouldn't buy an electronic product without reading the online review about it.

According to Advances in Economics and Business "85.57% of the participants stated that they read customer review online often or very often before they purchase online. Of the participants who read review online, 83.65% compare positive and negative customer reviews with each other".

In another survey, it has been procured that when product's customer reviews get added to the E-Commerce store, 42% of the site administrators reported the growth in average order value, versus 6% only for reporting a decrease after review inclusion.

According to People Claim, 70% customers consult customer reviews or ratings before making a final purchase.
In addition to this, 63% of online users prefer the online purchase if the site has product reviews and ratings.

According to Marketing Profs, 67% of users read almost 6 customer reviews before they think they can trust a business to make a purchase.

About 79% of customers trust product reviews as much as they trust a personal recommendation.

According to Reputation Advocate, 80% of consumers change their buying decision process on the basis of negative customer reviews they see about a product, online.

It has been observed that on an average, 75% of customer reviews posted on review sites are positive, and 71 percent of consumers agreed that reviews make them more comfortable that they are purchasing the right product or service.

90% of consumers read the review online before visiting a business. It effects their buying decision process.

88% of consumers trust online customer reviews as much as personal recommendations.

According to Reevo, reviews available online result in an average 18% sales uplift.
Advantages of Online Customer Reviews
-Increased Sales-
As the data clearly suggests that online users take into consideration the online customer reviews by other users and it effects the buying decision process, the sales upliftment with reviews is inevitable. According to Reevo, an online review website, 50+ reviews on any product can increase its sale by 4.6%.
Now if that information is kept in mind by the merchant, it can be understood how important an online review can be.
-Improvement in Ranking-
The online customer reviews can be ultimately beneficial for SEO as well. Strange? Well if you get a review online, you garner a new and fresh content for the search engines. This is the content that the users create for you. This content that customers write and other customers wish to read improves the website ranking on search engines, which is a great deal that you don't have to pay for.
There's one more terrific angle to it. If a product page has standard manufacturer's description, the customer reviews by users can make a difference to the page. It works as if the page has been renewed with a new, fresh content. As a result, your Google page rank will be high.
-Product Name + Review Searches-
Users tend to search for the customer reviews of products by the pattern of the Name of the product followed by Review. Since maximum users do that, the chance of them getting to the online marketplace which has more reviews, increases. It happens as the Google page rank gets better for the page.
Not only this, if the customer reviews available are positive, you may get ready to rake in the moolah.
–Long Tail Search Benefit-
The content in the form of customer reviews by users also increase the chances for ranking of the product for Long Tail Search.
-High Keyword Content/Better Google Page Rank-
Users reviewing a product almost always use a keyword related to the product no matter what is the tonality of the review – positive or negative. This keyword pattern becomes a key for the page to be ranked well on Google page rank/Google ranking.
However, not only for the seller but the customer reviews are a key to customer satisfaction as well. There are many aspects that prove that not only sellers want reviews from buyers but users also want to review the product for multiple reasons.
-Consumer Voice and Loyalty-
Users find the reviewing of products an extremely supportive tool for them as with reviews, they feel that their voice is being valued and the feedback that they are extending is being received from the sellers.
When their voice is valued and the service or product that they are using is improved for them or they are benefited, the loyalty towards the brand gets imbibed in them. And once the users get loyal to the brand, the seller achieves its ultimate aim!
-Create Consumer Engagement-
Customer reviews engage the users on a review platform. They actively participate in sharing their experience using a product or service. The engagement brings the users closer to the brand or product or services they are taking – if the review is positive – and it ultimately results in retaining the users.
As the users feel that their feedbacks are being responded, their closeness increases with the company.
–Let Consumers Do The Marketing for You-
What could be better if a user says positive things about you? What if the promises made by you to the sellers are acknowledged by them for their fulfillment. It is the finest marketing that a seller may do for making its brand a super brand with an unmatched trust.
It culminates in a positive branding of the product and makes the business thrive unprecedentedly.
-Reviews Breed More Customer Reviews-
Yes, you read that right! When customers witness that more users are reviewing a product, they tend to review the same product in either of ways – positive or negative. This helps in all the said points here, like SEO ranking, Google page rank, customer engagement, consumer voice etc.
With the interaction of users with users, they feel more open and express themselves openly.
If they get positive customer reviews, they are more likely buy a product or service. Even with a negative customer reviews, the website can do wonders! How? Read on!
-Negative Customer Reviews are Helpful Too!-
What if a website has all the positive customer reviews only? Most of the users would be doubtful or may even go to the extent of putting a question mark to its credibility. This is the reason negative customer reviews work too. Most of the users believe that the reviews are more authentic if they are both positive and negative.
According to Revoo, 68% of consumers trust reviews more when they see both good and bad scores, while 30% suspect censorship or faked reviews when they don't see any negative opinions on the page.
In this case, the conversion rate increases with an apt amalgamation of positive and negative reviews.
Data from Revoo – one of the best review sites – suggests the presence of bad customer reviews increases conversions by 67%.
-Get Feedback-
Lastly but very crucially, feedbacks help the sellers know what users exactly want. When the customer reviews tell sellers if there is any flaw in the product or services, they have all the opportunities to work on them. They can get a reality check perfectly from the user's own mouth and then can cater their needs. As a result, it can help in customer retention as well as improvement in the product to attract more buyers.
If a customer changes the negative review to positive, its even better and can work as a superb branding.
BUT, Too Many Negative Customer Reviews are Fatal!
Although negative customer reviews too can prove to be useful, if they are too many in numbers, they can put a question mark on your credibility and create unmanageable and irrevocable harm.
Let's understand how. Suppose a product page/website has 15 reviews and out of those, 3 are negative and 12 are positive. In this case, a user believes that since only 3 reviews online are negative, a product can prove to be good. The negative customer reviews make it clear to users that the credibility of the website cannot be asked.
But, if something happens the other way round i.e., if a product page/website has 12 negative customer reviews in front of 3 positive reviews online, the buyers would question the product and there's a chance they will not buy the product.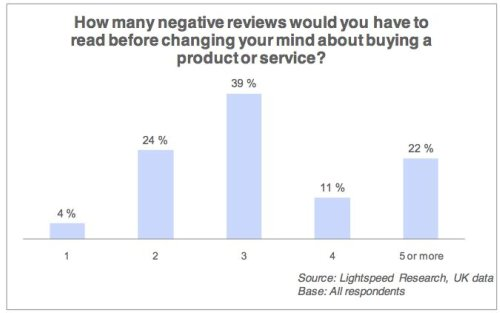 How to Involve Customers to get Reviews from them?
-Email Customers Post a Purchase-
Asking the customers to review the product or give a feedback can be a key. BUT, be very careful while asking them to do so. The timing is very important in it. Give your customers time to receive your product and use it enough to decide on its quality and credibility. Once they are ready with what they think of your product, go for it! Ask them to give the feedback and if they are happy with your product, chances are high that they'll land on your page to review.
–Ask Your Customers the Right Question!-
Ask your customers the right and aptest question and get the most appropriate review with a detailed description. More proper questions tend the users to answer more specifically- resulting in getting you more customer reviews.
-KISS (Keep it Short and Simple)-
Make the reviewing process smooth, simple, and uninterrupted. Remember that NO CUSTOMER will go through hassles and time-taking process to review any product no matter how happy they are with the product or services.
-Make Unbiased Grounds-
Sellers should create neutral grounds for their review platform. Users easily trust a review sites/rating website as compared to the business' review platform itself. Why? Because the business platform can be played up with unlike review sites.
-Use 3rd Party Review Sites like-
Bazaarvoice

Feefo

Reevoo

Trustpilot

eKomi

Yotpo

Reviews.co.uk
-Offer Incentives-
Sellers may offer incentives as well to receive customer reviews. But it can be risky too. If not handled with great care and fine management, you may end up making your image as a store that garners positive reviews by force and not by quality service.
-Create a Buzz Using Social Media–
Ask your employees as well as your users on social media to review the product that they've used. When almost whole world today is on social media, it can't be very difficult to persuade your users to review your product, if you target them with a planned and fine tactic.
So now when you know that why online customer reviews are vital and reviews online play important role, you must be thinking how to achieve them for which we've provided the answers too. So, with more and more people becoming online users every day, give customer reviews the importance that they actually have in the world of e-commerce, and let your business thrive like never before.