Mapping The Impact Of COVID-19 Pandemic On E-Commerce
Running short of time? Get PDF of the blog in your mail.

Play Now
The outbreak of the novel coronavirus (COVID-19) pandemic has caused a severe disruption of businesses and services across the globe, eCommerce is no exception. While businesses across China, Europe, and America stopped instantly, the impact of the pandemic on eCommerce is not so straightforward.
As cities went under lockdown and social distancing became the new norm, consumers turned to online shopping to meet their daily needs. This resulted in an increase of 52% year on year in online sales with an 8.8% increase in online shoppers. Some might think this as a blessing in disguise for online retailers. But, the story is not yet complete. 
According to a report by Bloomberg, about half of the retailers have witnessed a downward trend in their online traffic since mid-February. Also, 64.5% of retailers have not witnessed shifts to their eCommerce stores post spread of the COVID-19 virus in their country. This presents a somewhat mixed picture for the eCommerce sector. In this post, we'll try to understand the true effects of the COVID-19 pandemic on the eCommerce.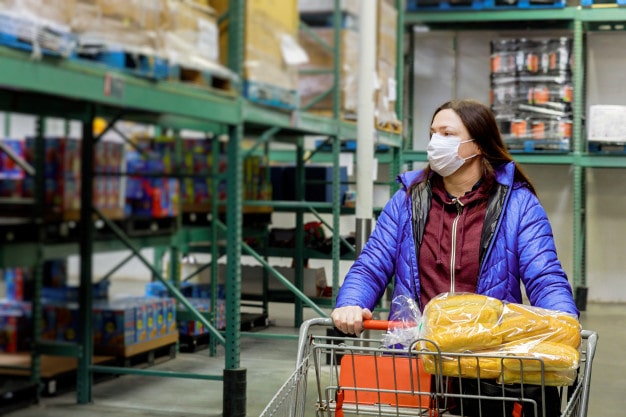 The Good for the E-Commerce Industry
Every challenge is an opportunity to become better.
1. Hygiene Products Became the Biggest Selling Items Online 
The eCommerce sector has witnessed a spurt in pharmaceutical product purchases due to the coronavirus pandemic. With the closure of shops and malls, people have turned to online stores to get what is now known as virus protection gear. This includes items like masks, gloves, and personal hygiene products like hand sanitizers, antibacterial sprays, etc. According to Adobe Analytics, online stores have seen an increase of a whopping 817% in their purchases. 
2. Spurt in Online Medicines Purchases
Similarly, the sales of medicines have increased significantly post the outbreak. People are generally looking for medicines for cold, cough and flu, as expected, due to the virus' fears. Online purchases of medicines have increased by at least 198% over the period. Online stores selling pharmaceutical products had a run for money during this period. 
3. Sale of Online Groceries Picked Up
Online grocery purchases, too, have picked up during this period. It is not surprising to see people ordering online to fill their pantry to meet the worst-case scenario. Non-perishable food items have seen a jump of 69% in their sales, whereas, shelf-stable items like oatmeal, rice and pasta sales grew by 58%.
The Bad for the E-Commerce Industry
With novel coronavirus, the business is not as usual. Situations like these have potential to change human history.
1. Weak Consumer Sentiment has Dampened Demand
As authorities grapple with the onslaught of the virus, economies are battered by the closure of factories and the stoppage of production by the widescale lockdown. It is not surprising then to see consumer sentiment turning pessimistic. According to Sucharita Kondali, VP at Forrester, "Consumer confidence in the US economy for the next 12 months is bleak, causing consumers to buy less – both in-store and online." 
2. Supply Disruptions have Affected Products' Availability
Production and supply of goods have taken a hit amid fears of a spread of coronavirus. Factory production has completely stopped. Distribution channels are busy in supplying the essentials. And, governments have restricted movements. How can online stores under such circumstances source consumers' demands? It is but natural as a result that online stores, too are closing. 
3. Consumers are Uninterested
Experts have initially speculated that online sales will pick up when more people will be sitting at home. That has not happened. The truth is coronavirus has completely caught the imagination of the entire world's population. The whole world is so much pre-occupied with Coronavirus news and updates that it hardly has time for anything else. In this hour of crisis, people are more focused on survival and as such taking more care of their family.
4. People are Being Overly Cautious
The highly contagious nature of the disease has instilled fear in the hearts of millions of people. People are avoiding not just meeting other people, but are also avoiding coming into contact with outside objects that may carry the infection into their homes. Online deliveries change many hands and the fear that the chain may itself be infected has alarmed many. This is one of the major reasons why people are ordering only essential items. 
5. Adverse Change in Consumer Behavior
COVID-19 has not only affected shopping patterns across the globe, but it has also changed consumer behavior. The picture becomes somewhat clear when we see that consumers have shifted their focus to meet their survival needs. They are focused on getting the essentials, which has dramatically brought down the demand for other products.
What Lies Ahead?
It is difficult to predict at this stage how the future will unfold. It will not be wrong to say that with each passing day the situation has only worsened. And, it looks like we are in this for the long run. 
From what it seems like, 2020 is a bad year – bad for human health and bad for business (but probably good for the environment). 
Even if the new COVID-19 cases begin to decline and the situation is brought under control, it is unlikely that businesses will come back to normal soon. It will take time for the authorities to ensure that we do not lapse back. As such, it seems like safety measures, travel guidelines, and meeting restrictions will not go soon. In the meantime, the losses will continue to accumulate. 
What you can do to Contain Losses during the Pandemic?
Based on the research we have done, the most promising move that you can make right now is to try to retain your existing customers. Let's hope that in the near future, people will turn to eCommerce again as physical stores remain shut. Further, people get over with the fear of the pandemic and supply chains will be restored. In the meantime, you can take the following steps:
1. Remain in Touch with your Customers
Your eCommerce shouldn't be dead during this hard time. Be in constant touch with your customers. Send them Push Notifications, SMS, and emails reminding them how much you care for them. Send messages like Resuming Supply Soon or Let Us Help You. 
2. Get Regular Updates from Suppliers
The distribution and supply chain has been in tits and bits right now. Though the authorities are making efforts to maintain the efficiency of supply chains, virus fears have slowed down the speed of delivery services. Remain in touch with your suppliers and get to know when they will be starting the delivery of goods other essentials. 
3. Switch to a Mobile App
As per new research, the average time spent on smartphones went up amidst the COVID-19 outbreak. In China, following the imposition of lockdown, people spent five more hours on mobile phones daily than earlier. What more, the majority of time was spent using business and education apps. The same has been in Italy. Give your online store a whole new avatar by transforming it into a mobile app. Get in touch with a mobile app development company (Or you can take help from us).
4. Ask for Permission to Deliver Essentials
Amidst the COVID-19 lockdown, the administration has not stopped the delivery of essential items like medicines, food, etc. But, you may require permission from the authorities to ply during the lockdown. Follow all the procedures and guidelines and make sure you do not disobey lockdown orders. 
How we are Helping Businesses during COVID-19?
Following lockdown orders, we have transferred our business operations on a cloud platform connecting seamlessly all our employees and clients.
Working remotely from our homes, we are putting in more time and effort to keep you updated. Whether it is our developers or designers or the front-end staff, we are working closely and in tandem making sure we deliver just like normal days.
So as to bring the whole team on the same page, we are regularly holding virtual meetings, discussing the progress of the work, and mapping the future course of action.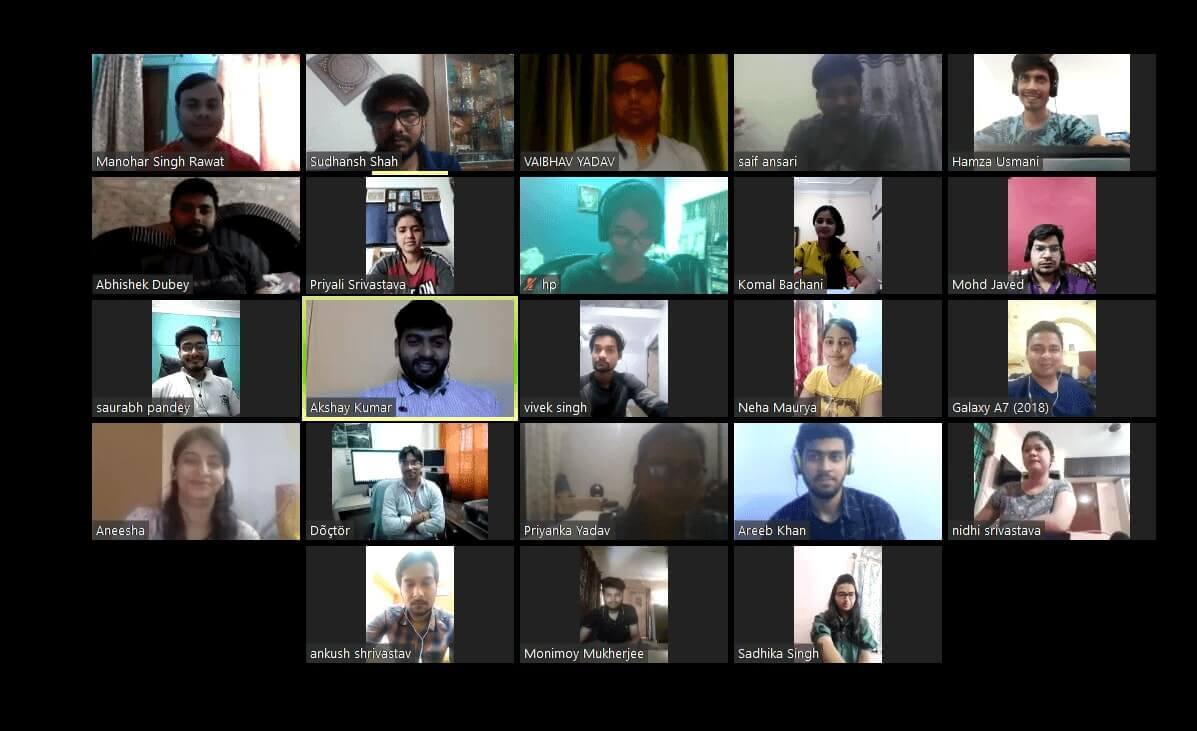 Team MageNative Amidst COVID-19 Lockdown
Realizing the fact that the ongoing crisis has created a lot of chaos and confusion and you may have a lot of queries about our mode of functioning, we want to assure you that we're here for you all the time. 
If you have any queries or you're facing any problems, write to us at support@magenative.com or call us on +916393417500. You can also reach us via Skype or Whatsapp (+916393417500).
We just wish that you remain safe and sound during this pandemic and prosper in the days to come.
STAY HOME, STAY SAFE.