How to set up a perfect Video Marketing strategy in 2022!
Running short of time? Get PDF of the blog in your mail.

Play Now
When it comes to setting up the perfect content marketing strategy, the prominence of videos cannot be ignored! Here is what we have covered for you:
More than 75% of businesses now use video content for promotions and marketing purposes.
With more than 80% of marketers having a firm faith that videos can prove to be the best mode of developing a content marketing strategy, it is sure that the videos are the new players in the marketing game.
Survival is the need of the hour for every business. Join the webinar and catch experts from Google talking about tips & tactics on how to streamline your marketing efforts effectively that will help you to sustain your business amidst the on-going crisis.
No wonder why videos are preferred mode of content for most of the marketers present around the globe!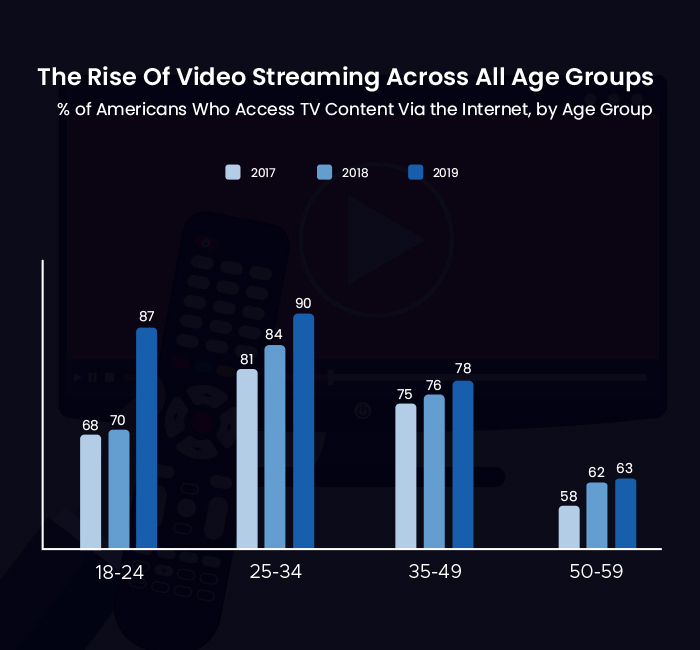 Increasing video watching trends (source: Statista)
What makes Video so prominent?
Let's have a look at these numbers:
Embedding videos in the marketing emails have a mind-blowing 200-300% increment in the click-through rates.
According to Invodo, around 92% of the video viewers share the content they watch.
In a study from Outbrain, 87% of the marketers prefer video content for marketing
Social video content generates around 1200% more shares than the text/image content.
Every month, 48% of marketers release more than 4 videos/month.
Over the years, desktops and laptops are slowly getting evaporated with the innovations in mobile technology. In many parts of the world, eCommerce and other internet related activities are preferably done through mobile. In Southeast Asian region, more than 70% of the internet traffic comes from mobile devices, making the SEA a mobile-first economy, and this trend is being chosen by the other parts of the world too.
Are your strategies meeting your goals?
Get a free marketing audit!
What you should be doing?
That being said, let us get straight into 'How to set up a perfect video content marketing strategy' for your business! 
Proper Audience Research and Planning
Before getting into 'How to do Video Content Marketing', there is a strict need for research. Getting to know about what to create, for whom to create and what can be the most effective way of doing that is a must.
What's the point of investing your time and money into the video making process when the relevant audience don't get to see it?
So, perform in-depth research on what your brand actually reflects, what kind of products/services it has to offer, who would want to engage with your company and other important questions first.
Coming up with a Video Marketing campaign is a long term process, and planning plays a prominent role in that. Once the research part is done, and you have strong data and demographics on which you can rely upon, now is the time to plan out things like
What kind of videos are required?
What your audience is looking for?
How will you be able to describe your working through videos?
How your competitors are doing in terms of the video?
Once done, now you can go ahead and create dynamic yet relevant video content for your audience!
Optimizing your videos for multi-channel
Choosing the right approach for your video marketing campaign is really needed as with the right approach the desired results can be obtained.
Various types of Video Platforms are now available in the market and each of them is having their own value and customer reach.
If we talk about videos on Facebook and videos on YouTube, on both the platform, there are differences in videos.
How?
Let's know that:
Dimensions
Different video platform supports different video dimensions. However, you can also use a fix dimension for all these platforms but then, your video will get cropped, due to the restricted dimensions.
You can check the various dimensions of the videos that fit fine for the social channels.
Visibility
Facebook, being a social platform for sharing various kinds of stuff- text posts, images, videos, gifs, etc. The videos available on the platform appear in the news feed, just like the other posts, and so, they disappear after a day long and it becomes nearly impossible to search for the same video on Facebook again until it is re-shared.
On the other hand, YouTube is a search engine. In fact, YouTube is the second largest search engine after Google. So, here, the availability of your videos is for longer and they can also be searched easily for a re-watch or share.
Watch Count
It becomes necessary for a marketer to keep an exact analysis of the campaigns being performed. In such circumstances, for video marketing, the view counts too matter.
On YouTube, until the video is clicked through, the view count is not recorded, however, on Facebook, as the videos are spread through the news feeds, just by scrolling over the video, the playback starts, and if the video is watched just for 3 seconds of duration, the view is counted.
In the same way, for YouTube ads, the view is not recorded until the Ad gets played for a minimum of 30 seconds.
Determining the right type of video, keeping in mind the right kind of audience present over the social platform should be the exact strategy to gain most out of your videos!
Support your marketing plan with more potential!
Now, when you have an all-set marketing plan and with all the in-depth research and tools, time to start with your marketing game and start making promotions. If proper research and analysis were done, your marketing strategy will already be very effective. But, to add more power and potential to it, you can support your video marketing strategy with a few more assets.
Let's know:
Newsletters
Newsletters are really an effective tool for one-on-one interaction with your customers. Whether it be a weekly or monthly newsletter, embedding your video in your newsletter can really benefit you in the course of content marketing. In research done by Forrester, including video in marketing emails lead to a surprising 200-300% increase in click-through rate.
The positive results of email marketing have been well understood by the market and this can be seen as each year, spending over email marketing is getting higher and higher!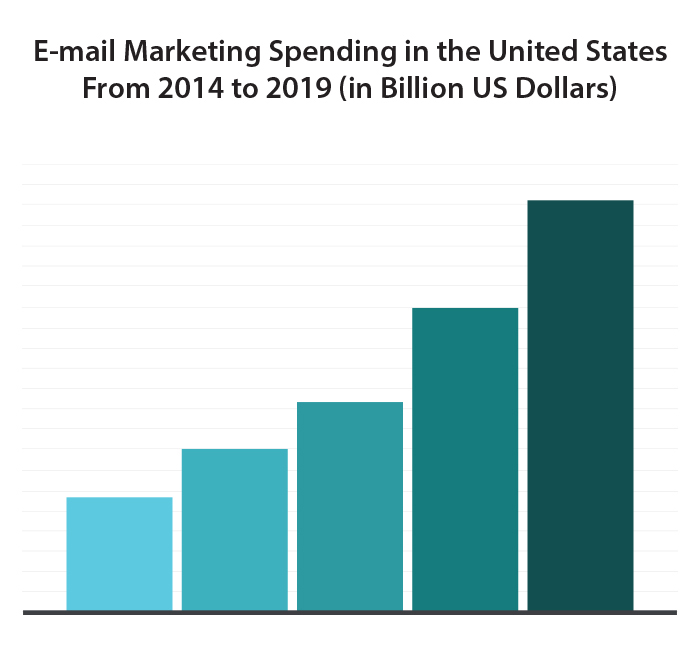 Increasing spending over email marketing (source: Statista)
Webinars
Video webinars are also a prominent way of setting your marketing strategy. Conducting webinars has been a 'tried-and-tested' method and is preferred by marketers. You can come up with amazing ideas and can align them in such a way that a live webinar full of information and value for your customers along with your product promotion.
Watch our Webinar with Google on tips and tricks to successfully getting onboard on Google Shopping Actions:
Pro Tip: Include some space for an interactive Q/A session in your webinar to increase interest and engagement.
Know WHAT and WHEN to create
Considering the importance and prominence of videos into the marketing game in the near future, it cannot be wrong at any point to use videos at each stage of your inbound methodology!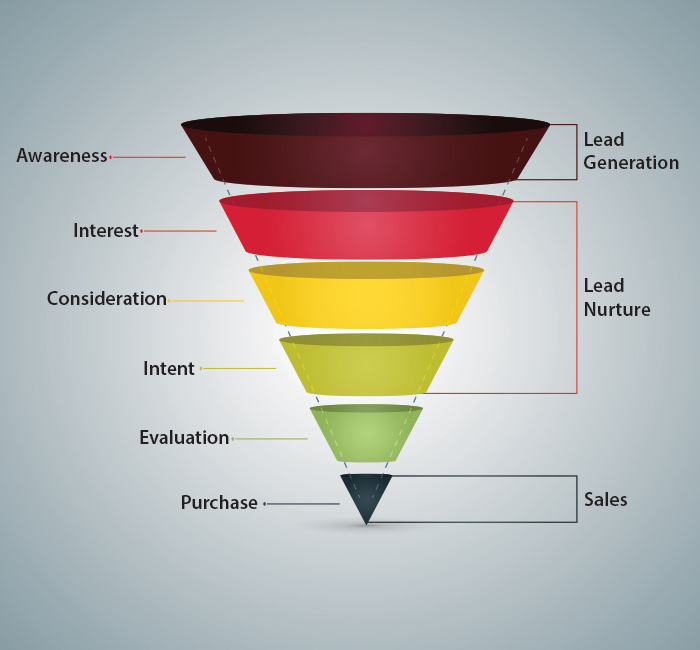 Videos can turn out to be very effective if used through a proper strategy. There are different kinds of intents in each stage of the marketing funnel, that can easily be fulfilled via videos.
How? Have a look!
Attract
At this stage, it is all about turning strangers into visitors. Alluring the customers to check out your business and its product can be a tough and tricky task.
Well, who wants to interact with strangers?
But, here we have the exact marketing strategy using videos in this phase
Making short social videos
Determining thought leadership
Coming up with amazing How-Tos videos
Speaking less about your product
Focusing on Brand Making
Engage
During the engage stage of the marketing funnel, the focus should be on converting visitors into leads and in the later run, conversion of leads into customers.
This stage proves to be very critical, as at this stage you need to ensure that the value that you have shown to your visitors is actually in your brand. At this stage(visitors-lead), you can do the following through videos: 
Conduct engaging webinars
Send product demos to the email list that has gathered as data
You can also come up with promotional videos that take your leads to your product pages
Showcase amazing case studies of your happy clients
And once when you have the desired leads been converted into customers, you can come up with the following:
Send personalised videos to them
Create cultural videos which familiarise them with your brand
Make video testimonials
Delight
Now when you have your customers with you, it isn't over yet! Now is the time to provide delight to your customers for being with you! Doing this is a bit tricky, but if the right approach is taken, it will get very easy and will prove very beneficial to you and your business.
DO the following to make the best out of this stage
Produce remarkable content
Thank-You videos
Onboard manual/instructions
Also, if you have enough resources, you can start a course-structured video series session that can prove as educational content for your customers and this will also add some potential to your business.
Summarising
When Facebook predicted the future back in 2014, by investing $2 Bn into the virtual reality, Oculus, the times were different and Facebook hardly was able to generate even half of the ROI. 
In the same way, videos of today are having the potential to grasp a complete and firm grip over the internet in the coming years. 
Often, people say that 'The early bird gets to eat the best fruits!'
Once again, here are a few more numbers for you to understand the prominence of videos:
Around 80% of the viewers remember the ads they got to see in the past one month!
According to YouTube every year, mobile consumption over videos rises 100%
More than 70% of the buyers are more likely to make a purchase online, after watching a video!
Here, with all the number and the tips, you are all armored to strategize your video marketing strategy.
Go and set up your tripod and shoot amazing videos out there!
All the best!