How to sell on Bestbuy Canada? Learn with CedCommerce
Running short of time? Get PDF of the blog in your mail.

Play Now
Best Buy Canada is one of the most cherished platforms for both sellers and shoppers. The famous marketplace allows merchants to leverage the platform's powerful customer base and make their business dream come true. Best Buy Canada is one of the largest and most successful retailers in Canada, especially known for electronics items. Becoming a favorite choice among tech lovers, it secured 2nd position as "Best Electronics online marketplaces," and 62nd rank as "The world's top online marketplaces."
This article explains everything about setting up your business on Best Buy Canada, how to sell on Best Buy Canada, how to set up your Best Buy business with CedCommerce, and more. Moreover, with over 20 million users visiting the website every month, the platform has become a favorite choice among sellers.
Benefits Of Selling On Bestbuy.ca
With the Best Buy Marketplace, you increase the visibility of your products apart from your store by showing your products on Canada's biggest marketplace. Every year there are more than 400 million visits to Bestbuy.ca.
You can take the business to the next level and need not spend a lot of money on a web-based business framework.
Your Chance of profit significantly increases with CedCommerce print and web-based promotional activities.
You will gain full control over the important process of item evaluation, arrangement, and stock.
Merchants can shop using any of the Best Buy Canada channels – work area, versatile, or application.
Merchants can shop in either French or English.
Get paid within 15 days of the order being shipped on BestBuy.ca.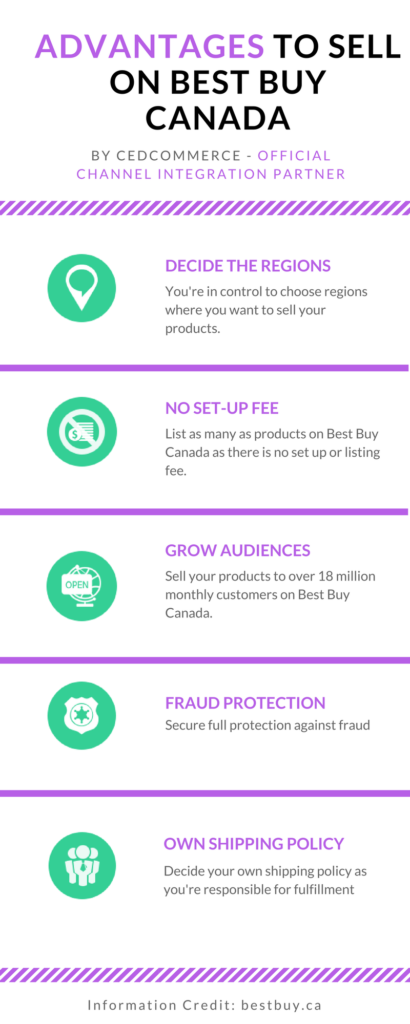 Step-By-Step Guide On How To Sell On Best Buy Canada:
As you are well aware of the huge opportunities the Best Buy Canada Marketplace offers. Therefore, it is the right time to earn money using the Best Buy Canada platform.
The process is very simple; even if you are new to the eCommerce world, you won't feel lost in the process. Moreover, the responsive support offered by Best Buy makes it even simpler.
First, you will need the approval to sell on Best Buy Canada Marketplace. Click on the<ahref="https://www.bestbuy.ca/en-ca/about/marketplace-seller-application-form" target="_blank"> link to apply for the BestBuy CA seller account approval.

Image credit: Best Buy
After submitting the application, Best Buy will check your eligibility, review your application, and contact you via email. (This may take upto 5 business days)
Once approved, you will receive your seller account details, and you can proceed with store setup.
Best Buy provides a Marketplace interface and an API-based integration method. It provides API details that can be used to connect your eCommerce stores with Best Buy.
Also Read: e-Commerce Marketplaces of Canada: All that you need to know!
Things To Keep In Mind Before You Start To Sell On Best Buy
Merchants are responsible for the shipment of their products.
Best Buy is primarily a consumer electronics-based company. But it also sells products from different categories.
"Brownie Point: Provide product descriptions in both English and French language. As almost 20% of sales on Best Buy Canada happen in the French Language."
Top Selling Products on Best Buy Canada in 2022
Meta Quest 2 128GB VR Headset with Touch Controllers
Apple AirTag Bluetooth Item Tracker – White
Partsmaster 6 ft. Washer Hoses (PMWSS-6) – 2 Pack
Insignia 1.1 Cu. Ft. Microwave (NS-MW11BS9-C) – Black Stainless Steel – Only at Best Buy
Insignia Window Air Conditioner – 5000 BTU – White
Ninja Foodi 6-in-1 Dual Zone Air Fryer – 7.57kg/8Qt – Black
Google Nest Cam Outdoor 5m (16.4 ft.) Weatherproof Cable
Insignia U-Shaped Window Air Conditioner – 8000 BTU – White – Only at Best Buy
Refurbished (Excellent) – Microsoft Surface Laptop Go 12.4″ Multi-Touch – Intel Core i5, 8GB
RAM, 128GB SSD, Windows 10 Home in S Mode – Sand Stone – Certified Refurbished
Honeywell Quiet Set 8-Speed Oscillating Tower Fan – 40″ – Black
ASUS 24″ FHD 165Hz 0.5ms GTG TN LED G-Sync Gaming Monitor (VG248QG) – Black
Why Choose CedCommerce?
We're an Official Marketplace Integration partner of Walmart, Sears, Newegg, Tophatter, Fruugo.com, and Best Buy. CedCommerce provides integrations for Shopify, WooCommerce, BigCommerce, and many other frameworks to help and assist merchants of all sizes and locations.
Skilled in providing responsive technical support, CedCommerce provides round-the-clock service to its merchants. Our clients have provided 5-star ratings to our "Best Buy Integration" app.

Our prominent service includes:
1. Personal Account Manager
Once you have installed the extension/app, one of our skilled account managers and a friendly developer will work with you and will help you do the below task without any hassle:
Make you familiar with Bestbuy.ca's operations and processes
Guide you through the Bestbuy API activation process and help you to enable Bestbuy Live API
Provide assistance with configuration setting, product critical data, and product upload process until you successfully complete a live order
2. Multi-channel Management
Many times, merchants find it difficult to maintain different storefronts and bring synchronization among these selling platforms and marketplaces. With Best Buy Canada integration by CedCommerce, you can manage your eCommerce store and BestBuy Canada store from a unified interface. Moreover, you can track inventory, orders, sales, etc. with the comfort of a single app.
3. CedCommerce Always Watch Out On Trends
CedCommerce is known for its impromptu action to implement eCommerce trends and updates in the business. Any update in the eCommerce world is reflected in the app and extension created by CedCommerce. Moreover, any updates on Best Buy Ca are reflected in the Best Buy CA integration app by CedCommerce to facilitate merchants and give them a competitive edge over others.
4. Our Dedicated 24/7 Support
You will receive all new upgrades as soon as Bestbuy.ca releases the update/feature.
Required Product Details to get started with CedCommerce:
Unique SKU for all products and their variants
Product type for all products
Unique Product identifier (Barcode(UPC-12 digit))

Wrapping Up
Wooh! Now you have successfully taken your first step and learned how to sell on Best Buy Canada Marketplace. So what are you waiting for? Grab the opportunity and sell across Best Buy Canada with CedCommerce to make a stellar growth. You can also schedule a meeting with our experts in case of any queries.