How to grow your business with Walmart Marketplace Capital?
Running short of time? Get PDF of the blog in your mail.

Play Now
Capital is needed to grow your business, whether offline or online. With low cash, the scope of your business expansion is limited. With Capital in hand, you can enhance your listings, advertise, and invest in many more aspects that can help your business grow. So, if you lag because of low Capital in hand and want to grow your Walmart business, Walmart helps you with it with Walmart Marketplace Capital.
With the Walmart Marketplace Capital, you get funding from Walmart when needed. Read on to understand more about it, who is eligible, and how to get it from Walmart.
What is Walmart Marketplace Capital?
To help grow your Walmart business, Walmart gives you funds under the name of Walmart Marketplace Capital. If you are a current US-based Walmart seller and need Capital to grow your business, look for offers in the Seller Center and get Capital from Walmart. How much funds you receive is based on your sales volume.
Benefits of the Walmart Marketplace Capital
Walmart Marketplace Capital helps you with your monetary requirements. When you need financial help from Walmart, Walmart Marketplace Capital solves this for you. Opting for the Walmart Marketplace Capital is a wise decision as it offers the following benefits: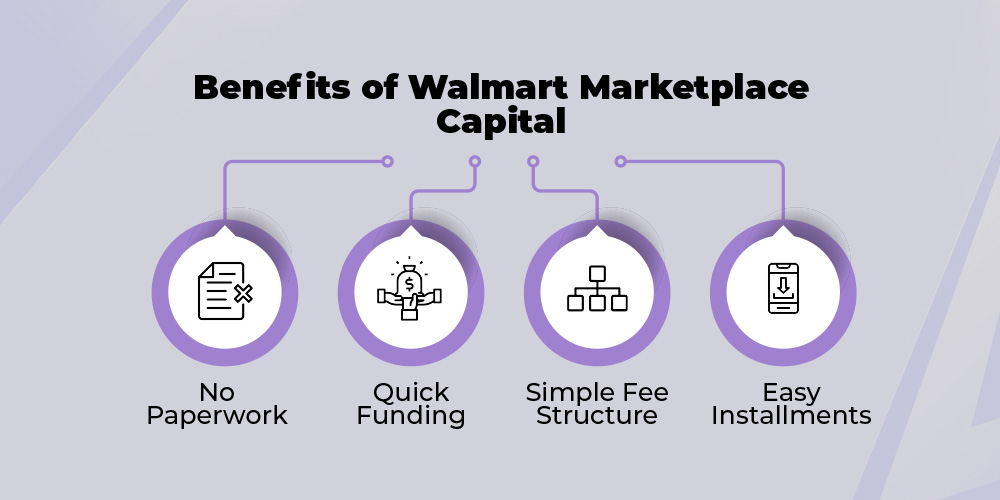 No paperwork
Get Walmart Marketplace Capital without getting involved in paperwork. If you are eligible for it, you can directly avail of it from the Walmart Seller Center.
Get funding quickly
If you are eligible for funding from Walmart, you get it quickly. Depending on the payout method, you get Walmart Marketplace Capital the same day or the next day.
Simple fee structure
Walmart charges a simple fee based on the amount you get. There are no hidden charges or fees involved.
Easy Installments
You pay the funds you secure through Walmart Marketplace Capital in easy installments. This simplifies the process of giving funds back to Walmart easily.
Walmart Marketplace Capital- How it helps expand your business?
After availing of the Walmart Marketplace Capital, you can do the following things to sell better on Walmart:
Market better using Sponsored advertising.
Highlight your Walmart products better by giving them a sponsored product tag. The sponsored products enhance your visibility and increase conversions on Walmart.
Simplify fulfillment using WFS
With the business expansion using the Walmart Marketplace Capital, one task that needs to be carried out effectively is fulfillment. If you fulfill orders using the Walmart Fulfillment Services(WFS), Walmart eases this. Register under the WFS program and store your inventory in the Walmart Fulfillment Centers, from where Walmart delivers orders to the customers.
Sell the Trending products.
If you have any questions regarding what to sell at Walmart, don't worry! Get help from Walmart. The Grow Your Catalog Dashboard section in the Seller Center gives you suggestions about the products or brands that are popular among the customers.
Eligibility requirements to avail of the Walmart Marketplace Capital
You must fulfill the criteria given below to avail yourself of the funds from Walmart: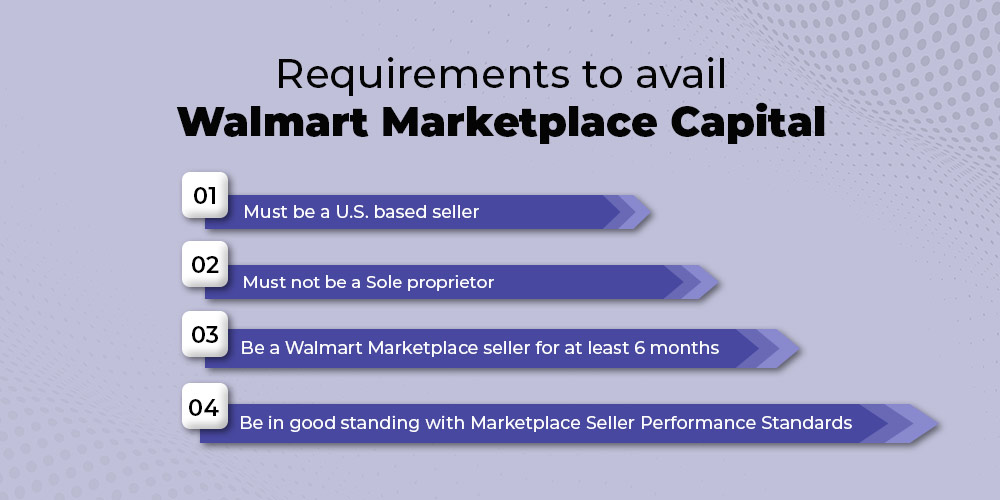 1. A marketplace seller
You must be a Walmart marketplace seller for at least six months. If you have not completed these six months, ensure this time period gets completed, and then look for your offers in the Seller Center.
2. Adhere to the Seller Performance Standards.
You must be in good standing with Marketplace Seller Performance Standards. Keep your sales metrics within limits specified by Walmart. To learn about the Walmart Seller Performance Standards, explore Selling at Walmart made easy: Walmart Scorecard Metrics.
3. US-based business
Your business must be based in the US.
4. Not a sole proprietor
You must not be a sole proprietor.
Some more valuable resources:
How to know whether or not you have Walmart Marketplace Capital offers?
If you are a current Walmart Seller and want to learn about any offer that you may have about the Walmart Marketplace Capital, first log in to the Seller Center. Then go to the Financial Settings section and select the Capital tab. If there is any offer for you, it will be visible to you.
If you want to avail of the offer, accept the offer and the terms of the agreement.
Once Walmart accepts your request, the funds get transferred to your Payoneer or Hyperwallet account.
Want to quickly onboard Walmart.com?
Go through the eligibility requirements to become a Walmart seller and fill up the Walmart marketplace Seller Application form. Next, complete the below steps and sell your products on Walmart.com.
Verify your business and complete the Seller profile by submitting your business details.
Fill out the account details to be used for payments.
Configure Shipping, return, and carrier information.
You can also connect with Ced experts to make your Walmart onboarding quick and effortless. Get in touch with CedCommerce once Walmart approves your application, and perform the rest steps of onboarding the Walmart marketplace like a pro.
To Sum Up
Walmart Marketplace Capital helps you solve your Capital concerns. Go to the Walmart Seller Center and see if you are eligible. If eligible, get access to funds from Walmart to grow your Walmart business.