How to Get on TikTok Shop: A Guide
Running short of time? Get PDF of the blog in your mail.

Play Now
Did you know a hashtag challenge on TikTok could generate over 2 million user-generated videos and boost brand awareness by 42%? Now, imagine what this reach could do for your business's branding as a seller if you find the secrets of how to get on TikTok Shop and sell your products successfully.
In this blog, you can get a detailed idea about what is TikTok Shop and how to sell on TikTok Shop to expand your business. Get ready to take your brand to the next level!
What is TikTok Shop?
TikTok is not just one of the rapidly evolving social platforms but has also become a leading marketplace with the launch of TikTok Shop.
It is a unique shopping feature that lets merchants and creators sell their products directly on the app. As a result, users do not have to leave TikTok to make a purchase. It enables businesses to leverage TikTok's massive reach and viral trends for effective buying and selling.
In other words, TikTok Shop is a comprehensive suite of features, solutions, and advertising tools. These are designed to help businesses optimize their sales potential by leveraging the full power of TikTok.
Who can sell on TikTok Shop?
The platform can be used by sellers, creators, and affiliates with business accounts from the following countries:
United Kingdom
Indonesia
Malaysia
Thailand
Vietnam
Philippines
Singapore
USA
How TikTok Shop can help?
With over 1 billion active users, TikTok has emerged as a hub where sellers like you can meet customers right where they are. TikTok's growing community of active members and the easily navigable interface make it the best platform to conduct business.
So, if you are a merchant searching for the right place to expand your business, this platform is the place for you.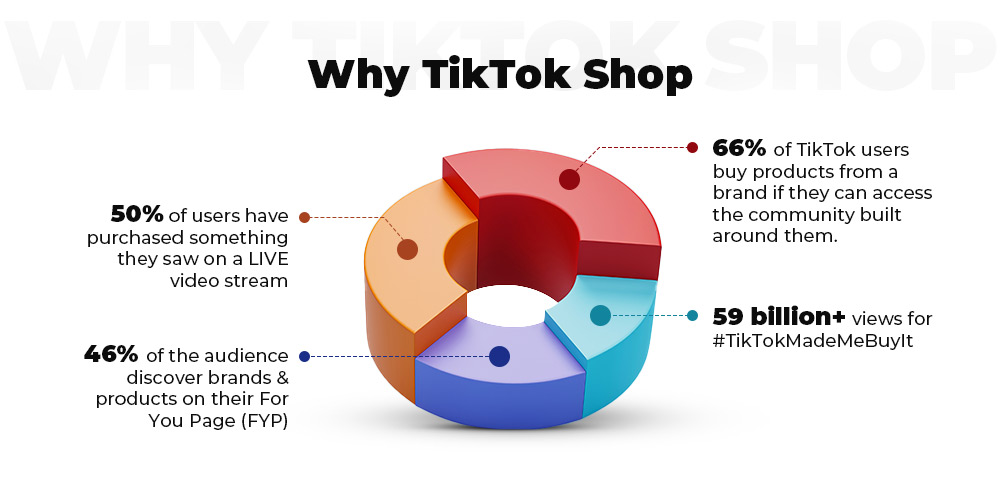 How to set up a store on TikTok Shop?
Setting up a TikTok Shop is an exciting step towards unlocking new possibilities for your business. Therefore, to ensure a seamless and successful journey, let's dive into the process of setting up your store on the platform the right way.
Check country eligibility: TikTok offers a premium shopping experience in select countries at the moment, thus benefitting merchants to connect with a global audience. Check the platform for availability in your country & move to the next step.
Set up your account: Visit the TikTok Seller Center to create a TikTok Business Account or TikTok Pro Account. TikTok Business account gives access to additional features, analytics, and the ability to add links to your profiles.
Documentation: Upload all necessary documents, payment, and tax information. Add your bank account details.
Link your account: Connect your TikTok account to your eCommerce store with a reliable integration solution. This synchronization allows TikTok to access and display your product catalog on the platform.
Start selling: Once your documents are verified and approved, you can start your sales journey on the platform.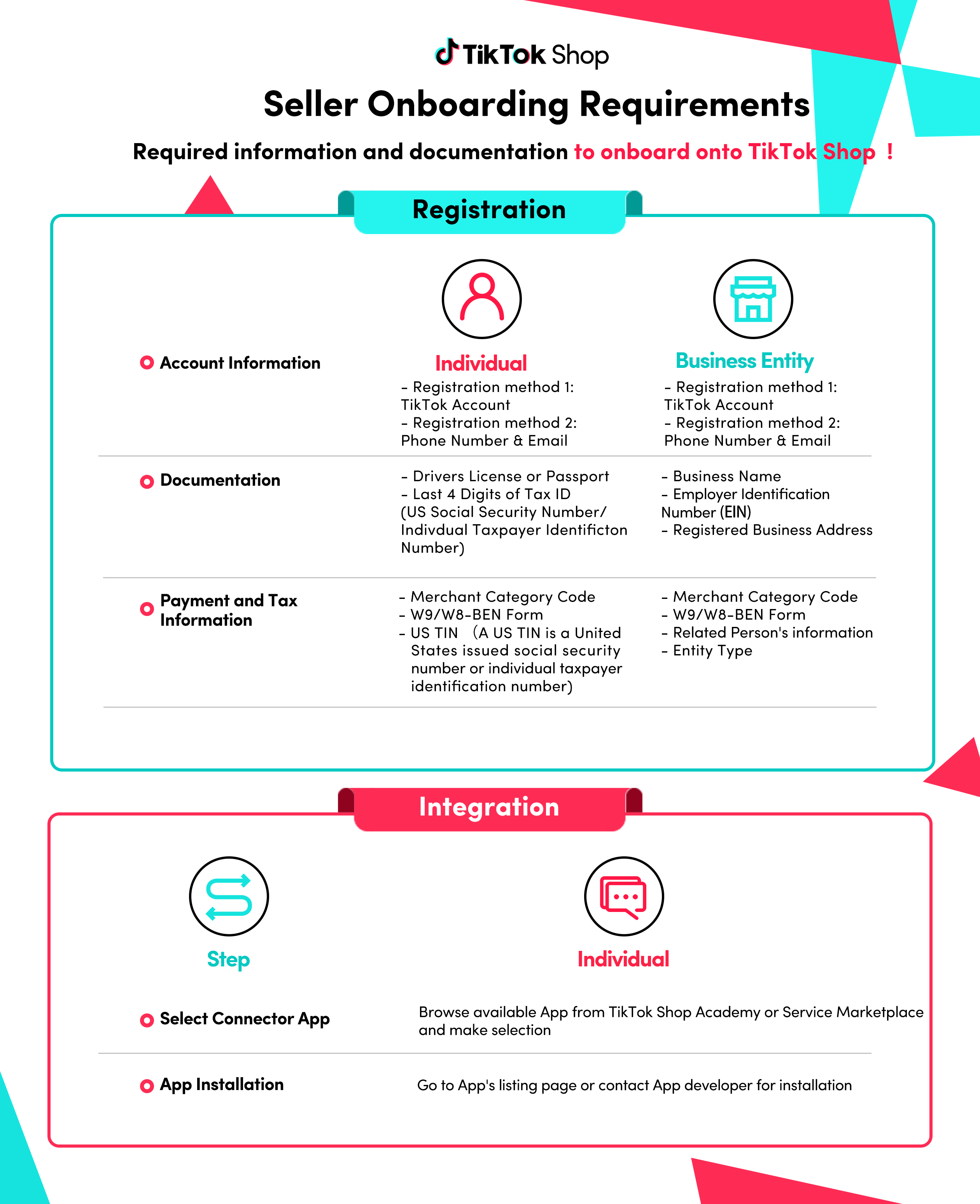 source: TikTok Marketing Guide
How to integrate your eCommerce store with TikTok Shop?
Expanding your sales avenues across various platforms can be complex, often requiring hours of manual effort. To save you from this hassle, CedCommerce has developed a set of platform integration solutions, TikTok Shop Connector. The connector offers a seamless bridge between your existing eCommerce accounts and your TikTok Shop. This integration saves you valuable time and enhances your ability to manage multiple channels efficiently.
With a user-friendly interface, you can effortlessly sync your product listings, inventory, and pricing across platforms. This ensures that your TikTok Shop showcases the latest information from your eCommerce stores in real-time, therefore enhancing customer trust and satisfaction. Simplifying multichannel selling and enabling effortless integration empowers you to maximize your reach and drive meaningful growth.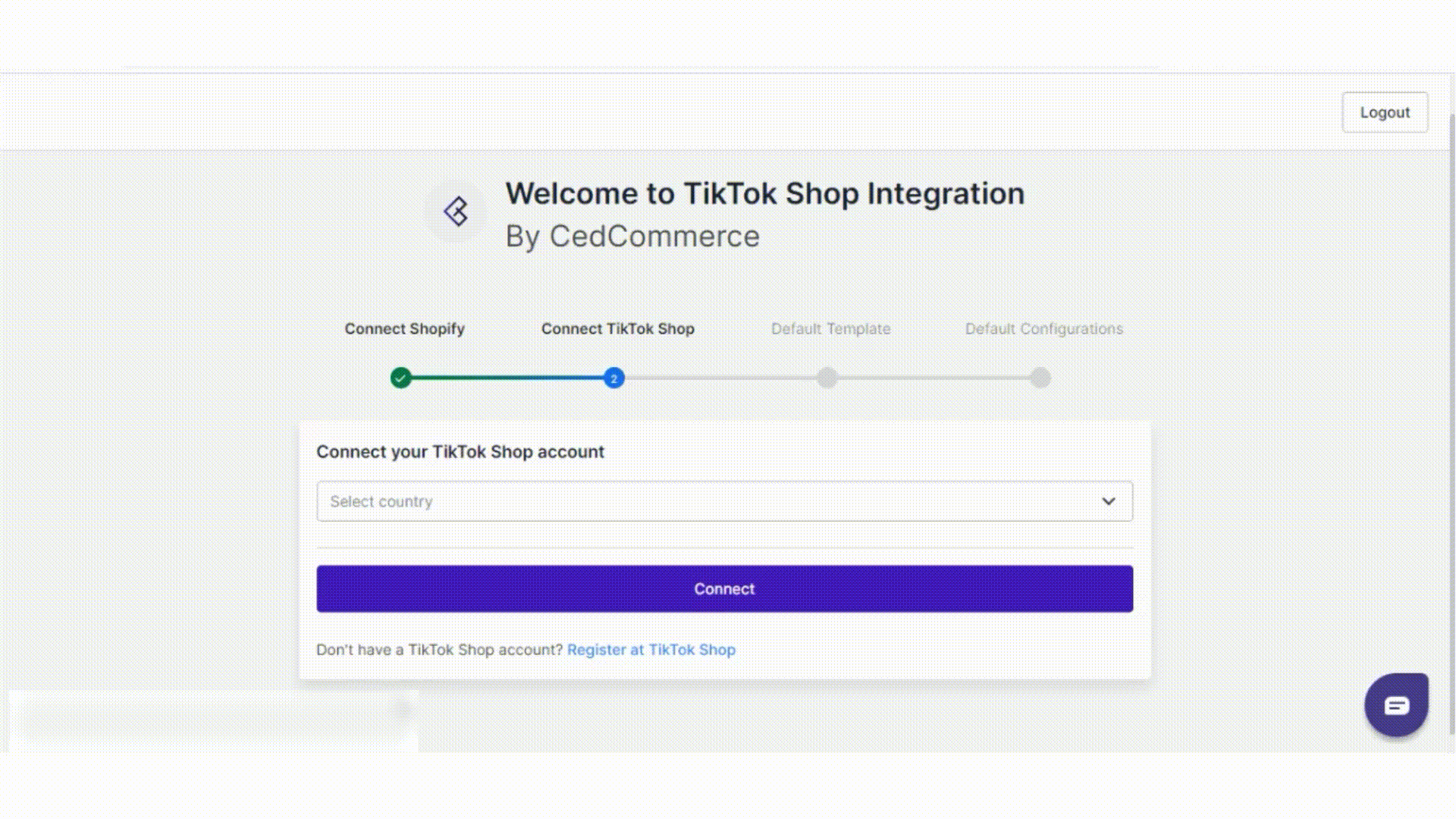 How does a customer find you on TikTok?
The social commerce platform, TikTok Shop makes shopping extremely convenient and seamless for customers.
Customers see a product (usually while scrolling through the app) and visit the brand's TikTok page.
They click on the shopping tab on their profile and browse the products the brand offers.
Once they find the exact product they need, TikTok Shop allows them to buy the product without leaving the app, and the purchase is done.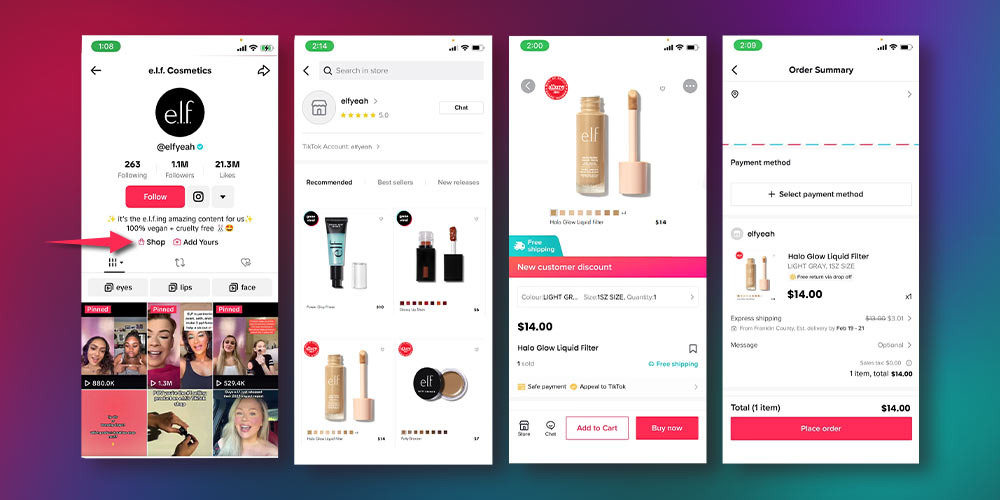 TikTok Shop Best Practices
The platform provides plentiful options for sellers to sell their products most engagingly. TikTok Shop lets sellers move ahead of boring plugins and tedious descriptions, therefore making shopping a joyous experience. Two of the most appealing features of TikTok Shop to help drive business are:
Shoppable Videos: To turn discovery into purchase! Aimed at creating a connection with the TikTok community that feels authentic and fun, Shoppable videos are versatile and crucial for sellers. With shoppable videos, you can bring products to your customers through a compelling narrative to grab attention and stimulate a purchase.
Live Stream Shopping: To turn your live haul into a shopping spree! Live stream videos can help you to connect with the audience directly. Viewers can shop directly from a Live session by tapping on the pinned products without leaving the app.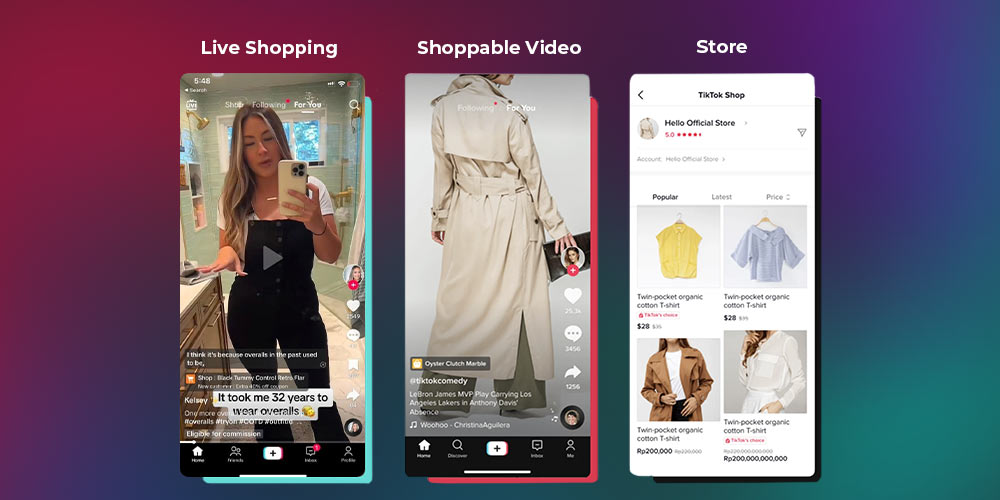 Conclusion
TikTok Shop has proven to be a dynamic marketplace that connects entertainment with commerce. Whether you're an established brand or an emerging entrepreneur, setting up a TikTok Shop can provide you with a competitive edge and a direct channel to monetize your content. By leveraging the platform's algorithm and engaging with a vibrant community of users, you have the opportunity to drive sales and expand your brand's influence in this exciting virtual landscape.
As TikTok continues to evolve and introduce new features, staying active and adapting your business strategy is crucial. It can help you stay ahead of the curve and maximize the benefits of having a store on TikTok for your business.
Now that you know what is TikTok Shop, how to get on TikTok Shop, and how to sell on TikTok Shop, embrace the infinite loop of discovery, consideration, purchase, review, and participation as TikTok stirs up social commerce.