Build Opencart App For Free With MageNative – Learn How
Running short of time? Get PDF of the blog in your mail.

Play Now
Opencart store opens your business up to a world of possibilities. And if you are reading this article there is a great chance that you have an opencart store up and running and would like to covert that store into a mobile app. This article will entail how to get Opencart app for free for 30 days! No payment required.
About Opencart:
Opencart is one of the largest platforms that cater to many online sellers. It is an online platform that allows its users to set up an online store to sell goods. It lets you organize, sell goods and accept payments for the same in a simplified manner.
Why Have a Native Mobile App:
Native apps are specialized names for Android and iOS apps that have amazing functionalities and customization possibilities. Having a Native mobile app for your Opencart business can undoubtedly increase your business in terms of revenue and reach. It is estimated that Native mobile apps have a bigger audience than other hybrid and web app users.
Did You Know?

Some of the most popular operating system-native stores are Apple's App Store, Google Play. [Source: Statista]
If you need a professional high-speed app that meets all the standards of the chosen platform with wide functionality
Grow With Our Opencart Mobile App!
Whether you sell clothing, grocery or jewelry you have many competitors out there. The ideology you should live by is how to outrank your competitors. And in order to do that, you should think of reaching your audience. So Congratulations! This is the end of your search MageNative doesn't just give you a world class app but 24×7 support that will get you going in no time.

Why Build Opencart App with MageNative
We offer premium features that make your Opencart store look professional and best in the industry. We provide all the features that you need to grow your business.

Let's Get Started
MageNative offers free 30 days Trial before you can actually make a decision without any prior commitment. Here is how to Avail (with screenshots)
Visit:

Here! 
Choose "Click here for an exclusive 30 days Free Trial  App" to get started with building OpenCart app!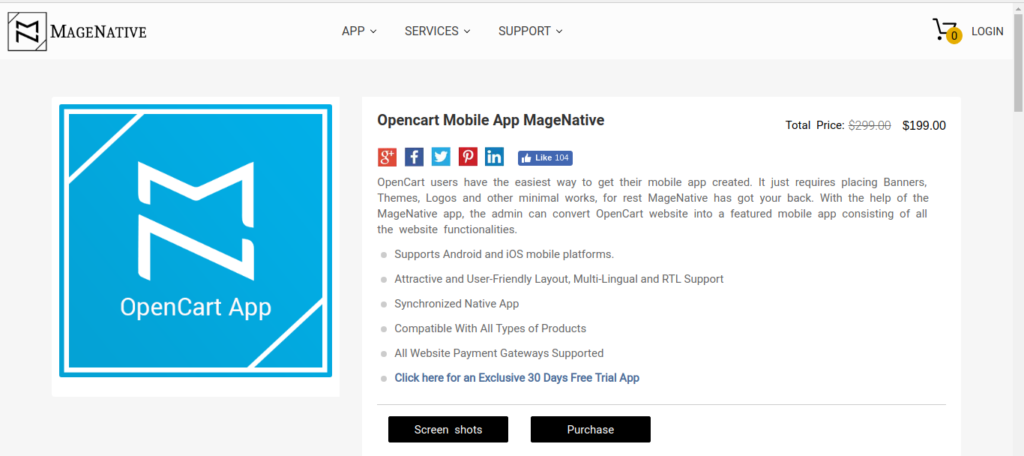 After choosing Free Trial you get "App Trial Request" Form. Please fill all the required details in here and click Submit.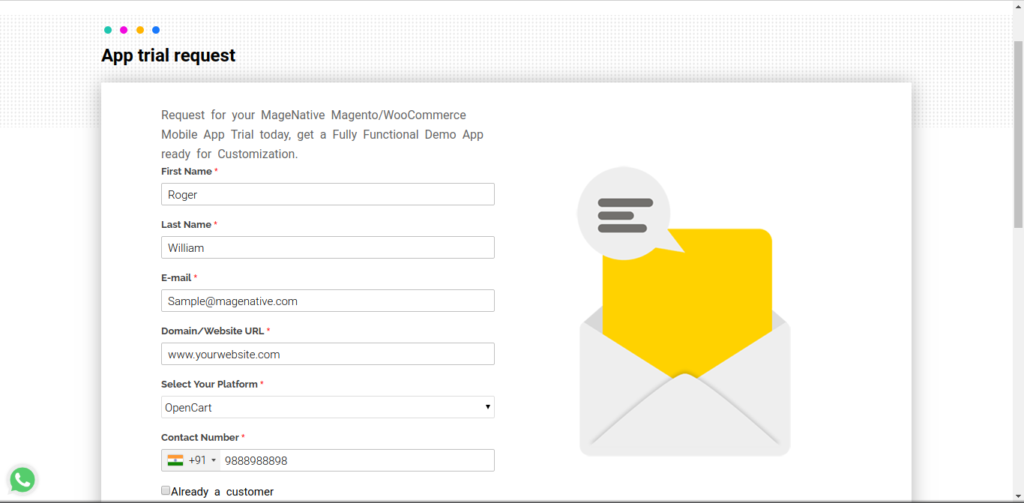 3. You receive a confirmation message for "App Trial Request" you have just submitted. Next step is to check the e-mail that you provided in our system.

At any point in time, you can drop an e-mail support@magenative.com to help you guide through the process or ask the experts to do the installation on your behalf.
4. Check your email (spam folders). You will receive e-mails with approved trial request confirmation and Installation Instructions. Here's what you should expect to receive. Visit "My Purchased Extensions" or "Dashboard" where you will be able to see all your admin controls.
5. Login and proceed to your Dashboard (this is where all your admin details, extensions and other details are available)
6. In this case, you want to choose "Generate License For One Domain". In the next dialog box that opens up, fill in your domain address and click "Generate License" this will generate liscense for your Opencart store app.

7. Once you have generated your license, the addons will be displayed in your purchased version.

8. Download each addon onto your system, you will have to enter the Verification code(check your email for verification code)
P.S. Each add-on download request will generate its own unique verification code
9. Once you are done with the above steps, simply drop us a Message Skype: support@magenative.com with mentioned details.
Requirements

Size | File Type

Purpose

App Name
Text
Your Application Name
Domain Name
Text
Your Website Domain | URL
Base URL
Text
URL of your website where our packages have been installed.
Package Name
Text
This is a sequence of the folder that provides you with unique identification on Play Store.
For Example com.companynme.appname
Version
Numerical Value
For Example 3.0.0
Splash (Startup Image)
1336 x 786
A splash screen appears while a mobile app is launching.
App Launcher Icon
1024*1024
This icon is a visual anchor of your business in the app store. It is displayed on the app stores as well as the device.
App Header logo
320*55
This logo will be displayed in the toolbar of the Application.
App Delivery
Once we have the details mentioned above we deliver your app within one business day!
To Conclude
This manual is designed to explain step by step process to build. 
The MageNative team offers the required assistance and FREE installation for its clients to build an android/iOS app. Your app that has all needed elements and customized features, to help boost your business revenue. Converting Opencart e-commerce site to android/ios app helps you reach millions of your potential buyers with ease with the tap of a mobile.