How Obstacles Became Milestones For DreamWeaversStore – A Success Story!
Running short of time? Get PDF of the blog in your mail.

Play Now
Here is an inspirational Facebook Ads story of Oluwatosin Taiwo. Who established his home-based business, DreamWeaversStore from scratch, without any prior knowledge of selling over different social media platforms.
The Goal Oluwatosin Wanted to achieve: Build a brand presence for his DreamWeaversStore using social commerce and increasing his reach in a global market.
The Solution that helped DreamWeaversStore move ahead: The Facebook and Instagram Shopping App powered by the new Facebook Ads features, allowed Taiwo to sell on Facebook Marketplace, Shops. Additionally, helped in bringing his Shopify products in front of a larger audience.
The Outcome of the Solutions used: Successfully started selling over the Facebook Surfaces using the integration app and was able to focus more on creating innovative products rather than being worried about business management.
The Product Used by DreamWeaversStore: Facebook Shop, Facebook Marketplace, and Facebook Ads.
DreamWeaversStore: The Inspirational Success Story of Oluwatosin Taiwo
In 2020, 80.1 million buyers took to social commerce for their purchases. This number was anticipated to grow to 96.1 million by the end of 2022. Till now, everyone is fairly familiar with the fascinating world of social commerce. And has always been in awe of the possibilities that it carries.
Oluwatosin Taiwo was one of them! Thus, when he set up his DreamWeaversStore, he instantly wanted to bring his Shopify store on Facebook commerce surfaces.
We create what we visualize, and Taiwo was no less. Though, when it came to selling and setting up a store, he was a novice, but that didn't stop him.
First, he learned his way through different social commerce platforms such as Facebook Shop, Facebook Marketplace, Instagram Shopping, etc. And, with the help of CedCommerce's Facebook and Instagram Shopping App, he brought his Shopify products over to Facebook.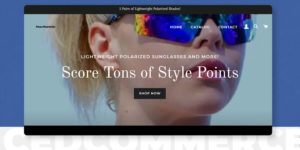 Below is the Facebook success story of Oluwatosin and his DreamWeaversStore. Additionally, how with Ced's Facebook and Instagram Shopping App help, he streamlined his business on Facebook.
The Solution- A Helping Hand!
When Taiwo began exploring Shopify, he was introduced to the world of dropshipping, and from there he developed the idea of selling on Facebook Marketplaces and Instagram. Therefore, he started looking for options that would help him to easily sell on Facebook surfaces!
Taiwo always thought that selling on Facebook surfaces would be slow and difficult. But what he didn't realize was that with a little push from the ads and promotional tools, he could make it seamless and profitable.
However, all his worries came to an end with the Facebook and Instagram Shopping App by CedCommerce. Moreover, the integration app helped him in every way possible and made it easy for him to manage several business processes. Consequently, this allowed him to focus more on expansion and his products.
How the Facebook and Instagram Shopping App helped DreamWeaversStore?
With the help of Ced's Facebook and Integration app, Taiwo was able to run his innovations and technology driven business smoothly and effectively.
The synchronization between Taiwo's Shopify store and Facebook Shop became streamlined with the integration app.
Additionally, with the help of the app, Taiwo was able to streamline several business processes such as:
Easy Onboarding onto Facebook: Allowed Taiwo to easily bring his Shopify products over Facebook hassle-free.
Bulk Uploading his products: Provided the possibility to bulk upload the products from his Shopify store to Facebook.
Easy Inventory Synchronization: Real-time inventory management allowed Taiwo to keep track of all the inventory and sync the two platforms together.
Enhanced product catalog with additional attributes: With an enhanced product catalog, Taiwo was able to provide additional information for the products so that they became more visible in filtered search results.
However, when the world was struggling during the deadly pandemic, Taiwo's DreamWeaversStore was in its early stages and could have easily been left unimagined. However, with the Facebook and Instagram Shopping App, Taiwo knew how to take on the challenges coming on his way.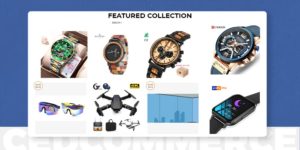 Facebook Ads – The Bridge Between DreamWeaversStore and the Customers!
Taiwo always knew that reaching the right customers would be the real game! But he didn't know how to advertise Shopify store on Facebook. This is where the Facebook Ads, the all-new powerful feature of Facebook and Instagram Shopping App, came into play.
With the Facebook Ads feature in the play, Taiwo was able to mold his ads using actionable insights and analytics to appeal to a larger audience.
Monitor and analyze the effectiveness of ads through Ads Analytics
Create Retargeting and Prospective ads based on the requirements
Reach audience according to their demographic, interest, and behavior
Conversion API and Facebook Pixel for better ads tracking
Taiwo quickly learned the benefits of using Facebook Ads. Within no time, with the help of a marketing expert, he started to advertise on Facebook. As a result, took his DreamWeaversStore, in the right direction.
Here's a blog that will help you learn about Facebook Ads, and how they can benefit you, to enhance your visibility and reach.
The Outcome – Innovation with Evolution!
Taiwo's DreamWeaversStore started selling over two Facebook surfaces as he became more fluent with Facebook Ads and the integration app. With Ced's Facebook and Instagram Shopping App, he was able to enhance the flow of his home based business, streamline his main business motto, which is innovation.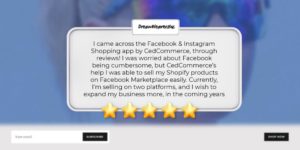 Today, Taiwo's DreamWeaversStore sells several products which are innovative and futuristic in their own way. The major attraction for Dream Weavers Store is the Polarized Glasses, Quadcopters, Watches, and similar accessories.
Conclusion
The Facebook and Instagram Shopping App allows merchants the tools to bring their Shopify store on the Facebook surfaces. Consequently, CedCommerce being the driving force has always helped merchants. And provides them the needed resources to empower their business.
And now with the powerful Facebook Ads feature, it is helping merchants to reach a global audience. If you are new to the world of advertising, read the following blog to become well versed. Learn about 25+ basic ads terms that will help you start your ads journey.
This magnificent success story of Taiwo's Dream Weavers store has brought us to a realization that it takes grit, dedication, and willingness, to do what it takes to achieve your dreams!
DreamWeaversStore has named itself as the world's leading expert. It procures the trendiest items for everyone all in one place at everyday low prices. And that is the reason why his story is among the best Facebook small business success stories.