A complete guide for eBay listing & How to integrate your store with it!
Running short of time? Get PDF of the blog in your mail.

Play Now
This is a complete in-depth guide which will have a talk about 'How to create product listing on eBay?' and 'How you can connect your store with eBay' by integration through the frameworks.
If you've already registered a Seller account on eBay, you're just one step away from getting your product to millions of customers who're searching and looking for it to buy. So, why to wait! Let's get straight into how to get the eBay listing of your product.
In case you're already having your own store and you're looking to expand its reach by catering to a larger number of audience, this guide is going to help you out with that too. If you already have your store that already has all the listings updated, you can skip this part and directly read How to integrate my store with eBay? Here
In order to showcase your product to sell on eBay, you need to create the product listing first. Generally, this is the page or the space that a product gets on eBay where the complete description of the product along with the seller's term and conditions and other information like the shipping options, payment methods, review, and ratings, etc. are to be mentioned.
The buyer's intent of doing a purchase depends upon how likely the listing appeals to him. Needless to mention, there needs to be given good care and effort while listing a product.
So, what makes a good listing?
Let's understand the basics first –
How to create an eBay listing?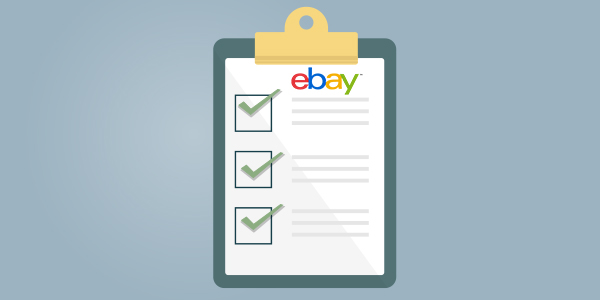 Creating an eBay listing is the step which takes your product in front of your buyers' eyes. There are different types of listing options that eBay provides you depending upon the type of product you are looking to sell.
Various categories are pre-listed on eBay in which you can list your product. If your product falls into any of the given categories, look forward to making your listing using eBay listing tool – Product catalog. The main categories provided are –
Consumer Electronics

Heating, Cooling & Air

Small Kitchen Appliances

Major Appliances

Sporting Goods
These categories are further divided into many sub-categories of product with which you can create a much more appropriate eBay listing.
If your product doesn't fall into any of the categories mentioned above or you are a casual seller on eBay, you can opt the eBay listing tool's features. However, you must be signed in before completing the listing process.
So, How to list using the 'quick listing' tool?
Here's a simple step-by-step guide for that-
After you've signed in to eBay successfully, now you're ready to sell.
Describing your list title:
At the very first step, you'll be asked to give a descriptive title for the eBay listing that you want to create-

In the type box, give a relevant title to your listing. For example, if you're selling a 'PSP console'. You can either type in PSP and all the relevant suggestions will be provided by eBay itself OR you can type in your item's specifications by yourself. Here, have a look:

Choosing a similar product:
Once the category has been listed, you will be redirected to a page consisting of the similar products that are already listed on eBay. Now, you need to choose the one which is similar to the product you're looking to sell. If you find the product that matches to yours, you can click on "Select". In case, you think that the products shown in the list don't match to yours, you have an option of "create a new eBay listing" too.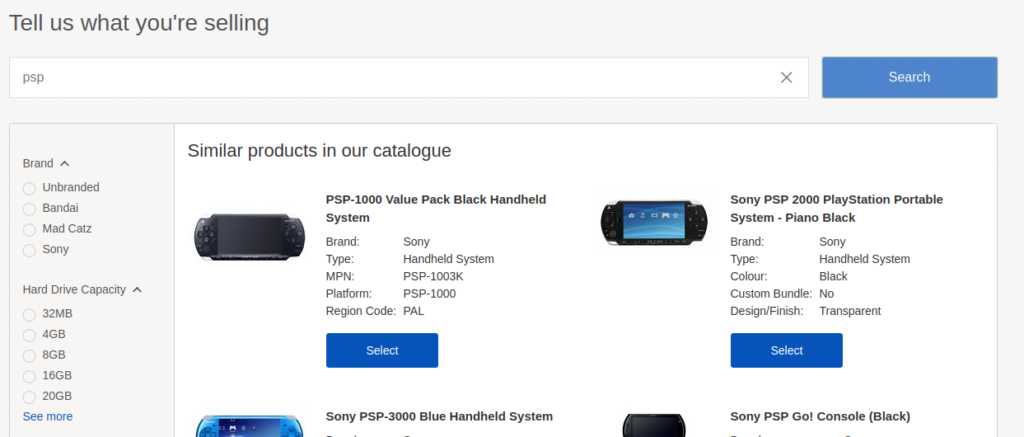 When you'll click on 'select' a small window will pop-up. There you'll have the details of the product that you selected. If the product matches to yours and you think that can be used. click on 'Use this product'. Once you're done with this, you'll be taken to the list description, specifications and selling details panel.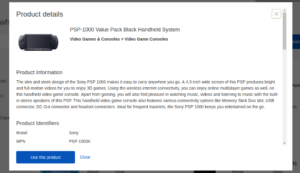 You'll be now redirected to the eBay listing form page-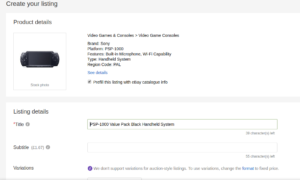 Specifications and Description:
Here you'll have a long list of details to fill up like the title, the subtitle, variations of the product(if any), condition, etc. The page also consists of an option where you can add the product's images. Adding up a minimum of 3 images is advised for ranking higher in eBay listing. Depending upon the product you're selling, you'll have an "additional product details" form where you have to fill the specifications of the product. As per our example, the specifications can be –
Manufacturer

Colour of the product

Design

Resolution

Hard drive capacity

etc.
You can also add custom specifications to your product if you feel the need of doing so. Filling up more and more specifications increase the chances of your product's visibility by improving it's ranking on eBay.
After this, there comes a text box that allows you to write down a comprehensive product description, which will reflect along with your product on your listing. Make sure to be concise, clear and complete while writing down the product's description. You can also check the internet for "How to write an effective product description?". Once you're done with a comprehensible description, you can go ahead and fill up the selling details which include-
Format – Do you want your product to sell on auction? or On a specific price
Duration – For how many days you want your eBay listing to last for?
Price – At what price do you want your product to be sold?
Quantity – Is there a single product or you want to sell multiple in numbers.
Payment, Shipping, Return Policies:
Now it is the time to fill up the rest important information like the payment method along with the return policy and delivery details. Be sure to fill these up after doing apt research, as these points prove critical when it comes to the decision making of the buyer. Provide sufficient methods of payments that the customer can use. Make a favorable return policy for them and place the shipping methods and charges precisely.
This was all about "How to get your product listed on eBay." the process is a bit long but if all the details and steps are performed nicely, they'll prove very organic in terms of your product's listing and sales. Here are some practices that eBay refers to focus on for best-listing processes.
However, if you find the process complicated and tedious, there are other easy options available too which will help you set up your listing with eBay. For this, you need to first set up your store, integrating with eBay. If you already have one! here's your way to go!
How to integrate my store with eBay?
Integrating your store with eBay!
No rocket-science, there are various eBay integration software which are already available in the market to integrate your store with eBay, like – Magento, Woocommerce, Opencart, etc. to save you from hassle.
All you need to do is, get one and get started with it!
So which one to choose?
However, frameworks like Magento, Woocommerce, and Opencart are all open source platforms having almost similar features and options for integrating your store with eBay. Let's get a little deeper into how these frameworks can help you in setting up your store and connecting it with eBay!
Integrating your store with eBay using Magento:
Key features:
Open Source PHP based platform

Extensive support network

Flexible with multiple modifications available

Bulk Upload

Centralized Order Management

Real-Time Stock Updates

Auto-syncing of orders

Automated Profiling Feature

24*7 FREE support service

know more 'here'
"Commerce Without Limits."
Magneto is an open source e-commerce platform fully based on PHP. With a number of controllable options available, it's flexible nature allows the user to make multiple modifications on the platform itself. Users can easily manage the orders that they receive, their listings, invoices, order tracking, inventory management, and digital payments too. There are two versions of Magento available in the market –
1.) Magento(CE) Community Edition
2.) Magento(EE) Enterprise Edition
Magento's Community Edition:
Magento's Community Edition costs $0 and has all the core features that are present in the Enterprise Edition. The CE version is generally used by the small e-commerce business where there is no such requirement for high-end encryption and security. For a website, based on light modules the CE works just fine! The additional plugins and extensions, however, can be purchased and installed. The extensions and plugins are available in both free and paid versions depending upon the user's requirements.
Things to keep in mind!
If you're thinking of expanding your business down the road, then, at that moment, you will not be able to upgrade from CE to EE. The whole website will need to be redesigned and reskinned. As both the versions run on different code bases, the templates of CE will not work in EE either. Plan your decisions wisely and take steps accordingly.
Magento's Enterprise Edition:
On the other hand, Magento's Enterprise Edition will cost a user around $22,000 annually and the additional plugins and extensions will cost you furthermore. However, the price may seem a big issue, but this has to be taken as a note, that the EE version has much more capabilities and features than the CE version, which are really helpful and are required by large e-commerce businesses. Features like enhanced tax calculations, targeted promotions, PCI compliance, etc. are embedded in the EE version of Magento.
Following are some more additional features that Magento's Enterprise Edition provides –
24*7 Developer Support

Advanced Administrator Controls

Build-in security option (PCI compliance etc.)

Gifting Options

Private customizable events

Customer segmentation/targeting
When it comes to the selection between these two, choose wisely!
Magento's Enterprise edition will surely help you in improving your customer's shopping experience and will also provide you required technical support. Whereas the Community Edition will be free to you, but this version will be less effective in case you'll be expanding your business in the future.
Once you have the Magento, you can easily integrate it with eBay. Have Magento eBay integration at your fingertips!
Make a good call!
Integrating your store with eBay using Woocommerce: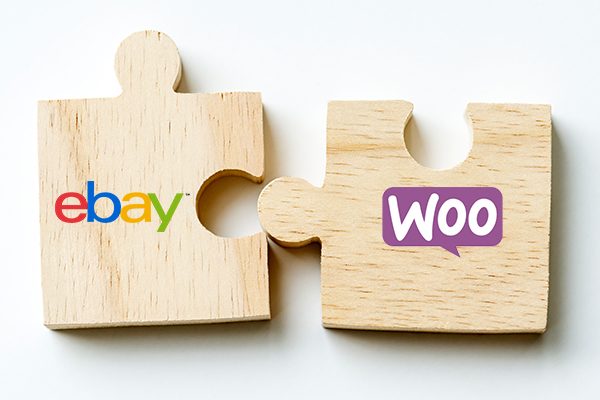 Key features:
Bulk Upload

Centralized Order Management

Auto-syncing of orders

Automated Profiling Feature

Strong in-built CMS

Open source platform

Flexible and Versatile nature

Real-Time Stock Updates

know more 'here'
The most customizable eCommerce platform

for building your online business
Woocommerce comes as a free WordPress plugin which serves as a completely customizable open source PHP based e-commerce platform for the sellers. The major difference between Magento and Woocommerce is the availability of an in-built strong CMS system in Woocommerce, which Magento lacks. CMS which stands for Content Management System allows users to generate digital content and lets multiple users manage it. Woocommerce, as a WordPress plugin, comes along with a strong CMS system supported by WordPress which is one of the most famous website/blog/e-commerce building site.
Woocommerce, being a fully open source platform, lets the user add unlimited products, admins and place unlimited orders. There are end number of plugins and extensions(400 to be precise) that works completely fine with Woocommerce and the UI/Ux is designed in such a manner that it is very user-friendly.
Woocommerce also offers a variety of themes and designs that a user can choose from. Anyone, having a less or even no knowledge about the graphics design, can even design the store in an alluring and effective manner. There are several other sites too where hundreds of Woocommerce themes can be downloaded easily.
Users can set custom shipping rates and can even offer free shipping to their customers. There is much more that one can do using Woocommerce-eBay integration. You can find more about it here.
Integrating your store with eBay using Opencart: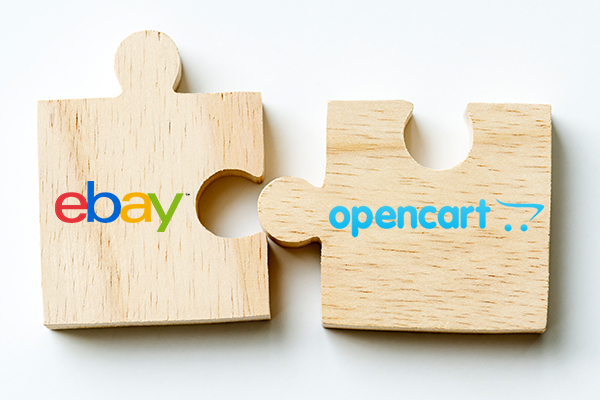 Key Features:
Bulk Upload

Open Source platform

Centralized Order Management

Highly Active Forums

Automated profiling

Manages multi stores from one admin panel

Real-time stock Updates

Auto-syncing of orders

SSL certification

know more 'here'
"Simple to start. Easy to run."
An open-sourced eCommerce platform that provides free services and is based on PHP. Opencart allows the user to add and manage, an unlimited range for products and categories freely. That means, no matter how many products you have, five or five lakhs, you can list them without interruption under endless categories and subcategories you like. With around 36 payment getaways, Opencart has enough ease-to-pay options for the customers.
There's one more interesting option that Opencart provides, recurring payments. In short, these are repeatedly occurring payments. Assume, that you are selling to sell a product based on subscription or you are planning to give discounts/offers on the products. You'll also have the control of how you want your customers to make a payment by breaking the payment into several smaller proportions.
Hundreds of shipping methods are also available to choose from. This will give your buyers, multiple shipping options to choose from and you'll also have a vast variety of shipping options to provide your customers with, for a better shopping experience.
However, the platform is itself a free version, you'll still need to spend some penny for the domain names and other extensions in case you're thinking to upgrade your store.
Opencart provides a simple module to install the extensions and with it's 'extension installer' one can easily do so on his fingertips. there is plethora that can be said for Opencart's features! Here! Have a look.

Integrating the OpenCart store with eBay is a piece of cake! with no hurdles and difficulties, one can easily integrate the store with eBay.
Try for yourself!
Integrate your store with eBay using Prestashop
Key features:
Freemium product

No license fee

No revenue fee

Paid Web hosting

Centralized Syncing

One Click operations

Bulk Upload

Full customer support

SSL certification

Know more '

here

'
"PrestaShop: the software that adapts to all e-commerce projects."
Prestashop is an open source eCommerce software that was developed in collaboration with the community members of Prestashop. Based on the Symfony framework, PrestaShop is a powerful platform which is highly customizable and as Prestashop says, is in constant modifications to get better each moment by the hard work and advice of industry experts. With great partners like – Paypal, Google, etc. Prestashop has been a trusted framework for the sellers to join.
Prestacart offers more than 600 features to the sellers

Alluring themes to choose from

Availability of Multilingual support and interface(65+ languages)

Has an easy installation procedure in support with Click&Build

24*7 customer support
Integrating your eBay store will provide you full support over the technical aspects. More to add, the zero-installation fees and zero commission charges on your sales, make Prestashop stand out of the crowd.
Integrating your eBay store with Shopify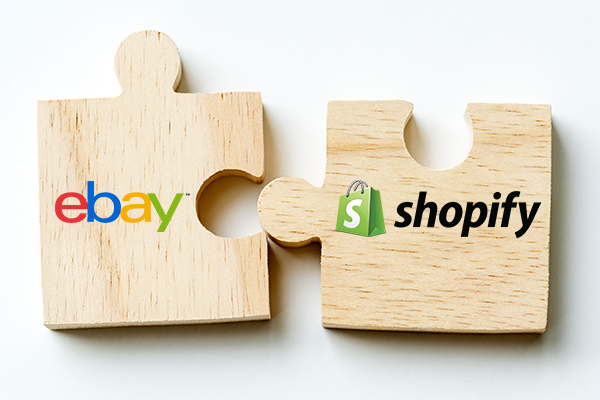 Key Features:
SaaS-based platform

Full  control over the coding

Drag and Drop interface

14 Days free trial

SEO optimized

Centralized Order Management

Real-time stock updates

Auto-syncing of orders

SSL certification

Automated Profiling

know more

'here

'
"Sell Everywhere."
Shopify, being a SaaS-based platform has some limitations in customizing it when it comes to comparing it with the other platforms, but the other remarkable features make it a perfect match for a seller looking to integrate his/her store. With more than 65 themes Shopify caters the seller with beautiful store designs. Shopify is fully supportive of mobile eCommerce too, which gives it a plus point. With Shopify Mobile app, one can easily manage his store.
The comprehensive dashboard allows users to get the right statistics and details about the store in an easy manner. The feature of accessing the shipping rates and taxes automatically helps a seller to save a lot of time. Shopify, also allows users to select flexible shipping rates. The multilingual user interface is quite helping in removing the language barriers too.
Shopify comes with a 14 days trial in the start and later the plan starts from $29 onwards. With multiple beneficial features like one-click order management, centralized order, and inventory management, Shopify is a good choice for sellers to open up their store.
Integrating your eBay store with Bigcommerce
Key features:
Options to connect your store on Social Media Platforms

Unlimited product storage

Built-in features

Selling oriented

Highly Customizable

Fully Featured CMS

Excellent Payment getaways

know more 'here'
"The future of Commerce is yours."
Along with providing a platform to open up your store, Bigcommerce focuses on enhancing your experience and provides ease of doing everything so that you can focus on selling. With themes available, Bigcommerce allows you to customize and modify your store according to your desired wishes. Bigcommerce's product tour can help one easily understand the process and features offered by them to a seller. Like, woo-commerce, Bigcommerce also has a strong content management system which proves very beneficial for a seller to run a store.
With easy integrations available on Bigcommerce, you can easily integrate your store with other platforms when there is a need for expanding your business.
Summary
So, now let's surface ourselves after this deep dive into the listing and integrating themselves and take a deep breath because now we know – "How to!" Opening up your own store will cater you with enormous opportunities for earning good revenue with your own independence. You can make your own rules, your own categories, and can choose your own extensions and can assemble them to create an amazing store!
Connect your Shopify store with eBay and drive millions of visitors to your products.
-List,
-Sync,
-Automate &
Expand your sales with Shopify eBay integration HERE
Integrating your store with eBay and listing your product on eBay, both will give you endless exposure and will provide you great opportunities. All you need to do is- Choose the one you think is wise and apt for your business. Get them installed and have a little bit of PHP knowledge. That's all it takes! Go through the links provided. Set-up your own store, integrate it with eBay, sell more!
Not having all that techy-knowledge?
Don't have much time for this?
Need technical assistance?
Cedcommerce has the answers to all your questions and solution to all your queries!
Happy Selling!