Google Shopping Christmas gifts guide – The perfect answer to what to sell!
Running short of time? Get PDF of the blog in your mail.

Play Now
BFCM is in books now – it's time for shoppers to get their loved ones and friends gifts. Christmas bells will soon start ringing, and shopping for Christmas gifts will be in full swing in time. As a pro merchant, you shouldn't miss this opportunity to improve sales and give shoppers what they want. So, learn how to prepare your eCommerce store and prepare a comprehensive Google Shopping Christmas gift guide for higher holiday revenue.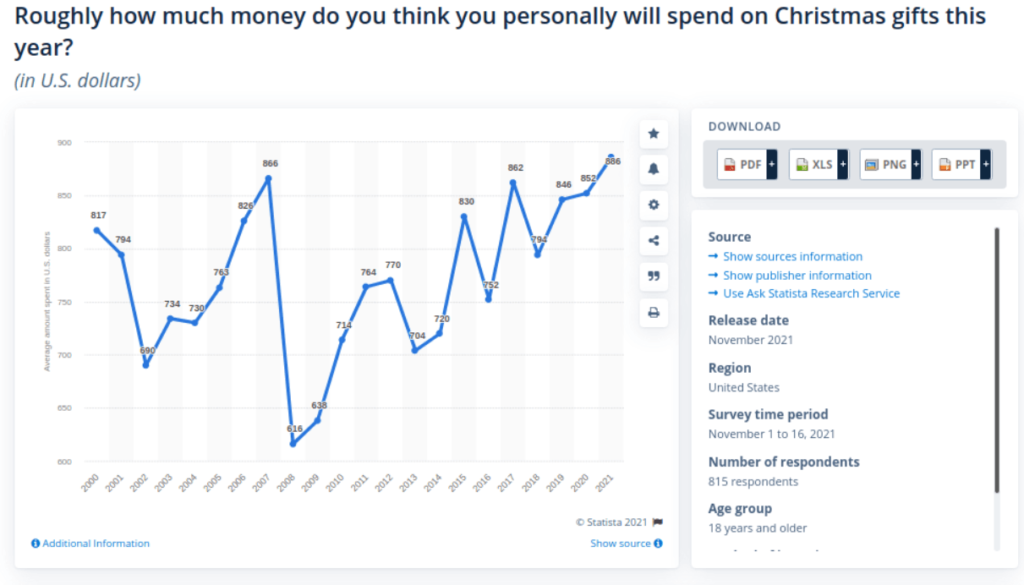 Image credit – Statista
As for Christmas Shopping statistics, a Statista report says that more than half of consumers in the United States agreed to turn to online stores for holiday gifts. And for this reason, the average expenditure on Christmas gifts is expected to be approximately 886 U.S. dollars in 2021.
While shoppers prefer online stores for ease and convenience for their Christmas gift shopping, brands that alleviate the pain of gifting are real winners this holiday season. So, if you want to boost your Google Shopping Christmas sale, the key is to create holiday gift guides to help shoppers find the best gift options for their loved ones without any hassle.
Why is the Google Shopping Christmas gift guide significant?
As the year 2021 continued to be a test year for many – with the second COVID wave, 2nd Lockdown, and Vaccination doses, Google reports the world searched for terms like "How to heal," "How to take off your Mental health," "How to stay Strong," "Where to get the vaccine" and so on. Moreover, this year we've accepted the World as it is and have adapted to the idea of recurring disruptions and constant influx. People have started taking slow, steady steps towards healing and moving on.
Amidst all the disruptions and constant changes, people are turning to search bars to satisfy their curiosities to know what's trending & whatnot and what to gift this Christmas. This year, people are more inclined towards buying gifts for well-being, mental peace, stress relief, and more.
So, to help consumers with the best gifts and Christmas discounts, there's no other way for eCommerce brands to help them with the most trending holiday gifts and buy best-selling products of 2021 for their loved ones.
Key Christmas Shopping Statistics you should know!
In this blog, we've compiled the top three key Christmas Shopping statistics that are sure to help you know what to sell or promote more during the Christmas-New Year's week. Moreover, the data helps determine who is shopping what and how much they are spending.
Top Christmas product categories as per shopper's preferences
The section will give you an idea of what products categories will be trending this Christmas-New Year's week. Also, the data helps decide what product categories to focus more on when selling on Google Shopping this year-end season.
Clothing & Accessories – 73%
Health & Wellness – 70%
Food & Beverages – 70%
Toys & Hobbies – 64%
Electronics & Accessories – 47%
Home & Kitchen – 36%
Top selling products shoppers shop during the Christmas-New Year's eve time-
In this section, you will learn about what products consumers are likely to buy for themselves and their family & friends this Christmas. Also, the data helps decide What products to focus more on when strategizing the Google Shopping Christmas gift guide.
Food & liquor – 42%
Clothing – 39%
Shoes – 28%
Book – 22%
Shopping behavior during Christmas-
In this section, you will learn about the changing shopping behavior of consumers in 2021. The data helps decide how to prepare for the Google Shopping Christmas sale.
Free shipping and express delivery – 85%
Check mails for discount deals/coupons – 68%
Prefer to buy from online marketplaces – 67%
Research for products online before making a purchase – 66%
Buy gifts a week before Christmas – 62%
Start their Christmas shopping before – 60%
Rely on social media to make purchase decisions – 23%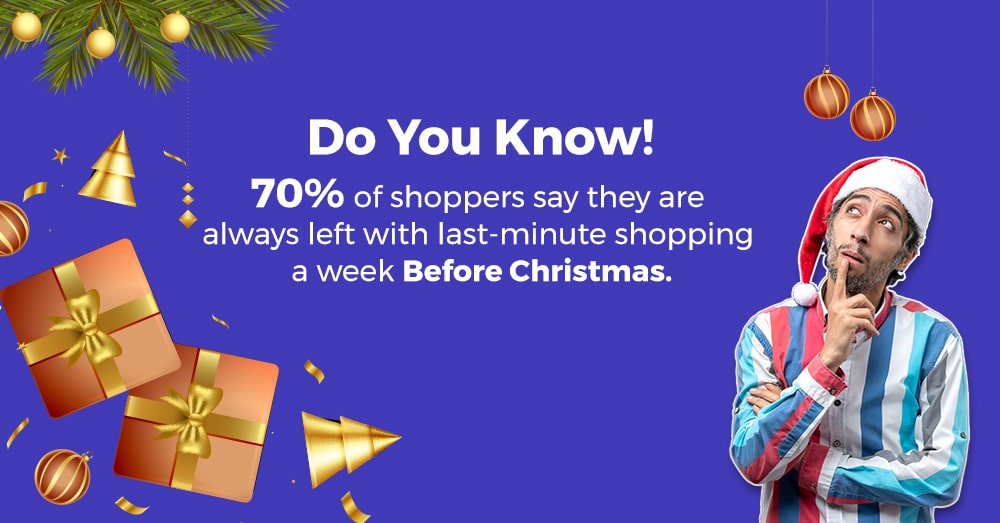 Pro tips to keep the profits rolling this Christmas!
Christmas discounts & offers
The clock is counting down to finish the holiday shopping season, but you can keep rolling the profits even after the festive season if you act wisely. The key is to provide the best Christmas discounts and offers to promote products. When offering Christmas deals, make sure you promote the best-selling products of 2021, as most shoppers who are shopping for gifts usually look out for trending items only.
Gift personalization
Gift-giving can be overwhelming if given with a touch of personalization. And as a merchant, don't forget to lend your shoppers a hand by displaying the most trending holiday gifts or the items customers most viewed and bought. Also, try segmenting gifts according to the needs and preferences so that shoppers feel more connected.
Christmas gift cards
Send exclusive Christmas gift cards to last-minute shoppers via emails. According to a report, the U.S. gift card industry is expected to boom to up to $170.8 billion in 2021. Also, while in 2019-2020 it is said that the growth of physical gift cards was just 9%, the adoption of e-gift cards is expected to grow 23% by 2025, which is almost 2X faster.
So, when planning for a Google Shopping Christmas sale, don't forget to include electronic Christmas gift cards in your holiday marketing strategy.
Trending holiday gifts for Christmas 2021
Here's a curated Google Shopping Christmas gift guide to help you find a perfect gift for everyone on your list this year. Take a look!
For techies in your life
Apple Airpods (3rd generation)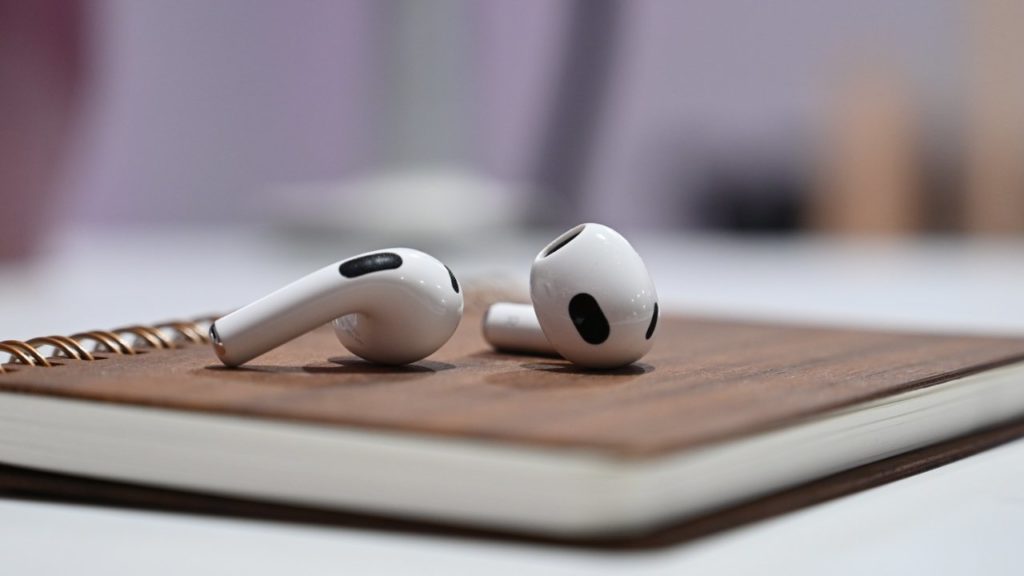 Image Credit – Appleinsider.com
With Apple dropping the newest version of AirPods with entirely new designs and features, these AirPods are sure to be a part of many Christmas gift lists this year. Spatial audio, adaptive EQ, and long-lasting battery are some of the fantastic features of these AirPods that make a perfect gift for techies looking for an everyday use gadget.
For the beauty expert, you know.
Dyson Airwrap Complete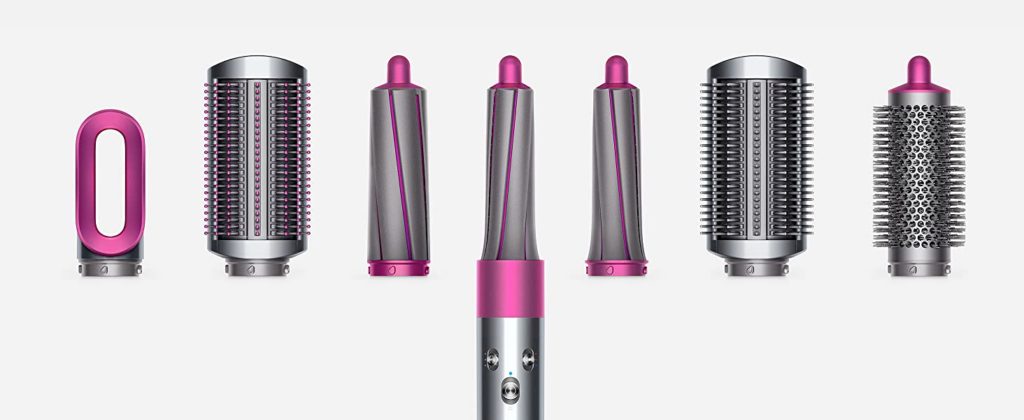 Image credit – Amazon.in
Listed amongst the top 6 curling irons of 2021 and winner of the "Big Beauty Breakthrough" award by Vogue, the Dyson Airwrap is a perfect styling gift for your wife, sister, and mother. Equipped with styling barrels to curl or wave and brushes to volumize and smooth hair, the Dyson AirWrap styler, is another excellent Christmas present worth buying.
For the Fitness freakthemWhether who is health-conscious
Fitbit Luxe Fitness and wellness tracker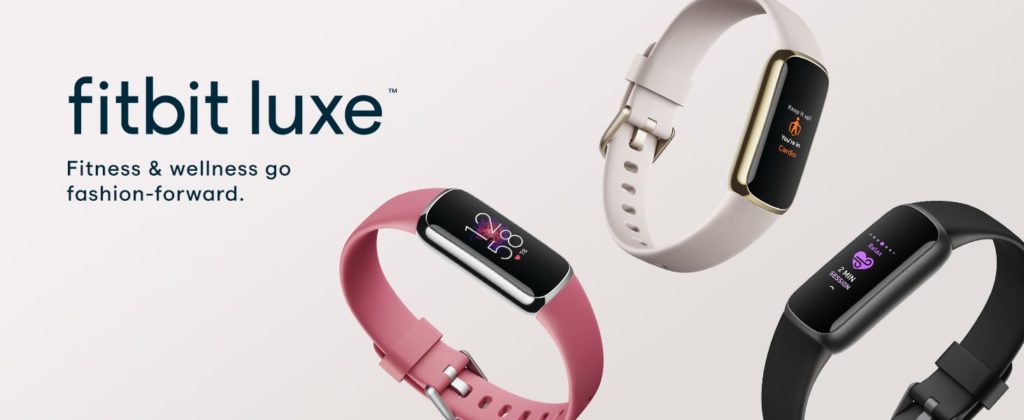 Image credit – Amazon.com
A must-have wellness essential. A fitness tracker that counts your steps, calories, sleep habits, monitors heart rate, breathing rate, body temperature, and more. Fitbit Luxe is a perfect Christmas gift that makes fitness tracking more effortless and fun.
A Gift for the gamer you love
PS5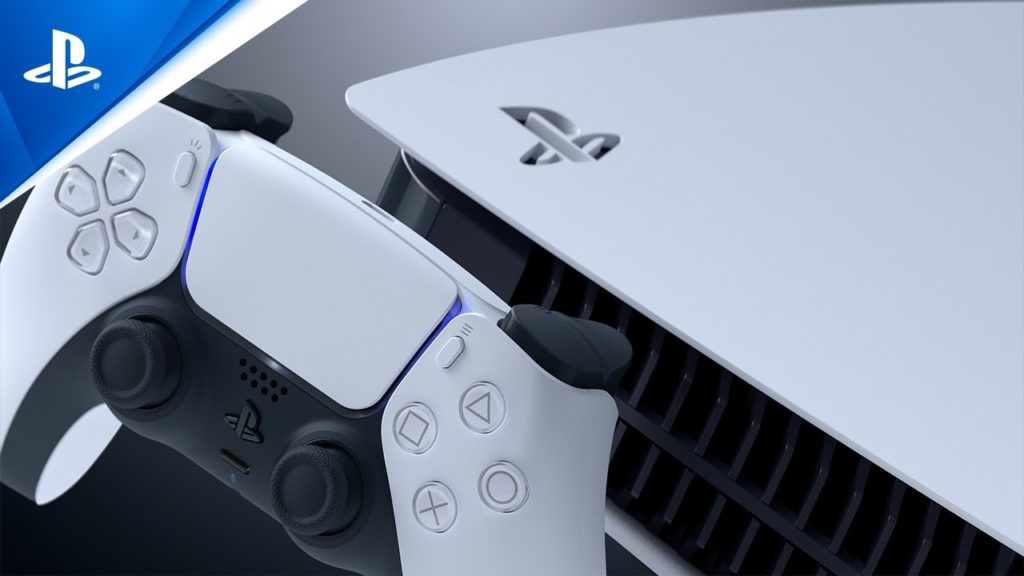 Image credit –playstation.com
Exceeding all expectations, the Playstation 5 showcases the potential of next-generation consoles. With a distinctive finish look, the DualSense wireless controller, and lighting fast-load speed, the PS5 is the ultimate plug-and-play gaming gift for your loved one to experience the true power of play this Christmas.
Best gift for your home from Google
Nest Thermostat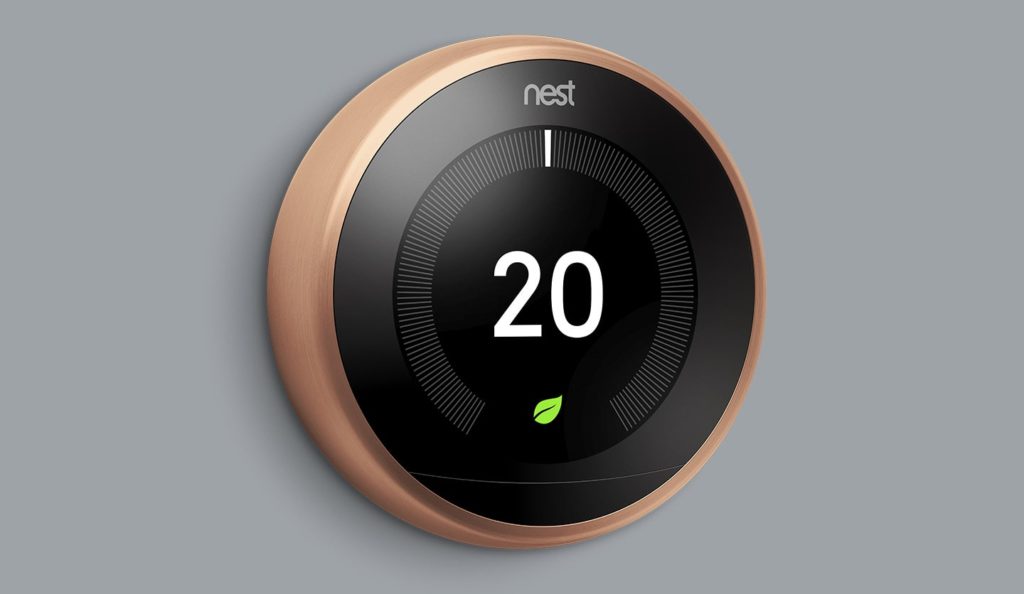 Image credit – store.google.com
Upgrade your loved one's home with a smart thermostat that saves energy and can be controlled from the phone. The eco-friendly Nest Thermostat can adapt to your lifestyle and changes temperatures accordingly.
An advanced tech gift for an insomniac in your life
Dodow – Sleep Aid Device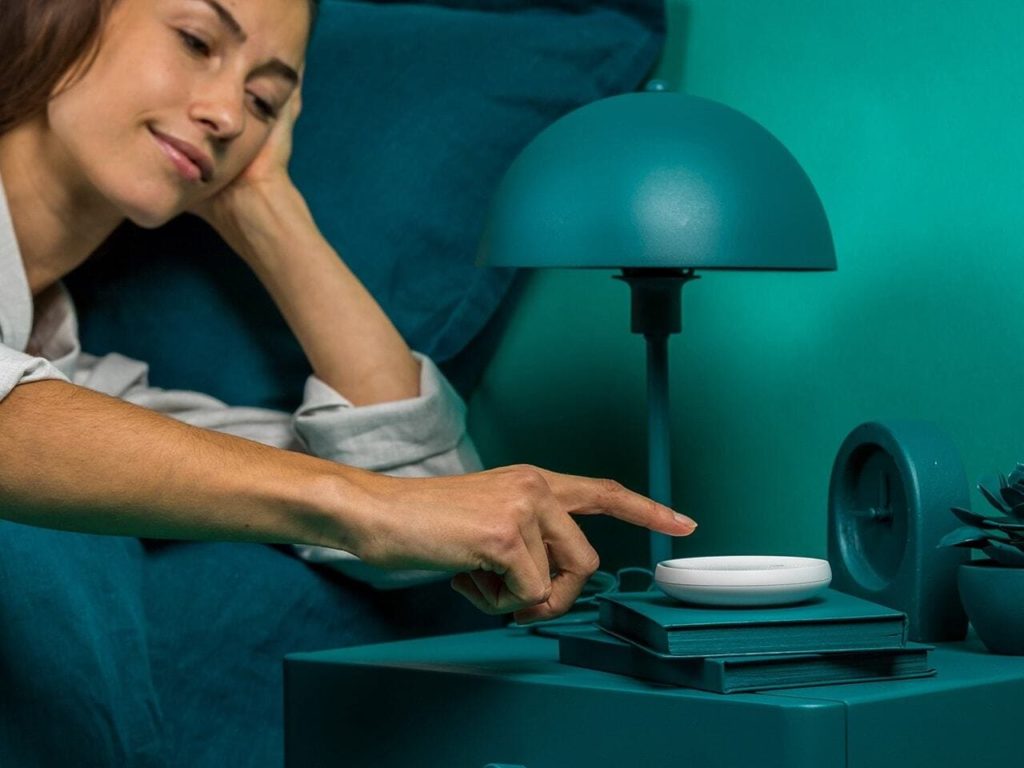 Image credit – mydodow.com
As we talked about in Google search trends above, the search intent for wellness and health issues have increased in 2021. Around 30% hike is seen in search interest related to physical wellness in APAC. So, this Christmas, give your loved ones a peaceful sleep by gifting this high-tech Dodow Sleep aid device. The device works like a metronome as them projects a blue light onto the ceiling synchronizing your breathing with lights – expanding the beam when you inhale and shrinking it when you exhale.
A mindful gift for anyone who needs stress relief
Scented candles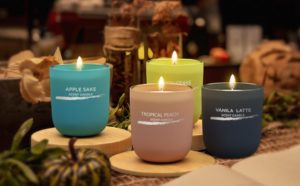 Image credit – Amazon. in
Even if your loved one is spending their holidays away, you still send them love in the form of scented candles that come in a variety of mesmerizing fragrances. It will be a perfect Christmas gift to embrace the comforts of their home with scintillating scents and colorful & delightfully sparkly lights whenever needed. The most thoughtful gift for anyone seeking stress relief and a calm mind.
For the one who is working from home
A work-anywhere lap desk

Image credit – Amazon.com
Even if your giftee has a work desk at home, a lap desk can be yet another thoughtful Christmas gift for him/her to work from any corner of their home. Be it on the couch, bed, in the balcony, or deck, a lap desk is a complete package in terms of comfort, stability, and style. Gifting your remote working friend or relative a lap desk is like giving them a gift of complete portability as lap desks are easy to carry anywhere.
A pampering gift for your most stressed loved ones
NekTeck Shiatsu Foot Massager with heat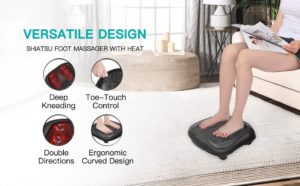 Image credit – Amazon.com
A perfect Christmas gift for your stressed-out mother who is always seen to be on her feet. The NekTeck Shiatsu massager is ideal for her achy soles. A few minutes of relaxation can refresh her mood and energy after a long day at home. The massager even has a heated mode, perfect for chilly winter months when anyone in the family needs to warm their toes.
A handy gift to thrill an outdoor enthusiast
Mallome Camping Cookware set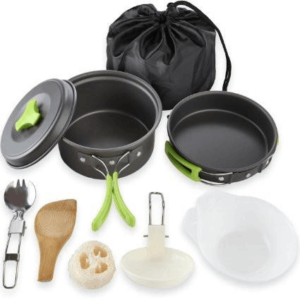 Image credit – Mallome.com
Camping is the most loved activity during the Holidays. And for a friend, who is an outdoor enthusiast and is often seen camping, then the Mallome camping cookware set can be the most thoughtful Christmas gift for them. The multi-utility camping set allows you to cook and serve food. The kit comes with a strong, portable bag that is easy to carry anywhere.
Help your customers, and They'll stay with you.
As said earlier, customers have already started with their Christmas gift shopping. Hence, you need to work upon your Google Shopping Christmas gift listing and also holiday marketing plan as soon as possible. The earlier you start with, the higher your chances to drive sales.
And to start with, this trending holiday gifts guide is sure to help you to sort the best-selling products of 2021 from your inventory and promote this holiday season.
Also, if you want to manage your selling on Google Shopping with ease this festive rush, book a demo with us today, and we'll help you automate your Google Shopping selling in no time.