Get Started with Buy on Google Listings: A 2022 Guide
Running short of time? Get PDF of the blog in your mail.

Play Now
Beginning your journey with Buy on Google listings is a crucial step to your selling mix, given the current state of eCommerce trends. Here we will be covering the necessary steps involved in setting up your storefront on this platform, the benefits of selling on Buy on Google, and the recent developments that have come through.
The pattern of online shopping is evolving every single day. The switch to mobile shopping is already on the move over the past few years. Product discovery happens across multiple devices in the modern-day. And, so have our voice assistants adapted, helping us make purchases on the go. Retailers like you must cash in, making the most out of these trends.
Buy on Google, a popular marketplace of Google, has been catering to millions of people worldwide from the time of its inception in 2018. The platform, thereon, expanded multi-folds, reaching out to more number of sellers from the latter half of the year and onwards.
Previously known as Shopping Actions, Buy on Google that can be accessible via shopping.google.com, operates all across the United States. In fact, it is open to all those merchants who fulfill the criteria to sell on the platform. It has seen an influx of some of the biggest merchants from around the world who chose to sell their products via Google and have enjoyed massive success.
How to Join the Buy on Google Program?
To start out with Buy on Google, the recommended requirements are:
1- A Google Merchant Center account with the business country set as the United States.
2- A US-based PayPal business account.
3- The ability to fulfill orders in and across the US.
4- A government-issued ID, something like your passport or driver's license, displaying the complete address and country name of your business.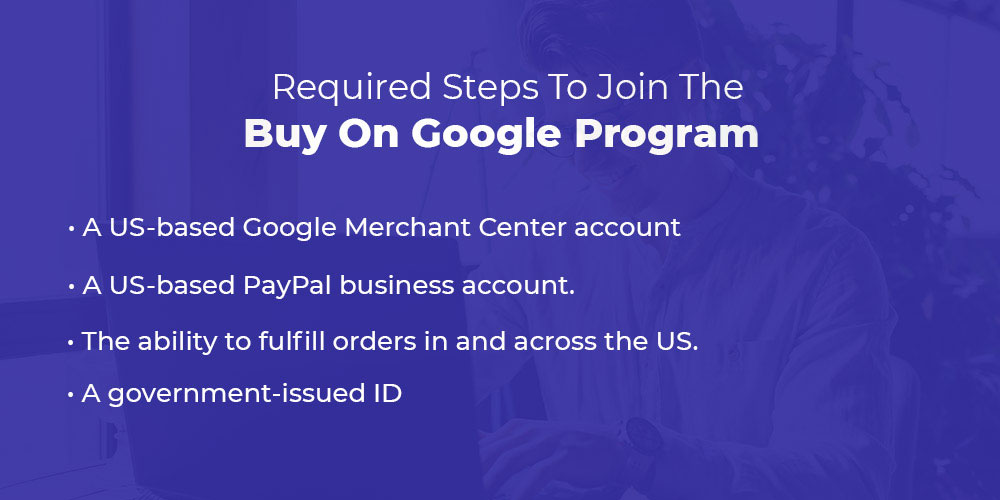 To kickstart your Buy on Google onboarding journey, follow these steps.
Go to the Growth option on Google Merchant Center, and click Manage Programs.
Head over to the 'Buy on Google' tab:
– Click on 'Get Started'.
– Link your PayPal business account and authorize it for accepting payments.
Select a product feed that you would like to sell through this platform.
Fill up the payment details for invoicing and receiving payments. It is recommended that you have enrolled yourself in PayPal business with an address based in the US.
Upload all the branding essentials in the form of logos, color, and banners that are likely to appear on your Buy on Google listings and marketing material.
Provide a go-to email address that Google's customer support team can use to reach out to you in case of any issues occurring.
Set up shipping details and the price to the customer for each of your product consignments.
Clearly mention your default return policy and the return address. Your shipping partner must have its physical warehouse address in the US and should be able to fulfill orders across the state.
Ensure that you are collecting the appropriate sales tax for each place that you deliver, as per the US tax policies.
Re-visit the user roles and permission granted: all of your account admins must have Buy on Google admin rights in the form of payments and orders. You may choose to adjust or restrict as and when required.
Once you perform these steps, you must click on Read and sign under the 'Terms of Service' option to provide your digital signature, after thoroughly reviewing all the policies.
Subsequently, the Request Review button will become active and you can finally submit your joining request. On approval, your store will finally start showing up on Buy on Google.
Benefits of Selling on Buy on Google
Consumers resort to Google when searching for products. Including Buy on Google into your selling mix can help you reach out to a broader audience. The reason: this is the place itself where customers are already spending their time searching for products, helping you reduce barriers to conversions.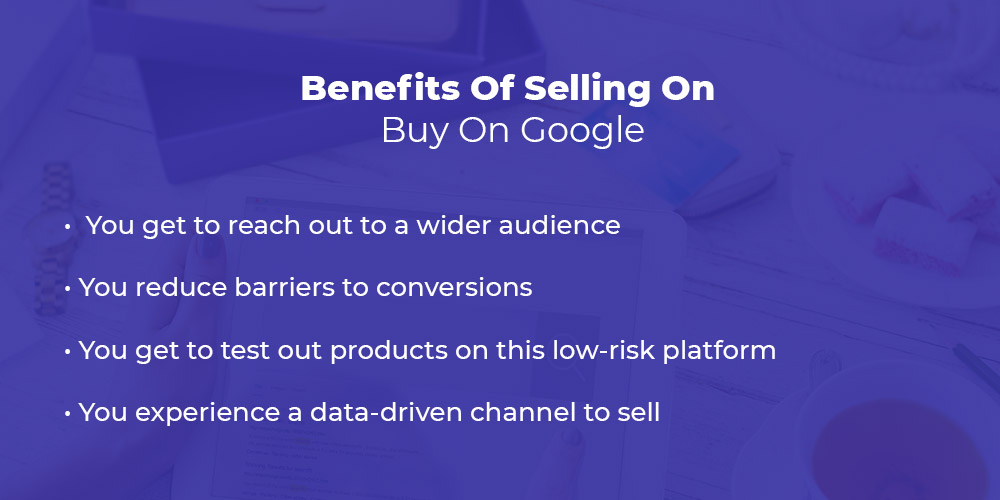 Being a budget-friendly and commission-free platform, Buy on Google listings are ideal for testing the products you want to sell. Offering zero listings charges, it remains a low-risk affair to determine if adding Buy on Google to your selling strategy is profitable for your brand.
Additionally, you gain complete control over what you want to sell on Buy on Google. Merchants like you can benefit from Google in terms of insights detailing product competitiveness against other retailers. This will improve your listings for each specific product. Many online companies even resort to Buy on Google as their data-driven, low-risk solution for getting higher product visibility and maximizing their profits.
Upcoming Changes for Retailers
Online businesses like yours must stay updated with the Buy on Google changes and trends that will take shape in the near future. Let's take a look at them in detail.
Merchant Support Chatbot launch for Buy on Google:

If you are a US Buy on Google merchant, you will be able to use the chatbot for simple cases. You will get escalated to a human agent when needed. You will get to interact with this chatbot on the Merchant Center order pages from a floating action button. It shall help you with answering questions, providing links to relevant content, and assisting in fulfilling tasks related to orders.

Charge before Shipment API call for Buy on Google:

Google authorizes a shoppers' credit card in the vent of placing an order on the Buy on Google platform. However, shoppers like you, bear charges only when you mark them as 'shipped'. Under normal circumstances, payment service providers offer guarantees when the hold and charge events are completed within a couple of days. But in certain situations, the charge might not succeed in case of delays.

In case of failure of a charge, sellers like you are then held responsible for the delinquency costs. As a courtesy to Buy on Google merchants, Google is henceforth covering you for these delinquency costs.

A new optional API method will soon allow you to charge the shopper's payment method right before shipment. Post this launch, Google will end its courtesy cover of delinquency costs. If you choose to integrate with the new method, you can avoid delinquency costs by charging shoppers right before shipment.

Price Competitiveness Report in Merchant Center:

The newly available 'Price Competitiveness Report' in Google Merchant Center demonstrates how other merchants aim to price similar products. For this reason, you get to see an average price for each product. This helps you understand the price at which your competitors are successfully attracting clicks, along with aggregated metrics on benchmark prices.

Product Dimensions in Feeds:
Merchants can now make use of the optional attributes offered by Google. These include product length, product width, product height, and product weight. This practice will allow you to clearly convey the measurements of your products. These attributes will also help find desired products through accurate search results and higher click rates and impression share.
Let's Get You Started
So, you want to know how to set up your Buy on Google storefront? As a matter of fact, the platform offers a convenient way to shop products using devices, and voice assistants. Online sellers like you consider this to be a huge deal, given the recent shopping trends. This platform can help your store additionally with more product exposure, increased customer loyalty, and a significant boost in sales.
If you are simply starting out, looking to set up your store, you can make use of Suite for Google Shopping Feed to get your products listed on Buy on Google and optimize your storefront.
CedCommerce is an official partner of Google Shopping, helping merchants like you with all your eCommerce needs. Reach out to our team of experts to get assistance in the process of optimizing your Buy on Google listings and the multiple platforms associated with them. Benefit from customized and tailor-made solutions that will suit your business needs and help in gaining more conversions.