10 Best Free Keyword Research Tools For SEO In 2020
Running short of time? Get PDF of the blog in your mail.

Play Now
Whether you are building a new website or writing a new blog, it's hard to stand out with your content in this crowded marketplace without a decent keyword research tool. The core of your digital marketing strategy and SEO must necessarily rely on a fairly decent and reliable keyword research tool. And, what can be a better way if you can find a tool without pinching your pocket. In this post, we'll analyze some of the best free keyword research tools that are available online, and yet few know about them.
When it comes to content writing or content marketing, for that matter, you need a keyword tool that provides you details as to search volumes, keyword suggestions, competitor's target keyword, SEO difficulty level, Cost Per Click (CPC), etc. In other words, the tool helps you completely in forming the right content marketing strategy. 
Taking this criterion, here's the list of 10 best free keyword research tools for SEO in 2020:
Keyword Surfer
Google Trends
QuestionDB
Answer The Public
UberSuggest
Keyword Sheeter
Google Keyword Planner
Soovle
Wordtracker Scout
WordStream Free Keyword Tool
1. Keyword Surfer
Keyword Surfer is one of the easily downloadable and readily available keyword research tools out there. It can be downloaded freely as a Chrome extension and displays monthly search volumes for a given keyword to the right of the page. Also, you get the search volume results in the autocomplete pane itself. 
You can customize the search as per the country of the audience you are targeting. At present, Keyword Surfer shows keyword results for 19 countries including United States, United Kingdom, Canada, Brazil, France, and Germany. besides, you can turn on and off the global search option.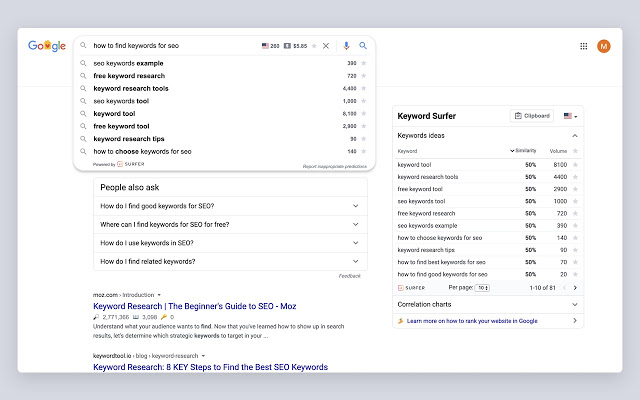 2. Google Trends
Google Trends is one of the best keyword research tools out there for analyzing the relative popularity of keywords. Besides knowing which keywords to use based on their popularity, it also reflects the geographic pattern of keyword searches. By comparing different keywords, you can decide which keyword best targets your audience. 
We compared two keywords – "Mobile App Development" and "Building Mobile App" and the results clearly showed that Mobile App Development soared above Building Mobile App.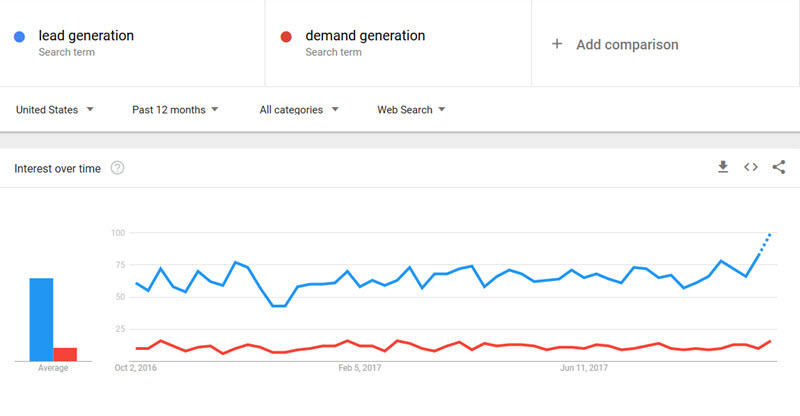 3. QuestionDB
QuestionDB allows you to phrase your keywords in the form of questions. with the rise of voice search, question-answer type of content writing has become famous. It picks relevant questions related to your keyword from the popular question asking sites like Reddit and allows you to rephrase your keywords accordingly. 
Generally, people take to Reddit only when they cannot find answers to their questions on Google. Through QuestionDB, you can create unique content that is available on Google and increase your traffic.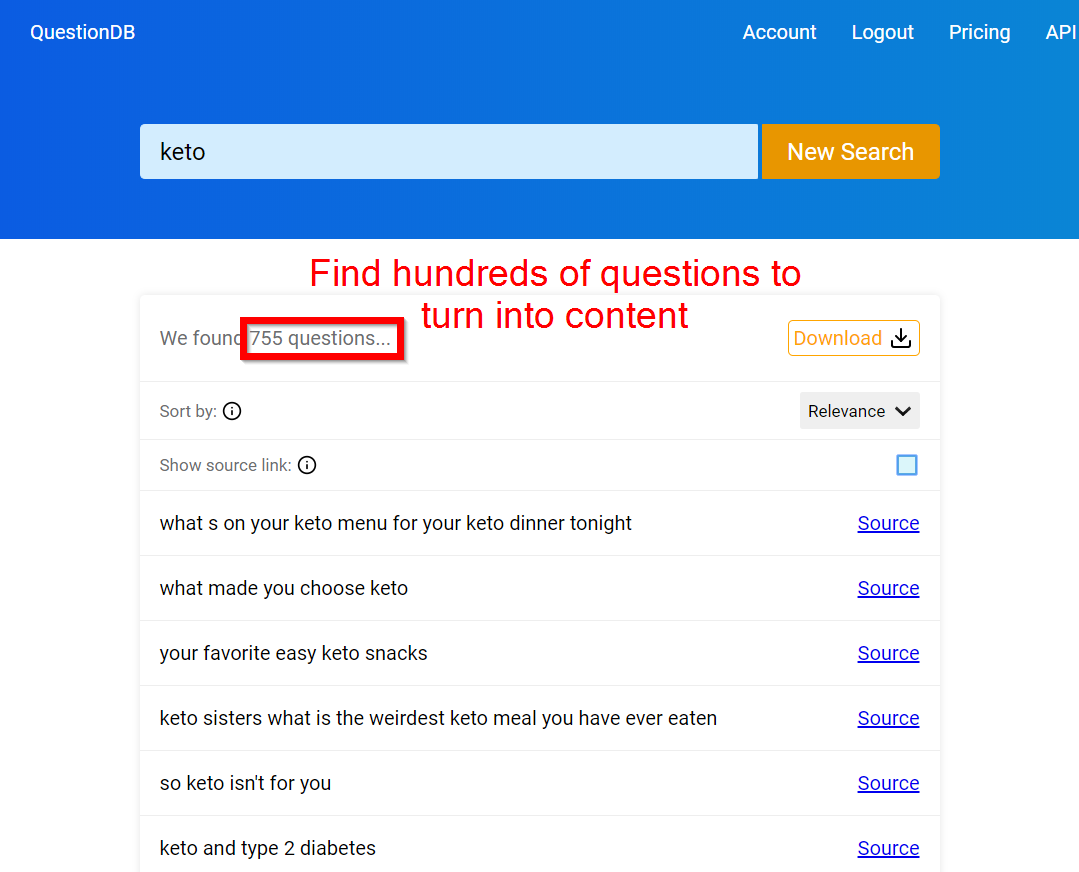 4. Answer The Public
Searches are increasingly being voice-based. As a content writer, you need to focus more on long-tail keywords that search engines are more targeting now. In this way, you can make your content more unique and create a niche market for your content. 
Answer The Public delivers a who;e gamut of long-tail keywords when you enter your targeted keyword. It finds questions, prepositions, alphabeticals, comparisons, and related searches. The results are drawn from search results at Google and Bing. Besides, presenting the data in fancy graphics, Answer The Public provides a multitude of keyword options.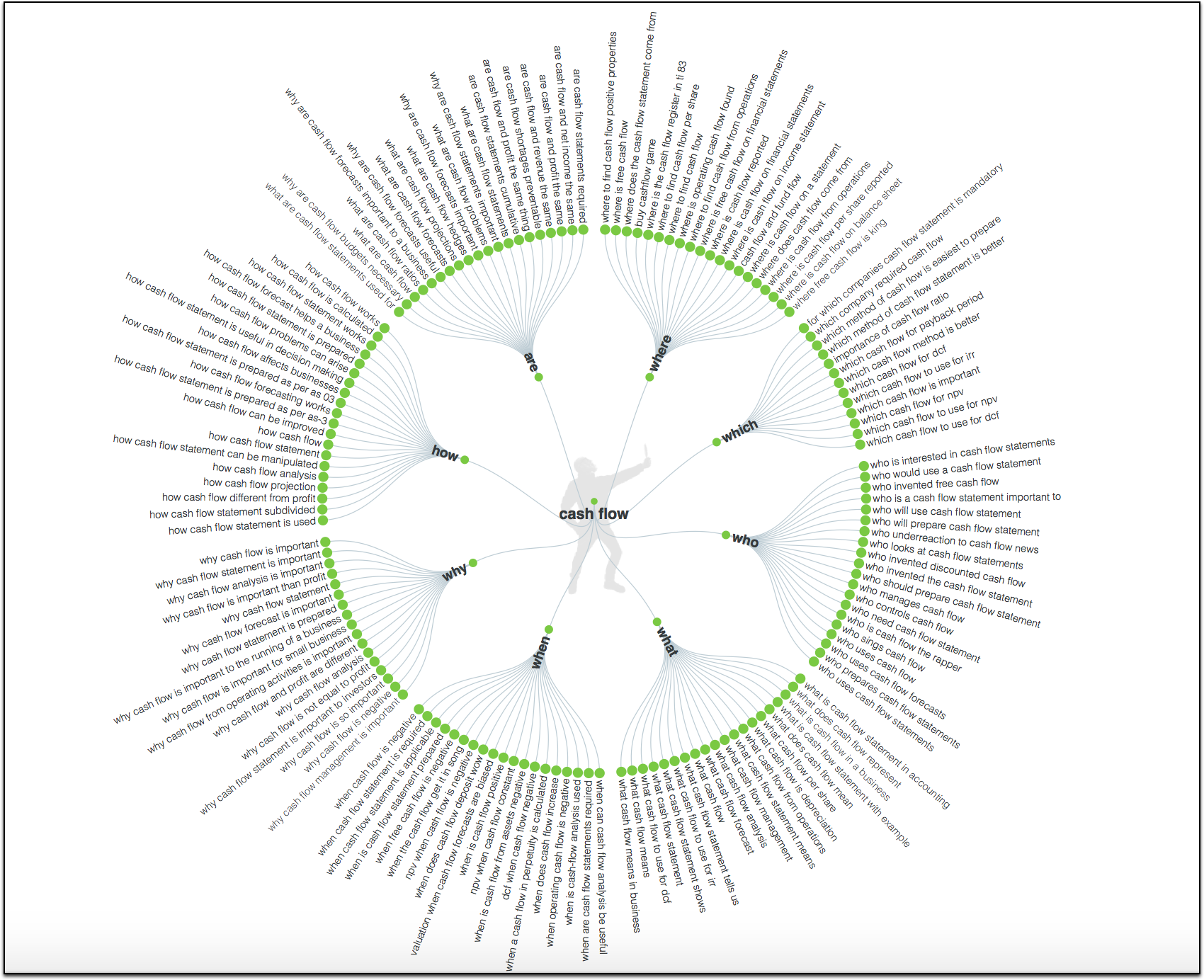 Redefining Digital Marketing
5. UberSuggest
UberrSuggest comes up as one of the best keyword research tools in the list. UberrSuggest is a free SEO tool that gives you tons of keyword related ideas in just a click. Not only that, but you can also filter the search results to find the right keyword to build an audience. Enter a keyword, and you also get the list of sites ranking on the selected keyword.
UberSuggest lets you analyze search volume on the basis of devices too, which is the number of searches from Mobiles and Desktops. You can view search patterns spread over different time-periods at one go. Enter your competitor's website link and the tool will reveal the prominent keywords that are being used by your competitor.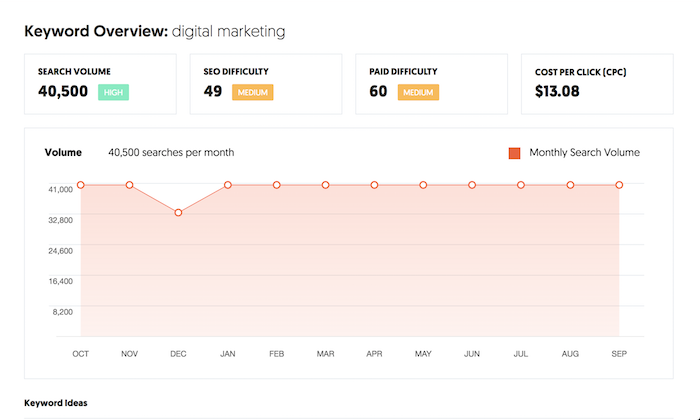 6. Keyword Sheeter
The autocomplete suggestion in Google is a great keyword research tool in itself, What Keyword sheeter does is that it picks up hundreds of autocomplete suggestions from Google and displays in front of you in the form of a sheet. 
Simply enter your keyword and click sheet keywords and the tool will generate tons of keyword suggestions in no time. However, it doesn't reflect the search volume of keywords or doesn't classify them in groups. That option is available only in the paid version. But, you can filter keywords on the basis of positive and negative filters and the tool will change the sheet accordingly for you.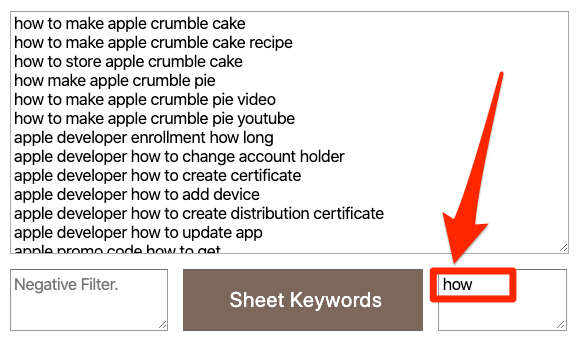 7. Google Keyword Planner
Google Keyword Planner is one of the best keyword research tools that you can use both for writing Ad content and blog posts. The best part of using this tool is that it is authentic, it comes directly from Google, the largest keyword database.
It presents data in systematic groups into monthly search volumes, level of competition, pay per click, and many more. Simply log in to your Google Ads account and click on the Tools and Analysis tab.  
8. Soovle
Soovle lets you conduct simultaneous keyword research across multiple platforms. This is particular;y helpful if you're targeting multiple search platforms like Youtube, Google, Yahoo, Amazon, Bing, Answers.com, and Wikipedia. With just one click you get search results across all these platforms based on popular searches on these platforms. 
A simple tool, the suggestions are quickly generated and serve as a brilliant repository for creating great content.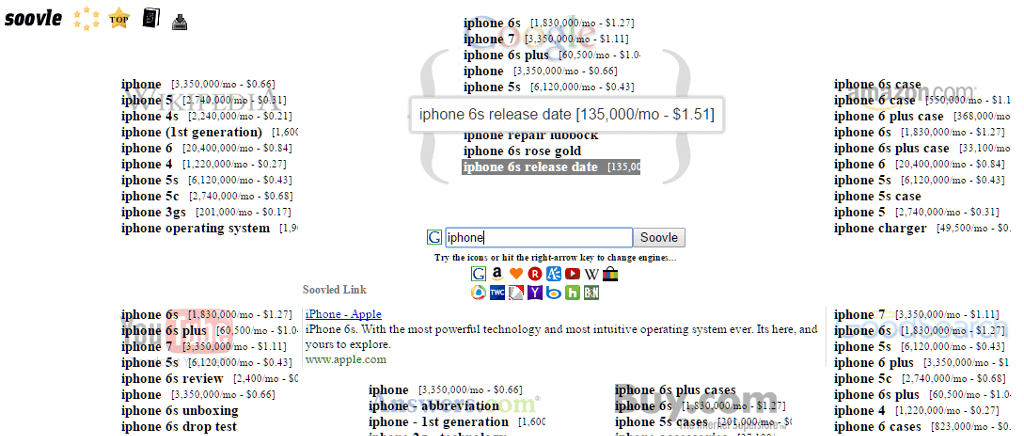 9. Wordtracker Scout
Wordtracker Scout is a terrific keyword research tool that provides a database of keywords used by your competitor. When writing website content or blogs, you cannot ignore what your competitor is doing for ultimately your ranking depends on how competitively write your content.
Wordtracker Scout enables your competitor's keywords list at the click of an icon with the installation of a free chrome extension. You simply have to reach your competitor's page and click on the extension and voila you get a complete list of keywords used by your competitor.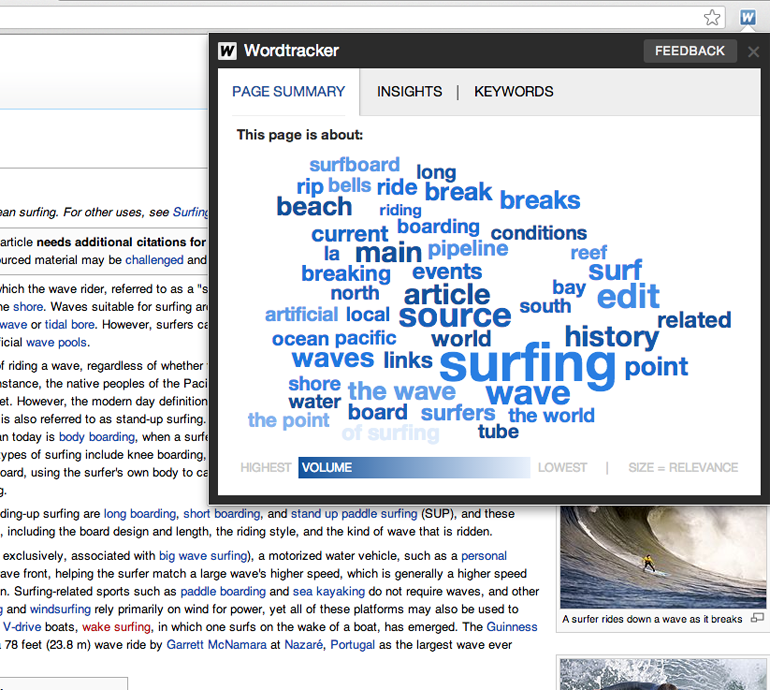 10. WordStream Free Keyword Tool
WordStream offers a free keyword research tool that is easy to operate and understand. Limited to 50 searches, the tool presents a decent option for writing great content. In fact, this is the most user-friendly tool amongst them all. 
For keyword research using WordStream's free keyword research tool, simply open the tool and enter your keyword and the tool will display a list of keyword suggestions in no time.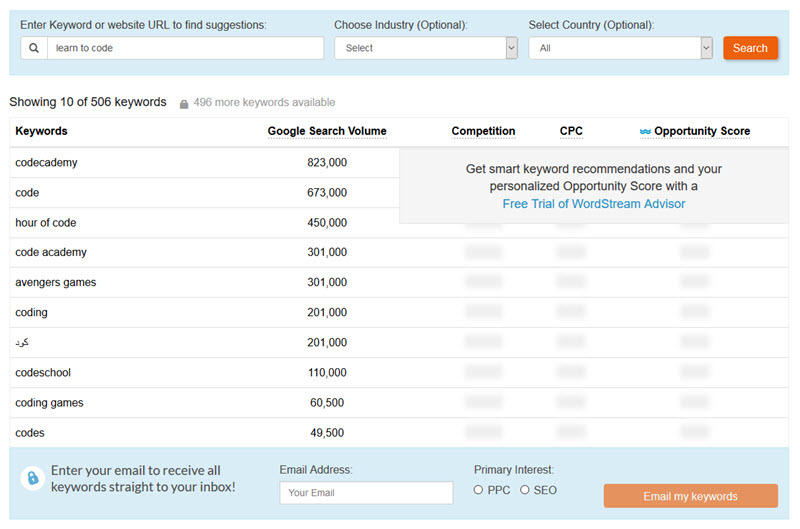 Conclusion
In order to create the perfect user experience and for increasing the visibility of content, keyword research tools are a must. And, there is no doubt that many of us can hardly afford the paid tools. That is why the use of free keyword research tools becomes essential.
There are many keyword tools for free out there, but few free tools will give you accurate results, which is what you need to improve your marketing efforts.
It is hard to say which free keyword research tool is the best from the given list of tools. Ultimately, it depends on several factors like accuracy, limits of free search, the number of options in the tool, and ease of usage. 
Some of you must have used one or the other tools discussed in the post. Feel free to convey your experience and suggestions which you think can make the tool better.
Are your strategies meeting your goals? Get a free marketing audit today.