Marketing hacks for eCommerce retailers during festive season 2020
Running short of time? Get PDF of the blog in your mail.

Play Now
Are you ready for holiday season sales?
The sudden outbreak of COVID-19 has drastically changed people's lifestyles and affected the business prospects for the industries. The economic graph of 2020 states on how these businesses are transforming their strategies and driving sales.
If we consider the past few years, it is noticed that everyone is planning their strategies for the holiday season sales. To prepare you in advance, we have brought down a list of marketing campaigns, digital platforms & promotional strategies. Explore further to know what marketing strategies you should follow, the major digital platforms you can promote your business on, and drive more sales.
How to plan for successful holiday season marketing strategies
The strong holiday season begins with early preparations. The season's sale is coming, and there are ample opportunities for you to captivate your customers to your websites and drive more sales. Here are the few marketing strategies you can follow to gain exposure for your brand and businesses to have a successful holiday sales season.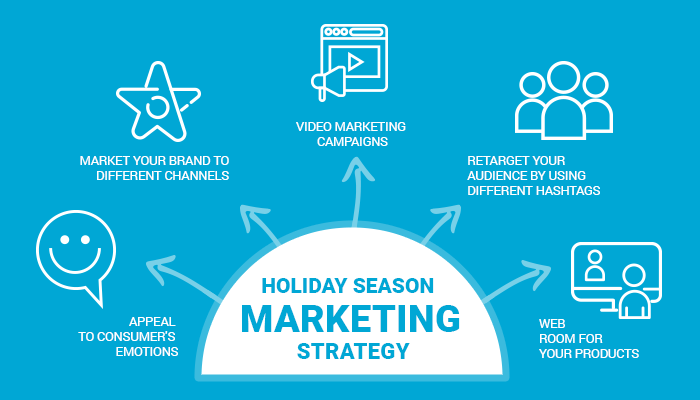 Appeal to customer emotions
The holiday season ignites the mixture of emotions, from excitement to the feeling of nostalgia. Thus, as a seller, you should target your audience and promote the products through which your customers could relate to the most. Meanwhile, when planning for your marketing strategies, share inspirational messages, behind the scene, look at how your company is preparing for the festive season, etc.
Market your brand to different channels
To maximize your brand and business exposure, it is essential to promote your brand to different channels and platforms. If you are a seller selling on marketplaces like Amazon, eBay, Etsy, etc., try diverting your focus to eCommerce platforms and vice versa. There are Multichannel Importers available for eCommerce platforms like Shopify, BigCommerce, Magento, and many more. Promoting your brand and businesses to multiple platforms would let you reach a wider audience and product reach.
Launch video marketing campaigns
It is said that a minute of video is equivalent to eight million words. Thus, promoting your brands and business through videos would be a revolutionary holiday marketing strategy. According to recent research, marketers who use video grow revenue 49% faster than non-video users. Besides, adding a video to your website, emails, or social media page can help you communicate with your customers effortlessly.
Web room for your products
The current situation has let people divert their attention to the online platforms for their day-to-day needs. You can use this opportunity to modify your eCommerce store to a web room and allow your customers to explore the products at every angle. Thus, providing an in-person showroom experience online.
How can you use digital marketing to promote your business
With the continuous development of technologies and the dominance of digital promotions and marketing, most of the businesses have acquired the strategy to promote their businesses to multiple platforms to keep up the pace. Digital marketing targets users from all the sectors, helping you reach your targeted audience base.
As a seller, merely having an eCommerce store or a website is not an excellent factor to generate leads. You need to show your brands and businesses across different social platforms like search engines to social media sites and smartphones. So, we have bought a list of digital marketing strategies you can adapt to uplift your business this festive season.
Search engine optimization
Search engine optimization (SEO) is considered to be the most important factor for driving traffic to your website. Optimize your content on a website according to the searcher's query to attain visitors to your websites and drive conversions.
Some of the factors to rank higher amongst the audience searches are optimizing the content of the websites. There are basically two types of SEO services- On-Page SEO and Off-Page SEO that affect your website ranking.
On-Page SEO: On-Page SEO refers to all the measures that are taken directly within your website to improve its position in the search rankings. While optimizing your On-Page SEO, focus on the keywords, meta description, HTML code, title tags, internal linking, and alt tags.
Off-Page SEO: Off-Page SEO deals with the page ranking factors that occur off your websites. It includes your outbound links redirecting to the external websites, your promotional activities across various social media channels, etc.
Besides, several SEO service providers help you set the right SEO for your website and enable you to sell hassle-free across different platforms.
Email marketing
Connect with your customers directly through emails and inform them about your latest updates, key features, offers, discounts, prices, new updates that can help you retain your existing customers, and drive sales this festive season. By branding your business through emails, you could increase your brand loyalty and upsell to existing customers.
Different tools are available to enhance your email marketing campaign this holiday season. Besides, you can use emails to send your customers a confirmation about their orders, thank-you emails, email notifications about product updates, discounts, offer details, etc.
Social media marketing strategy
In case you are a seller having B2C business, promoting your products on social media could be your ultimate strategy this holiday season. These days, people use social media not only as a medium to communicate with each other; but also as a marketing channel to advertise their products and services to a wider range of audiences.
There are several social media platforms you can choose from, such as Facebook, Instagram, Whatsapp business, and many more, to uplift your business. Additionally, you can optimize your profile by using hashtags on the platforms. The hashtags help you drive more sales and let you promote your business. Some of the trending keywords are:
#Halloween, #Funkoween
#9.9sales, #Singlesday
#BlackFriday, #ChristmasSales
Affiliate marketing
Affiliate marketing helps you reduce your workload by outsourcing with external service providers. With affiliate marketing, you only have to pay for conversions after the purchase is being made. You have to promote the product in your store through the banner to the landing pages.
With the holiday season approaching, it's time for affiliate marketers to increase their commissions significantly. For this, you need to have an appropriate strategy to attain success during this time. As a seller, you can start with blogging, describing your top-selling items this year, and what new you have to offer to your customers.
Google ads and its use in promoting your products
The holiday season is unpredictable. Now that your product data and store is all set to roll, it's time for you to target the searcher's query. According to one of the statistics of the Paid Search Ads, 75% of users say paid search ads make it easier to find information and influence 90% of their purchase decisions. So, it is the right time for you to opt for Google Ads promotional strategy for your business.
When it concerns Google Ads, it is one of the most used types of paid advertising. Many business owners promote their businesses with Google Ads as it offers a unique opportunity to advertise their products and services directly to people searching for the queries. Let's see how you can excel in your marketing strategy with Google Ads this festive season.
How can you excel the marketing strategy with Google Ads
Shopping online is a preferable choice for shoppers. With the rising technology, people easily browse, find, and purchase the product of their choice. That's why a business must market their products online. And, in the process, Google ads come into play. As most of the shoppers use Google to search for the product they are yearning for, making Google ads an effective way to market your business.
Advertising with Google is a great way to promote your brand more effectively and in a minimal amount. Google Ads works on a PPC model that allows merchants to pay only when a searcher clicks on your ad. Thus, providing a perfect solution to the merchants who are new to online business.
You can turn spending on and off at your will. While setting up your campaign on Google Ads, you tend to bid for the keyword on which you want to rank your ad. Thus, you can invest an amount of money for the ads and end it at your will.
Target your specific customer base with Google Ads. Keep a note on how they've interacted with your website or brand before.
What should be your promotional strategy for the festive season sale
With the arrival of the festival season sales, sellers are looking for deals and offers all across the website. There are some of the sellers offering a variety of coupons, offering to drive sales and retain customers. Thus, creating an atmosphere of enthusiasm, excitement, and nostalgia in the heart of the sellers and shoppers. Here are the similar promotional strategies you can adapt to increase your customer retention rate on your website.
Triggering emails
There's a time in a year where we tend to observe countdowns clocks on several marketplaces or the business website. These countdown clocks help create a sense of urgency, ticking down the seconds until an offer expires. This is one of the examples of a significant time-bound discount. As a seller, you can leverage the feature of triggering emails informing your customers about new offers, discounted prices, etc.
Stagger Holiday Sales

Start planning for the holiday season at the earliest, and target pre-holiday sales to those customers with items in their carts and wishlists. Grab the attention of the shoppers with your unique offers or mobile message-only discounts. This will help you sell your pre-stock inventory and let your customers purchase sooner at a lower value.
Provide gift suggestions
Make it easy for your customers to purchase by offering different gift ideas and offers while purchasing. You can provide unique gift suggestions and showcase ways to bundle more than one product into the perfect gift. Strategies like offering freebies with the purchase of products can help you entice your shoppers to your websites.
Additionally, you also offer gift cards to your customers. If in case a shopper is unable to decide what to purchase from your store, these gift certificates could help you drive conversions and entice new visitors to your website.
Giveaways and Raffles
The shoppers are in look for offers and discounts every holiday season. Grab this opportunity by offering cashback and giveaways to your clients through your social media profiles and get more eyes on your sales and products.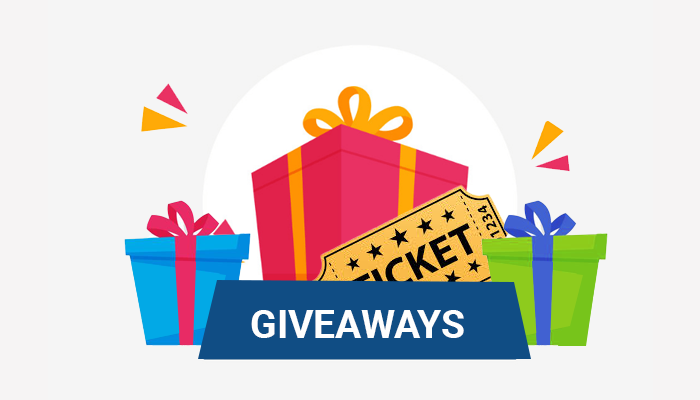 On different occasions, prepare a competition, task, or contest to let your customers compete with each other and benefit that one lucky winner who completes a task. The job could be from a comment on any post, a caption on any product image to sign up for your email list—activities like these help create engagements and let your product reach a vast customer base. Besides, to get more foot traffic, you can use raffle in your eCommerce stores and hand out tickets to the lucky winners.
Offline marketing
Most of the shoppers visit a store with the intent to make a purchase. So design your store to attract maximum customers to your website through multiple shelves that give prominence to the top-selling products. analyze the workflow of your customers and place your best-selling product categories in the most trafficked areas of your store.
Final thoughts
The festive season holds the utmost importance for the sellers and the customers. On the one hand, sellers wait throughout the year for the holiday season to boost their sales, while similarly, shoppers eagerly wait to explore, discover, and make a purchase. Thus, it won't be wrong to say that the holiday season has the potential to make or break the revenue goals for the merchants both in online and offline stores.
To help you boost your sales during the time of the festive season, we have listed some of the digital marketing services, marketing hacks, and tactics you can follow this festive season and win potential customers. Hope this blog helps you sell hassle-free. So, start planning your strategies by keeping your customers in mind. If in case, you are facing any issues, don't hesitate to contact us.