Facebook Lead Ads: Here's everything you need to know!
Running short of time? Get PDF of the blog in your mail.

Play Now
Growing your business means reaching potential customers before they've made up their minds. The key to getting them is lead generation.
Lead generation is the number one challenge for marketers today.
But what exactly is Lead generation?
Leads are people who are potentially interested in buying your products or services. Lead generation lets you reach potential customers early in their buyer's journey, so you can earn their trust, build a relationship, and be by their side until they're ready to purchase.
Knowing the importance of lead generation, Meta came up with Facebook Lead Ads that give people a quick and privacy-safe way to sign up to receive information from businesses, like newsletters, quotes, and offers.
Let's take a closer look at Facebook Lead ads, how they function, and their benefits.
What are Facebook Lead Ads?
Meta Lead ads help you discover people interested in your products and collect information from them. Using an Instant Form, you may gather contact details such as name, email address, phone number, and more.
Additionally, you may add your questions to these forms to better understand prospective customers and reach your business goals.
Many shoppers want to hear from your company, but filling out forms on a mobile device might be cumbersome. Facebook lead ads make the lead-generation process simple. When people tap on the advertisement, a form pops up pre-populated with their Facebook contact information and ready to be sent directly to you.
So, with Facebook lead ads, people get the information they want to know and you can generate a qualified lead.
Here's an example of a Facebook Lead ad by Classpass: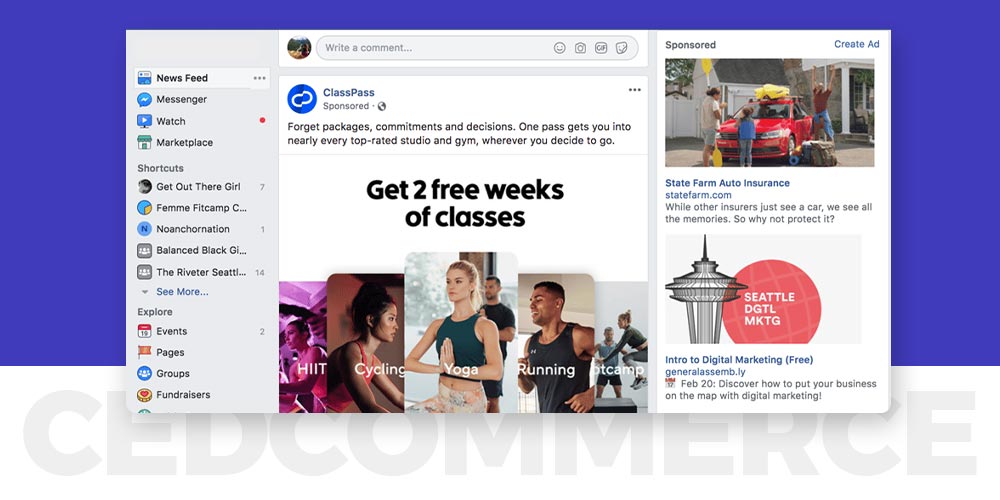 Advantages of Facebook Lead Ads
Here are a few advantages of employing Facebook Lead Ads:
1. Native Capabilities
Users may utilize Facebook Lead Ads to submit their information through an auto-filled form without ever leaving the platform. By maintaining your lead on Meta's platforms rather than migrating from the platform to your website and back, you prevent interrupting the UX.
2. Mobile Adaptivity
Mobile users benefit notably from lead ads. You can be confident that since the app is already optimized for mobile users, so will your advertisements. This means that owing to its responsive design, your form will work flawlessly on whatever device on which your leads view your adverts.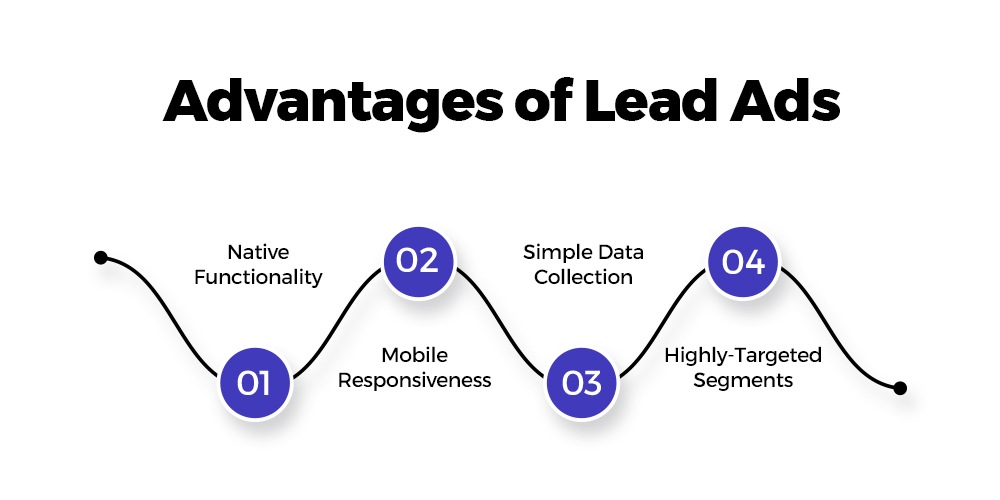 3. Straightforward Information Gathering
Lead ads are advantageous for the advertiser since they obtain potential customers' information without requiring the creation of a new landing page or conversion funnel. The platform has all the information you require to acquire a new lead, and it is simple to link that data with your CRM.
4. Highly Targeted Segments
With Lead Ads, segmentation may be quite specifically based on things like likes, demographics, and more. This indicates that the prospects you get from your advertisements are already very qualified for your offering.
How to set up Facebook Lead ads?
You can create Facebook lead ads in Meta Ads Manager or from your Facebook Page. Lead ads appear in Facebook Feed, Facebook Stories, Instant Articles, in-stream videos, Marketplace, Instagram Feed, and Instagram Stories.
Alternatively, you can also create your Lead ad through the Ads Feature of the CedCommerce: Facebook & Insta app. You simply have to connect your Shopify store with the app and you will be all set to publish your Lead ad on Facebook.
When users click on your ad, they will be prompted to fill in your form. You can download the leads data directly from the Meta Ads Manager or Meta Business Suite when they are done filling and submitting the forms.
Facebook lead ads must adhere to Meta Advertising Policies, including their Discriminatory Practices ads policy.
How can you make your Facebook lead ads stand out?
Lead advertising may help you achieve goals from the top of the funnel, including brand awareness and reach, to client acquisition. They are so much more than simply a form. With bespoke features, you may make your lead advertising more effective for prompt follow-ups or higher-quality leads.
Higher-quality leads:
Include a call-to-action button
Allow anyone who has filled out a form to call your company right away to begin a conversation.
Allow people to Schedule appointments
Determine the customer's desired appointment time and date as soon as possible and follow up with an email. When someone fills out your form, they may also choose the optimum time for them to meet, which cuts down on the number of follow-ups required.
Create lead forms with higher intent
Adding light friction by including a review page or slide to submit can assist you to attract leads who may be more interested in your product and have a higher degree of intent.
Quick follow-up:
Create your own questions
Customize your lead ad questions to uncover their preferences and guarantee that you're reaching out to the appropriate folks with the proper information.
Use dynamic advertisements to generate leads
Create your lead advertisements' creativity and language depending on what individuals have already indicated an interest in. You may acquire higher-quality leads by retargeting those clients and delivering them directly to a lead form.
Install the dealer locator
When a potential car consumer fills out a form to learn more, show them where the nearest dealership is and allow them to sign up for a test drive.
Final words
There you have it, folks. Now that you have learned about Facebook Lead Ads and their role in lead generation, it's time to set up one to generate qualified leads for your business.
Connect your Shopify store with the CedCommerce: Facebook & Insta app to get started today!
Additionally, if you need any sort of assistance, our digital marketing experts are available round the clock to assist you. Feel free to schedule an appointment at your convenience.