Facebook Ad Scheduling: All things you need to know
Running short of time? Get PDF of the blog in your mail.

Play Now
If you are using advertising campaigns on the Facebook platform, you must be well aware of the importance of Facebook Ads manager. It provides you with many features for your ad campaigns that can help you maximize ROI. However, one of the most important features that Facebook provides is Facebook ad scheduling.
If you want to run Facebook ads at specific times, Facebook now allows you to do that. With this amazing feature, your ads won't get displayed or made visible when the audience is not likely to be present on the platform. Eventually, you can save on your bucks.
Though, if you are setting an ad budget daily, you won't get the option of ad scheduling. Facebook only allows scheduling your ad with a lifetime budget. Nevertheless, ad scheduling is worth your Facebook ad campaign.
Why Facebook Ad Scheduling/Dayparting Matters?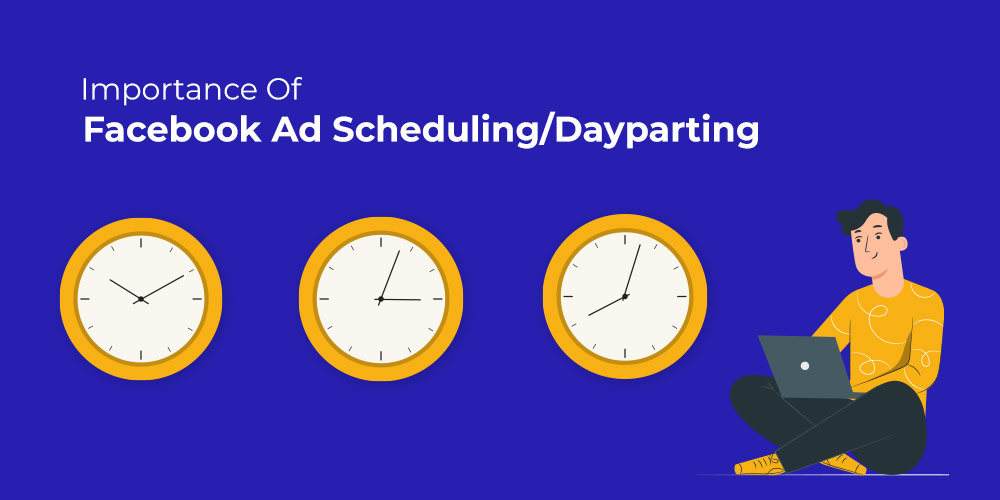 Earlier there was no specific feature to schedule the timing of Facebook ads. You have been able to add only starting and end dates of running ads. And, if you had to stop the ads for specific timings, you would have to do it manually. That was a time-consuming and tedious task.
Now, with Facebook ad scheduling, you can set the timings as well with the Facebook ad manager. You just need to select the specific time range for which you want your ads to be visible on Facebook.
Facebook ads scheduling matters the most for marketers because it has various benefitting features such as:
Saves time, as there is no need to stop or run the ad manually
You can set the dates for all ads in your ad set at once
You can select a time to run ads when your audience is most active
Maximize your ROI as there are more chances to reach your target audience when they are online
Cost-efficient as it restricts your ads to be visible only when your target audience is active
There is nothing much more satisfying than deciding when and how much you want to spend on your ads campaign.
About Facebook Ad Scheduling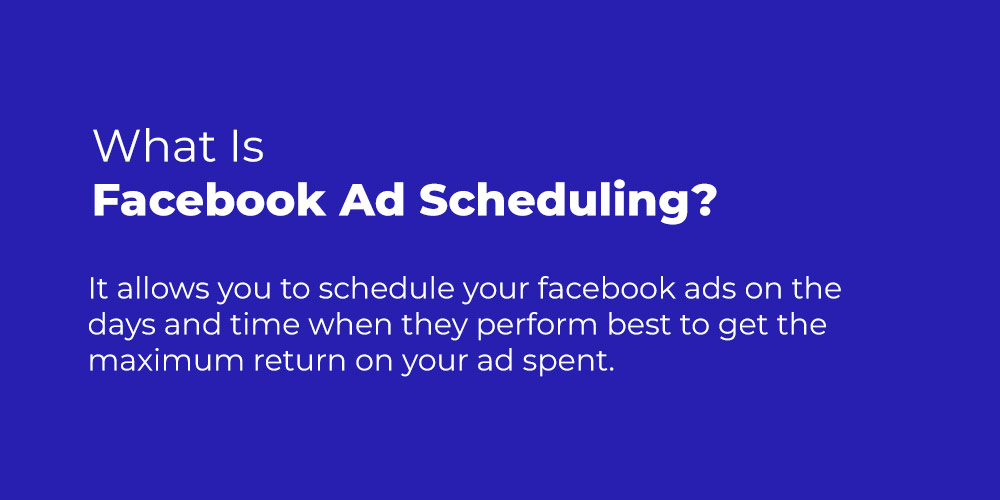 With Facebook ad scheduling, you can control the visibility of your ads.
If you have scheduled your ad to run immediately, it will start running once it becomes eligible to run after the review process (It takes typically upto 24 hours)
If you want your ads to run on a specific date or time in the future, then set a schedule while creating your ad set or turn on your ad manually when you want it to run.
Steps to schedule Facebook ads
With Facebook ads manager, it is now very easy to set up and schedule Facebook ads campaigns.
The steps to schedule Facebook ads are:
On your Facebook ads manager, click on "create" to start a new ad or ad set
Add budget and schedule – For using the Facebook ad scheduling feature, you will need to set the budget for "Lifetime".
The next step is to select Run ads on a schedule
Choose the time block you want to run your ad set
Click "Continue" and you are done with your scheduled ad set
Facebook Dayparting VS 24/7 ads: Which is better and how to select the best timings to run the ads?
It is a very common delusion that if you select your ads to run 24/7, it will get more audience reach.
On the contrary, if you want to spend your budget wisely, then go for ad scheduling because you can:
Choose the audience when your audience is most active
Show your ad as per your prospect audience's time zone
Keep a track of when your audience is giving you the most engagements on your posts and select your time accordingly
Save money by restricting your ad's visibility only at peak hours

Best Practices of Facebook Ad Scheduling to find out the timings when to schedule your ad:

Keep a close watch on the page insights
From page insights, you can get to see various statistics about your ad. You can see likes, comments, actions on your page, and much more.
Create an automated rule

Facebook rules automatically check the ads, ad set performance and then send you a notification and make the changes as per the set rule
If you are running multiple ads at the same time then creating an automated rule will help you manage the Facebook ad schedule
Creating automated rules will help you save budget:
It will help you stop running the ads that are not giving positive returns and have higher CPA
You can choose from the various available conditions for setting automated rules.
You can use automated rules to schedule ads for certain dates or events.
You can choose from the various available conditions for setting automated rules.
You can use automated rules to schedule ads for certain dates or events.
Here is how to do with an example:
Let's say you have created an ad campaign specifically for Christmas and want to run your ad on Christmas only. You can do that by setting the automated rule and choosing the start and end date of the running ad.
Steps to do the process are:
Go to Facebook ads manager,
Go to ads,
Click on rules and create a new rule
Choose turn on ads as the action and set the start and end date with time
Choose to turn off ads as the action and set the stop date with time
Conclusion
Facebook is filled with a number of features that help you set your ad campaign right.
Facebook ad scheduling is one such feature that allows you to run your ad campaigns more prudently. If you want to run your ads for specific hours, you get to choose the start and end times of your ad.
So, are you availing of this amazing feature available on Facebook? Or, still not sure and thinking about scheduling ads in your upcoming Facebook ad campaigns. Share your thoughts or queries in the comments below and get connected with our Facebook ad experts.