Expand visibility through CedCommerce's HubSpot certified BigCommerce Integration solution
Running short of time? Get PDF of the blog in your mail.

Play Now
"Every small step in the right direction can lead you to success: With that said, CedCommerce's BigCommerce Integration solution is now HubSpot Certified "
CedCommerce's HubSpot Integration solution for BigCommerce has now become a HubSpot Certified App on the official HubSpot App Marketplace. This certification ensures the genuineness and efficiency of the HubSpot BigCommerce Integration solution. The app along with all its features is decked with an expert team offering services and support to help businesses of different sizes to grow. The experienced team and dedicated programmers tested the app through various testing phases. The app obtained after testing has several prominent characteristics that bring a sense of affinity to the user's mind.
Furthermore, through the integration, HubSpot inbound marketing helps organizations transform themselves into successful businesses. HubSpot Integration ensures BigCommerce sellers get new leads, recover their abandoned carts, create contacts based on customer purchase history, auto-sync data through their insights, automated workflows, and many more crucial things.
Benefits Of CedCommerce's HubSpot Integration for BigCommerce
Selling on BigCommerce is easy and convenient for online sellers. The user experience of purchasing through BigCommerce is getting better day by day. The use of HubSpot Bigcommerce Integration will not only increase sales but also will reduce manual efforts. Furthermore, Automated workflows and systemic list creation of contacts do the job to a great extent. In addition, there are several other features that are effective.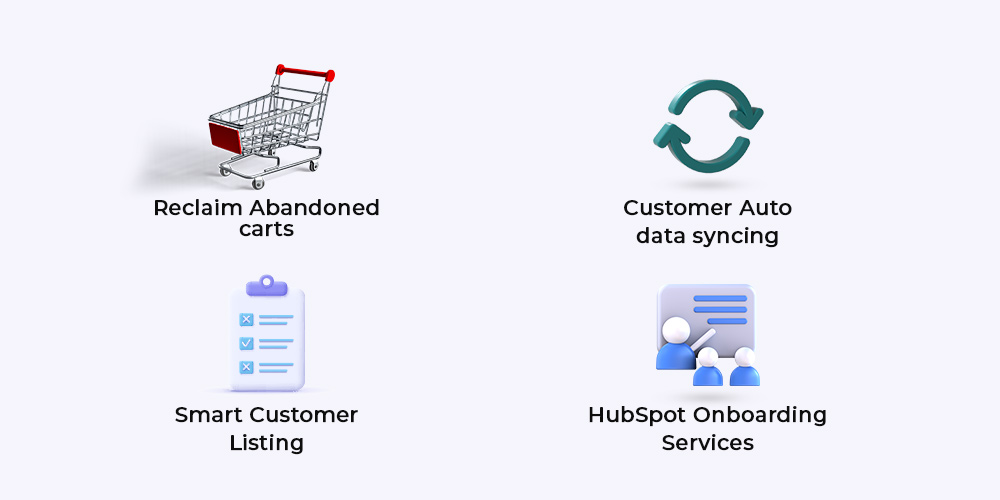 Abandoned Cart & Abandoned Checkout Recovery.
With the increase in the number of sellers and customers (60K+ active users) on BigCommerce, the problem of the abandoned cart is becoming hectic. The HubSpot BigCommerce Integration solves the pain points of Abandoned Cart & Abandoned Checkout Recovery.
The integration solution lists out those customers who have added some item in the cart on the BigCommerce store but didn't make the purchase. The data collection helps in reaching potential customers and to those customers who haven't completed their purchases. This phenomenon results in an increase in sales and revenue figures to a great extent. Sellers can target these customers by giving some offers, discounts and can reduce the Abandoned checkout rates.
Segmenting Customers into Different Lists (Smart List)
Selling to customers is not the only thing BigCommerce sellers are concerned with. Moreover, a huge amount of data collection and categorization are a small task for the Integration solution. Proper listing of data helps in many aspects such as in the targeted campaigns, customizing offers, coupons, and discounts. Categorizing different customers into a list based on their purchase history, i.e. Customers who are high spenders, low spenders, and frequent visitors are kept on a separate list to devise marketing strategies accordingly. Smart list creation increases the efficiency of sellers, and proper user satisfaction can be delivered. For similar list creation, HubSpot integration can be handy.
Auto Data Syncing for Frictionless Efficiency
BigCommerce Integration creates an environment that helps data syncing in real-time. This process saves time and increases efficiency by providing better customer services. The syncing data act as a raw material for analytical purposes. Useful insights and business reports act as a fundamental block to raise sales game.
Restrict Unwanted Domain Syncing
Data is crucial, but unnecessary data collection is a waste of money in the process of sales and service. HubSpot BigCommerce Integration restricts unwanted domains so that their irrelevant data is restrained from syncing with the Integration solution and then with the HubSpot account. You can put multiple domains separated by a comma.
For example, abc@gmail.com, xyz@yahoomail.com, user@domainname.com. This method decreases the time fetching the reports and data syncing.
Sync Historical BigCommerce Data for Free
Sellers have a free hand to select whether they want to sync their BigCommerce store's historical data or not. In fact, syncing historical data will help in extracting well-versed insights through HubSpot tools. Data syncing of historical data is free and easy through HubSpot BigCommerce integration.
HubSpot Onboarding
Every business has different requirements and goals to achieve. The process of configuring HubSpot to meet business needs and training sellers to get familiar with prominent features of HubSpot is termed as HubSpot Onboarding.
HubSpot Onboarding helps you to analyze and set goals with the help of valuable insights and reports.
But the million-dollar question is whom to trust as a border?
If you are looking for a trustworthy platform that can help you with settings and create robust business strategies, HubSpot is the right choice.
If you are looking for the best integration solution that offers more services on a tight budget, you are in the right place. In addition, Automated workflows, Order mapping, tracking orders, and lead generation and conversion are some of the prominent features.
Factors that Makes BigCommerce HubSpot Integration Unique
Well researched and tested API integration solution to cater to all your business needs.
Easy to install App with a dedicated after-sales support team.
Experience cost-effective and highly advanced HubSpot Integration App in the industry.
About HubSpot Certification
HubSpot reviews every app before listing it on their Marketplace. To get the certification badge an app has to pass many technical reviews made by HubSpot developers. HubSpot certification ensures the quality of the App. The App goes through different stages of reviewing and testing based on security, reliability, privacy, values, accessibility, and performance. A Certified App gets more attention from users because of the trustworthiness and quality of the App. When the App gets the Certification batch, several benefits are added by HubSpot itself, such as feedback and constructive ideas.
About CedCommerce
With solid fundamentals and hard work as an ingredient for success, CedCommerce is a known face in the eCommerce Integration solution Industry. The founder of CedCommerce- Abhishek Jaiswal and Himanshu Rauthan conceptualized the organization in 2010, and from there, the company has achieved many milestones that were dreamed of. CedCommerce covers the genre of Open source and Saas based development, eCommerce Solutions, SEO, Theme and website development, Website Designing, and so much more.