eCommerce Trends and Prospects in The Middle East and North America
Running short of time? Get PDF of the blog in your mail.

Play Now
Shedding its image, from being known as the lands of magical lamps and flying carpet, in recent years the Middle East has stood out like a flare and melting pot of tradition and technology. These two go hand in hand making this vast region a big and buzzing business hub. Talking of business, when the whole world has become an eCommerce platform, how could the Middle East stay uninfluenced? eCommerce trends and prospects in the Middle East are something to look upon.
There surely are ample opportunities for you to expand your eCommerce business, provided you keep in mind a few elements, and here we will discuss all those elements in this blog. 
eCommerce trends and prospects in the Middle East
Things to keep in mind before you start
There are a few pointers you need to pay attention to before you even think about expanding in the Middle Eastern countries.
Population: All the countries in this region have a very little population, that too is majorly fragmented and half of it is below 25 years of age.
Payment and Logistics: The payment system, logistics, and laws of these countries are totally different from each other. Plus there is a lesser chance of custom flexibility and  getting a 'free zone.'
Usage of Technology: The use of technology on a personal level is still that much of a buzz here hence online shopping may be less popular.  
Competition From Brick & Mortar shops: People still like to touch and feel products before they buy it. Which means you will surely face a great deal of competition with brick and mortar stores.  
You will have to keep all these points in mind while framing your eCommerce business.
What is the eCommerce trend in these countries?
Albeit these countries may prove tough to expand your business, they hold a lot of potential once you have decided to get through the loops.
Consider doing a thorough research about the tastes and interests of people.
Try covering not more than one or two countries at a time because starting small will be a safer bet.
Since people in the middle eastern countries including UAE are fond of luxury brands like Bvulgari, D&C etc. you can make it the USP of your online business to avail them with all the popular luxury brand items easily.   
You may take the example of Souq.com and start by following their footsteps. Try starting an online auction business just like them. It has a strong probability of being successful regarding the point that how much people in Middle Eastern countries like to buy different valuables.   
The knack of people in these countries to buy luxury items, vintage and valuable items like cars and precious collectibles.
Considering that shopping trends in UAE are largely different from the rest of the middle eastern countries, hence deductions from UAE it may not work as an apt index to understand the patterns for the entire region.
eCommerce Trends & Prospects in The UAE
People in the United Arab Emirates are more on the splurging side, but they look out for good deals whenever they can while making online purchases.
Gadgets and gizmos, personal-care and beauty range, perfumes and makeups, stylish clothes, good food, luxury cars etc. are some of the items the UAE people splurge on mostly.
The best part for the eCommerce business owners is that UAE is onto providing free zone to encourage more and more business investment. According to a report of albawaba.com, there is a strong probability of UAE becoming the next eCommerce capital.
Things to keep in mind before you start
Though UAE is being generous and promoting more and more eCommerce investment to become the eCommerce capital, the companies already established here on the online platform will give you a cut-throat competition.
The most popular strategy that the eCommerce companies have opted to survive in the market and to knock down their opponents is Predatory or Aggressive Pricing.
In this strategy, the only aim of the companies is to knock down their competitors and for this, they are ready to sell their products at a lower price to online shoppers even if it means that they may not gain any profit at all or may even suffer some loss. Once their competitors are out they have the monopoly over their market and this gives a boom to their online sales.
If you are planning to start your online business in UAE, make sure to conduct a thorough research regarding the fields that will have minimal competitors for you.
Secondly, find your USP. Once you are sure what your unique selling point is, and give your best in it, knocking you down for any competitor will be tough.
To add that extra effect try providing as many payment gateways as you can because obviously, customer convenience is what will get you more customers and help retain them.  
What is the eCommerce trend in UAE

   
It has been observed that the popular eCommerce multivendor websites follow a simple rule to survive in the UAE market though it's not absolute. On studying the market trends for a long time, most of the multivendor eCommerce entrepreneurs have framed their business setups around a particular niche and given their best in it so that they can become irreplaceable or tough to knockdown.  
Most of the shopping sites in UAE are dedicated to selling a single kind of product.
E.g
Myfaircurl.com is a dedicated site for selling hair styling products.
Basharacare.com

is a dedicated site for selling skincare products.

 
Gare-up.me

is a dedicated site for all kinds of computer games and gears.
These are some of the popular shopping sites in UAE apart from souq.com.
People in UAE are very much into the latest gadgets, be it phones, cameras or consumer electronics.
Since a considerable part of the population in UAE is from different countries, the splurging habit also varies. People from the south-east subcontinent, living in that region have a habit of spending on luxury brands and clothes.
While the authentic residents are more into collectibles and jewelry. The female population is more into perfumes and personal care products.
You will be surprised to know that people in UAE are more game junkies. There is a lot of demand for video games and gaming gears like consoles, gaming CDs/DVDs, high-end computer hardware, etc.
Currently, there are not many B2C companies to fulfill this demand, hence establishing an online multivendor marketplace based on this field can be a profitable investment.
Based on the ongoing trend, starting an online auction business will also be profitable, the only thing to take care is that similar to other B2C businesses here too choosing a niche will be more profitable and can get you a secure place in UAE eCommerce market. 
eCommerce trends and prospects in the Middle East are so wide and far-reaching that you can explore it and find your niche to work on easily. 
Ecommerce trends in North America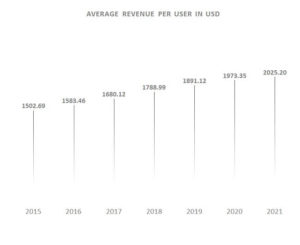 Source:eshopworld.com
North America is pretty well-developed and it's no news. Digital media is well rooted in the whole continent. Online shopping has become a routine activity for the people now. According to a report of eshopworld.com, an average online shopper in North America spends 1,680 USD/ year online currently and this amount will grow by 2021.
Since the usage of social media is on such a wide scale the businesses running online are doing pretty well.  
Things to keep in mind before you start
Starting from scratch as an eCommerce website in North America has a 50-50 chance of succeeding. With all the big brands booming up, you might have to face a tough competition.
People like to try local stuff from different countries that have an exotic touch. This stuff can be anything e.g. furniture, jewellery or something else.
Research thoroughly about their taste and then decide what kind of online marketplace you want to start.     
What is the eCommerce trend in North America
Cross-border trade is a big thing in North American countries. They have import partnership with South Asian countries like China and Japan who provide them with finished products at cheaper rates.
This might be a loophole for you to get through and get your online business going. Most of the china made products don't satisfy the people here because of their cheap quality, especially the clothes. Japan mostly deals in gadgets and focuses on that.
You can take advantage of this noose and establish an online marketplace that can provide quality products at low cost. Clothing, makeup, and electronics are the things what North America spends majorly while shopping online.
According to a report of Statista.com  40% of the population of US shops, online several times per month and 20% out of them admitted that they shop online on a weekly basis.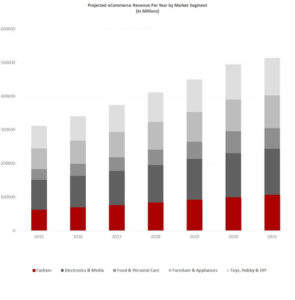 Source: eshopworld.com
Most of the money splurged is on electr0nics and gadgets with fashion coming in the second.  
It's natural for people to look for fair priced products and there are so many sites that provide them with fair deals. Amazon, eBay, Walmart, Etsy, Sears are some of the names that don't need any kind of introduction in the world of eCommerce.
Many new online shopping sites that have recently popped up have also gained a lot of popularity.
One of the most noticeable aspects is that the brick and mortar fashion stores have seized the opportunity and expanded themselves online as well e.g Zara, H&M, Forever21, GAP etc.
This expansion has only added to their profit and revenue. Reason being, they already had a good customer base and what could have been more convenient for their loyal customers than getting their favorite brand online.
Since people spend huge on fashion you can start online shoe-store or online thrift store. Thrifting is a popular trend in North America. As mentioned earlier people like to get good deals on clothes and apparels. Starting an online pawn shop can also prove to be a good business idea. People like to collect different types of items like old pieces of vinyl, paintings etc.   
To get your shopping site more popular make sure it's mobile and tablet friendly so that people can access it whenever they want.
Keep as many payment options as many as you can, as people are more open to digital payment methods. You can provide them reward points each time they use digital payment method, this will help you get customer loyalty. 
eCommerce Trends and Prospects in The Middle East and North America cite that these places have a lot of potential for eCommerce business. All you have to keep in mind that which kind of business you should choose to put up. With right tips and tricks under your sleeves, you can kick-start your eCommerce business and make your place amongst the eCommerce players soon. 
We can help you build your own dedicated eCommerce marketplace especially for the Middle East or for North American regions. 
CedCommerce has been offering the necessary technical solutions specifically made for building such platforms.  
You may also like to read: 
Ecommerce in North America and the need for Multi-Vendor Marketplaces