How To Overcome E-Commerce Fulfillment Snags The Right Way
Running short of time? Get PDF of the blog in your mail.

Play Now
Order fulfillment is integral to online selling. A process that is directly linked to customer satisfaction is never less important. Optimizing it like a pro seller will keep your selling hassle-free and productive.
What is Ecommerce Order Fulfillment
Order fulfillment is a series of steps that ensure the order received reaches the customer. It takes place in the following order.
Order is received
Order acknowledgment
Order processing
Order shipment
Order delivered
The degree of sync between the above steps determines the success rate of an order fulfillment process.
Why Ecommerce Order Fulfillment is Important
Order fulfillment is a vital process with huge impacts on the bottom line of any ecommerce business. In 2022, customer expectations have shot through the roof in terms of order delivery time with Amazon's same-day delivery option.
Customers see the item in your store and desire to get it as soon as possible. Now sellers to fulfill the expectations speed up the order fulfillment process. It makes sense to speed up the process, but it alone won't suffice.
Because without a structured roadmap, it can lead to wrong order picking, misprinted labels, etc.
The business expansion brings in more orders. As a result, order fulfillment becomes a complex job. Hence a systematic approach where all order fulfillment steps are completed with high accuracy is the need of the hour.
It will simplify the order fulfillment as well as speed it up.
Ecommerce Order Fulfillment Process How It Happens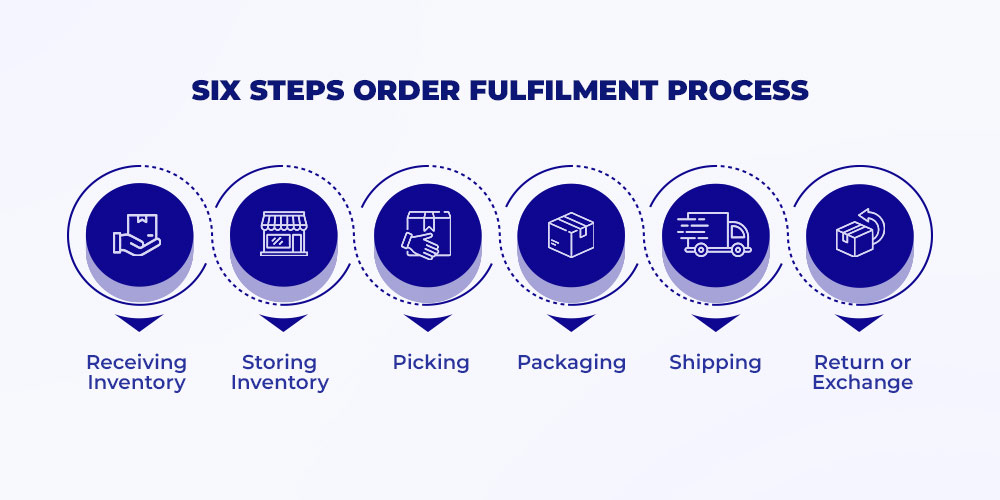 Receiving Inventory
Storing Inventory
Picking
Packaging
Shipping
Return/Exchange
Speed and accuracy are the most important metrics in the order fulfillment process. Therefore, it deserves primary focus and constant attention.
Types of Ecommerce Order Fulfillment
The Self fulfillment Model
A model of ecommerce that requires the merchant to look after everything includes storage, shipping, packaging, inventory and order management, and returns.
Considering the amount of time required to perform all tasks, it seems to be a better choice for small-scale businesses. Moreover, it allows merchants to practice better control over different aspects of order fulfillment.
But, on the downside, the self-fulfillment model is hard to scale if order starts flooding during the festive season or demand shoots through the roof. Hence, this model is profitable for merchants with limited budgets and has another plan to scale the business in the future.
3PL Order Fulfillment Model
In this model, a third-party fulfillment service takes care of from receiving inventory to order fulfillment and everything in between. As a result, the merchant is saved from fluctuating storage demand owing to demand changes due to the festive season or other inevitable reasons.
8 in 10 Fortune 500 companies are dependent on 3PL either directly or indirectly. Hence, it can be an excellent order fulfillment model
It proves to be a wise choice under the following scenarios
Unable to focus on core business areas due to loads of time required for the order fulfillment process.
Inability to meet order fulfillment deadline that leads to a high risk of order delay
Due to unsystematic order fulfillment, you face issues with order packaging and shipment.
Lack of sufficient expertise to implement order fulfillment on a large scale or during the long run.
How 3PL Order Fulfillment Model Benefits Business
It eliminates the rent to be paid for space to store the inventory.
3PL solution providers have extensive knowledge in logistic operations. Therefore, you can ensure proper packaging, tracking, and security of the order fulfillment.
3PL service allows merchants to serve beyond the local area, thus enabling them the opportunity to sell in the global market.
It takes away the headache of enabling 24/7 customer service.
They have a robust analytics system. It will help you with in-depth information about product performance and numerous different attributes that affect the bottom line.
Dropshipping
Dropshipping model is very profitable when you are just starting and have minimal knowledge about order fulfillment but don't want to lose the opportunity to sell online.
Here received orders are notified to the manufacturer, who takes care of the shipment and logistics process. You need not worry about warehouse and order delays.
So, dropshipping is a good order fulfillment option to test the waters. Also, tracking the order can be difficult due to the merchant's low control over the supply process. As a result, the seller won't be able to share the delivery location with the customer. Hence, it can be a big hurdle in enabling a smooth customer experience.
Hybrid
It's a combination of two or more models mentioned above. It can be understood as sticking to self-fulfillment when demand is low, but as the demand rises, 3rd party order fulfillment model is better opted.
Which Order Fulfillment Strategy Best Suits Your Business Model
It is important to study multiple factors thoroughly to choose the right order fulfillment model for your business After all, an efficient strategy is vital to ensure the order is delivered to the right person at the right time and in good shape.
The Order Volume
Analyzing the business data of the last few years will reveal how many orders you are delivering.
Low order volume, like a few hundred orders per month, indicates self-fulfillment is the right choice. It will also be a cost-effective affair.
High order volume means it's time to opt for 3PL fulfillment because serving orders beyond your capacity is a risk worth avoiding. Moreover, 3PL logistics services expertise in order fulfillment without fail despite the huge order volume.
Also, it will give you ample time to focus on other critical business areas.
Sales Channels
The self-fulfillment model will suit your business if you plan to sell only on a single channel (like Shopify) as a single channel can be easily self-managed.
There is a chance of poor visibility about order and inventory status when selling over multiple channels (Walmart, Amazon, WooCommerce, etc.)—managing it all on your leads to the risk of overcomplicating the system.
As a result, order fulfillment becomes a hassle leading to missed opportunities and regrets. Therefore, your business's best interest is to automate your store for upcoming challenges. It will rule out manual errors and give you a competitive edge.
After all, at some point in time when you plan to scale your business, you need reliable support in the form of robust solutions to sell seamlessly despite huge order volume
Customer Location
The location of order delivery is also a decisive factor in determining the most suitable order fulfillment model.
With customers spread across different locations, it makes sense to split the inventory stocks over several warehouses. It will optimize the order delivery process irrespective of customer location.
Otherwise, self-fulfillment will be better if you serve customers confined to a specific region.
Customized Products
Suppose you plan to sell customized items or something highly fragile or anything that requires special attention to storage and packaging to ensure the product reaches the customer in good shape.
Therefore, a wise option is to opt for a self-fulfillment approach. It will provide better control over the quality and assurance of the item.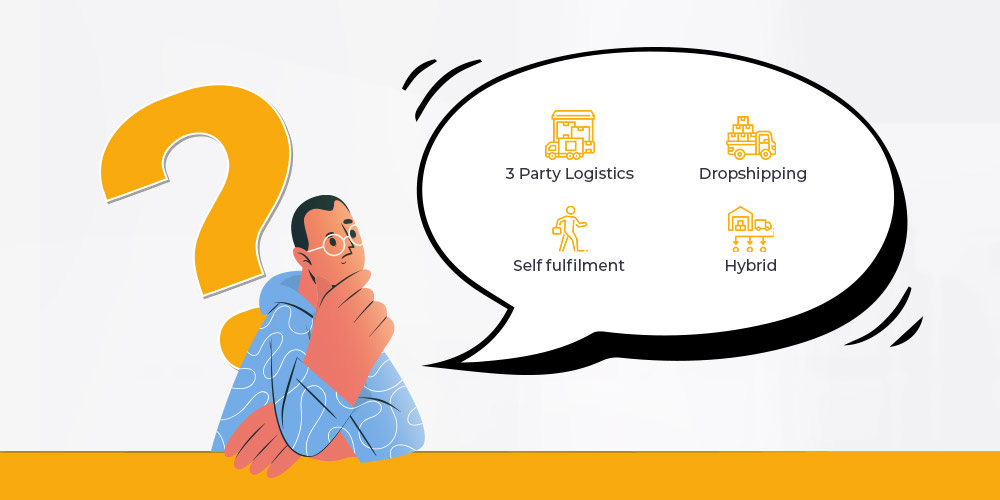 How Order Fulfillment Is Related To Positive Shopping Experience (Hard To Ignore Facts)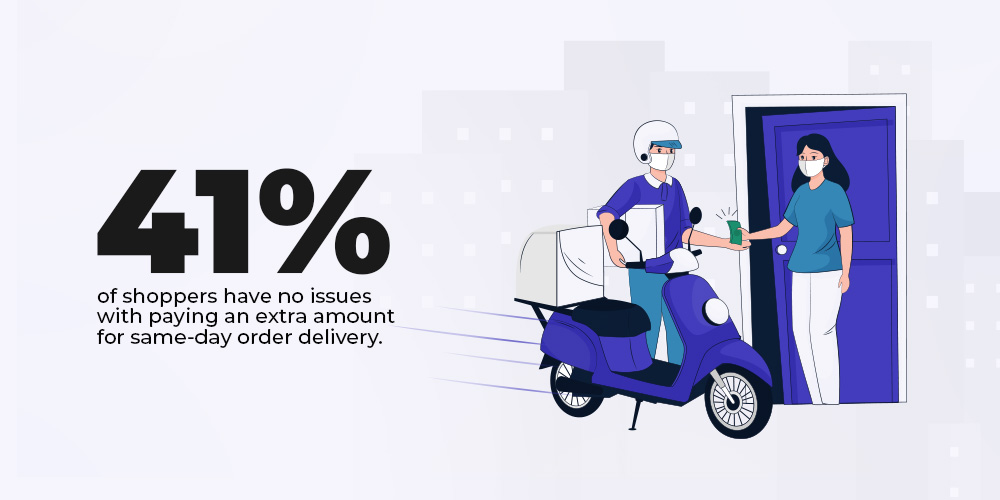 1 in every 2 customers considers delivery time as a major criterion for completing the purchase or abandoning it.
You can lose upto 36% of customers due to a bad order delivery experience and, 25% of shoppers prefer to cancel the order because of slow delivery speed without a second thought.
Facts reveal that meeting customer demands is important to build trust. Also, the most sellers still struggle to ramp up their order fulfillment capacity. Therefore, having the capacity to manage orders with high precision on a huge scale has no alternatives.
Moreover, these many potential customers are highly unlikely to return for a future purchase at your store if delivery time is too high. Hence, the merchant must fix an unoptimized approach toward order fulfillment before it is too late.
Best Practices To Speed Up Order Fulfillment
Any order delivery that takes longer than 72 hours is incapable of impressing the customers.
Therefore, it is in sellers best interest to speed up order fulfillment to enable a seamless inventory flow. Here are a few pointers for warehouse optimization to spend minimum time and get the job done with high accuracy.
Warehouse Optimization
Choose a warehouse with the facility of the loading dock. It's a trait of a modern warehouse.
A centrally located warehouse significantly reduces the delivery time and also saves on the cost.
Organize all high-demand products in a single easily accessible corner of the warehouse.
Digitize the order picking and packaging process. As a result, product searching and packaging will be done in minimal time.
Implementing direct staging is a wise choice to avoid the staging process because items directly reach the right location in the warehouse.
Educate Your Staff
Ensure the process is clearly understood by the warehouse staff and demonstrated. An exclusive session to guide on tamper-proof packaging will avoid last-minute hassle arising from repackaging Hence, the order fulfillment process will be streamlined and productive with negligible chance of error.
Automation is Your True Friend
As your business expands, the manual mode of online selling doesn't suffice. Moreover, you will stress about managing orders beyond capacity, which might impact the bottom line.
But, store automation has got your back covered. It empowers sellers to sell without a hitch to become successful in their domain.
Want To Say Goodbye To The Nightmare Of Missing On Business Growth Opportunities Due To Lack of Optimized Order Fulfillment Process?
How Automation Optimize The Order Fulfillment Process
Store automation empowers you to sell on the popular marketplace without fear of missing on selling opportunities due to a high number of orders or any other related reasons.
With a centralized dashboard, you can manage every order (arriving from the store or marketplace)
A single click will fetch all crucial details about the order like price, status, and vendor.
Order tracking in real-time. Customers will not bother you about the order location.
It avoids overstocking. A big savior for your money.
Near real-time inventory sync feature means you take orders only for products you can deliver on time.
You never miss on order acknowledgment despite selling on multiple platforms.
Bulk upload features save loads of time that would have otherwise consumed in manual product upload.
Summing It Up – Order Fulfillmet Optimization Speeds Up Delivery Time
As a pro seller, optimizing your e-commerce fulfillment process is high time before it's a big problem. Also, the cut-throat competition leaves very little time. Hence, understanding the ins and outs of the order fulfillment process and red flags that point to loopholes in the system presents a bigger and clearer picture.
As a result, we discussed the best measures to counter the problem and open up efficient ways to grab on opportunities that promise to deliver orders quickly and eventually meet the customer's expectations without burning a hole in your pocket.